2010 yılında ilk olarak Amadeo çevrilebilir kasa konseptini geliştiren Bovet 1822, dahiyane bir sistemle kol saati, cep saati, pandantif kolye ve aynı zamanda masa saati olarak ayarlanabilen bir model geliştirdi. The Amadeo çevrilebilir sistem, benzersiz fonksiyonelliği ve dayanıklılığı ile tüm dünyadaki saat koleksiyonerleri tarafından beş yıl içinde büyük ilgi gördü. Yeni kalibreyle donatılan saat, Amadeo sistemlerinin sahip olduğu sinerjiyi yansıtan en mükemmel örnek olarak fark yaratıyor.
Manuel kurmalı mekanizmasıya Monsieur Bovet, 7 günlük güç rezervine sahip. Saat 12 pozisyonunda ve merkezden uzakta konumlandırılan kadranında yer alan akrep ve yelkovanının yanı sıra mekanizmasının sıradışı yapısı ile hayranlık uyandırıyor.
Saat 6 pozisyonunda bulunan saniye göstergesi dikey eksenlerde hareket ediyor. Ana çark ve baskının saat 4 pozisyonunda görülebildiği saatte, saat 10 hizasında güç rezervi göstergesi yer alıyor.
Monsieur Bovet, Amadeo® Fleurier Complications koleksiyonunda, ultra spesifik ve kullanışlı fonksiyonları ile dikkat çekiyor.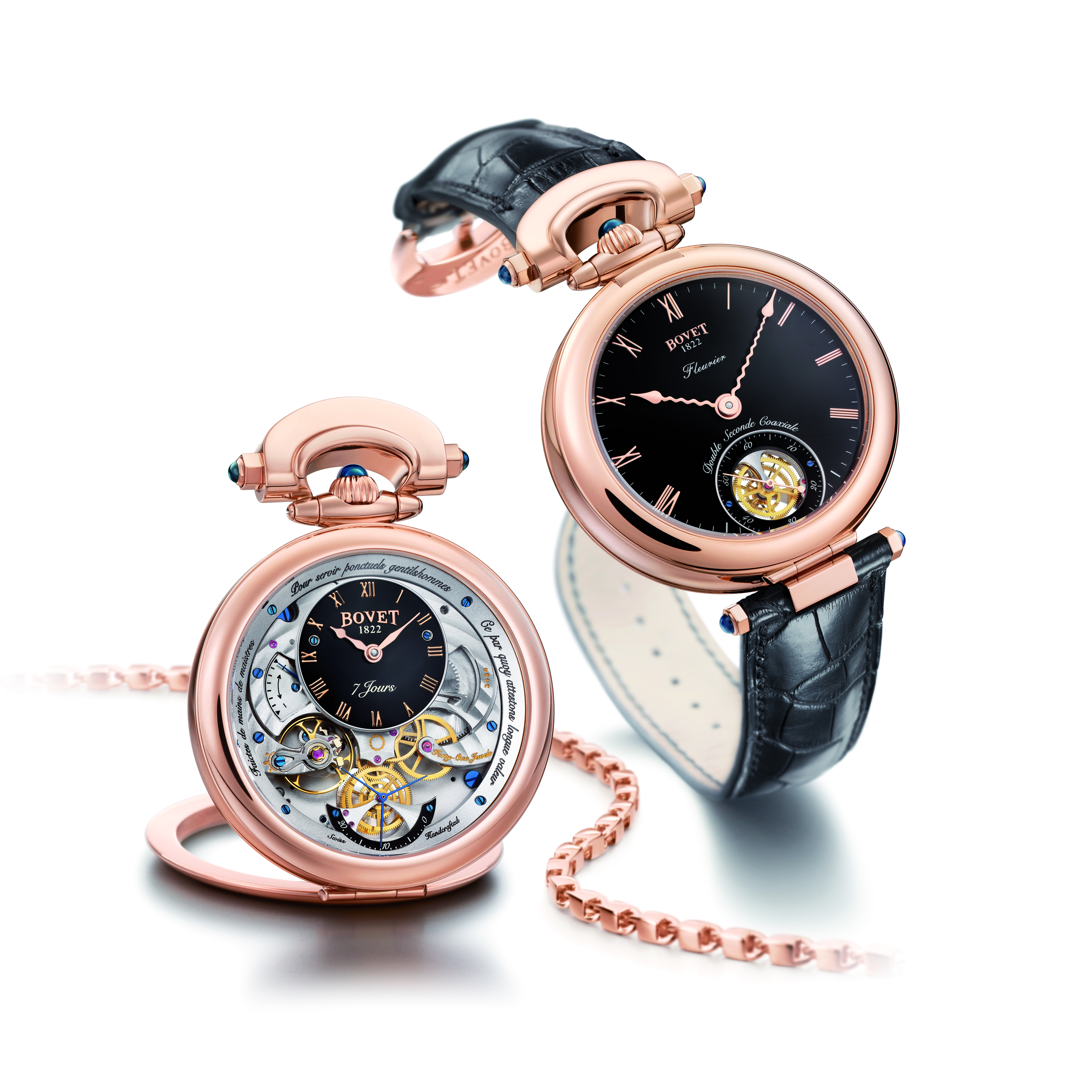 Having initially developped the Amadeo® winding case consept in 2010, Bovet 1822 developped a model that can be set as wrist watch, pocket watch, pendentive necklace and table clock at the same time with a brilliant system. The Amadeo® winding system drew great interest of watch collectors all around the World in five years with its unique functionality and durability. Equipped with a new calibre, the watch appears as the most fascinating example that reflects the synergy of Amadeo® systems.
With its manual winding movement, Monsieur BOVET has a 7 day-power reserve. It is admired with its distal hands positioned at 12 o'clock and its extraordinary design.
The seconds display at 6 o'clock moves in vertical axis. Having its main wheel and bridge at 4 o'clock, the power reserve display is positioned at 10 o'clock.
Monsieur BOVET attracts attention with its ultra specific and practical functions in Amadeo® Fleurier Complications collection.