When they brought me Hublot JEANS and BOA models, first thing I thought was how big they were for my wrist; 41 mm! Green was too artsy and Denim had diamonds on it! Before I tried, I was desperately looking to both thinking how I could combine them with my style.
I always remind myself; "Don't make a decision before you wear it on". Don't look just like that; try to see it in deep, like you are looking at a painting. Dream about its story behind. Otherwise it's just an ordinary piece of jewelry which tells you the time. If you can't see it in that way, do not spend time and cash here. Go and do what most will do; buy one of those thousands of Michael Kors watches…
No, I don't want to do that. I will not guarantee my style with a Rolex either. I will keep on searching for the different and suitable one for me. You will see, my options are various and I am free to make changes of my choices as much as I want.
While the mechanism in my head constantly works with these thoughts, I am trying to choose between these two beautiful Hublots.
JEANS is more convenient for daily use. Apparently Hublot was not indifferent to the concept of "Never changing trend; Jeans". They know that it is difficult to influence women with mechanical features only, and they do not ignore fashion trends either.The fabric on the strap and the dial is made by an Italian denim manufacturer, working with the world's most luxurious fashion brands. Denim is a fabric that emerged from necessity, produced for workers because of its solidity and became popular in daily wear after the post-war period in 40s. It is possible to see the contradictions as a success of finding a place in the luxury watch segment on a women's wrist by diamonds, 48 pieces of sapphires and an 18K gold case, after 70 years.
The last one or two years was important for the denim because Skinny Jeans left its place to Boyfriend Jeans. The high waists, the 70s, and especially the "denim to denim" style, changed the usual habits. If a watch presented in 2011 is still trendy, as I said earlier for the Impact Bang, Hublot is ahead of time.
BOA BANG can be your favorite if you like contrasts. Even though it's a sports watch, it is more suitable for night wear with its color and design. It is ultra feminine and attractive. Design is more dynamic with the boa snake skin strap and the python pattern on the dial. Though I fear the snake, I believe it is graceful, powerful and not easily approachable. It's not being used by many brands for nothing. The message is clear; be amazed of me but do not dare to approach me easily. When I look at the watch, I do not see the time only but a never-ending energy, clear tsavorites on the bezel and elegance through pale sapphires and diamonds.
The mechanical details do not attract me much except for increasing the value of the timepiece and being visually pleasing. I am more interested in seeing how the design is combined, especially with women's watches. Despite being chronograph watches, these two timepieces shine out with their designs. There are three sub-dials, two chronograph pushers and a winding crown. The top pusher is used to start and stop the chronograph function, and the bottom pusher is used to reset it. Though these three sub-dial chronograph lay-out is a complement to the design, I do not think I will use those buttons as I do not like the idea of ??my actions being timed.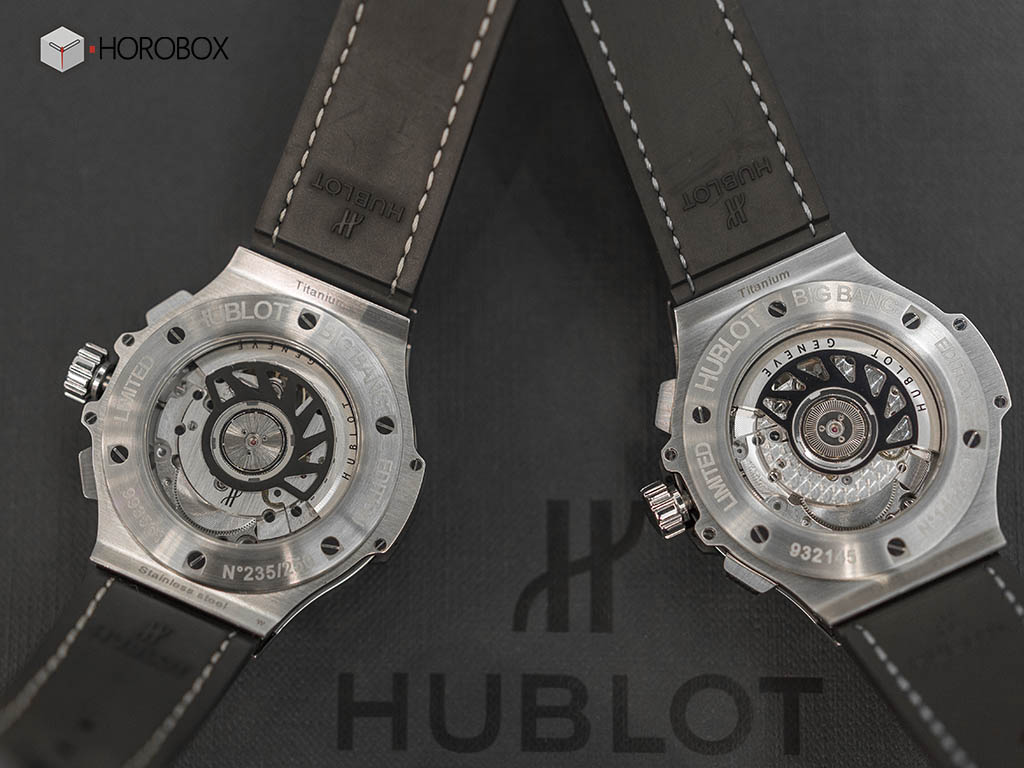 Both models have a limited production of 250 pieces. Oddly, Hublot is being criticized for issuing so many models and making limited editions for almost every version but no one is bothered to see many Rolex models which look pretty similar to each other.
I am not uncomfortable to know that there are only 250 people in the world having Boa Bang, but on the contrary, I do like to know the number of women with taste. Both models are the kind of watches I'd enjoy wearing. I will continue to write till I see an increase in the number of women who prefers to wear watches with meaning instead of the ones given as presents far away from knowing about their characters.
Let's take this opportunity to mention the launch of the collection. This collection has been promoted in the Alps with the German ski racer Maria Hofl-Riesh, who has been a brand-ambassador since 2011, with three Olympic, two world and an overall world cup championships. Even I am amazed about Maria's achievements as I was writing. Later, the limited to 50 pieces timepiece "Snow Leopard" dedicated to Hofl-Riesch, was released. I am proud of Holf Riesh, but for Snow Leopard all I can say is: I suspect that the remaining forty-nine are still waiting in the Hublot's vault.
Here is the two Hublots to decide yours and to see my choices: Instagram
by Witch Watch