For the ones who look for a flawless woman's watch...
Due to the vast variety of accessory alternatives, wristwatches have a sort of secondary importance situation for women. On the other hand, some of them see their watches as essential accessories. Irrespectively of the motive, you do not have to go for sky rocketed budgets to get the perfect women's watch. Because, Rolex has it for you... For a very long time...

The world of watches is easily affected by the changing fashion cycle. This naturally causes the designs to change dramatically in a short term. If you ask me, classic brands which do not get affected by the winds of change are the ones who have the utmost prestige and sense of quality. Just like Rolex...
I am sorry but a fast fashion timepiece with a size of a pocket watch strapped to a small woman's wrist has nothing got to do the with beauty or elegance. Rolex, on the other hand, is stable to preserve the perfect balance achieved with Lady Date Just Collection. There are three main case options in the Lady Date Just Collection as 26, 28 and 31mm. The ones we have here are from the 28mm model line with Two Tone ( 18K Everose Gold and Stainless Steel ) style. The collection also offers all stainless steel versions for the ones who prefer a low-key look and of course all gold ones who ask for more. Well, we may say that the Rolesor ( two-tone in Rolex lingo ) models have a balanced look between simple and glamorous for looks ( and prices ).
The fluted bezel is surely a distinctive detail about the Rolex Date Just. Thanks to its design, the fluted bezel provides striking glitter at certain angles which is guaranteed to make you smile whenever you look at your watch. The bezel is made of 18K rose gold. In fact, it's a special gold alloy patented by Rolex called "Everose". There are smooth ( non-fluted ) and diamond set versions available at the collection. The Twinlock screw-down winding crown is also made of Everose as well. The stainless steel parts are crafted in 904L grade steel like all other Rolex models.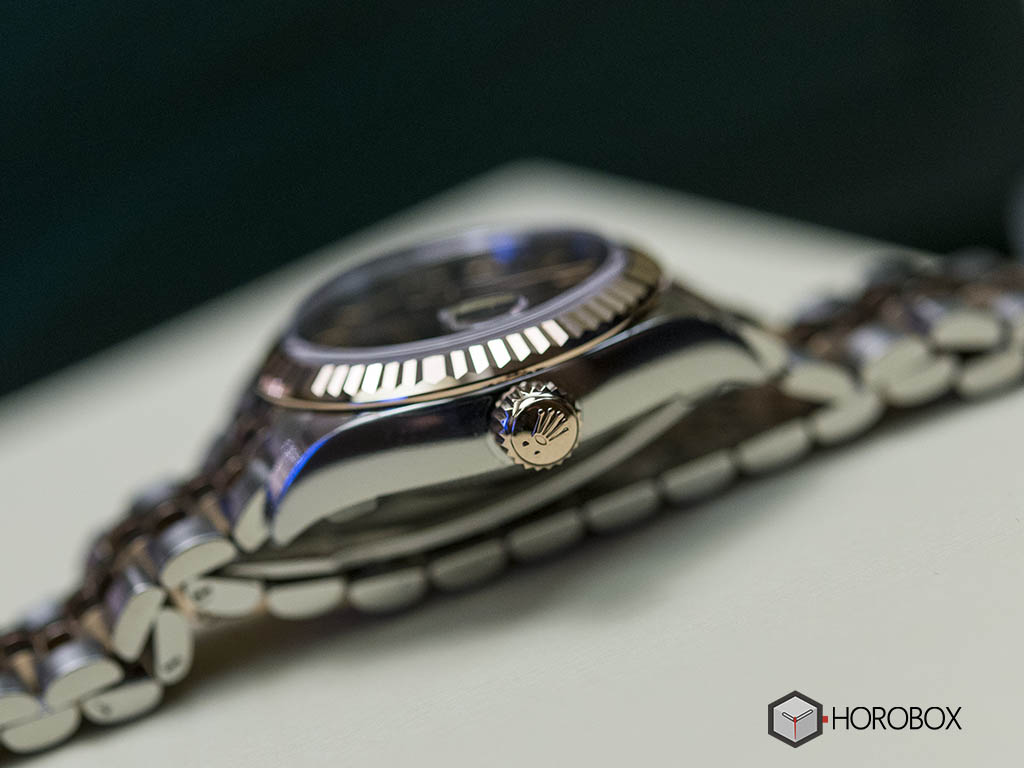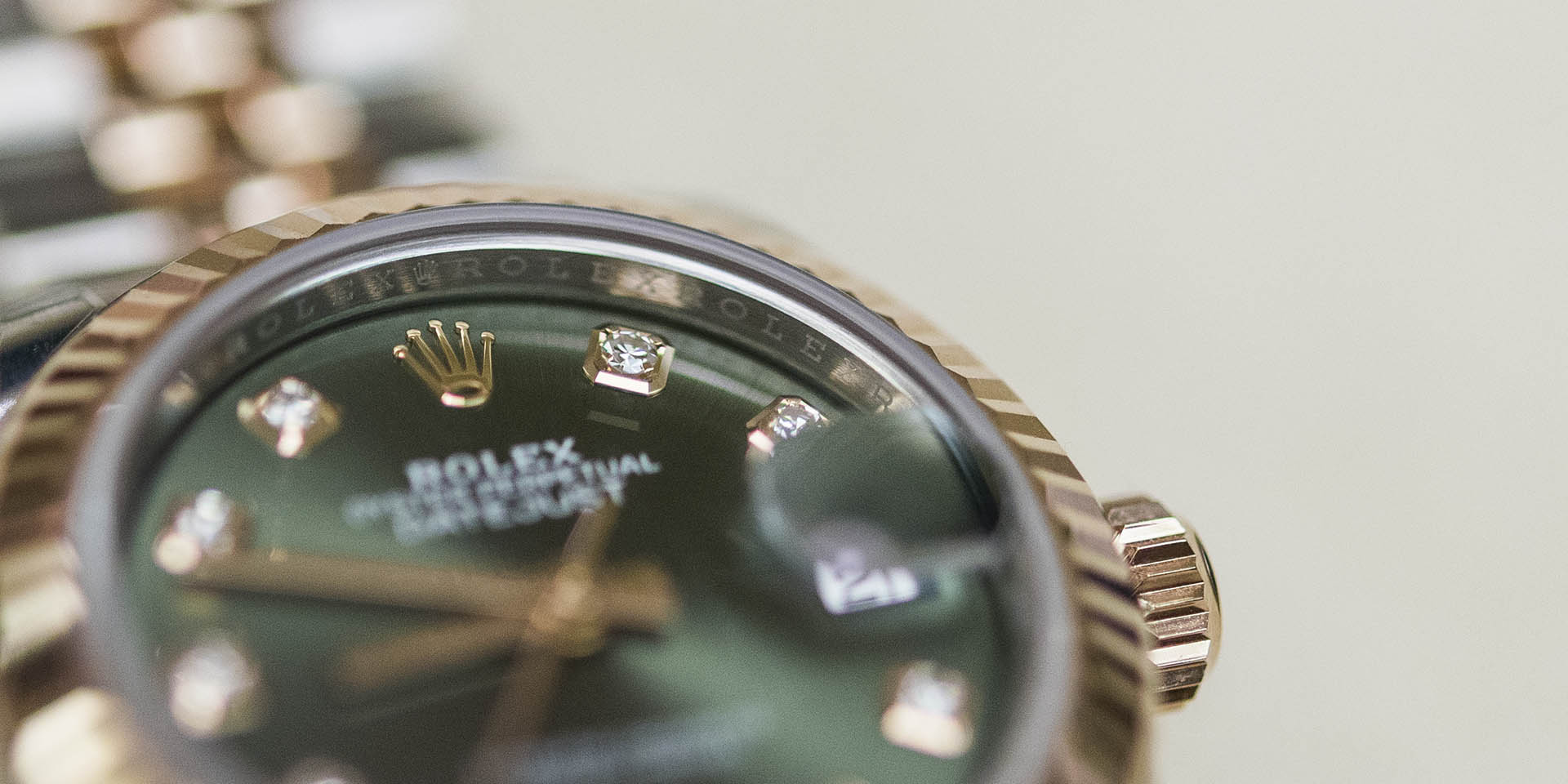 The case features a scratch resistant sapphire crystal with AR coating applied under the date magnifying cyclops only. I do not understand why brands apply anti reflection coating on the outer side of the crystal. It doesn't make sense for me to apply a thin, weak film on a pretty durable sapphire crystal just to get a slightly improved legibility. The watch is water resistant to 100 meters. It may not be suitable for diving but it's well enough for daily use including simple water activities.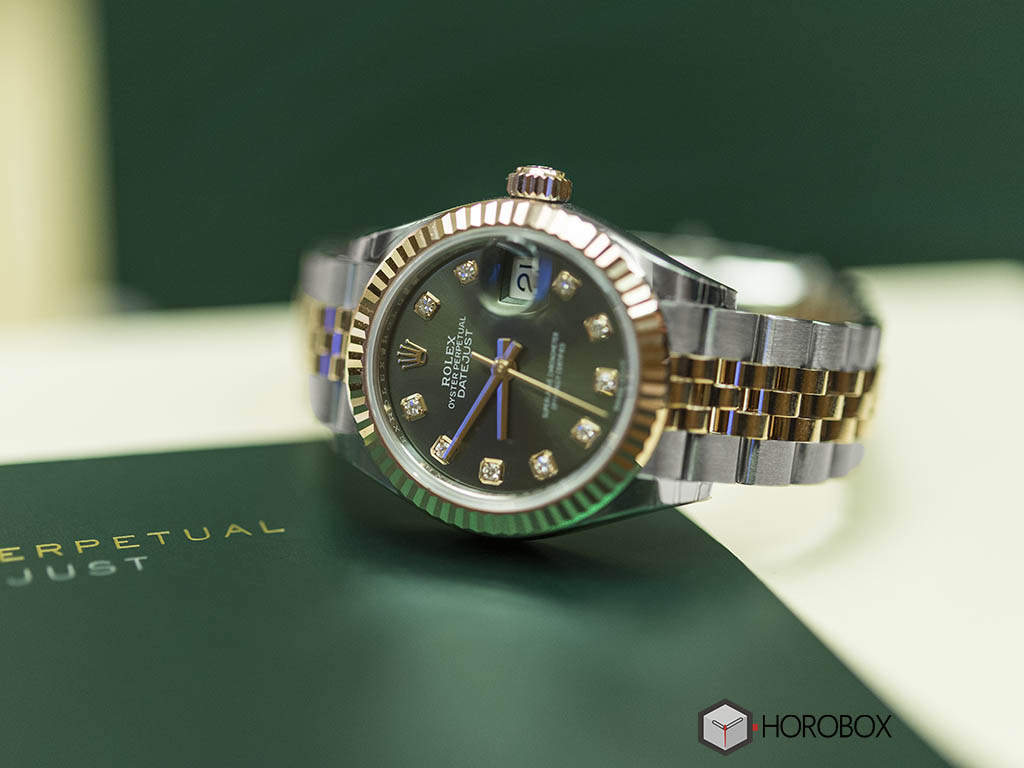 Rolex also means to get lost inside a variety of dial options as there are so many versions and they all look beautiful. The indices can be had with classic stick type markers, Roman numerals or diamonds. The choice for the color is simply a matter of taste. Black and brown ( chocolate ) dials seem to be better choices due to their versatility while green and purple would be bold and quite attracting.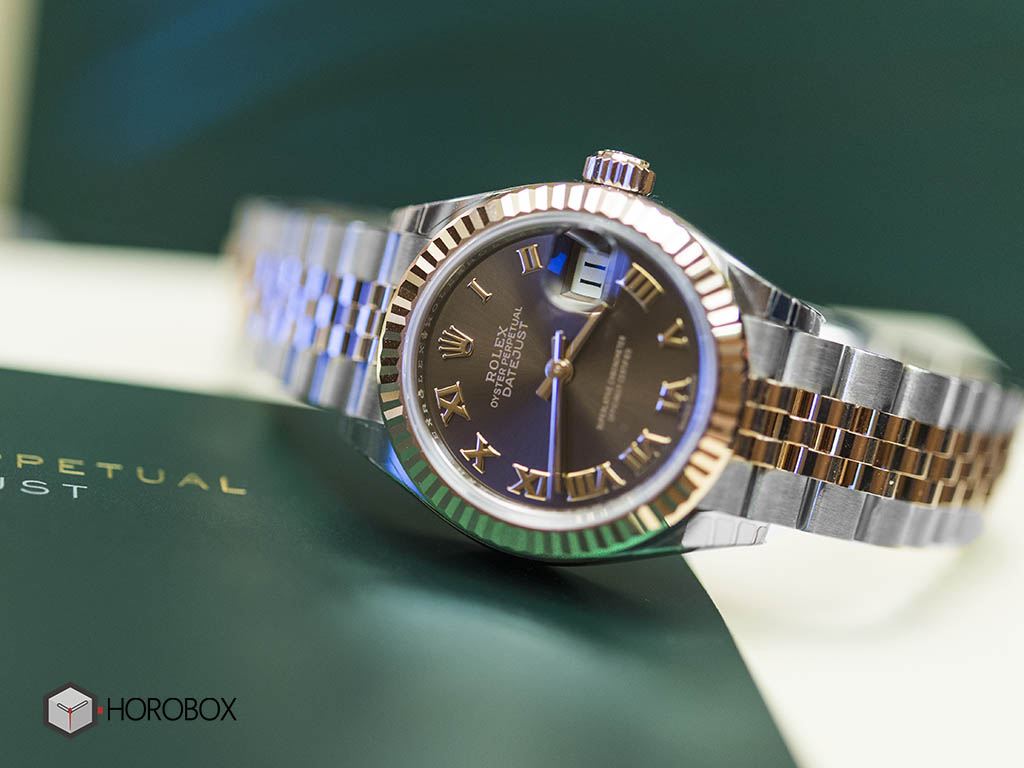 Lady Date Just is powered with the brand's Caliber Ref. 2236. Automatic winding movement beats at 28800vph and offers and impressive power reserve of 55 hours when fully wound. The movement also features the latest standards of new generation Rolex calibers with a ± 2 seconds per day accuracy.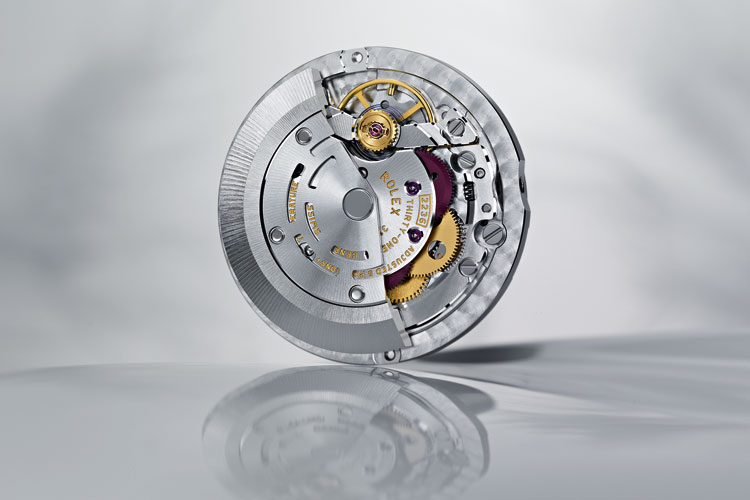 One of the most blazing details about the watch is its bracelet. Whether it's an Oyster, a Jubilee or a President, every Rolex bracelet is an engineering marvel. The center links on the Lady Date Just models we have here are made of Everose like the bezel and the winding crown. The hidden folded clasp is a true piece of art with its elegance and practicality. Shortly, every single detail on those watches is a tribute to the brand's glamorous heritage and real-time proofs of know-how achieved years ago.
I am not going to tell you again that you buy more than a watch for your money with a Rolex. The feeling of knowing the Lady Date Just timepiece you buy today would have the same value and prestige when you give it to your daughter ( or granddaughter ) is priceless. I haven't even talk about the moral value of that present yet...
If you want to get the perfect ladies for yourself, irrespectively of your age, tastes, personality and physical appearance, we suggest you to pay a visit to your nearest Rolex store.