In 2016, one country shot up the ranks on google, and quickly became the third largest vacation search in the world; Perhaps, due to Game of Thrones, perhaps even some of the recent landscape art that are making the rounds on social media.
That country is Ireland.
Ireland is one of the lushest countries on earth. Arguably one of the most beautiful. Rolling green hills are dotted by the white "snow" of sheep, expand over to massive (and I mean MASSIVE) cliffs on the coast. Not to mention some of the oldest architecture in the world. And when you're not exploring the mainland, there's always the local drinks. There's a reason that Ireland's world famous pub-crawls are one of its most profitable tourism accomplishments (Guinness anyone?).
Regardless of why you choose to visit Ireland… One thing that is NOT something that comes to mind is luxury timepieces.
Enter the Mcgonigle Brothers. John and Stephen have lived and breathed watches since they were young. Being heavily influenced by their father, a clock repair enthusiast, they developed somewhat of a local reputation which led them to study watches more closely. They truly make some remarkable timepieces, and it saddens me that they often go unnoticed in the world of artist Ateliers.
Horobox had the exciting opportunity to interview these two. You can find the interview below.
Let me first start by saying that I am incredibly excited to have a chance to sit down with you guys. I feel McGonigle is an incredibly distinctive brand in a unique situation. Ireland isn't exactly known for being a star in the luxury watch market. Has that presented any challenges?
Thank you, Travis, for your kind words. It's actually a great thrill for us that our work should generate such excitement. As an Irish watch brand, we've had challenges aplenty. As you say, Ireland isn't known for luxury watch brands and that's certainly affected our progress. The fact that, between John and I, we have over 40 years experience in the Swiss watch industry and at the very highest level (creating complications), means we have a very strong foundation. I dare say, a foundation many would envy. What's more, our watches have only ever received glowing reviews (I think) and among the community of watch collectors and enthusiasts, we're well respected.
Nevertheless, McGonigle Watches is already 10 years old and we're still not where we want to be. I think one of our biggest failings is our own promotion. Outside the watch community, we're unknown, even in Ireland. For a long time, we just knuckled down and did our work, hoping, maybe naively, that the watches would speak for themselves. While promotion is very difficult with little or no marketing budget, we've started to be more proactive on the social media sites, such as Instagram, Twitter and Facebook. These have been great actually. Of course, interviews such as this one with you Travis, are also hugely beneficial.
Another difficulty working out of Ireland, has been production. I'm actually based in Switzerland (John lives in Ireland) and this has helped enormously when it comes to dealing with Swiss suppliers. Working between the two countries isn't impossible, just a little slower. Of course, more and more, as we grow, we plan to source more of our materials from Ireland. This would include making even more of the components ourselves and this would mean serious investment. Speak to any independent watchmaker and they'll say the same thing. The biggest problem when it comes to components, is when you have to depend on an outside source. So, absolute independence is the dream.
What influenced you two to take the plunge and start McGonigle Watches?
I suppose the seed was there long before either of us realised. In retrospect, it seemed like an obvious progression. Over the years, working for the different watch brands, there were many many conversations (over a beer or two...or three) about how we might do things differently or even better. So, in one respect, we only needed a push. The fact that some of our friends and contemporaries had already taken the plunge, certainly affected us. The likes of Stephen Forsey and Peter Speake Marin had a huge influence on us. Of course, we haven't yet reached the dizzying heights of success those guys have seen but maybe someday.
But the actual trigger for us was the day we met Tom Bales and Rudy Kranys, two watch collectors from the U.S. They commissioned two pieces and the Tourbillon, our first creation, was the result. We're indebted to those guys.
Between the two of you guys, there is a uniquely prestigious resume. Each of you have worked with some huge manufacturers and industry leaders in your careers. Audemars Piguet, Ulysse Nardin, Christophe Claret, Frank Muller, and Breguet to name a few. How has that influenced your unique timepieces since you started McGonigle Watches?
Without doubt, our experiences working with different watch houses heavily influenced our work, both technically and aesthetically. Those experiences weren't necessarily all good but the bad ones also taught us valuable lessons.
Having seen and worked on such a huge variety of watches, we picked up ideas and finishes we liked and we used these in our watches. I'm not sure if our watches are similar to anyone else and while we have a clear idea how our watches should look, there's bound to be influences from our past experiences. Of course, a lot of our design has been influenced by our Irish heritage and this is quite unique I think.
Technically, our experience working in different watch companies has been enormous. These experiences have made us the watchmakers we are today. To give an example of how one experience effected our own watches. Both John and I worked on the Sapphire Tourbillons for Corum. These incredible watches had the mainplate and bridges made of sapphire. This work was very delicate. Just imagine screwing a sapphire bridge on to a sapphire mainplate. The screw has to be tight enough to remain in place but not so tight as to crush or crack the sapphire. Very difficult (sometimes terrifying) work but it taught us a lot about sapphire as a material and now we use it in a lot of our dials.
Another example, is our most recent piece, the Ceol (the Irish for music) Minute Repeater. I don't think there are many watchmakers alive that have made as many minute repeaters (collectively) as John and I have. What's more, we've made them for several different watch brands. That experience was invaluable in the development of the Ceol.
There is a phrase in America, "You should never go into business with Family" that gets thrown around a lot, especially when talking about luxury brands. You two seem to be an exception to that rule.
For sure, it can be difficult at times and we've certainly had the occasional difference. We're both very different characters too but I think that's a good thing when it comes to the creative side of things. When things do get a little heated, the issue is easily sorted out over a few pints.
In 2011, you released your first in-house movement in the Tuscar Collection. They truly are remarkable timepieces with some striking features. Unique would be an understatement and it's no wonder it sold out. What was the process behind that design?
Again, thank you for your kind words. We're delighted with the success of the Tuscar. Indeed, the One of Ten Tuscar did sell out but I hasten to add that it's big brother is still on sale, in both rose gold and white gold.
As with all our models, a huge amount of time is spent on design. I think this is often ignored or at least not given the attention it deserves and needs. Our first objective is to create something aesthetically pleasing. Alot of our aesthetic choices stem from how we work and how this can be expressed. Finishing is everything for us and we want everyone to see that in our work. So, with that in mind, the Tuscar, from the very outset, was to have the movement visible from the dial side. This has become more and more popular but at the time, there weren't that many out there. The way we saw it, it was a shame not to be able to see the movement and the hand finished components we spent so much time perfecting.
We also wanted to have a decent power reserve, hence the two mainsprings.
The balance is the focal point of the watch and we spent a lot of time both aesthetically and technically, on this part of the watch. The balance is very distinctive, with the timing screws actually flat on the wheel, as opposed to the traditional layout, with the screws on the side of the wheel. The balance bridge shape has been interpreted in many different ways and who am I to stop the speculation?
As I've mentioned already, we wanted the mechanism visible to the wearer and this made the choice of sapphire dial easy. Apart from the fact that it looks really cool, it also means we have scope for lots of design changes. We can change the shape, colour or finish of the barrel bridge (which is visible through the sapphire dial) and this can change the watch utterly.
One of the most important areas of the design and development, was to create a watch that was us; that was Irish. Throughout the watch there are hints of our cultural heritage. From the Ogham alphabet (an ancient Irish alphabet) engraved on the crown (both an aesthetic touch and a practical one), to the engraving on the mainplate (visible through the case back).
Obviously, the whole creation is extremely involved, but I hope this gave some insight into the process.
The McGonigle Brothers are known for their meticulous decoration, and artistic touch, even on parts of the watch that can't be seen. I would think that puts your clientele into a category of caring a lot about the craftsmanship behind each timepiece more than the flash of owning a unique watch. That elevates your pieces into more artwork than simply unique timepieces. Do you find this to be the case?
It's certainly true to say that our customers have bought our watches, as much for the aesthetics, as they have for the technical merits. The timepieces are a reflection of ourselves and our skills. I would certainly consider our work as a form of art. Although, that very Irish trait of self-deprecation, makes it very difficult to call myself an artist.
I'm sure free-time is a rare thing for you both, but I like to ask my interviewee's: What do you guys like to do for fun?
John's a real outdoors kind of guy and despite Ireland's often inclement weather, he won't be fazed. He's always been into running, cycling and any kind of water sports but sailing is his real love. Again, hail, rain or snow and he's happy as long as he's in a boat.
I also love cycling and water sports. I really enjoy hiking and the tougher the hike the better. I used to play rugby but wasn't very good and have substituted playing with watching the game. I'm a big supporter of the Irish team and all the Irish provisional teams.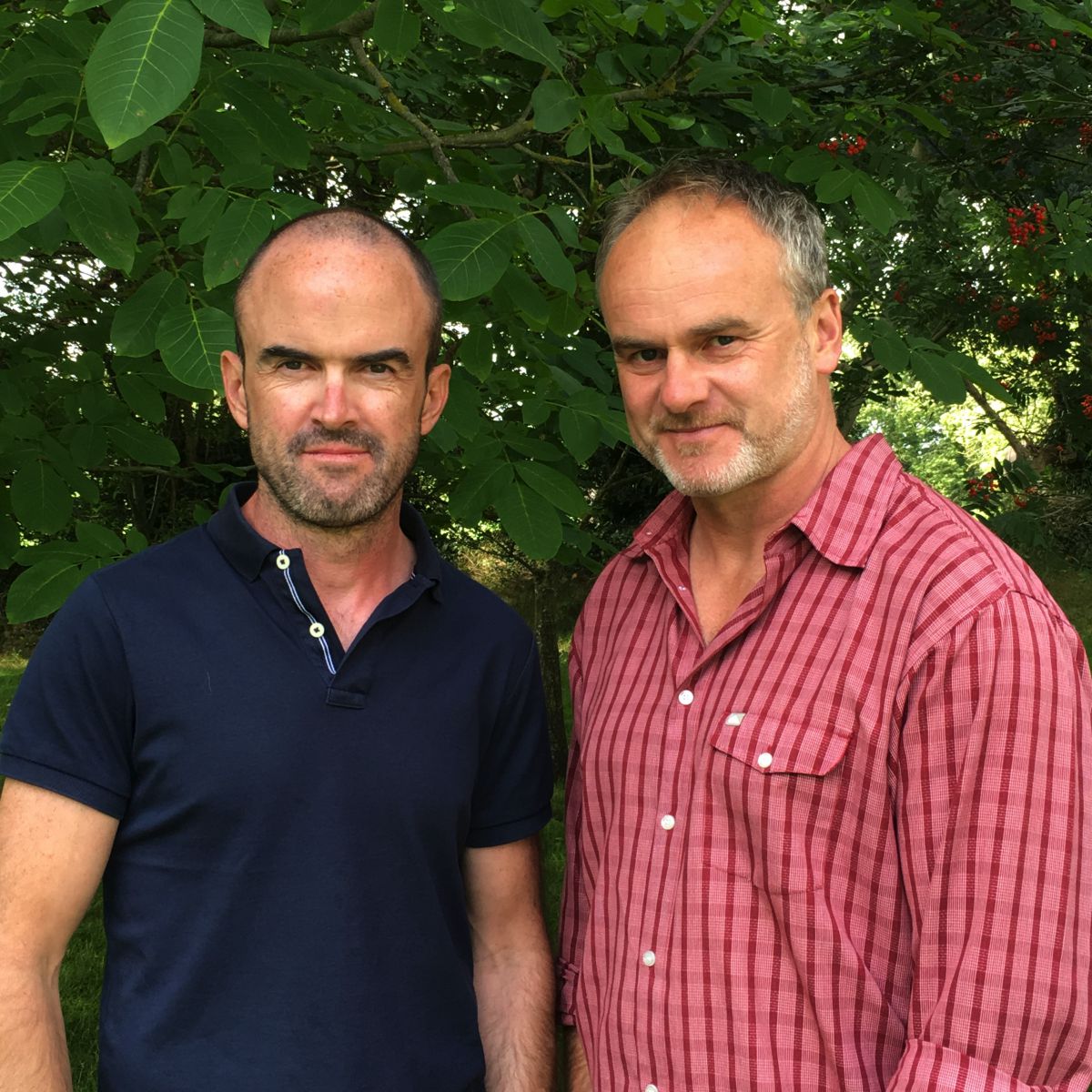 John and Stephen McGonigle