Things that you need to know about Richard Mille, one of the first brands that come to mind when it is all about luxury and sports watches.
Born in France in 1951, Richard Mille began his career in 1974. From the very beginning of his professional life, Mille specializes in watches and luxury consumption. He had worked for world-famous jewelery giant Mauboussin before creating his own brand. Towards the end of the 90s, he left Mauboussin and rolled up his sleeves to create the most exotic, sports watches in the world.
After collaborating with APRP, Richard Mille designed his first watch by shaping the soap mold. Aiming to design and manufacture models produced with the highest technology in the world and completely stripped of the classic watch designs, Mille introduced its first model, RM 001, in 2001. The model, which has been produced with a limited quantity of 17 units, was actually scheduled to be released in 2000. However, the solving the problems occurred in the torque indicator and refining the design required another year. Richard Mille was 50 years old when he started his own brand.
Richard Mille did not collaborate with any investment partners in setting up his brand. He risked his own money only. More interestingly, unlike all other brands, the brand, which was created by pursuing only dreams without going into market research, has turned into a sector giant that has created its own market today.
Richard Mille defines himself automobile, airplane, Formula 1 and mechanical enthusiast. It is also possible to see many inspirations from these passions in the design of his watches and movements. Tonneau-shaped cases, high-tech materials, skeletonized dials and many more details refer to Mille's interests.
The fact that Richard Mille watches have such high price tags compared to their competitors is mainly due to the costs of their research and development processes. The costs, especially paid to the engineers and machinery, are reflected to customers. Moving away from the traditional clock design and production methods brings quality and uniqueness together with the cost. For example, the carbon base plate used in the RM 006 model costs $ 2000 per hour. To handle this material, special cutters with diamond tips are used and each tip is worth about $ 500. After the 100 cutting process, it is replaced with a new one.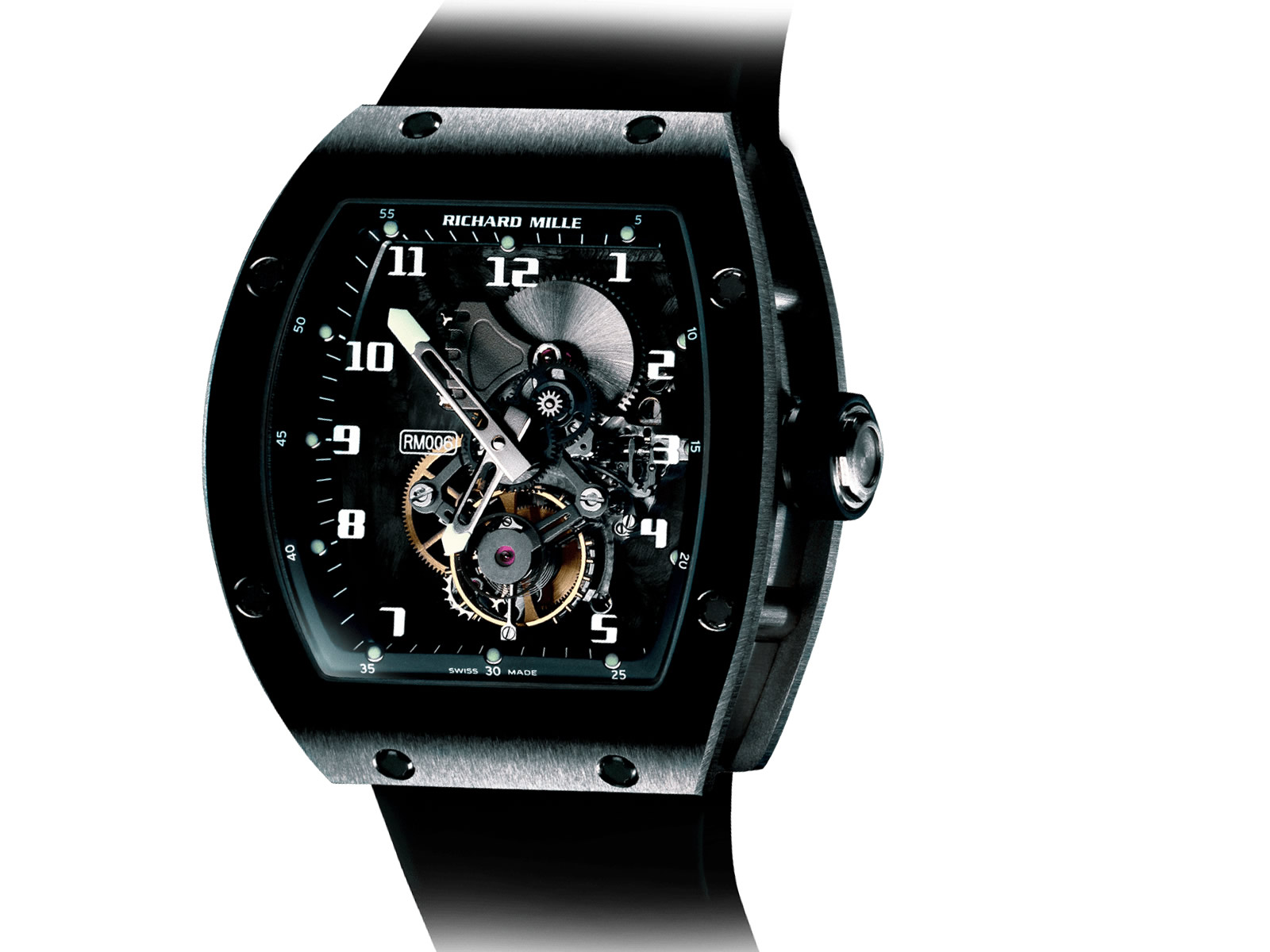 Richard Mille is a brand that stands out for its lightness. The models, produced from exotic materials that ravage the "heavy" image in the luxury watch category, are remarkably lightweight. Some models are so light that the RM 027 model with a total weight of 19 grams can float in the water with a mass of less than 1. The RM 50-03 model is the world's lightest Split Seconds Chronograph watch with a weight of 43.5 grams only.
Richard Mille has made brand ambassador agreements with the world's most successful athletes in their respective categories, and these people test those watches in competitions, pushing their limits. More advanced, more specific models are produced with the feedback received from the watches tested under extreme conditions. In the RM 027 family, which is specially developed for the famous tennis player Rafael Nadal, different systems are employed in the shock absorbing task. In the RM 027, the bridges that carry the main hairspring and Tourbillon are tasked with transferring the shock from the watch to the strap and reducing the impact. RM 27-01's wire-strapped mechanism is an idea that has arisen after Giulio Papi from APRP -the technical partner of RM had broken a cruciate ligament while playing football.
Richard Mille RM 027 Tourbillon Rafael Nadal
Richard Mille RM 27-01 Tourbillon
Introduced in 2012 with a case manufactured from sapphire crystal, RM 056 represents a first in the world of watches. The case is made of sapphire crystal and consists of 3 separate parts. The material produced in synthetic sapphire crystal trees is ready for installation after days of cutting and finishing operations with extremely high cost. The parts produced by Settler Sapphire are processed with a precision of one percent of a millimeter. The company, which produces only 5 cases per year, allocates half of its production capacity to Richard Mille. The remaining half of the company produces 60,000 sapphire crystals annually. RM's sapphire crystal case models are being sold at prices exceeding $ 2,000,000.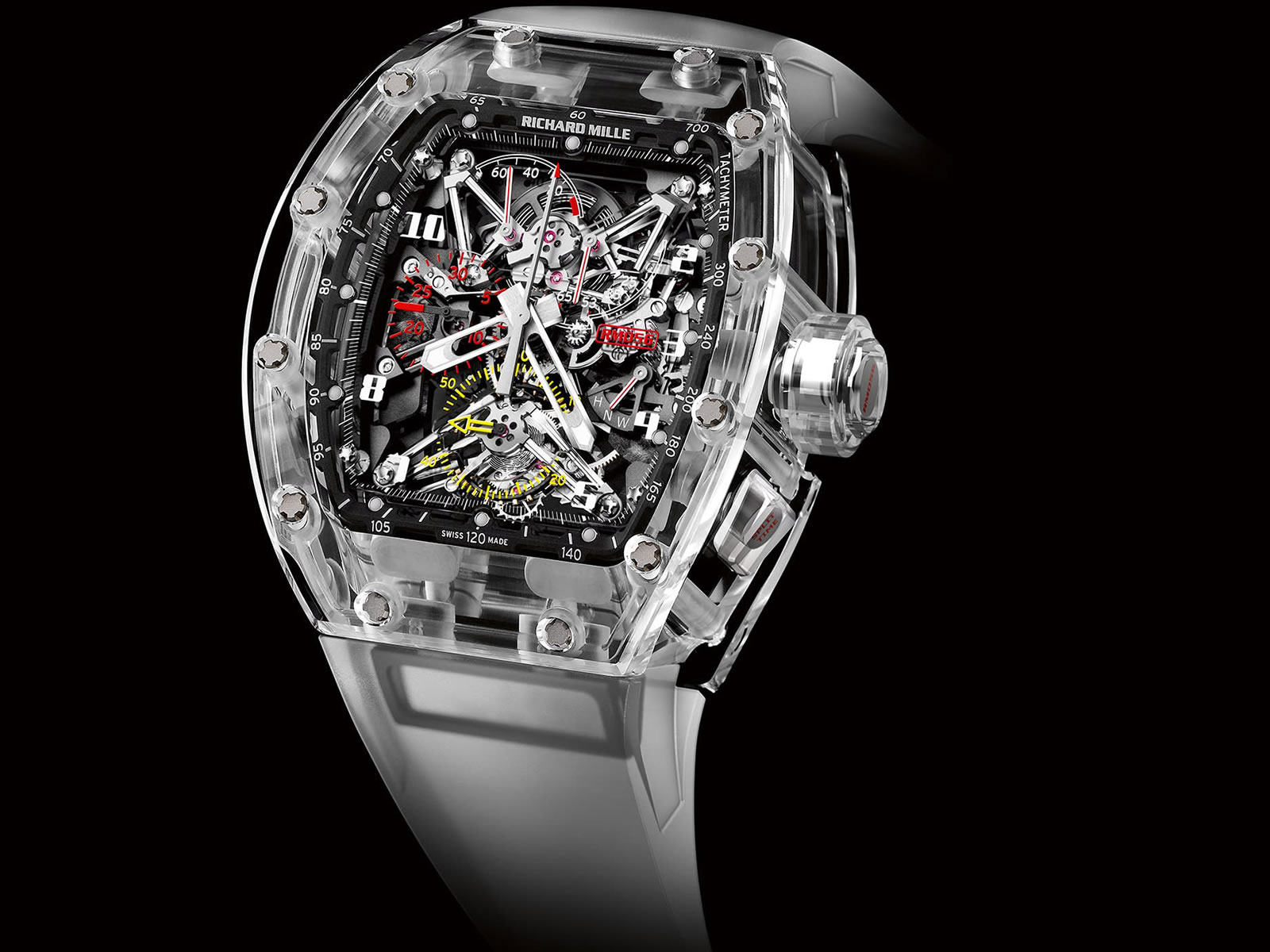 Richard Mille watches are produced in Switzerland, but the company is registered in France. Richard Mille's commitment to his country and his efforts to bring benefit to his country despite the high tax rates are praiseworthy.
Richard Mille's current annual production exceeds 4,000 pieces at the moment. This number is relatively low compared to many other giant watchmakers in the sector. Of course this is a conscious decision. In this way, each customer feels more special and the demand for RM watches never decreases.