Bovet, one of the boutique brands of the watchmaking industry, was the guest of our Hands On corner with the Miss Audrey model, the last addition to the Amadeo series in the famous Fleurier Collection.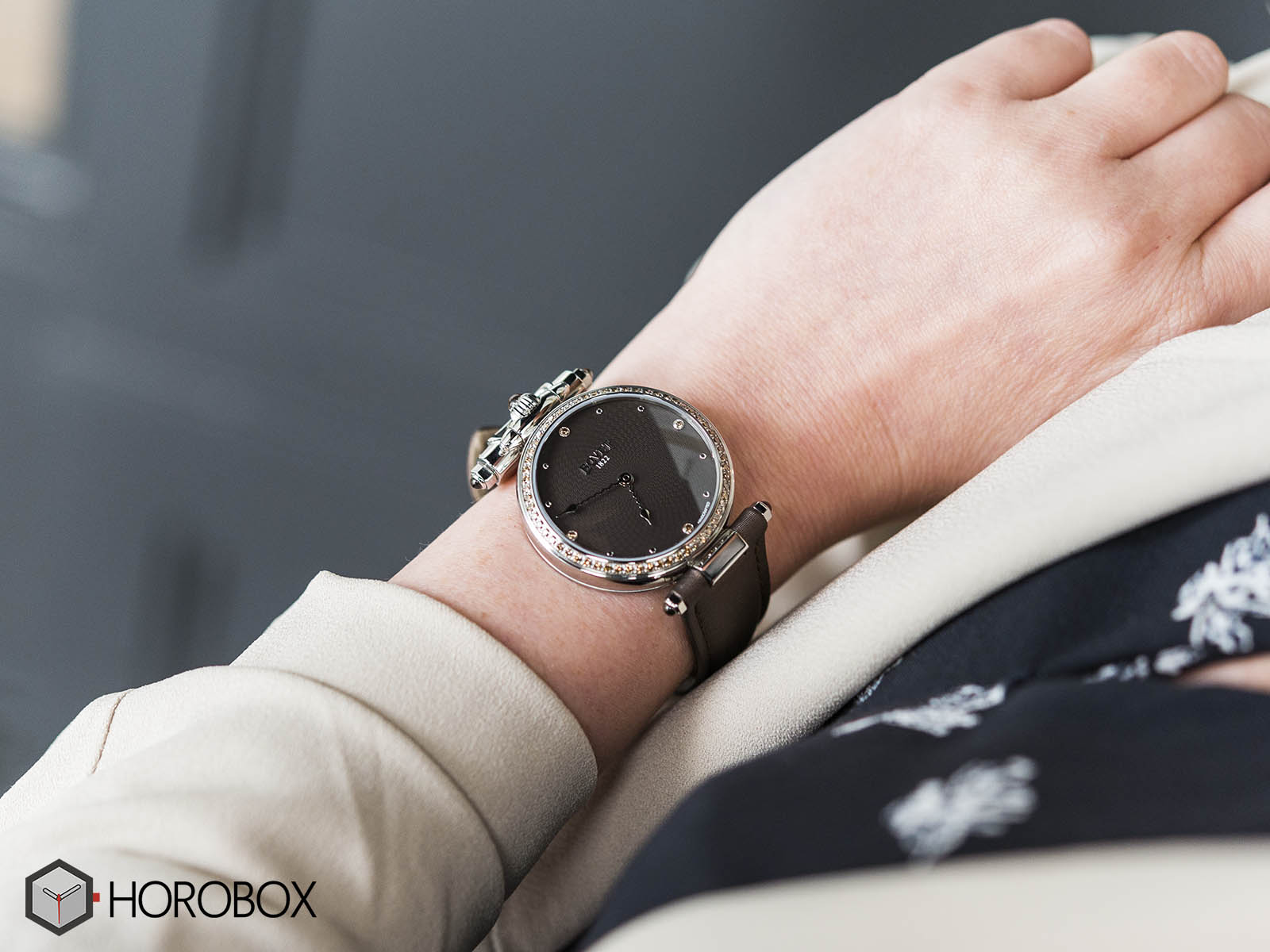 The Amadeo® case style, which was added to the Swiss watchmaker's product lineup for the first time in 2010, draws attention with its versatile structure that can be used as a pocket watch, a desk clock and a pendant as well as a wrist watch.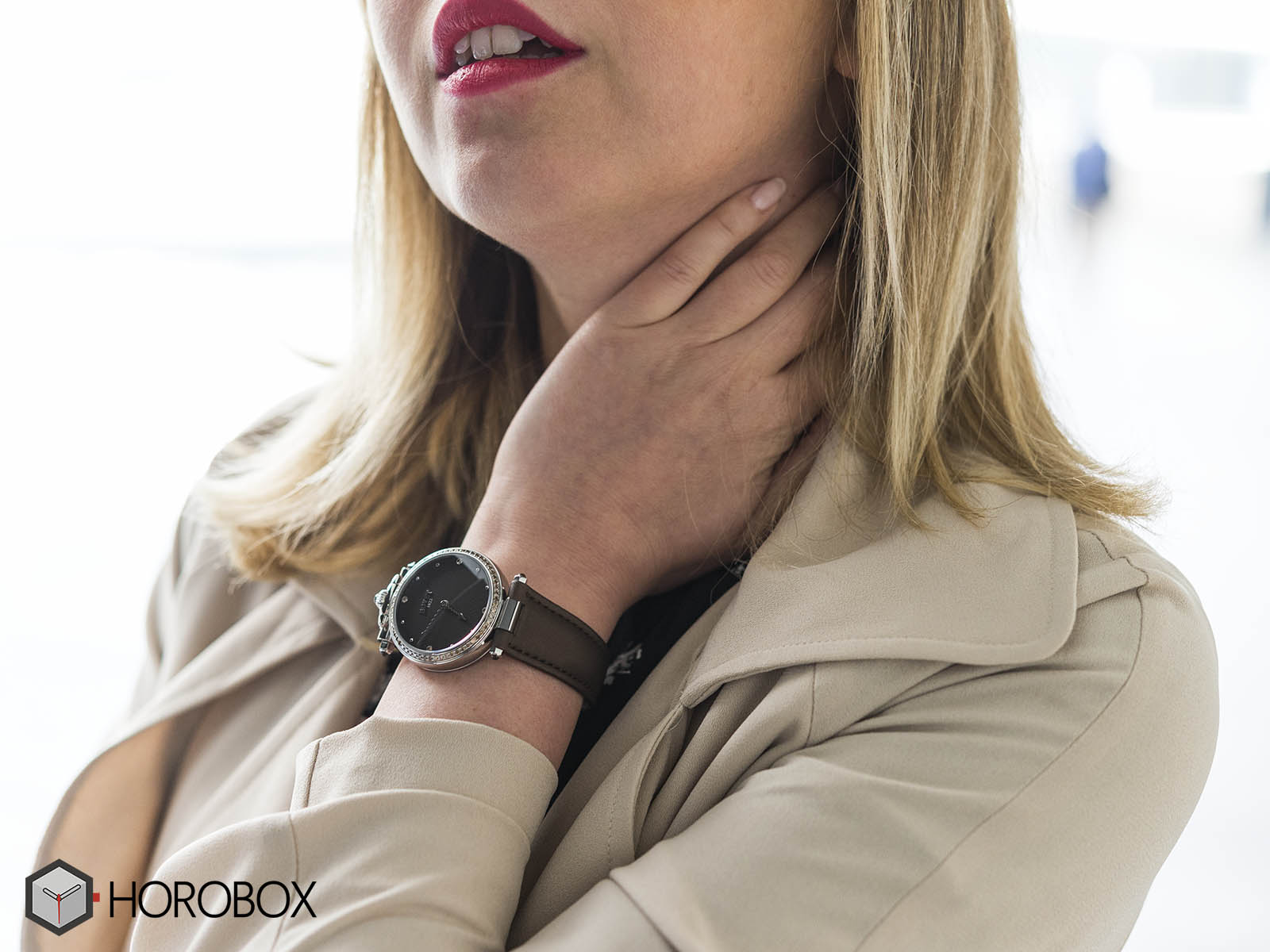 The model is offered in a round stainless steel case with a diameter of 36mm. The bezel and the unique bow at 12 o'clock side are decorated with diamonds. There are cabochon cut sapphires on the winding crown and the bow. The fully mirror polished finish of the case boosts the splendor of the diamonds and sapphires. The case sports a scratch resistant sapphire crystal on the front face and a pocket watch type flip cover at the back. In the meantime, it's worth noting that the Miss Audrey model is the lightest timepiece in the collection which makes it a perfect choice to be used as a pendant.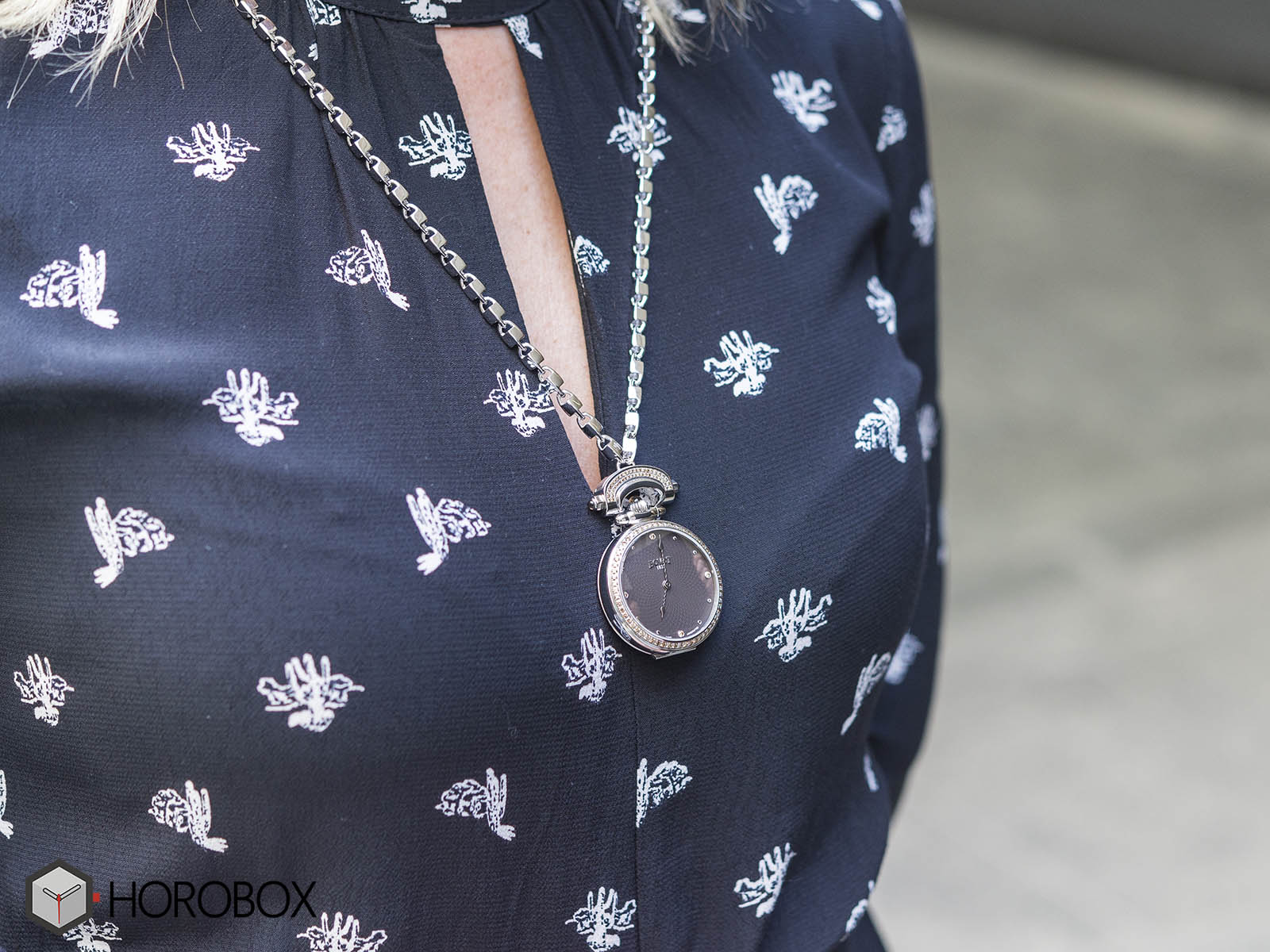 Bovet Amadeo Fleurier "Miss Audrey" model is offered in two dial colors, brown and blue. We have the brown dial here. The uniqueness of Bovet can easily be seen at the dial as it does not look like any other watches' in terms of surface pattern and hand set design. The lacquer coatings of the dials with Guilloché surface pattern have been applied in the workshops of the DIMIER 1738, the leading quadrant manufacturer of the watch industry. There are diamonds at the four corners of the dial that suits with the bow and the bezel. The dial is simple but elegant without having any extra text rather than the Bovet 1822 logo. The hands are designed in serpentine style and there are two of them only (no second hand).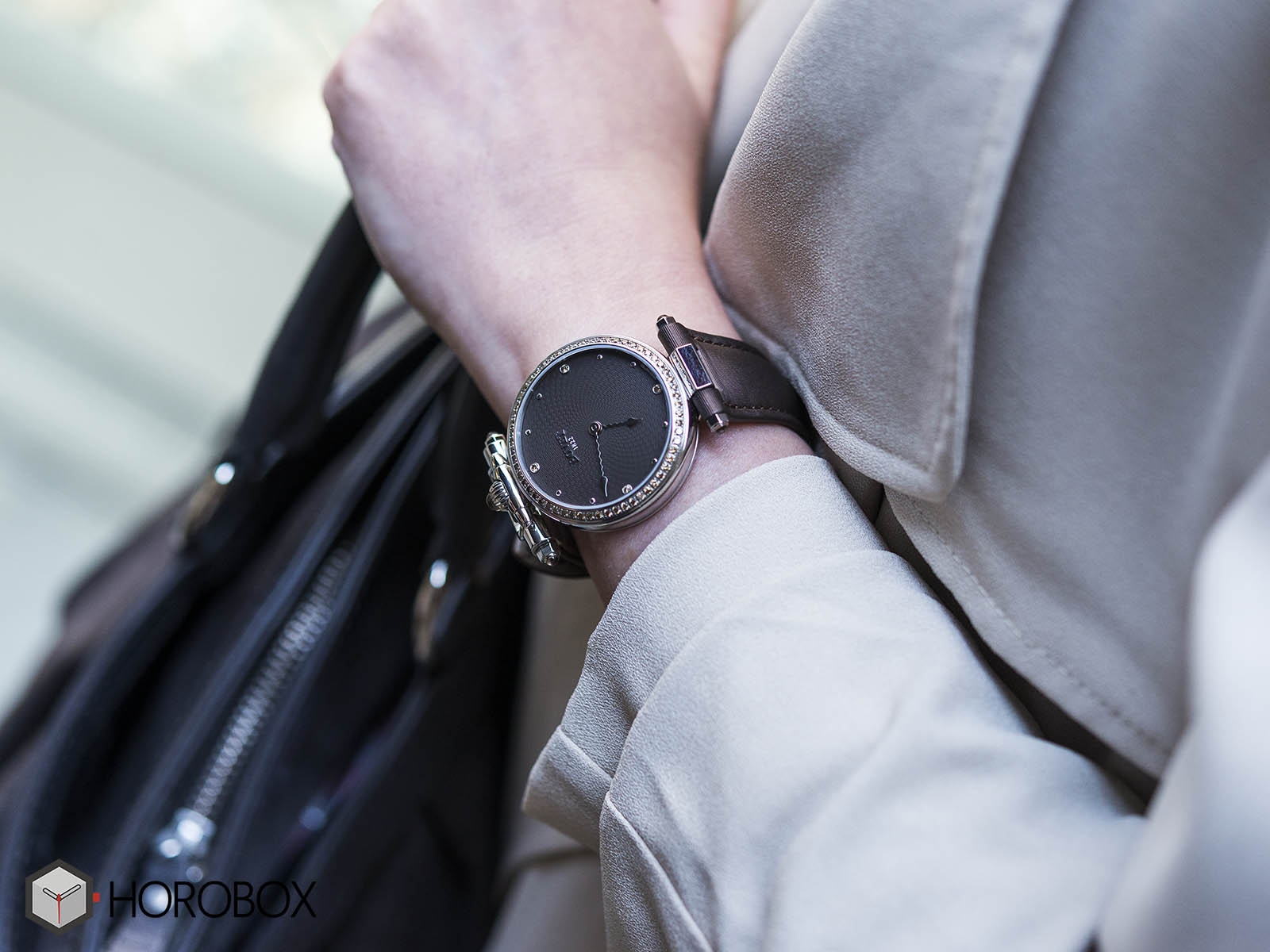 The model is powered by the brand's Caliber Ref. 11BA15. Self-winding movement beats at 4Hz and offers a 42 hours power reserve when fully wound. As with all movements in the Bovet product line, Caliber Ref. 11BA15 is also subjected to a 15,000-hour durability test conducted by the independent Chronofiable laboratories.
Bovet Amadeo Fleurier "Miss Audrey" is presented with a textile strap in line with the dial tone and made of strong satin. The model also comes with a stylish chain that is designed to be used as a pendant.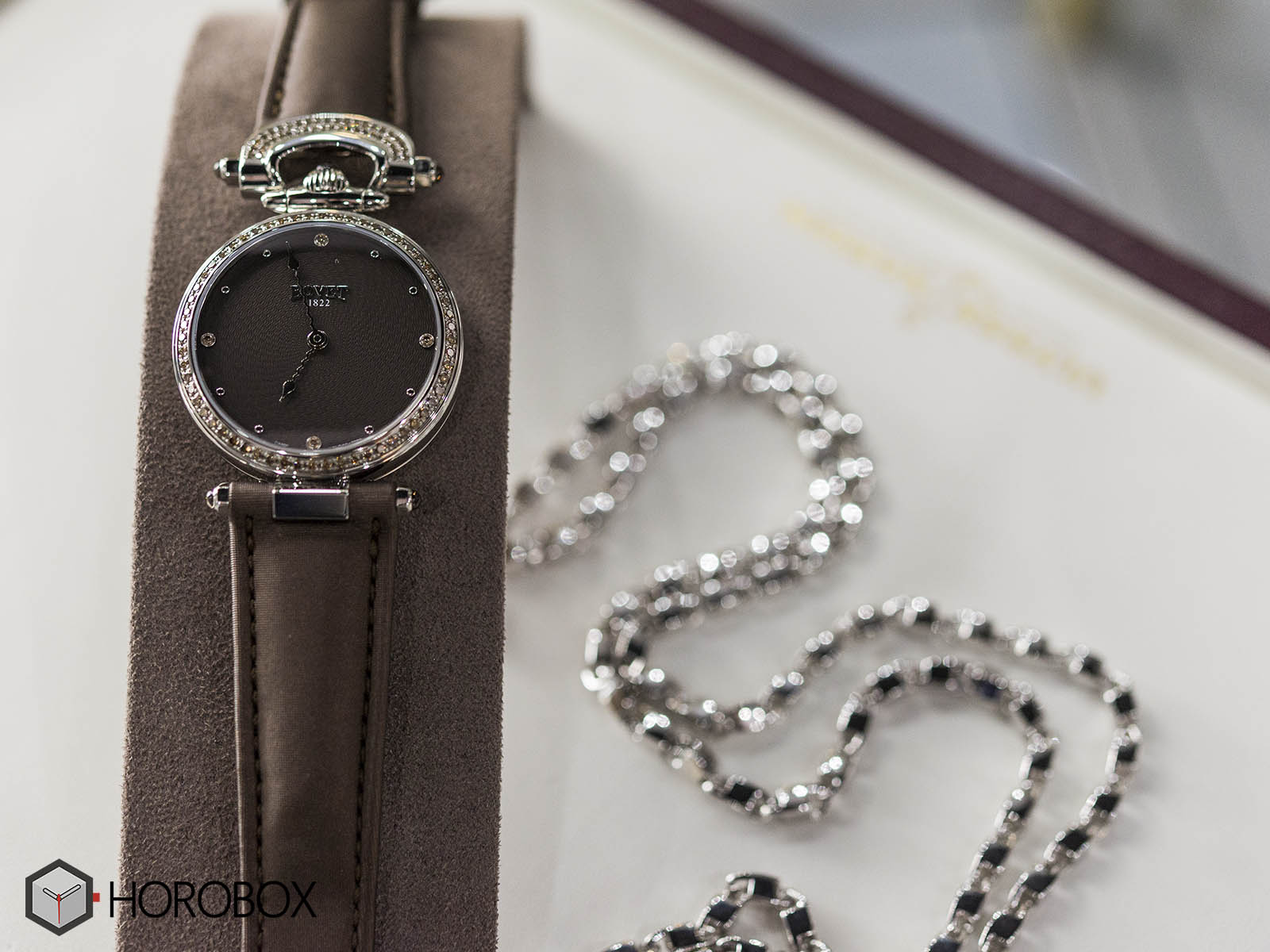 The Miss Audrey model in the Amadeo Fleurier collection, which has attracted a great deal of interest from women since the day it was added to the product line, gets a full note from us with its unique and timeless design, optimal size and versatile structure that we believe will be very useful for women.