The Octo saga continues on the theme of extreme finesse. After the thinnest tourbillon in the world launched in 2014, here is the newcomer in the world of superlatives: the Finissimo Octo Minute Repeater, which accounts for the title of the thinnest in the market.
The Finissimo Octo Minute Repeater is in the tradition of ultra-thin watches developed by Bulgari, succeeding the Tourbillon and the mechanical hand-wound movement launched simultaneously in 2014.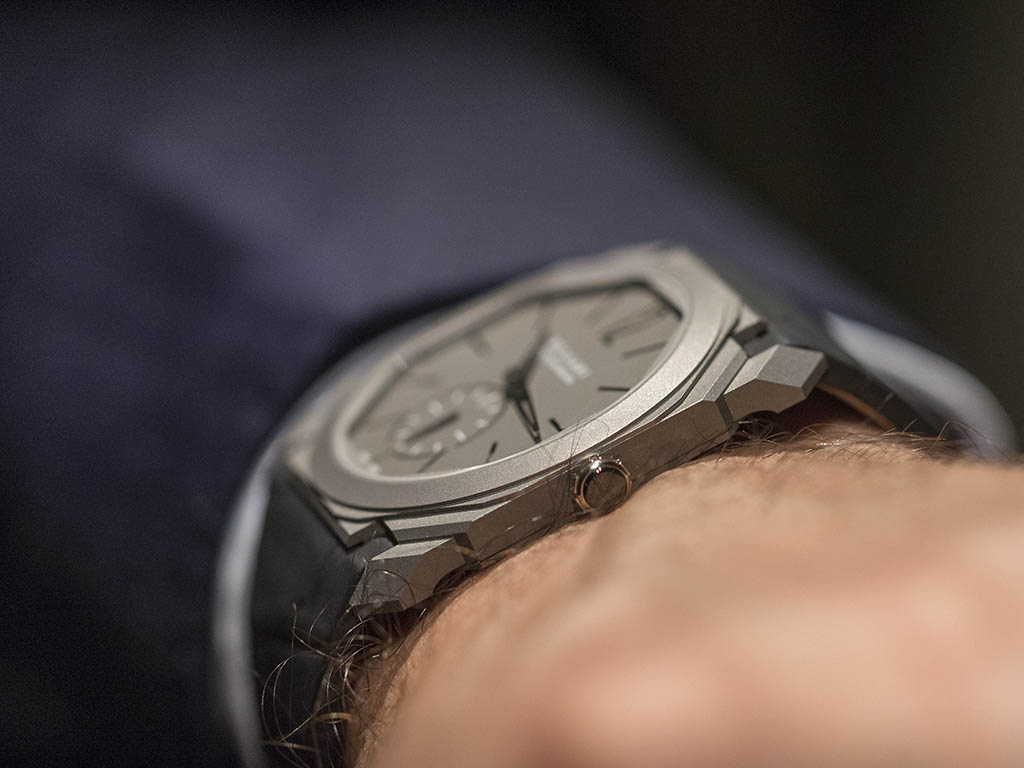 The striking watch presupposes a number of construction constraints and watch making expertise that only a few master brands to achieve crystal clear sound and intense, and whose rate is perfectly uniform and regular when it operated mechanism.
This applies for striking watches of sufficient size to provide an interior volume for optimal sound distribution in the box and hence optimum sound quality. For Finissimo Octo Minute Repeater, these data are upset because the original equation was to get the perfect sound in the smallest volume ever! The figures speak for themselves: the Caliber BVL 362 developed and produced in-house displays a 3.12mm thickness for a total thickness of 6.85mm housing.
The trail Manufacture solved the problem by working on different fronts. The exterior of the first housing 40mm, made ??of titanium: in addition to its light weight, low density metal that has the property to ensure the best sound diffusion. The index of the dial - Titanium also - are incised and open as is also the small seconds at 6 o'clock timer: the openings act as resonance amplifier inside the enclosure and optimizes the sound reproduction.
To these solutions adds another. Directly attached to the box, the circular section stamps are shaped and finished entirely by hand: preparing steels, shaping and definition of tones and harmonics are many stages until completion of gongs. 2 hammers are also fashioned with the same meticulousness. The extreme miniaturization of components 362 inhabitants this fine box is illustrated by the centrifugal governor, whose diameter with 2 weights does not exceed 3.3mm. The activation push of the striking mechanism, accompanied by a security, is located on the middle of the box 9am. It is designed to ensure a continuous seal to 50m. In the end it manually wound movement offers a 42-hour power reserve about once fully wound.
The Finissimo Octo Minute Repeater is worn on a bracelet made ??of vulcanized black alligator, with a folding clasp in titanium blades 3.
This is a strictly limited edition of 50 pieces.