In the past few days, we have witnessed the most surprising and exciting launch in the world of watches. The MoonSwatch model, produced in cooperation with Swatch and Omega, literally set internet users against each other.
Let's go back to 2001, to the beginning of the story. My first Swatch was a special edition model, exclusively produced as a tribute to the famous golf player named Sergio Garcia. It was from the Irony Collection and came with a case and a bracelet made of blue aluminum. I remember that I was very happy with the Swatch signed golf ball thrown in with the watch. Golf balls bounce pretty high on hard ground, you know? Although the acid in my sweat caused some damage to the aluminum and the rubber parts that hold the bracelet links together lose their elastic properties and break down over time, I continue to keep my watch and use it occasionally (about 1-2 days a year). Fortunately, Swatch offers a variety of silicone strap options, that can bring your old watches to new while giving them a different look. To be honest, that Swatch watch has performed quite well over the years. In the past 21 years, scratches have occurred on the crystal, but they were removed very easily. The chronograph's second hand stopped working a few years ago, while the central seconds and minute hands do their job well. It's not bad to see this performance from a battery-powered movement after 20 years. If it was a serviceable watch, I'm sure the problem with the second hand could be fixed, but the brand recommends me to buy a new one instead.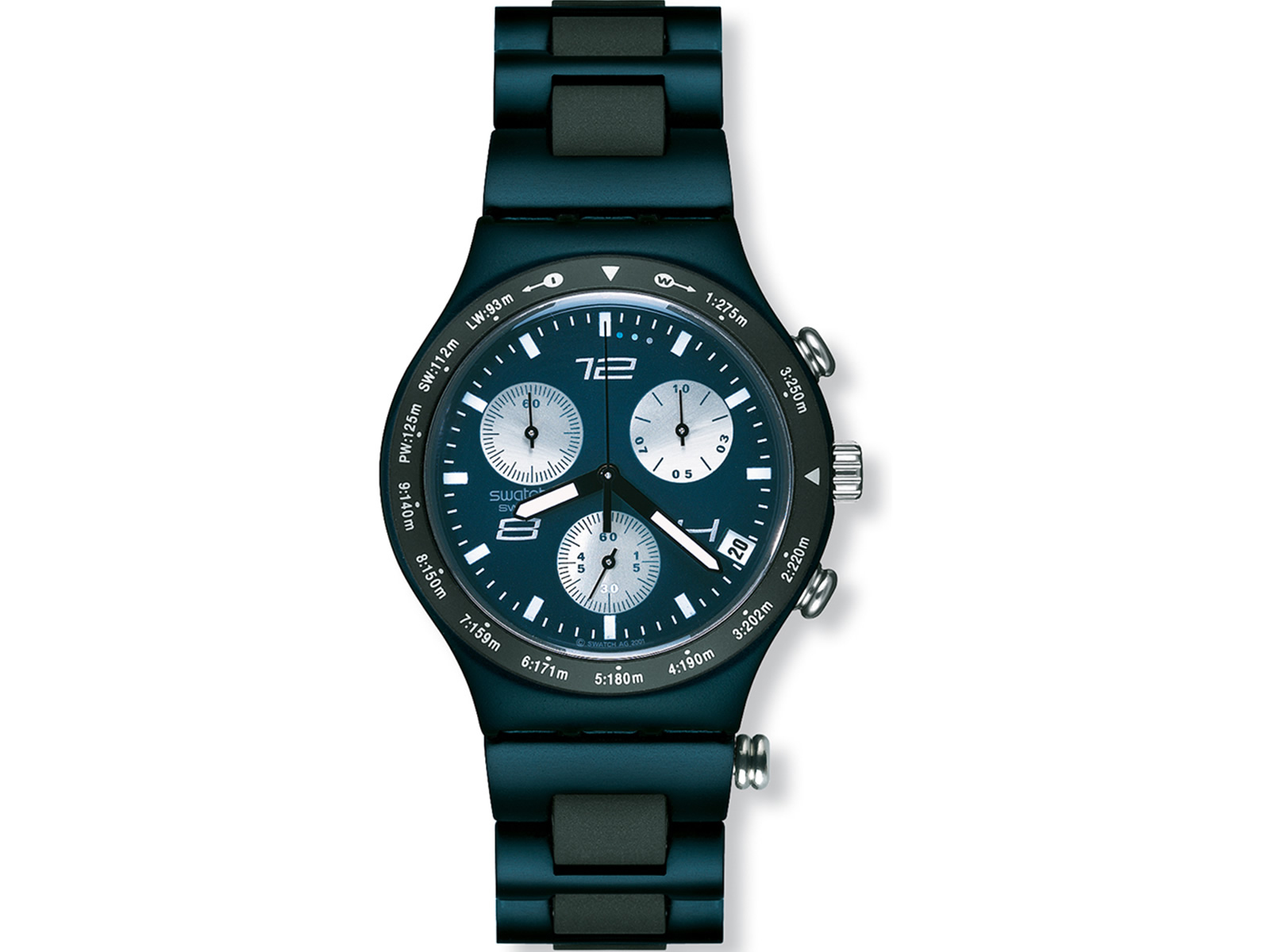 I started the previous paragraph with the words "My first Swatch ". Now I have to add something. In fact, that watch was also the last Swatch I bought. Over the years, I got interested in other brands and models. I changed, developed, renewed. Of course, there were several Swatch models that I sympathized with from time to time. The Skin series stunned me with its extraordinary thinness. Limited production and extraordinary dial models got my attention. I thought that, as a watch enthusiast, it is absolutely necessary to have a Sistem51 model, which was a revolutionary novelty in the world of watches for the past few years. I don't know why, all these thoughts never resulted in a purchase. Until now.
For me, Omega Speedmaster Professional is one of the three most successful chronographs in the world of watches. Its history, design, story, movement, comfort, legibility, practicality, price, and many other details bring the Speedmaster Professional model to a different point in the eyes of watch lovers. I describe the release of the MoonSwatch model as shocking. A model that could divide watch-loving people into such different groups and make them talk about it so much.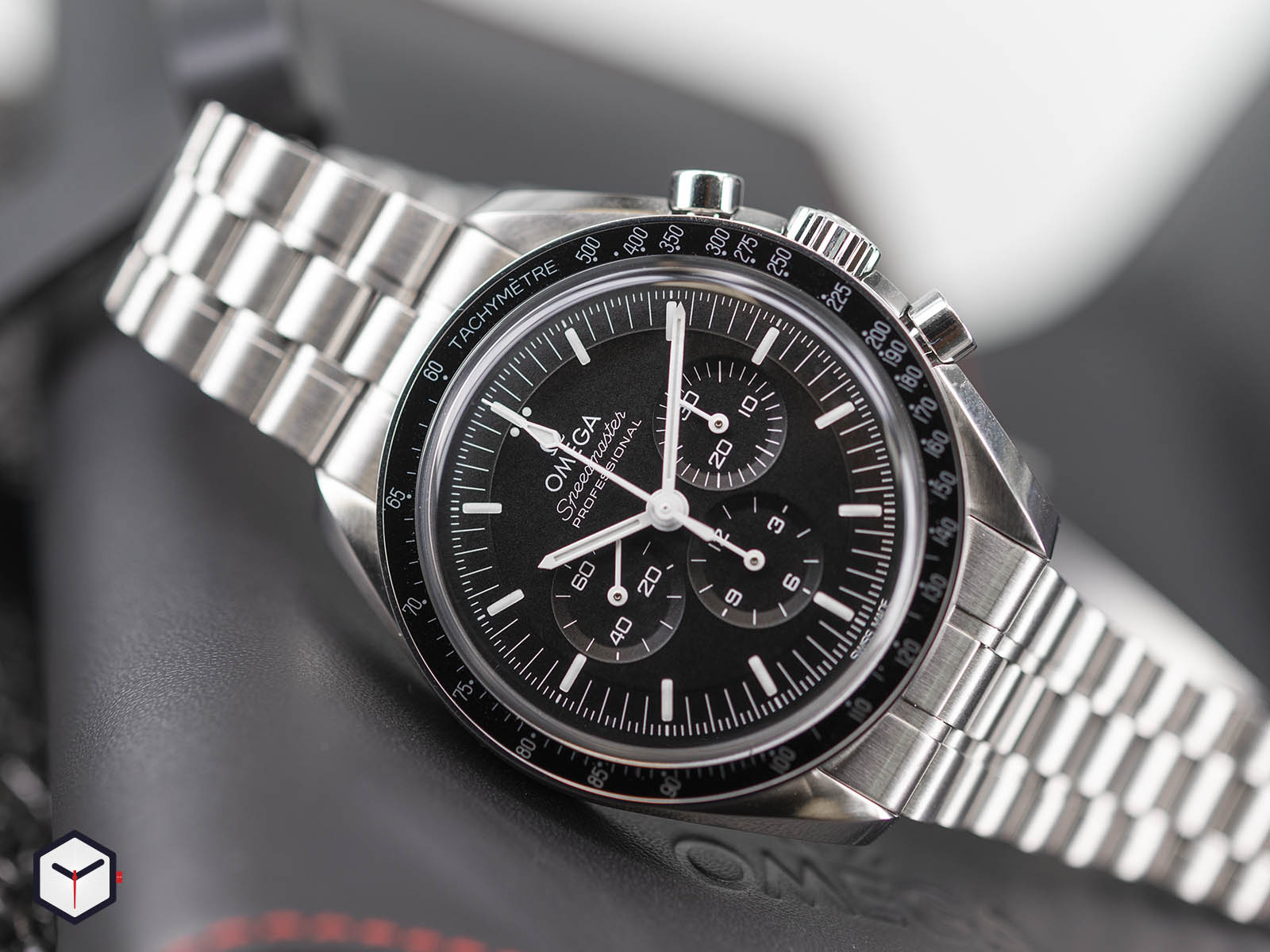 Starting with the overall design, the similarities between the Speedmaster and the Moonswatch are obvious. As Swatch proudly states, the case dimensions are the same as the Speedmaster. The 42mm diameter case is 47.34mm long and 13.25mm thick. Just like the Speedmaster Professional model, the Swatch also has plexiglass crystal. The model is waterproof up to 30 meters, as in other Swatch models. This value was 50 meters for Omega so there is no significant difference in practice. Swatch's case is produced by a material called Bio Ceramic that contains ceramic and plastic made from plant-based castor oil. The look and feel of the material are like good quality plastic, where the data about its durability suggest that it outperforms a standard plastic. The weight of the watch, including the strap, is only 29 grams, and the comfort that comes with lightness is priceless. Of course, it would not be right to compare it with the Speedmaster Professional in terms of built quality. The tachymetric scale on the bezel is directly inspired by the Speedmaster's bezel. The placement of the chronograph sub-dials on the dial is different from the Speedmaster due to the quartz caliber inside, but does it really matter?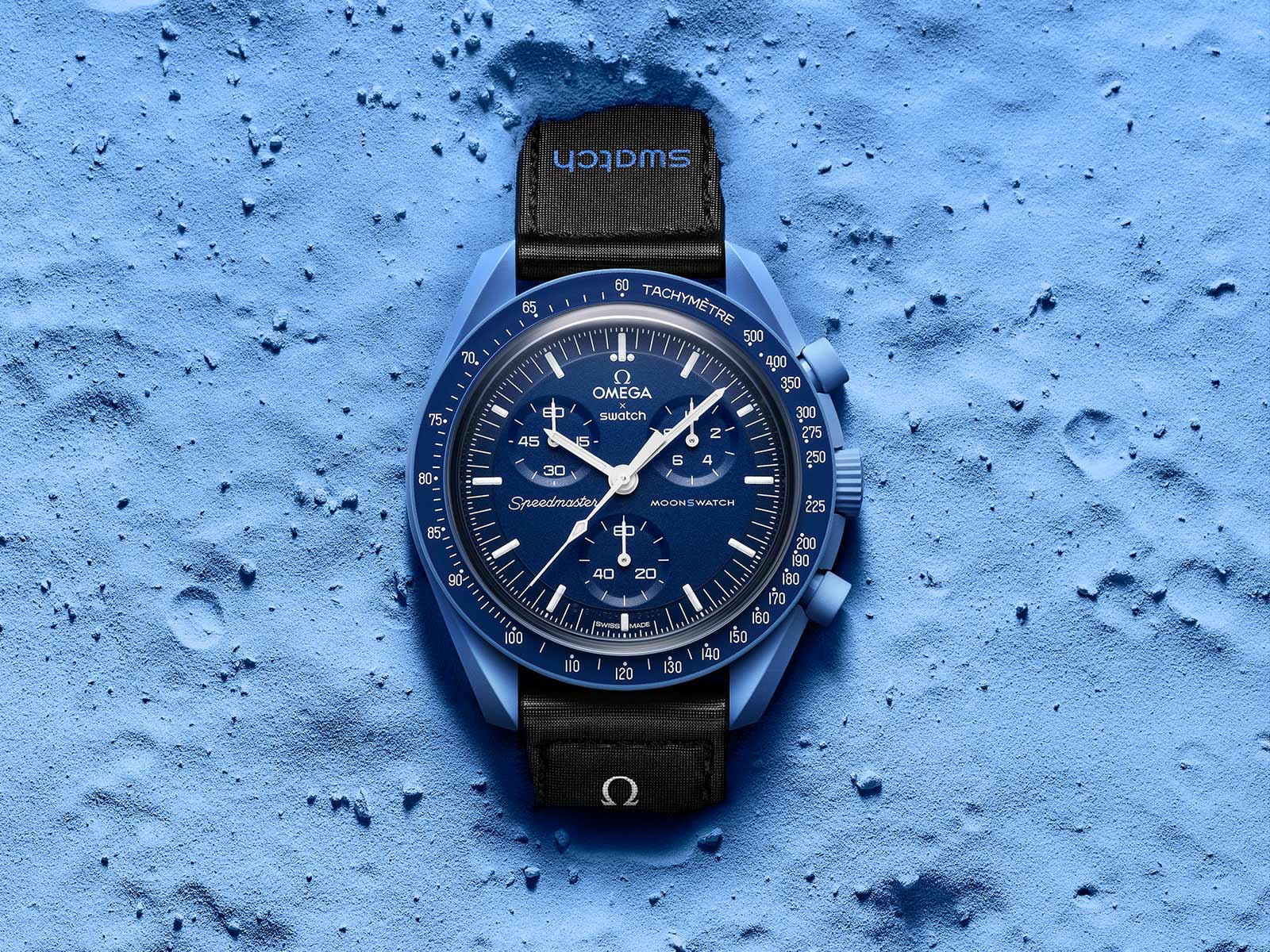 The case back of MoonSwatch is made of Bio Ceramic just like its case, and there is a planet, moon, or sun illustration on the battery cover, depending on the version. The strap is fixed to the wrist with a Velcro strap, just like the Speedmaster model that went into space. I hope the comfort level will increase over time. Thanks to its 20mm lug width, it is possible to use a variety of straps with this watch. You are not limited with the straps specially designed by Swatch. I chose the Moon model, but that was me. Any model will be a nice choice.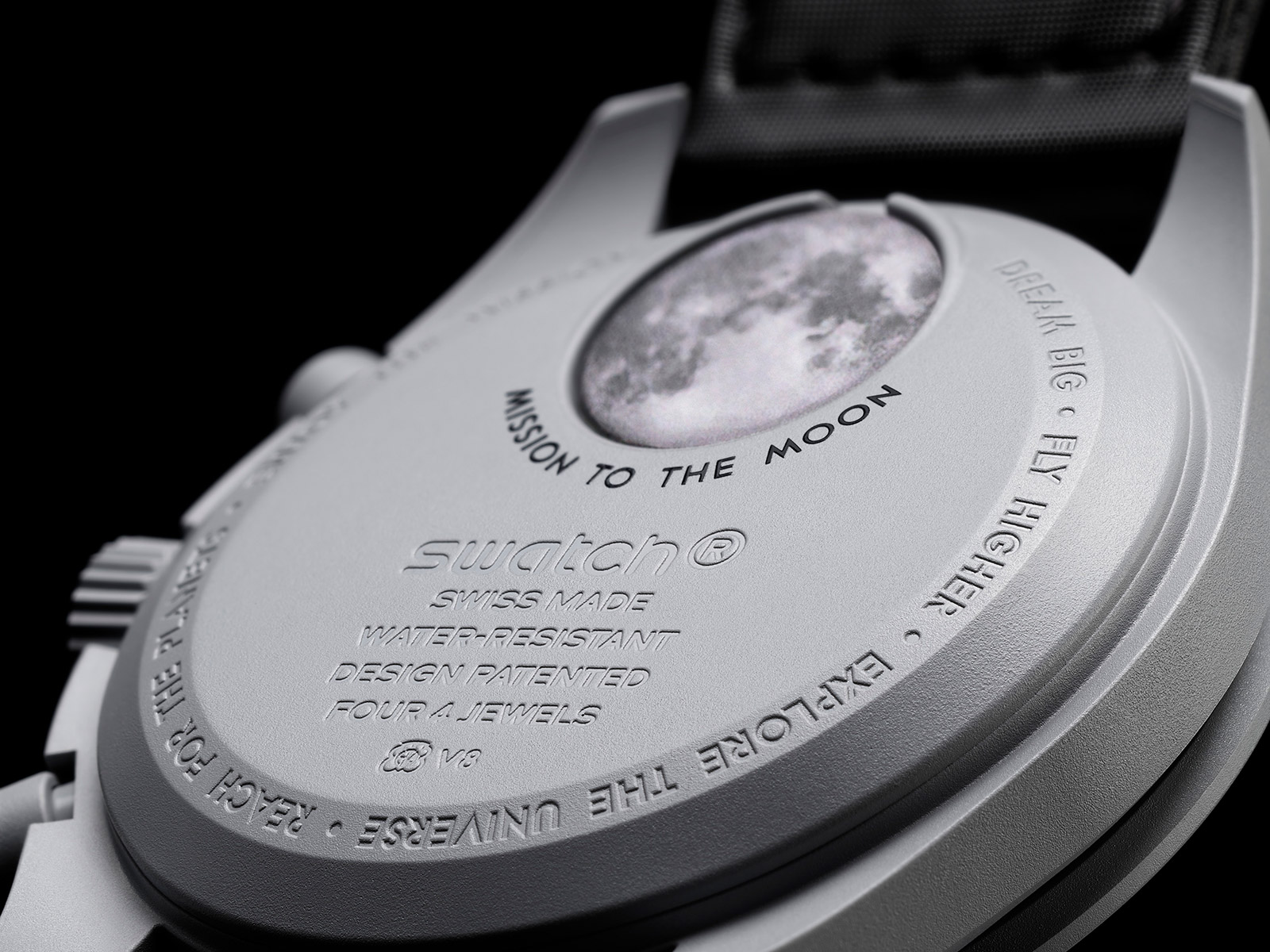 The Omega name on the dial, the ageless Speedmaster form, and of course the 250 CHF price tag made me a Swatch owner again years later. Swatch owns Omega, we know that. As such, we can say that the collaboration revolves around the family. Well, if this watch was released under a different brand name, would I still be interested if there was no collaboration? I do not think so. Would I be interested if this watch was introduced with an automatic or manual winding caliber and a higher price tag? The answer to this question is definitely no.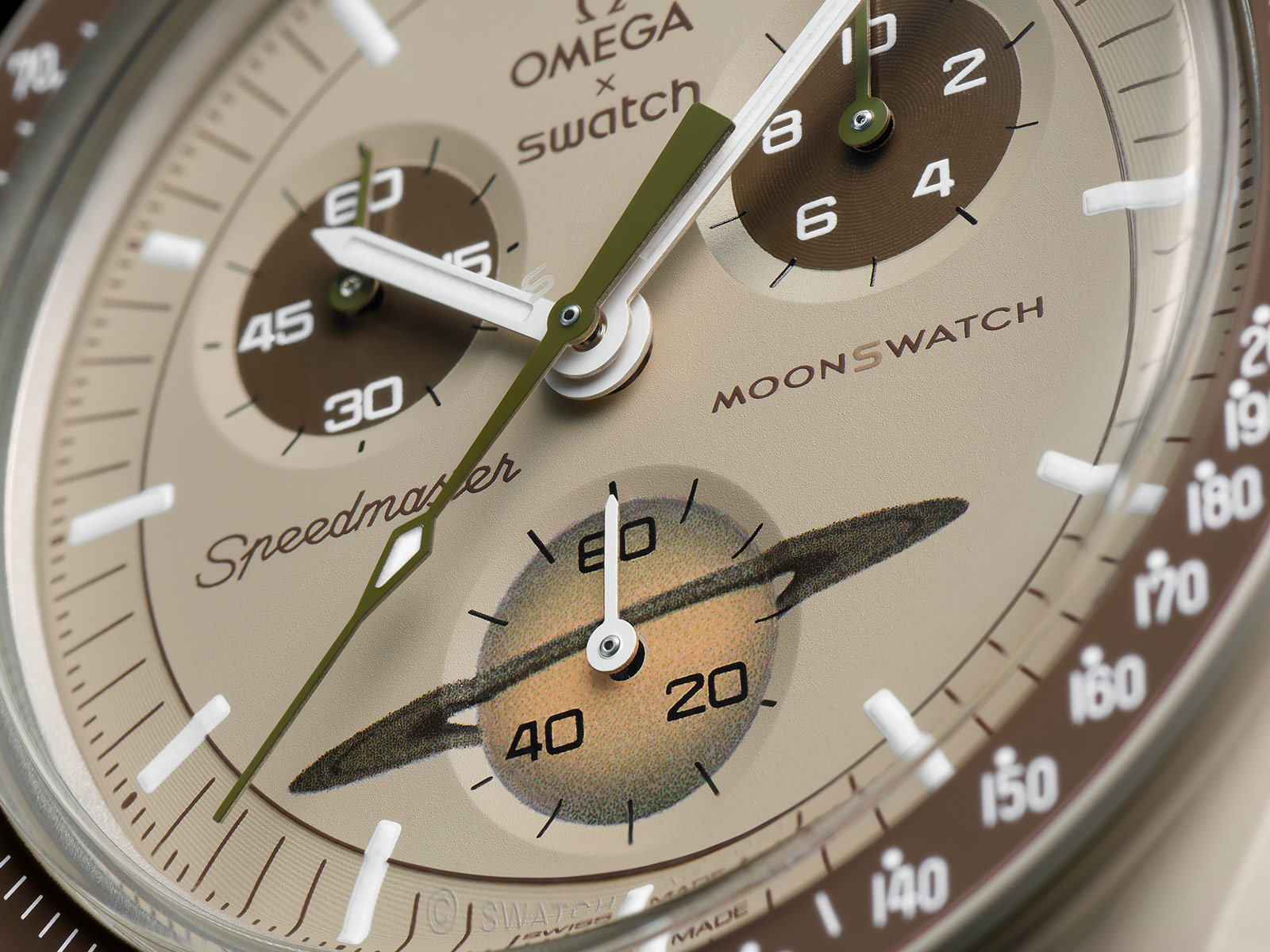 I think Omega, or rather Swatch, did a fantastic job. Everyone talks about this collaboration. This is a unique PR opportunity for both brands. A case made of technological materials and a movement produced with the same high technology attracts the attention of every user. The fact that battery-powered watches are cheap should not mean that their technology is low. Since both brands are under the same group's roof, there is no theft or inspiration for the design, which already has the Omega logo on the dial.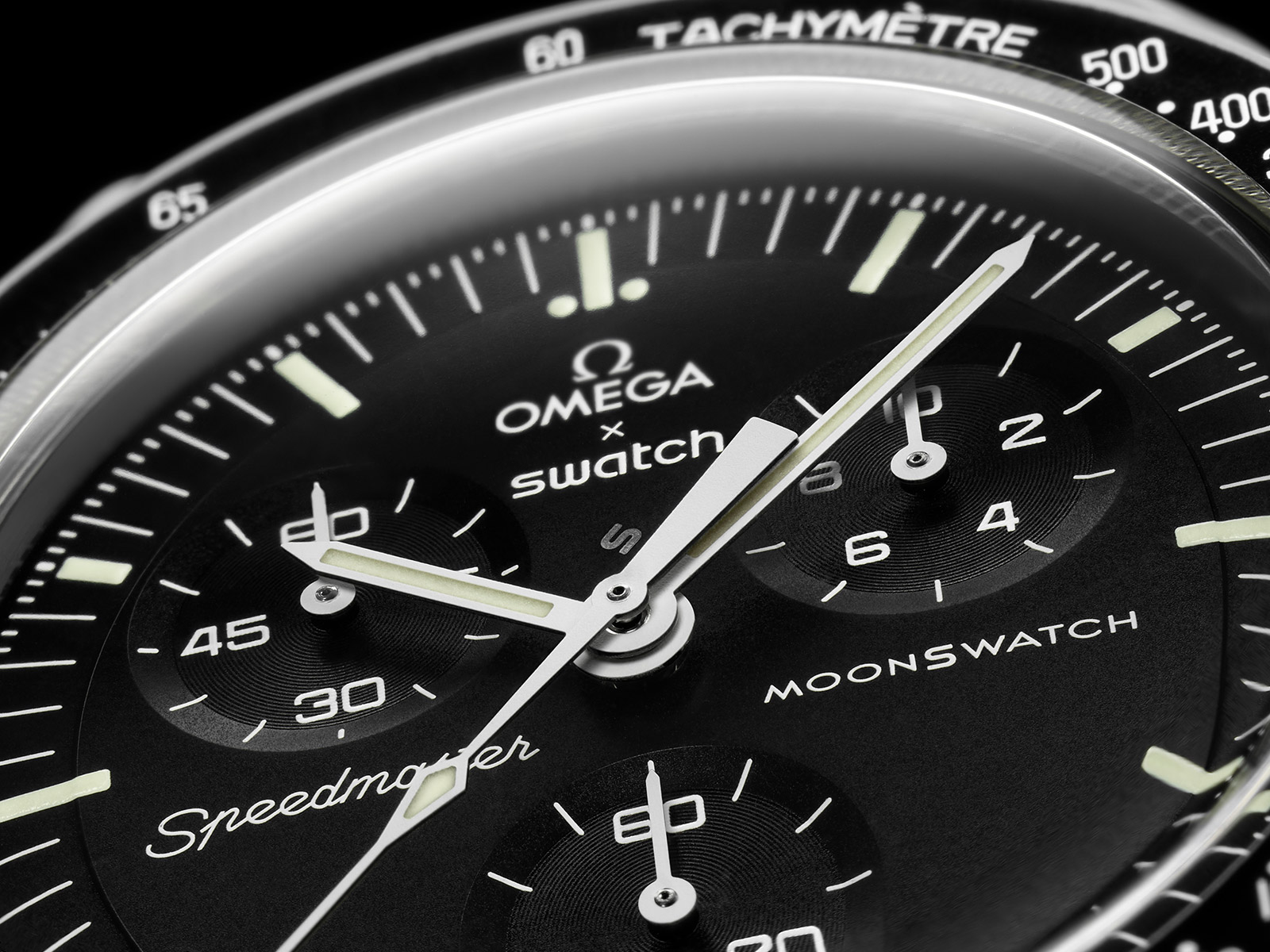 7'den 70'e herkesin ilgisini çeken bir saat üretmek kulağa mümkün değilmiş gibi gelebilir. Bence Omega bu imkânsız görevi başardı. Ortaokul öğrencisinden en büyük saat koleksiyoncularına dek herkesin merak ettiği ve daha da önemlisi ulaşabildiği bir saat üretti. Üstelik bunu limitli üretim, kısıtlı erişim gibi pazarlama taktiklerine başvurmadan gerçekleştirdi.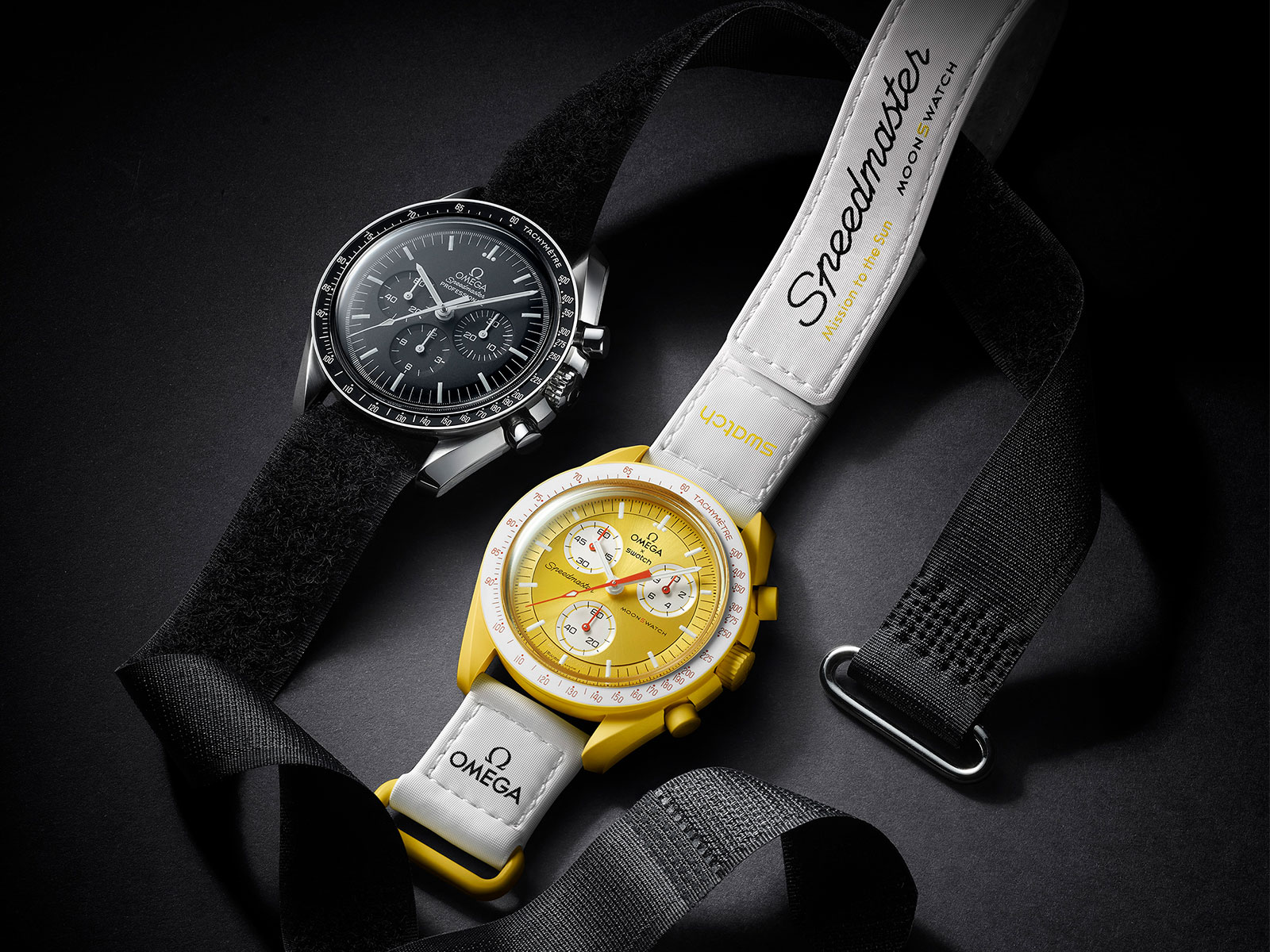 Saate dair her detay kusursuz mu? Üzgünüm ama cevap hayır. Velcro kayış çok sert, zamanla yumuşar mı diye beklenecek gibi dahi değil. Acilen kayış değişikliği şart. Silikon, kumaş ya da sportif bir deri gayet hoş olacaktır. Pleksiglas cam tahmin edeceğiniz üzere çok kolay çiziliyor. Bezelin de kaliteli durmadığını itiraf etmeliyim. İşin kötü tarafı BioCeramic de çiziklere karşı pek dayanıklı değil. Dikkatimi çeken bir diğer sorun ise saatlerin birçoğunda kronografa ait saniye kolu tam 12 hizasında durmuyor. Burada bir ince ayar imkânı da yok, özensiz montaj diyebiliriz. Son olarak arka kapakta yer alan gezegen şekli yapıştırma gibi görünüyor. Pil değişimi sonrasında tekrar yapışır mı ya da yıprandığında yenisi bulunur mu? Neyse ki bunların hiçbiri bu gösteriye engel değil!
Bir an için geçen hafta yeni bir Speedmaster Professional satın aldığımı hayal ettim. Bu arada uzun bir süre bahsi geçen saati almayı ciddi bir şekilde ele almış ancak bir başka efsanevi kronografa ulaştığımdan Omega hayalimi sonuçlandırmamıştım. Neyse, biz hayale geri dönelim. Acaba böyle bir alışveriş yapmış olsaydım, birkaç bin Euro verip bir Speedmaster Professional almış olsaydım Swatch X Omega MoonSwatch modelinin tanıtımına üzülür müydüm? İnternet kullanıcılarının da kafaasını karıştıran bir soru bu. Benim cevabım kesinlikle hayır. Öncelikle Speedmaster Professional her zaman bir saatçilik efsanesiydi ve öyle kalmaya da devam edecek. Swatch ile Omega'nın tasarımları benzer ancak kesinlikle aynı değil ve bu hem saatin sahibi hem de çevresi tarafından biliniyor. Her iki saatin de hissiyatı bambaşka ve bu durum da saatlerin fiyatlarına dramatik bir şekilde yansıtılıyor. Eminim, hiçbir Speedmaster kullanıcısı keşke Swatch alsaydım gibi bir serzenişte bulunmayacaktır. Hatta, eminim Speedmaster ailesini Swatch ile tanıyacak birçok genç saat sever, ilerleyen zamanlarda Omega Speedmaster Professional almanın hayalini kuracaktır.
Tüm bu süreçten bağımsız olarak saatin şu anda piyasada yarattığı çalkantıdan da bahsetmemek olmaz. Swatch, saatin satışa sunulacağı günü 26 Mart olarak duyurmuştu. Birçok ülkede sınırlı satış noktasında ve sınırlı adette satışa sunulacak bu model için insanlar saatler öncesinde bayilerin önünde kuyruklar oluşturdu. Bir noktaya kadar bu çılgınlığı anlıyorum diyelim. Saate ilk sıradan ulaşan bazı uyanıklar saniye kaybetmeden ikinci el satış platformlarına MoonSwatch ilanları açtılar. Üstelik orijinal fiyatın kat kat üstüne. Bu kişilerin hangi akla dayanarak saatin ikinci el satışından para kazanmayı umduklarını merak ediyorum. Evet, ilk aşamada az sayıda mağazada, talebe kıyasla düşük bir arz ile saatler piyasaya sürüldü ancak merak etmeyin. Çok kısa bir süre içinde yüzbinlerce MoonSwatch modeli hem bayiler hem de internet aracılığıyla sevenlerine ulaştırılacak. Saatlerce kuyrukta beklemek yerine bir tıkla bu saate sahip olabileceksiniz.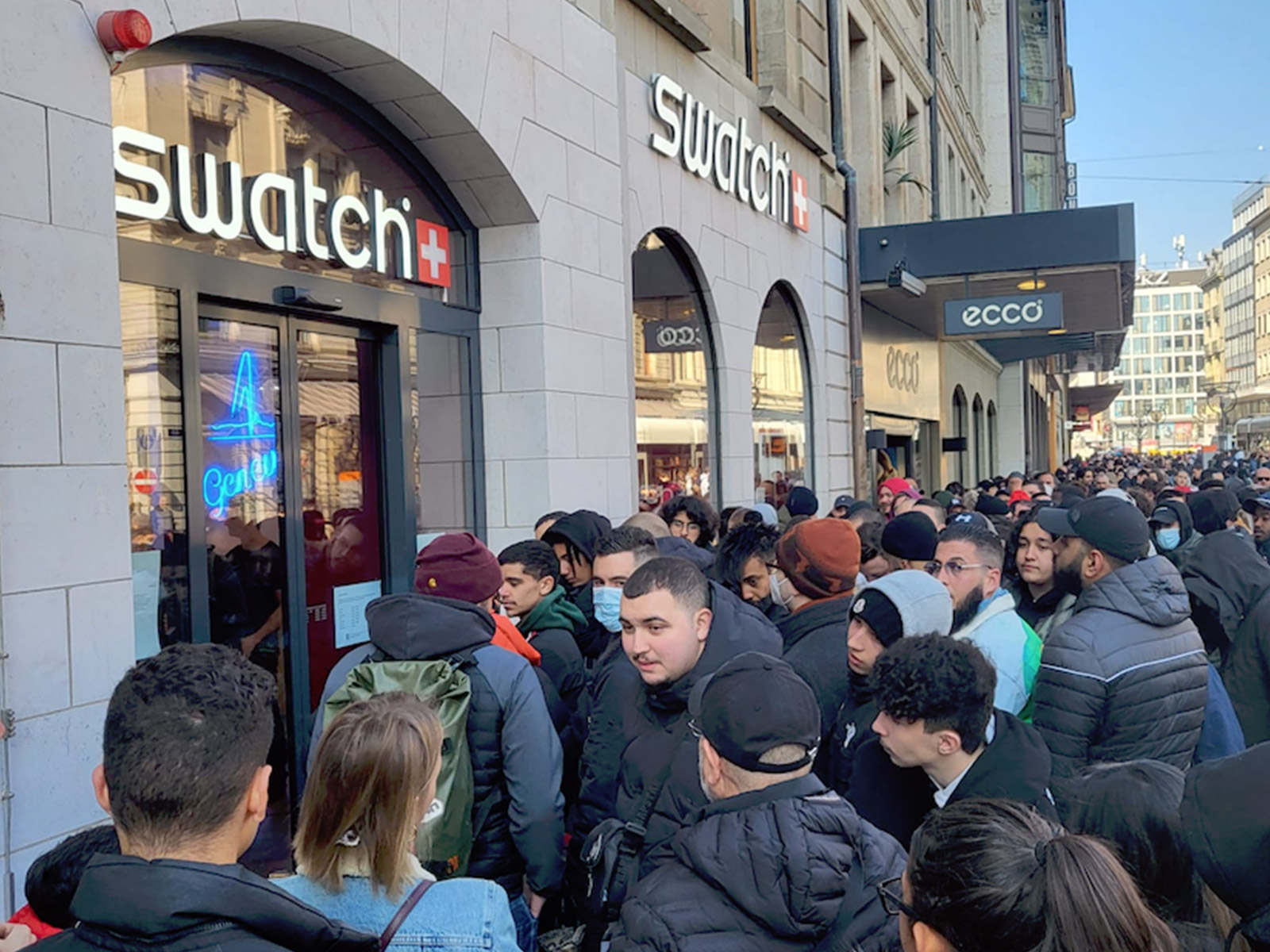 Uzun lafın kısası, 1983 yılında Swatch, saat dünyası için devrim sayılabilecek bir yenilikle hayata gözlerini açmıştı. Aradan geçen 39 yılın sonrasında bir başka devrimle karşı karşıyayız. Teşekkürler Swatch!