It was 1999 when Tissot launched its first product line of touchscreen timepieces. For the last ten years haptic displays started facilitating almost everything around us. The touchscreen type watches were a cutting edge technology samples of how a "tool watch" should perform. While they were not the first brand to integrate tactile specs, the T-Touch watches were and are specialized instruments with different features for different users like divers, navigators, mountaineers.
Now, the time has changed and the cutting edge technology perception of touchscreen is left behind. If you are talking about a watch with a touchscreen, it's probably a smartwatch. Smartwatch concept is growing fastly and major Swiss brands are getting more involved with that concept however, Tissot T-Touch is not a smartwatch.
The Tissot T-Touch Expert Solar is a nice and all round tool watch. It is designed to meet the requirements of a specific buyer dealing with a specific purpose.
But, as we mentioned before, it is not a smartwatch. And this fact leads in to the main problem of the product: the price point. Smartwatches like Apple Watch, Samsung Gear Series or Casio retails less than the Tissot T-Touch Expert Solar. While some would say that Tissot is a traditional brand with a strong heritage and knowhow, for the tech guy an Apple Watch would be more tempting with lots of features and hundreds of applications.
However, Tissot T-Touch Expert Solar has its own assets. . It measures specialized data, crucially important to its intended user. It operates on power from the sun, not a USB. It doesn't need a smartphone to maximize capabilities.
I borrowed a friend's timepiece which is worn on a daily routine for a long time. We have the marks here and there but I actually like the idea of reviewing a used ( but not abused ) tool watch.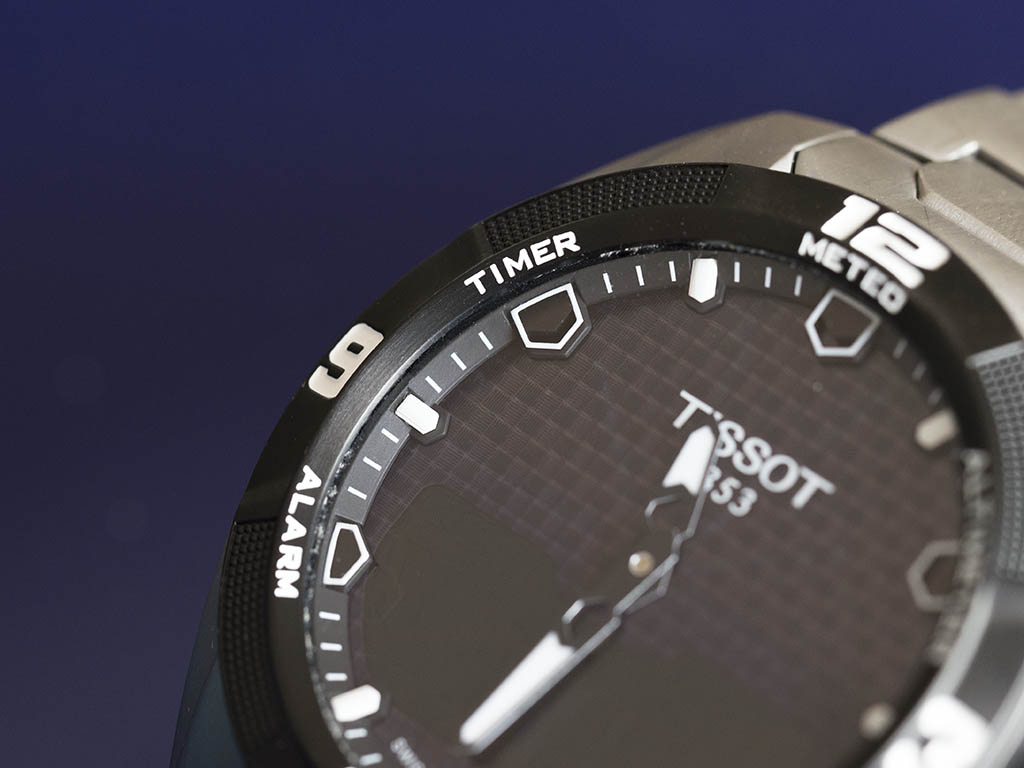 T-Touch Expert Solar comes on a titanium case and bracelet. 45mm case feels quite light on the wrist thanks to the Titanium. Actually, I am not an admirer for lightweight timepieces. I kind of associate this issue to build quality. However, T-Touch Expert Solar doesn't fit that at all. The build quality of the case is superb. The bracelet feels very nice and free of rattles. Tissot logo engraved clasp works securely.
The dial sports photovoltaic cells that keeps the watch charged. The checkerboard layout looks cool at any angle and, despite the 45mm case size, the Expert wears much more comfortable than the size sounds.
The hands and indices are bold and easily read on the contrast surface of the dial.
We can say that the Expert line of T-Touch watches were designed with mountaineering in mind. With a touch of the main pusher ( yes it's a pusher, not a crown ), dial awakes and users can decide the function they want to use. Touching at the 12 o'clock position, the barometric pressure is displayed in both relative and absolute displays. The compass and its azimuth display (located at 6 o'clock), are both nice features and they work precisely. The other options are: multiple timers, alarms and chronograph with split timing. They are all easy to operate and efficiently useable via combining taps with use of the secondary and tertiary pushers.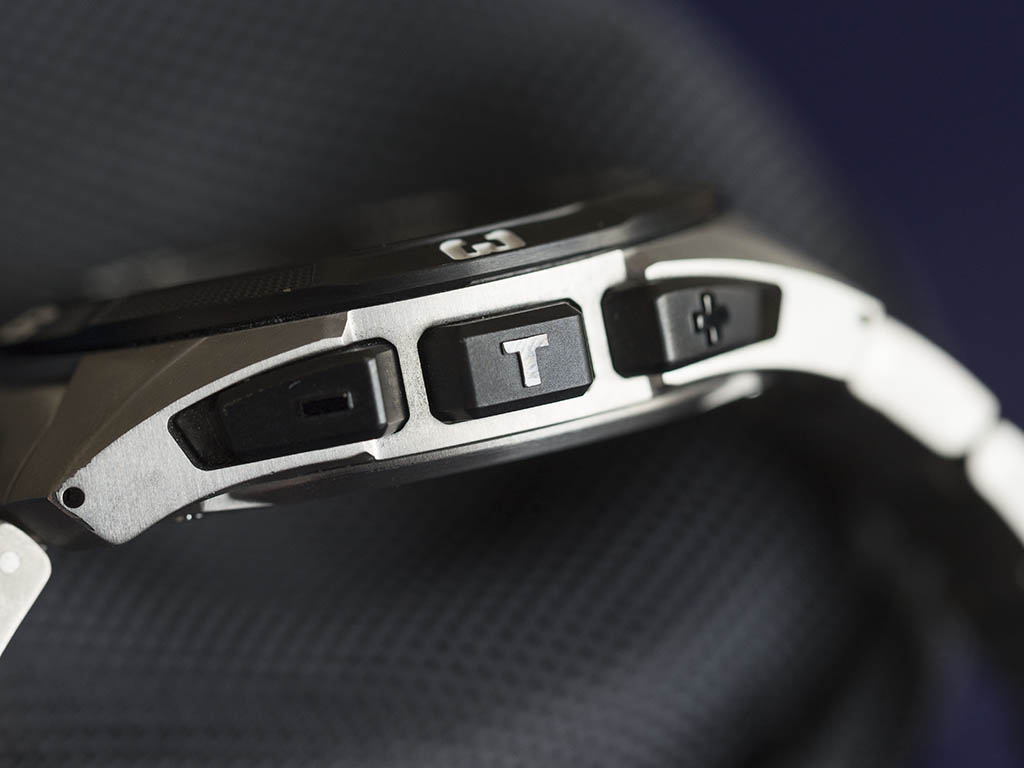 The case back is solid and it's made of Titanium as well. The watch is rated WR100M which means it's OK for swimming however it should not be taken as a dive watch.
The Tissot T-Touch Expert Solar is a refined version of a pioneering hi-tech tool watch from a reputable and a long time major Swiss brand. It has its pros and cons but at the end of the day it's cool and useful timepiece to enjoy for many outdoor activities without compromising the good looks.