In 2013, Ulysse Nardin started manufacturing their own in-house built chronograph movements referenced as Caliber UN-150. The new caliber began serving as the Standard movement for the brand's Marine Chronograph Manufacture watch collection varying from a limited edition model featuring an in-house made enamel dial to a wide range of standard models.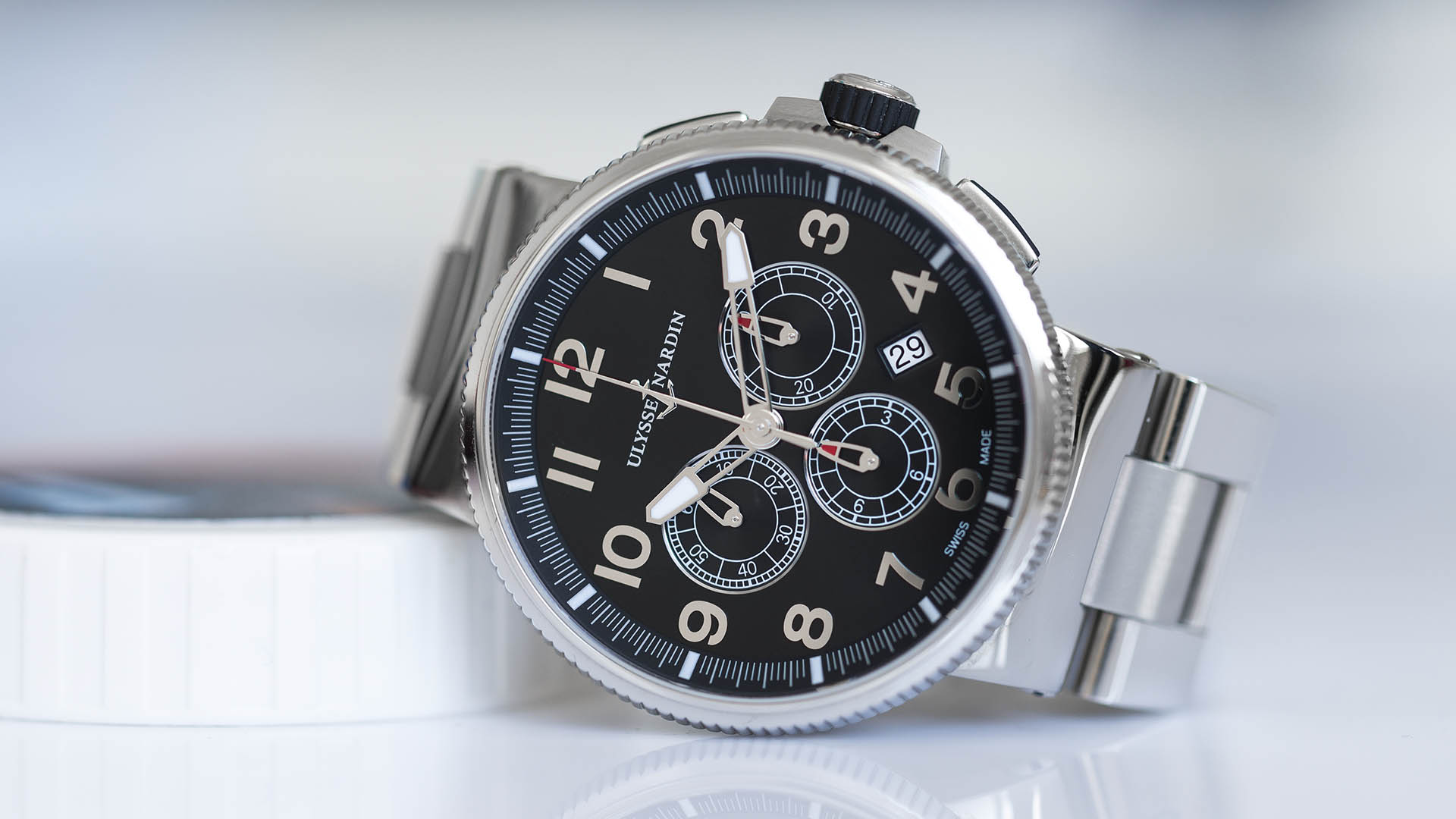 A year before the release of Caliber UN-150, Ulysse Nardin officially launched its first mass production in-house movement named Caliber UN-118. The new movement was actually an outcome of a long R&D period which practically started when ETA stated that it was going to make its movements un-available to most watch brands outside of the Swatch Group. As we all recall, Swatch Group which is the owner of ETA, after having several legal actions with the Swiss Government, decided to decrease supply of ETA movements to outside brands gradually and use the movements mostly for the brands under the Swatch Group which simply forced many brands to design and produce their own movements.
Ulysse Nardin took the necessary steps in this regard and started working on their own movements. In fact, in-house movements aren't new to them at all as the top of the line models from the brand already featured in-house movements. However, designing hi-end complications for top-end special/limited edition timepieces is quite different than manufacturing more basic movements in larger quantities.
Unlike many other brands, Ulysse Nardin has not entirely relied on finished ETA movements. They take raw ETA movements instead and install their own modules among several other technical refinements. Their first mass produced in-house movement Caliber UN-118 featured a special alloy called DIAMonSIL which is a form of diamond coated silicon offering better durability than the standard silicon applications.
Let's take a close look at the Caliber UN-150 now..
I would like to start with the aesthetics of the movement as it appears to be a very beautifully finished sample of traditional watch making. We see a group of fine details like Cotes de Geneve decoration, flame blued screws and a perforated oscillating rotor marked with the brand's logo.
Caliber UN-150 is a 4Hz (28,800 bph) movement with a power reserve of 48 hours when fully wound. The functions featured are common for a chronograph; time display, date display and a 12 hour chronograph.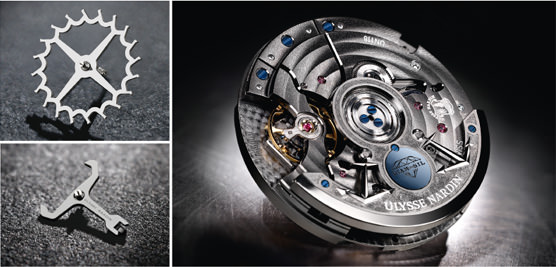 There is actually an interesting detail about this movement. It is not about the appearance. It is not about the technical specifications either. It is about the story of the movement which is divided in to two chapters as before Ulysse Nardin and after Ulysse Nardin.
Ulysse Nardin purchased the movement from Ebel which is another luxury watch making brand. In fact, they didn't just purchase the designs to the movement, but also the machine tools and five of Ebel's production staff to help them produce what was formerly known as the Ebel Caliber 137.
Ebel first launched the Caliber 137 in 1990s. Interestingly, it was Ebel itself who approached Ulysse Nardin a few years ago to buy it. Considering the situation of ETA versus non-Swatch Group Brands and the tested and approved reliability of the movement, Ulysse Nardin pressed the button.
As they did with the raw ETA movements, they spent about two years of refinements and upgrades to the movement before they could begin larger volume production. Undoubtedly, the inclusion of silicon versus metal hairspring was the most major one.
The Marine Chronograph Manufacture watches are still offered 43mm diameter cases however; it is easy to tell the thickness difference than the Marine Chronometer models due to the Caliber UN-150.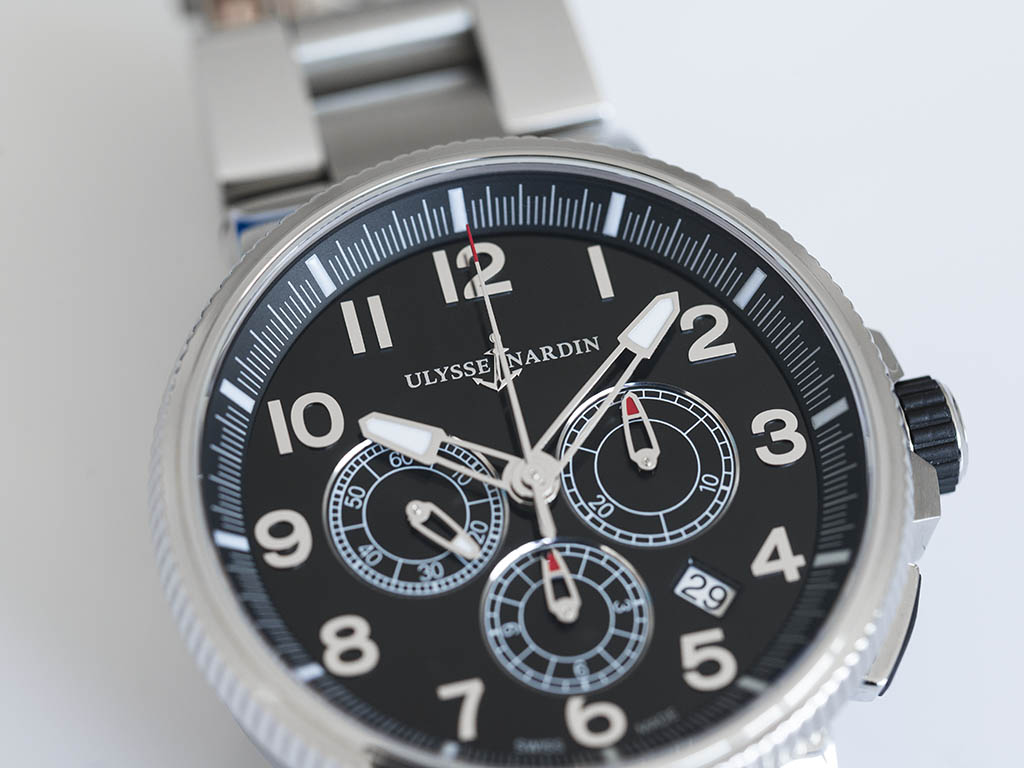 The collection sports many versions featuring several combinations of stainless steel and 18K rose gold with a plenty of dial options including the limited edition versions. While the models stay loyal to the brand's trade mark classic Marine Chronometer design, the details and upgrades on the dials offered proves this is not just an upgraded old collection but rather a brand new one.
The model we have here is the Ref. 1503-150 with stainless steel case/bracelet and a black Arabic numeral dial.
As I have owned a number of Maxi Marine and Maxi Marine Diver timepieces, I would easily consider myself as an admirer of the brand and its ageless design. What I see here with this watch is surely a refined version of an already good looking design. I know many brands ruining their beautiful designs however; the Marine Chronograph Manufacture is never an example of '' messing with perfection ''.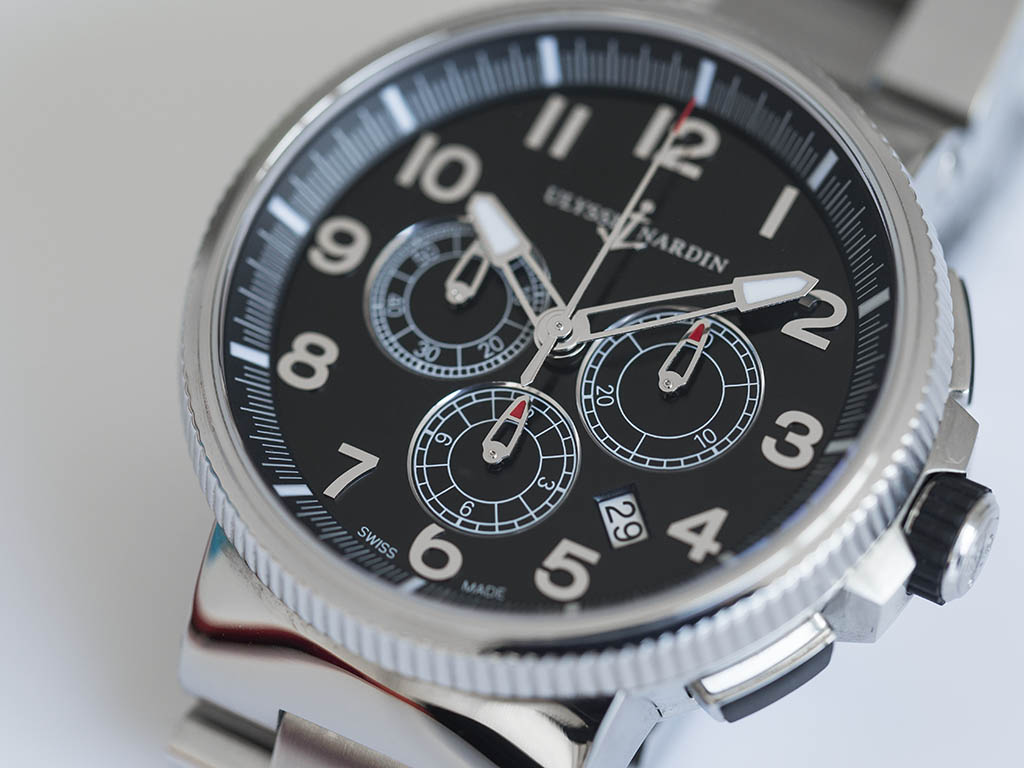 I am glad to see the hands upgraded with thicker ones featuring efficient SuperLuminova for better night time reading.
The watch features double sapphire crystals on both sides. The front crystal is almost invisible with its heavy double side AR coating. The one on the back allows us to see the beautifully finished Caliber UN-150.
I always liked Ulysse Nardins with their multi-piece rubber straps. In fact, I would buy the rubber strap version for myself. However, I should say that the stainless steel bracelet is definitely is a piece of art and technology. Reminding me of IWC Ingenieur models' bracelets, Ulysse Nardin Marine Chronograph Manufacture's bracelet is a cool one with perfect wearing comfort.
The versions are metal bracelet, alligator strap and a rubber strap. As for the looks, I'd go with the rubber strap version. I would also like to add that, Ulysse Nardin rubber straps are made of a special rubber called Elastomer which offers the best durability among other major brands which I have experienced some of them personally.
As I mentioned before, I am admirer of the brand. I both like the horological heritage and the cool looks. And I am very pleased to see the brand upgrading the chronograph models with an in-house movement but, as per my own experience, people who buy Ulysse Nardin watches are mostly tempted by the looks. In fact, many people who buy Ulysse Nardin watches do not care about the origin of the movement as long as it looks cool. A few of them would like to know that the movement is Swiss Made and even fewer cares about that the brand itself designed and manufactured it.
At the end of the day, I am happy to see one of my favorite brands upgrading their timepieces with in-house movements and fresh touches. Whether it is done for boosting the prestige parameter or simply due to the necessity of finding a solution for ETA's movement policy I am glad with the outcome.