It was in 1965 that Seiko came out with it's very first diving watch. Today we got our hands on the MARINE MASTER PROFESSIONAL 1000M AUTOMATIC DIVER SBDX011, a watch that you will both spot on the wrists of diving professionals and everyday watch lovers.
Before we begin let us talk a little bit about Seiko's 50 years of experience in the field of underwater timekeeping.
In 1965 Seiko produced its first diving watch, reference 6217, which was manufactured for professional divers offering 150m of water resistance and a so called swivel bezel.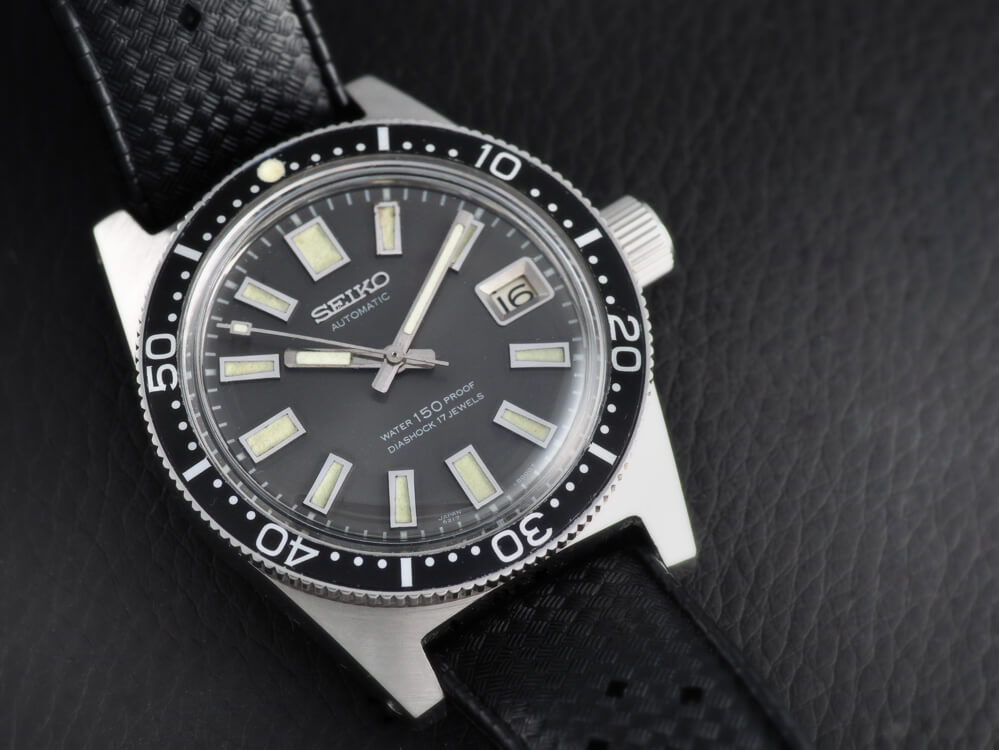 By 1975 Seiko unveiled Ref 6159-022 another professional diving watch with 600m water resistance. The most important feature of this model was certainly its titanium case. Back then titanium was an absolutely exotic and special material used only in NASA's prototypes.
The rubber strap also made one of its first appearances on this piece, which by today is considered a true classic.
From its anti-magnetic properties to its walloping and intense phosphorus dial, Seiko's reference 6159 –022 was able to satisfy the needs of serious professionals.
Another important feature is its very unique two-layered case. The black-coated titanium case is made of a single block, which is highly waterproof (water resistant up to 600m) but also structured to be impermeable against helium, which eliminated the need of a helium valve.
This is how the Tuna legend was born, which is not only a well acknowledged by the brand's fans but by all of those who have a soft spot for tool watches.
Because of its similarity to an ice hockey pack or a tuna can, collectors gave the names "pack"or "tuna"to this piece.
Marine Master Professional WR1000M SBDX011
We would like to highlight the watch's outstanding packaging, which offers some nice touches that even some high-end Swiss manufacturers could take note of.
With its bulky design and mostly black toned colors this watch will give you the ultimate tool watch feel.
The 52mm case features the same two-layered design, just this time featuring the highly popular material, ceramic.
With its 17.4mm height the watch is pretty robust, but thanks to the DLC coating it seems a little bit smaller than its fellows. With the standard rubber strap the watches weighs 140g.
The inner case is still made out of titanium and just like the first generation Omega Ploprofs the SBDX013 has no back cover.
To get to the mechanism one has to disassemble the watch in bezel, glass, and dial order. From a servicing aspect it is hard to assess this watch, but it is for sure that Seiko stayed true to its old school designs.
The watch offers an outstanding 1000m of water resistance.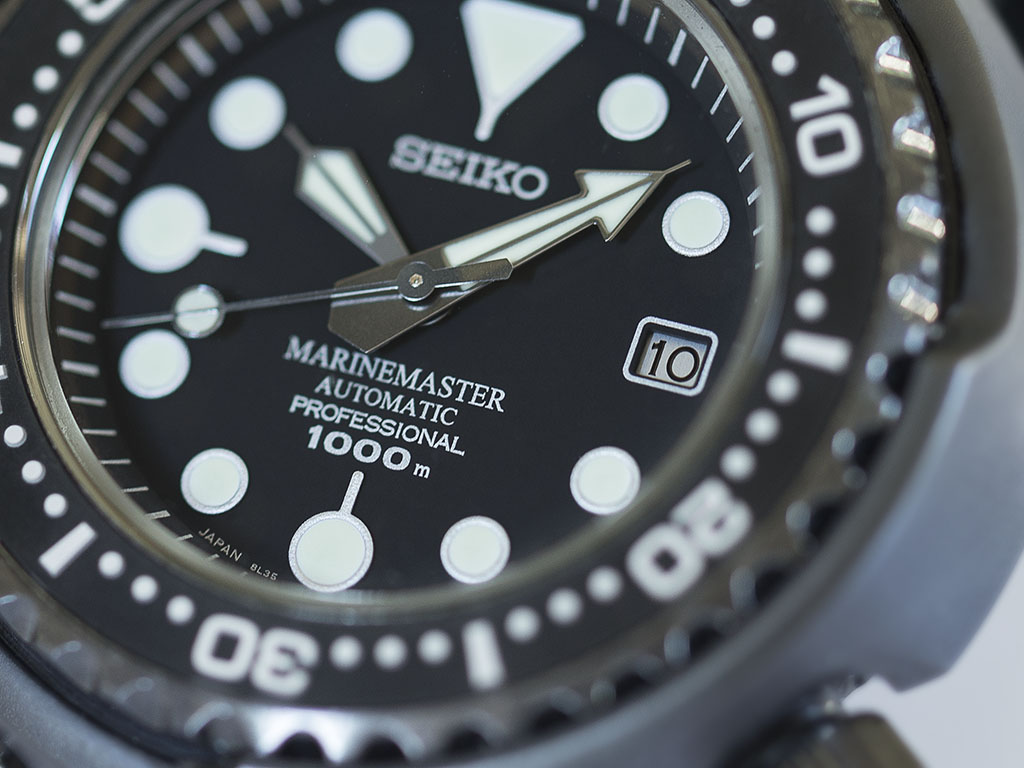 Just a little anecdote for you; recently the SBDX011 survived a depth of 3000 meters without any complications! The dive took place in a helium-saturated environment. This test clearly highlights the importance given to the Prospex concept of Seiko.
The watch is protected by a black-coated highly endurable and strong piece of ceramic. This is designed to protect the case from possible damages as well as to prevent the bezel from rotating accidentally and is attached to inner case with octagonal screws.
The case features very strong attention to detail and with its protecting feature it is clear that it is a serious tool watch.
The clicks of the bezel are firm and a tremor is out of the question.
Seiko used a sapphire glass for this piece.
This dial is also true to the original design and thus extremely practical and legible. As it comes with large luminous markers and hands it will be easily readable in even in the darkest and most trying conditions.
The date indicator is positioned at 3 o'clock.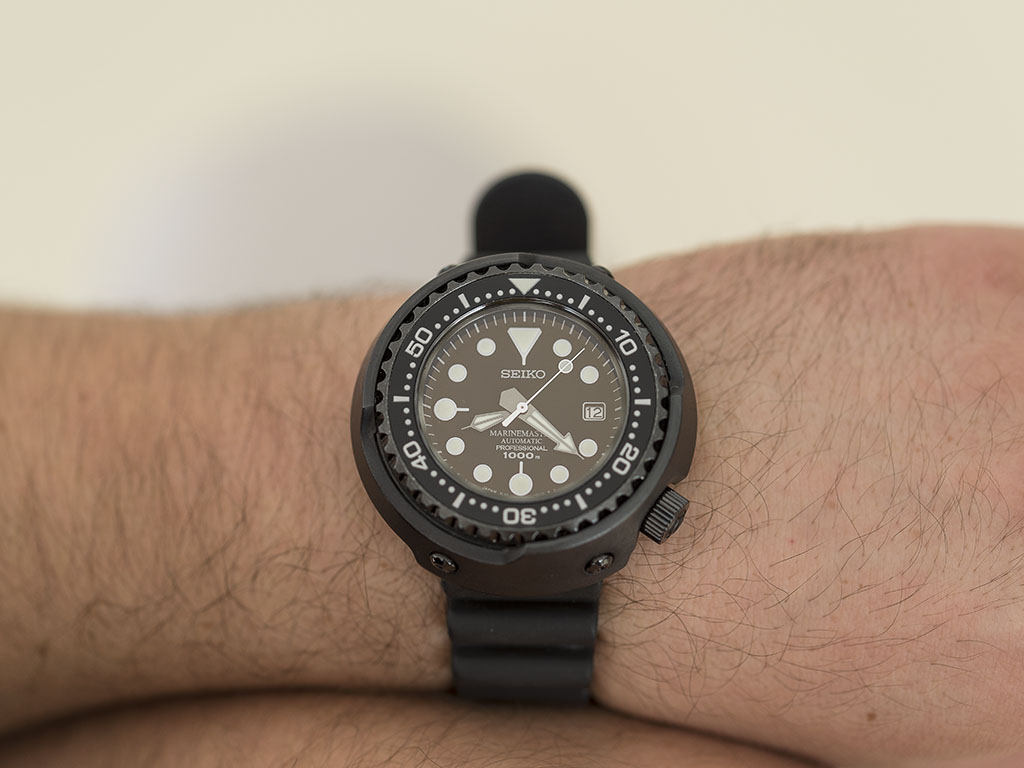 Despite its large size the design is by no means an exaggerated one and the watch does not give you an uncomfortable feel.
The only flaw is the little gap between your wrist and the case back, which is due to the large and robust lugs. Keep in mind that originally this piece was designed for deep-sea diving, for which you will most likely wear a wetsuit…
The large crown is highly ergonomic so to say and setting the watch gives you a good and quality feel.
For the strap Seiko preferred a classical accordion design instead of the good old standard rubber straps. The quality and finishing on the strap and buckle is very satisfactory.
The wave pattern on the back cover of the watch is again one of Seiko's classic designs.
Keep in mind that the case that is made out of a single piece of titanium can only be opened from the dial side!
As mentioned this watch offers 1000m of water resistance and does not come with a helium valve, thanks to the special double-layered design.
The watch's calibre reference Seiko 8L35. ticks at 28800 v/h and has 26 jewels. The movement is hand wound and offers a useful stop second system.
When it is fully wound the calibre offers a good 50 hours of power reserve.
By the way Seiko eliminated the problem of harmful magnetic fields by putting lead between the back cover and the movement.
If you are looking for something different from the hundreds of Submariner clones in the market with rich history as well as interesting technical features intended for professional use, we recommend you to take a look at Seiko's reference SBDX011.