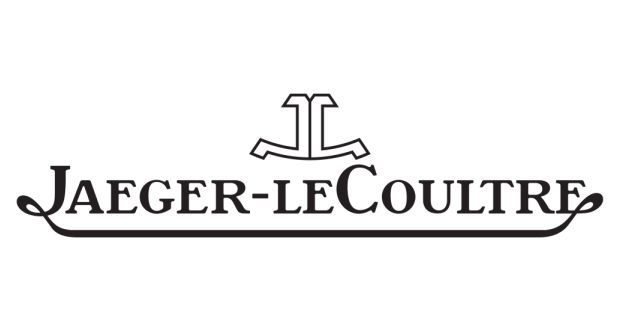 Watch aficionados, especially JLC fans know that JLC does not launch a diver chronograph every year nor every decade. In fact it took about 40 years for this one to come out.
This duration teaches us patience.. JLC waited almost forty years between its famous E2643 "Shark" (Vogue in Europa) and the Master Compressor Diving Chronograph, which was presented in 2007 at SIHH.
In theory, every water resistant chronograph can go into a certain depth. But this does not make them diver's watches. To make a diver's watch is not that simple at all.
The parameters of a true diver's watch are determined by ISO standards. That's right, there is a universal definition for a diver's watch, ISO6425.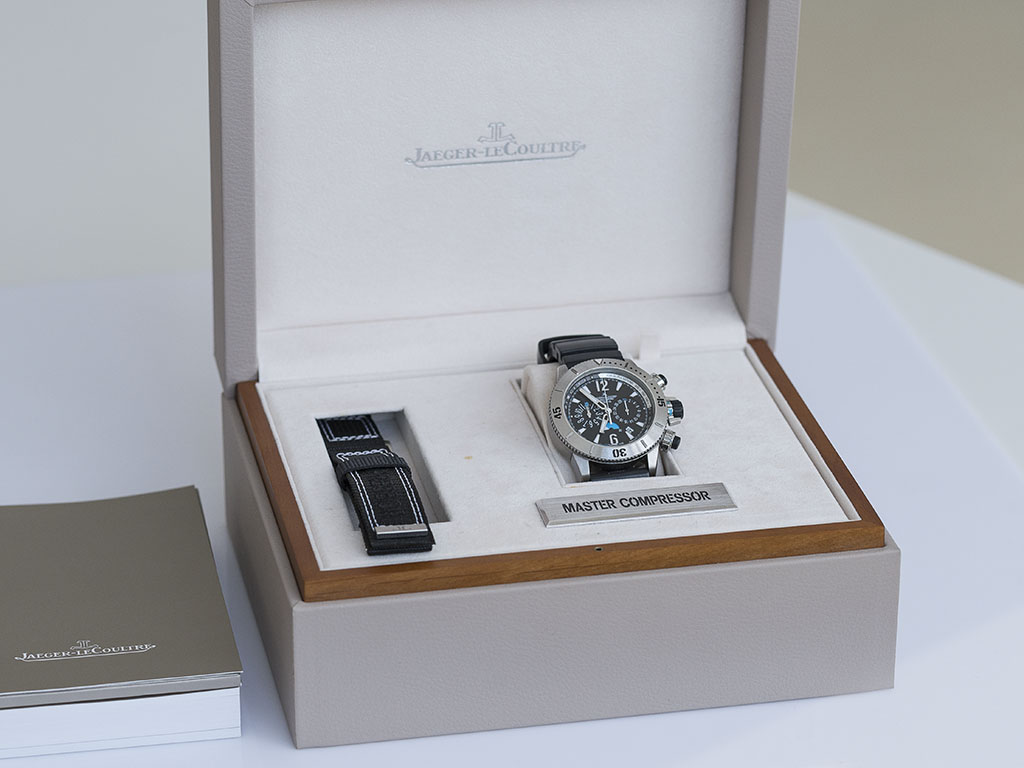 To get this certificate you must fulfill all the expectations such as depth tests, overpressure stress tests, evaporation tests, thermal shock tests, caliber inspections and a unidirectional calibrated bezel.
The Jaeger LeCoultre Master Compressor Diving Chronograph of course successfully fulfilled all the expectations to get a certificate.
But we should note that JLC does not make standard watches. After ticking out all of ISO6425's boxes, JLC's new diver's watch features much more than industry expectations.
Let's look at the dial as the first example. With its perfect dial design JLC proves that while a timepiece can meet all the expectations of a tool watch it can not make a compromise when it comes to aesthetics and high end finishing.
In the dial three different tones can be found that are there to increase legibility in all conditions. Applied white gold indexes and numerals reveal JLC's assiduity about material quality.
The matte black surface cancels out all reflections, while the blue indications make it easy to make a difference between complications.
Again, if we are going to talk about standards, all ISO6425 dive models must feature an operating indicator. Generally this feature takes its place on the lower side of the dial, features seconds and has a second hand on it. This design element is crucial as there is high risk involved when one is diving with a "stopped" watch that needs to be handled under water.

JLC approached the situation from a their own standpoint. Its operation indicator takes its form on a solid two-toned disc at 6 o'clock. The shaded area of the disc leaves no doubt and is an easy way to read it.
By the way JLC gave place to an additional safety measure. The watch features a pulsation scale around the dial on the inner bezel.
This feature offers you to check your heart rate while diving. While deep-sea diving, this is a rather useful "complication".
Due to the scientific fact that blood oxygen is decreasing when ones heart rate goes up, the Diving Chronograph highlights the critical range of the pulse rate very accurately.
Of course despite all its cool features, the dial is not enough to tell you about JLC's superiority.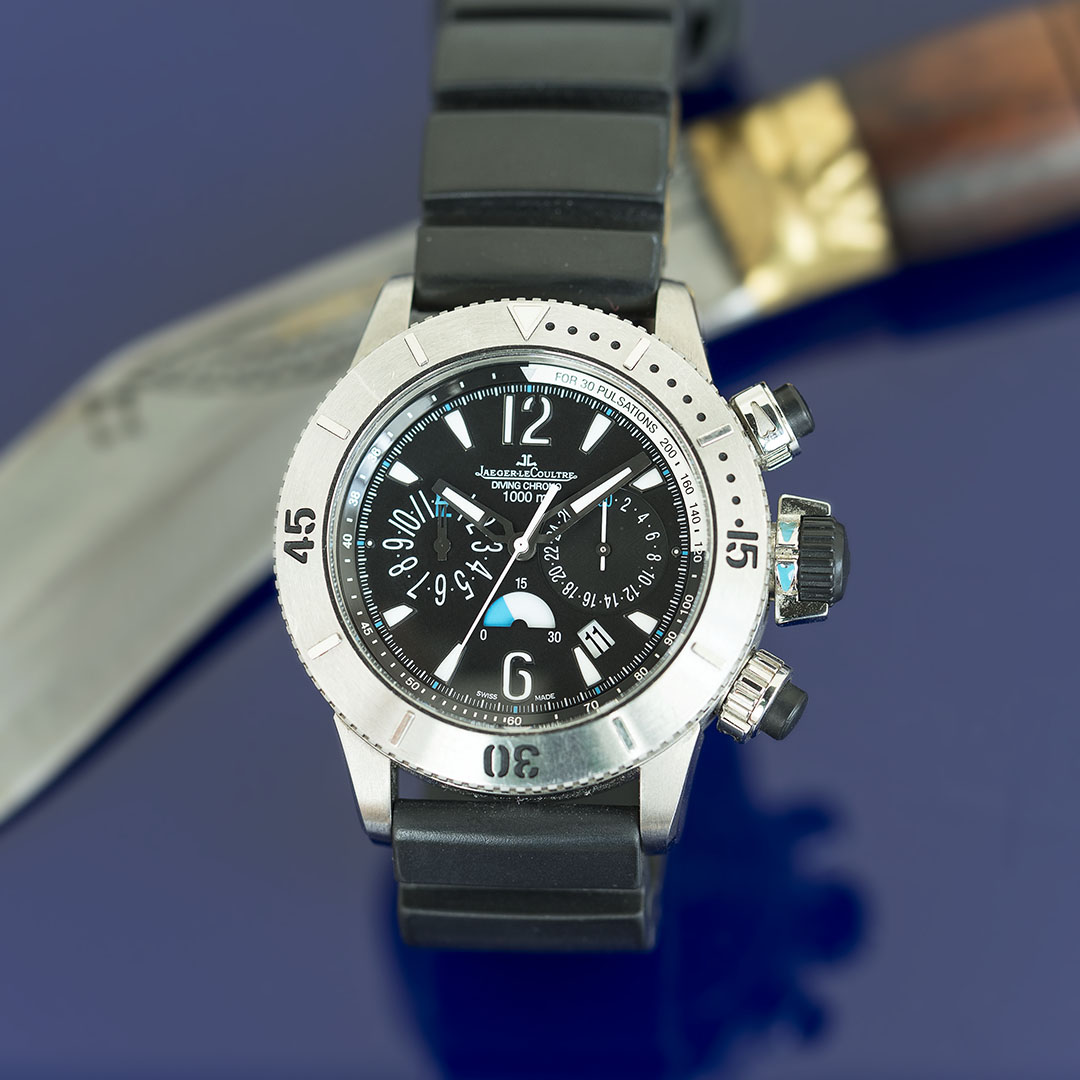 The 44mm case is made out of grade 5 titanium.
This alloy, which retains its finish with greater resilience than industry standard, grade 3 titanium, ensures that whether you are a professional diver or desk diver as an owner of this watch you will enjoy durability close or even equivalent to stainless steel.
JLC's signature design the "compressor" crown is included in the package of course.
While Rolex, Omega or any brand specialized in diver's watches make nice screwed crowns that ensure water resistance that satisfies the needs of customers, these are rather hard to handle, especially with wet hands or gloves.
JLC removed this problem with special "compressor" crown designs.
They also added patterned surfaces on the crown to make it easy to rotate them.
With this design JLC seems as they are ahead of the crown game.
At 44mm we can call this diving chronograph a large watch; but we did not find an unnecessary mm on it.
The matte black dial, which offers perfect legibility, makes it look a little smaller.
Due to the short lugs the watch sits perfectly on all wrist sizes.
If we take into consideration its "sleek" look and its light weight due to the titanium case the JLC Master Compressor makes a very utilitarian yet not overly robust watch.
The case features completely matte finishing. This does not only raise the watch's tool watch appeal but is also aesthetically pleasing.
By the way, I would like to emphasize a few things about the bezel.
First of all the bezel is one of the most important elements of a diver's watch both aesthetically and functionally.
While professional divers want easily rotatable, legible bezels; desk divers who got into these particular watches because of its sexy appeal want a bezel that fits well under their shirt sleeves.
JLC appears with a bezel design that satisfies the needs of both categories.
The high expectations towards JLC because of their position in haute – horolorgie are well met by its perfect bezel design.
The bezel moves as smooth as a Smith – Wesson's pistol but it is impossible to rotate it accidentally.
In addition, thanks to its rough edge JLC makes it possible to rotate the bezel easily and safely under every condition, even while having wet hands or wearing gloves. The bezel is well integrated into the case and it certainly will cause no discomfort during daily use.
JLC is known as the king of movements and they protected their fame even with their Master Compressor with an in-house caliber 751D. Launched in 2004, the 751D embodies all of the lessons learned from JLC's 80's and 90's experience as a movement supplier to its brother firm, IWC.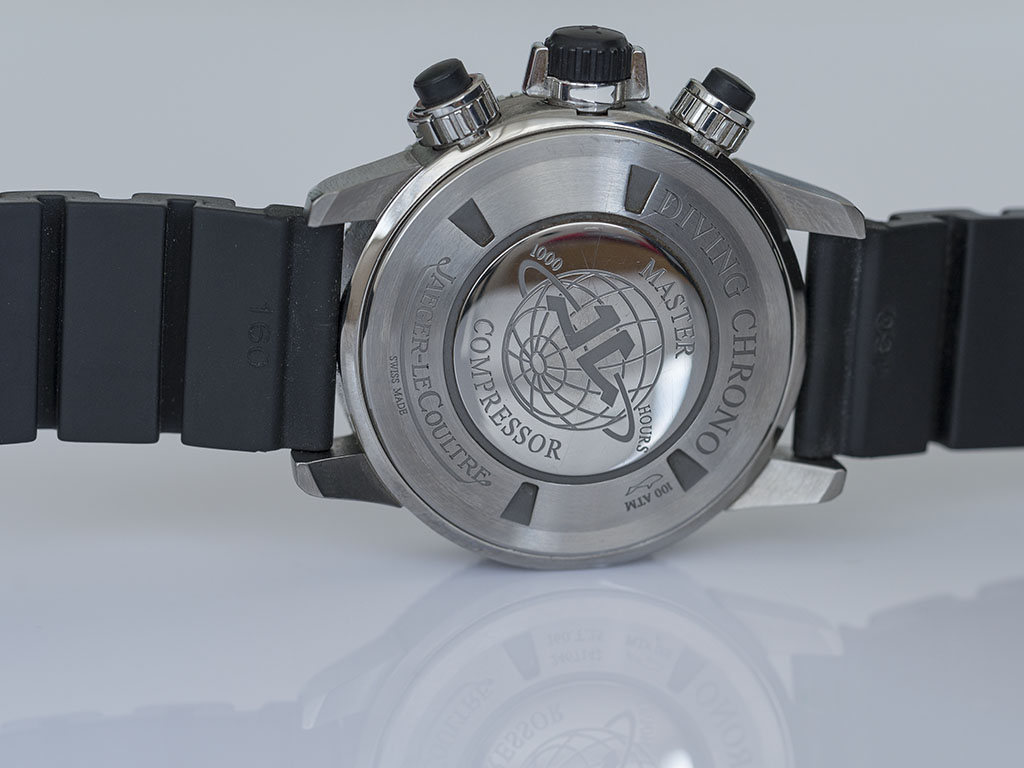 For their previous movement designs JLC was taking accuracy and operating sensitivity into consideration but for these particular pieces durability to different outside impacts and robustness came into the forefront.
Ceramic ball bearings spare the automatic rotor from wear and tear; a free-sprung balance with laser-welded hairspring allows the 751D to shake off jolts without unwanted timing variation.
Finally, with its twin mainspring barrels when it is fully wound the caliber offers 65 hours of power reserve. The 751D reveals the importance that was given to the firm because of their know-how and experience.
With their one of a kind design, strong brand image, superior technical features, considerate sizing that enables both professional and daily use we strongly recommend this watch for those looking for a robust diver's chronograph.