Is that a thermometer, or a compass? Meistersinger, the indispensable brand of single-hand timepieces, is under the spotlight with its Neo Q model designed for women.
When it gets to watches, the question that I've been asked by women is "which watch should we buy, what's your suggestion?" Well OK, but this is not the type of question that I could answer by taking a watch out of my pocket and say "this is the one for you".
First of all, what is your style? What kind of a woman are you? How do you live? Are you a proper lady? Or are you the one who does not come out of the sea in the summer, the first to go running in the snow, the one who doesn't get off the kite surf or the snowboard? Are you a ballerina, a dancer? If you are an actress, you don't have to ask me this question as your sponsors will choose the watch for you. Are you a business woman? Are you having meeting all day? Are you a lawyer? Are you running from one case to another?
Today, I will review a timepiece which can be answer to that question that I often encounter with.
Meistersinger Neo Q
Who is it for? I can certainly say that it is suitable for women who can break their borders and love differences.
When I first saw it, I could not understand if it was a thermometer or a compass, but when I started examining the models, I told myself, "I want one!" and I am lost among the colors. As a cliché, we can say that generally modern women prefer differences. But Meistersinger Neo Q is modern with its unique style and a bit like vintage with its classic lines.
The details of the case are not among the priorities we care most, but Neo Q also attracts attention with its stainless steel case which is barely noticeable. Due to the domed sapphire crystal on the front side, the case disappears as much as possible. Additionally, the case's thinner structure despite its relatively large diameter is also an obvious reason for this perception. Neo Q sits comfortably even on smaller wrists like mine despite the 36mm diameter and wears quite comfortably with its 9.00mm total thickness and feather light weight.
The case is water resistant to 30 meters. It seems that I won't be as comfortable as I am with my 100 meters water resistant Rolex Date Just in terms of wet environments.
The first thing you will notice about the Meistersinger Neo Q is, of course, its single hand display style. There is no second, hour or a minute hand here. The lines between two hour markers show five minute intervals. So you do not have to worry about the small details :) It's either 10:10 or 10:15... There is nothing like 10:13 or 10:14. The silver surface dial and gold accents provide a balanced combination of modern and vintage. At the same time, they grant jewelry like appeal to the watch despite the lack of any feminine additions like diamonds.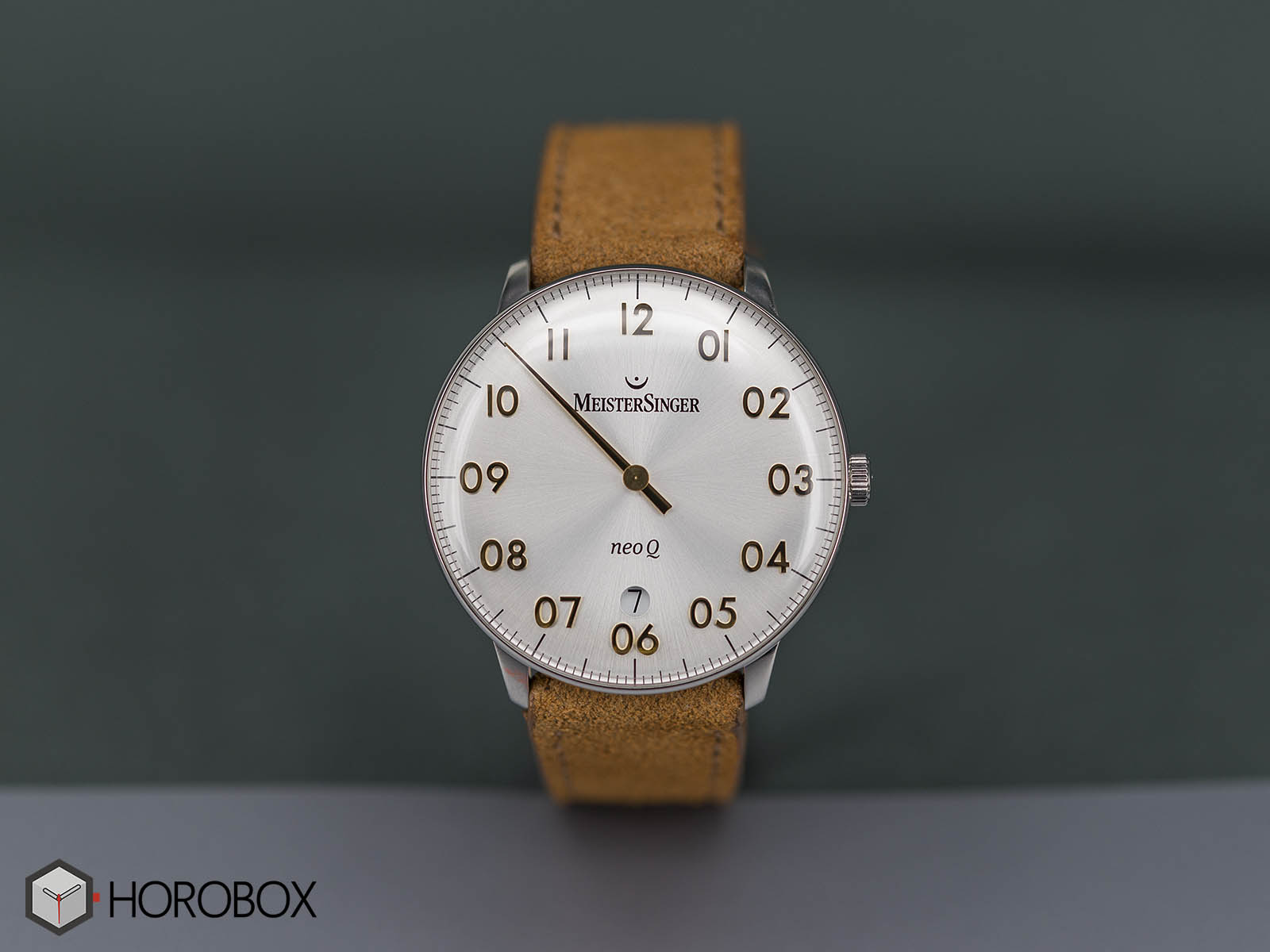 Meistersinger Neo Q is powered by a Quartz i.e. battery operated movement -Caliber ETA FO6.111 meaning that it has a durable and reliable movement.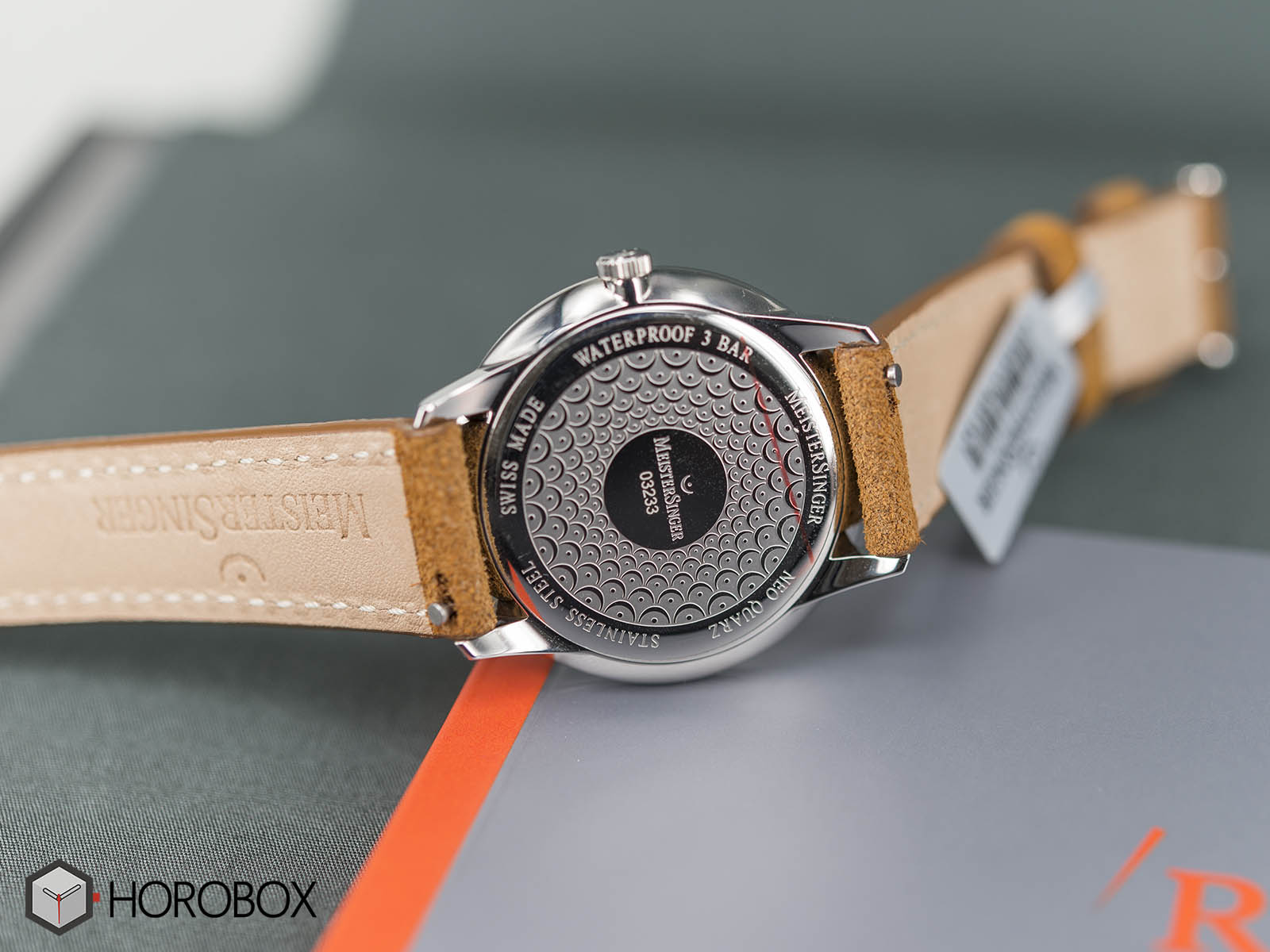 Another feature of the Neo Q is its color options. Before you look at the interchangeable straps, I suggest that you decide the dial color first as the strap options are so eye-catching that it is possible for you to get lost between straps for a while like I did.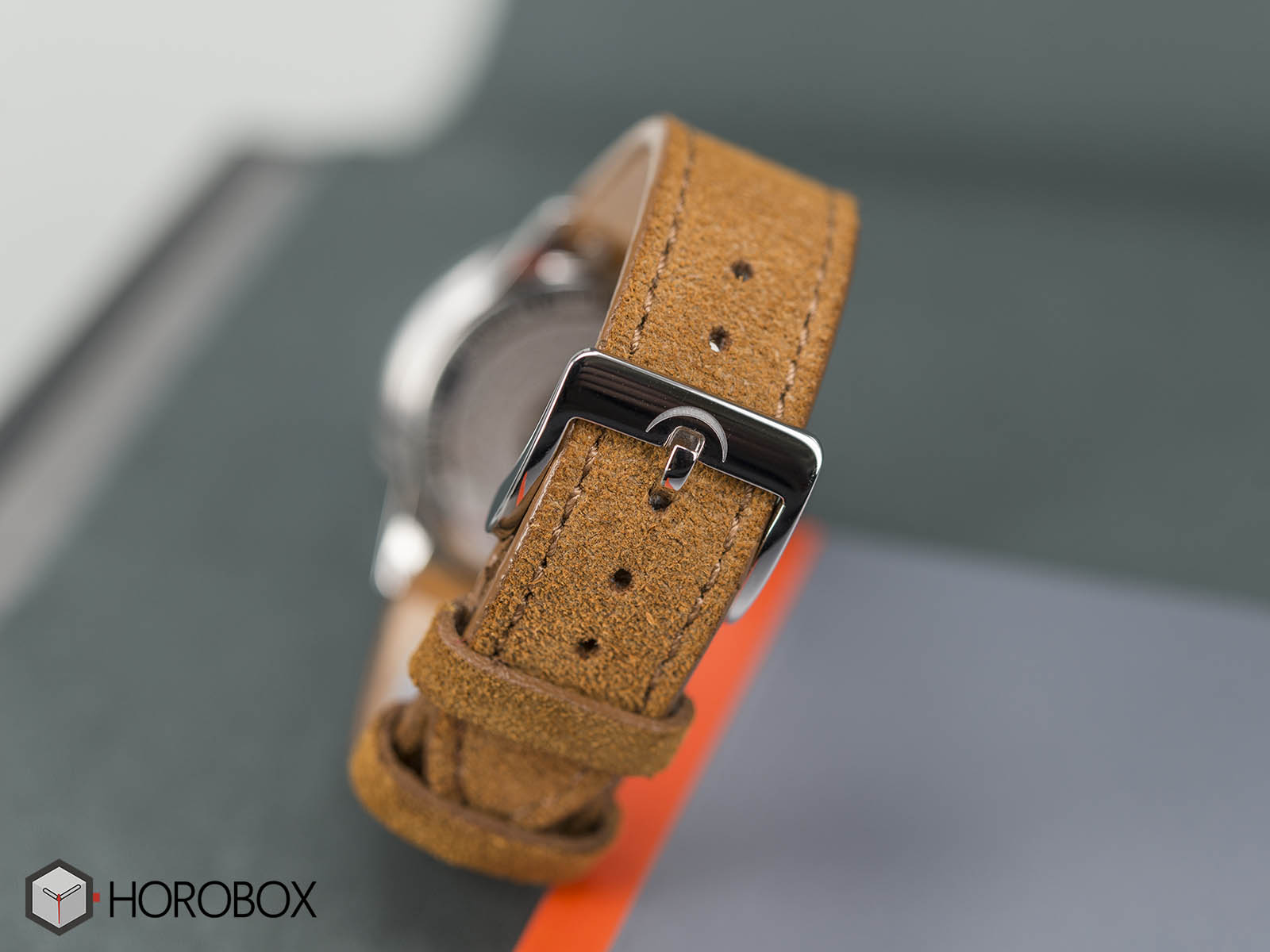 The Neo Q, which is selected as the watch of the year in 2014 by some magazines, is one of the first models among different watches I will choose with its different style, size, color options, interchangeable straps, light weight, comfort and (595 EURO) reasonable price.