Before we begin to talk about our impressions about watch, let's talk about this timepiece's special story; In 1812 famous watch expert Nicholas Rieussec designed an assembly which measures time with particularly restricted pieces, yet not only measures the time but an assembly which indites these measurements.
This assembly becomes extremely popular at that time because of its craftmanship at measuring time sensitively for horse racing competitions and becomes official timekeeper of the horse racing competitions.
The assembly formed by a watch calibre which governing two enamel dial in a wooden case bu the most important part of the assembly is that the dial's handles does not spin, instead of this dials themselves spin. More interesting part is that; the pen tips on these dials's handles give capability to dials to take notes practically.
Referee hits the button on assembly at the end of the race and the pen tip on the dial marks the time with the referee's hit. Thanks to Reiussec who succeed to write his name in horology history with golden characters; with the proper dial design this assembly allows to keep time for individuals. He named his invention "chronograph".

Montblanc Star Nicolas Rieussec Mono Pusher Chronograph
Montblanc Nicolas Rieussec has limited edition alternatives which producted with different materials. These editions are; 75ad yellow gold edition, 75ad white gold edition, 25ad platinum edition and 125ad rose gold edition. The model which we'll be discuss about is the stainless steel model.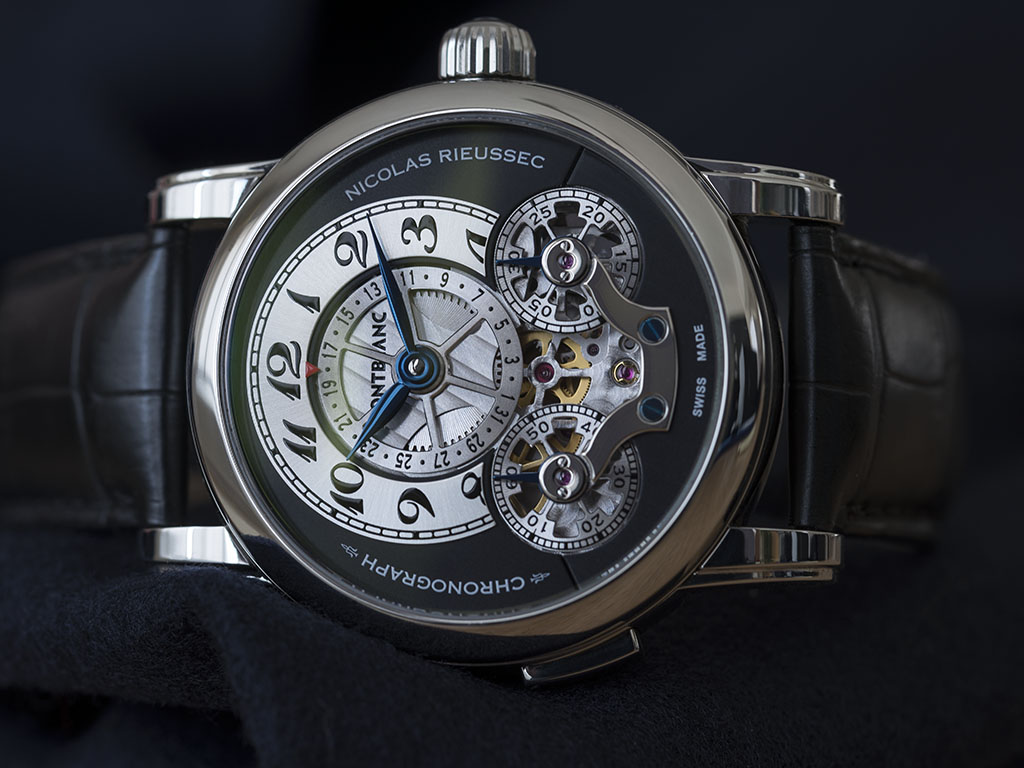 Case, Horns and Setting Crown
Mont Blanc Nicolas Rieussec's case with diameter 43mm and stainless steel has elegant lines. Nicolas Rieussec's completely shiny surface exposes timepiece's delicate lines successfully but watch makes you feel a little bit a weigh on the wrist.
This watch that is 14.7mm height has proper and befitting usage with suite concept.
Horns designed in round lines rather than straight lines exhibits an appropriate apperance to the watch's look and they manage to catch the balance between watch's case size(it is not the modest case by the way) and the arm.
Conical setting crown looks supremely compatible with watch's general look. It is possible to see brand's iconic symbol on top of the crown.
Thanks to crown's balanced size, you don't get into any trouble to wind the watch. Winding feels really comfortable. Besides that, listening the symphony from wheels while you wind your watch is extremely pleasant.
Chronograpf button has placed at 8 o'clock. Button's rounded edges carries the traditional lines which you can see at the single button chronograph watches.
Briefly, we can easily say that; case, horns and the setting crown are designed extremely harmonius with each other.

Dial
Dial formed in 3 different layers. Thanks to this feature the timepiece has an enjoyable depth to watch. It is hard to read the time at 4 o'clock and 8 o'clock at once because of these indexes are little bit cut.
The dial has an extremely quality workmanship with its chronograph dials which move under the constant handles and with this feature dial refers to original design of Nicolas Rieussec.
Handles with blue tones have enough contrast to read the time and other functions over the complicated dial but due to unused phosphorus it is impossible to read the time in dark.
Chronograph
Chronograph designed in single button chronograph form which has a single button for start/stop/reset functions and has a 30 minute capacity, takes place at 8 o'clock on the watch.
The button looks pretty useful due to its large size and has a very clear click feeling.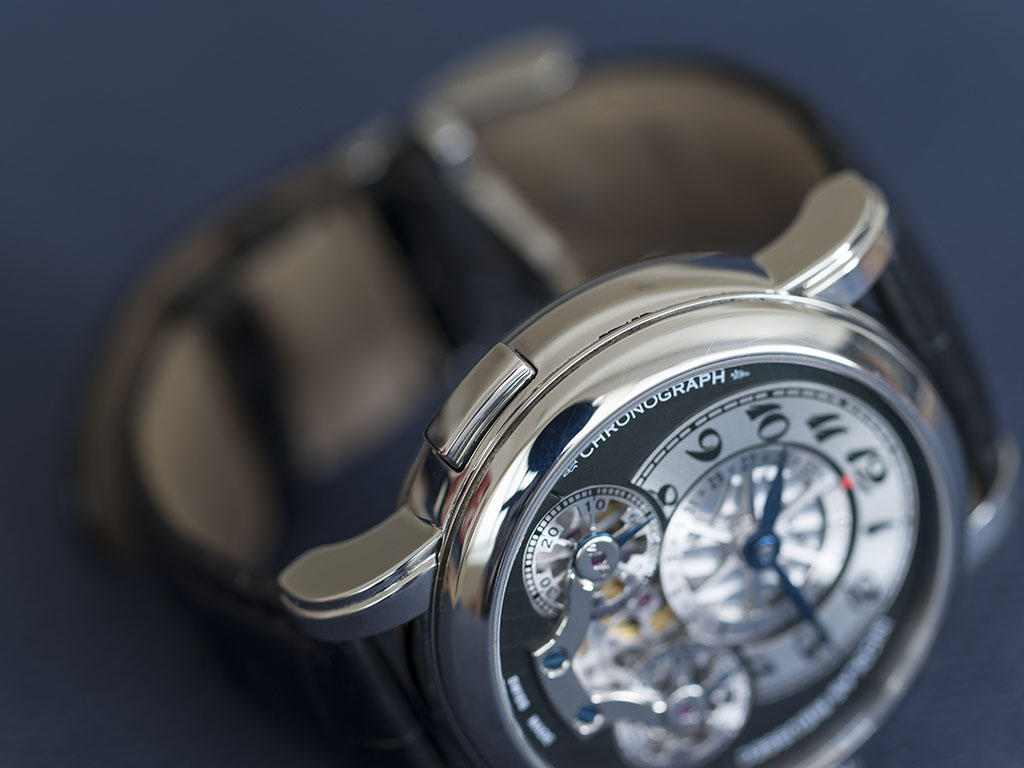 Calibre and Back Cover
MB R100 reference code has been given to the in-house design calibre of Mont Blanc.
Double pump calibre has a capacity up to 72 hours at full installation and it has designed by the single button chronograph form. You can see Mont Blanc's marks almost every detail on the calibre which estetically exhibited with Cote de Geneve form ornaments.It is possible to examine the piece of art calibre from above, between the skeleton parts, also you have the possibility to see it through wide glass at the back cover.
In a funny kind of way, watch's power-reserve indicator has shown in line with 12 but at the back of the watch.
Clip and Strap
For clips they prefered button type rather than folding type.
Besides a little weigh on strap arise from clip it has a visual integrity with the general design and successfully manages to keep the watch fixed on the wrist.
Crocodile leather strap has extremely comfortable structure. it has a softness that even at the first experience your wrist has no discomfort and its harmony with the watch is perfect.
Mont Blanc Nicolas Rieussec is not so humble both as heaviness and size but on the arm, it feels very comfy.