First of all, I would like to say that Bvlgari is a brand that I like quite a lot. Over the past years, I wore a number of Bvlgari's Diagonos, and I was very satisfied with all the different variations. Especially with their detailed workmanship, and their bracelet and bezel designs, which by now became unofficial symbols of the brand. Personally, I admired every model of Bvlgari.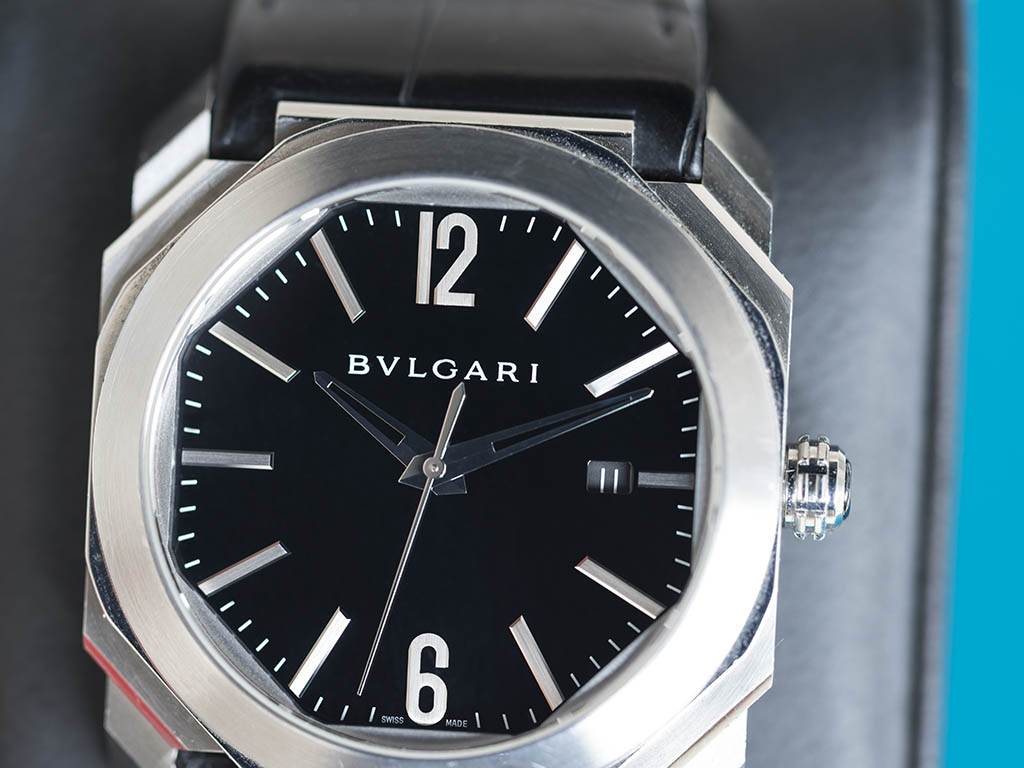 Bvlgari will keep on producing watches with detailed workmanship and unique designs, and the Diagono, which by now is a flagship piece of the brand will not lose its sexy and stylish appeal.
Their 2012 sales figures regarding their Octo series speak for themselves.
We got our hands on the Bvlgari Octo Solotempo, which offers a wide range of watches, even some tourbillon models.
The watch's case is octagonal (with 8 edges) and measures at 41.5mm.
Although when we look at today's trends this case certainly features a more sophisticated size, but due to its angular and simple design it feels a little larger than its measurements.
On the watch it is possible to spot clear-cut lines, inspired by Ancient Greece along with unique Bvlgari details.
The angular case, manufactured with great care in Bvlgari's factories, merges with a round bezel and a see-through case-back. Together they form a rather tasteful unity.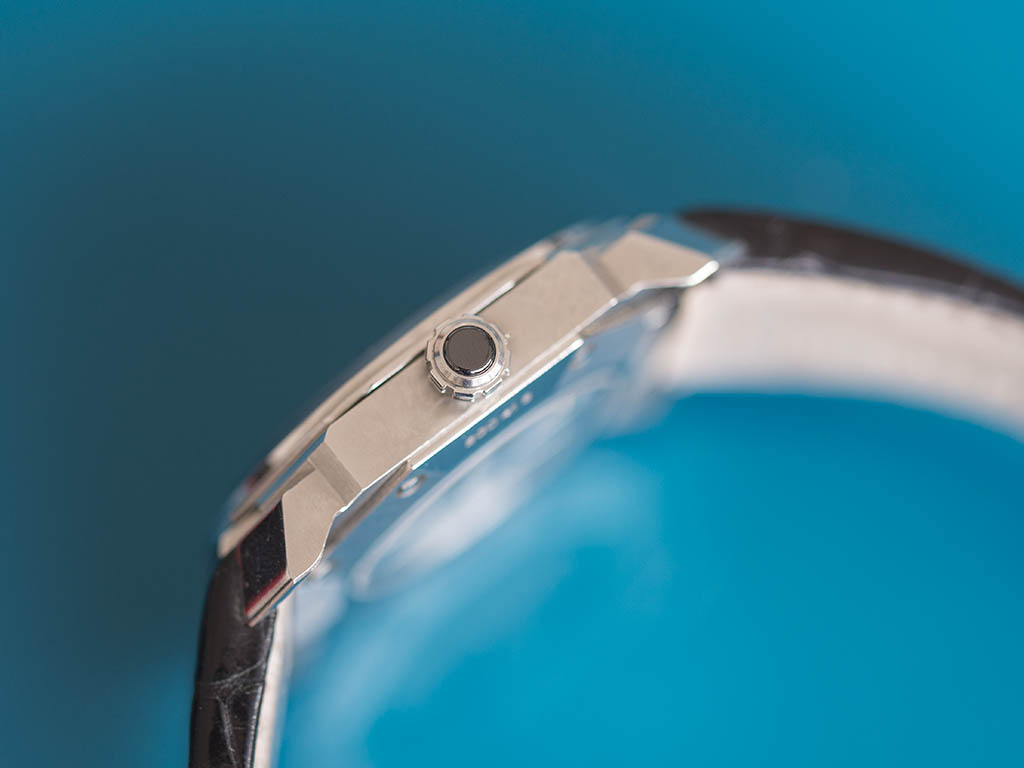 With its sea mine like design, its crown gives you a distinct look at first sight.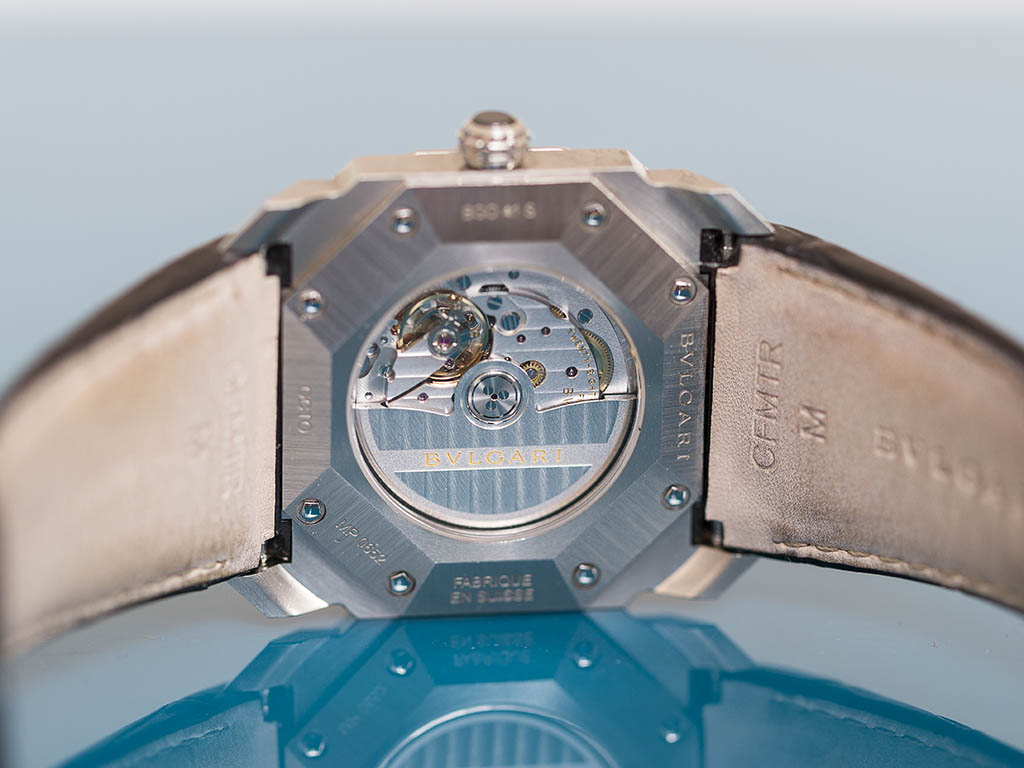 I can say that the watch's case-back has the most refined features of the watch. The cubical case-back is attached by 8 aligned crews. Although its shrinking design towards the center seems like as it was giving the watch a bit of thickness, it reduces the area in contact with your wrist; thus the watch's comfort increases significantly.
The transparent section allows you to see the watch's caliber.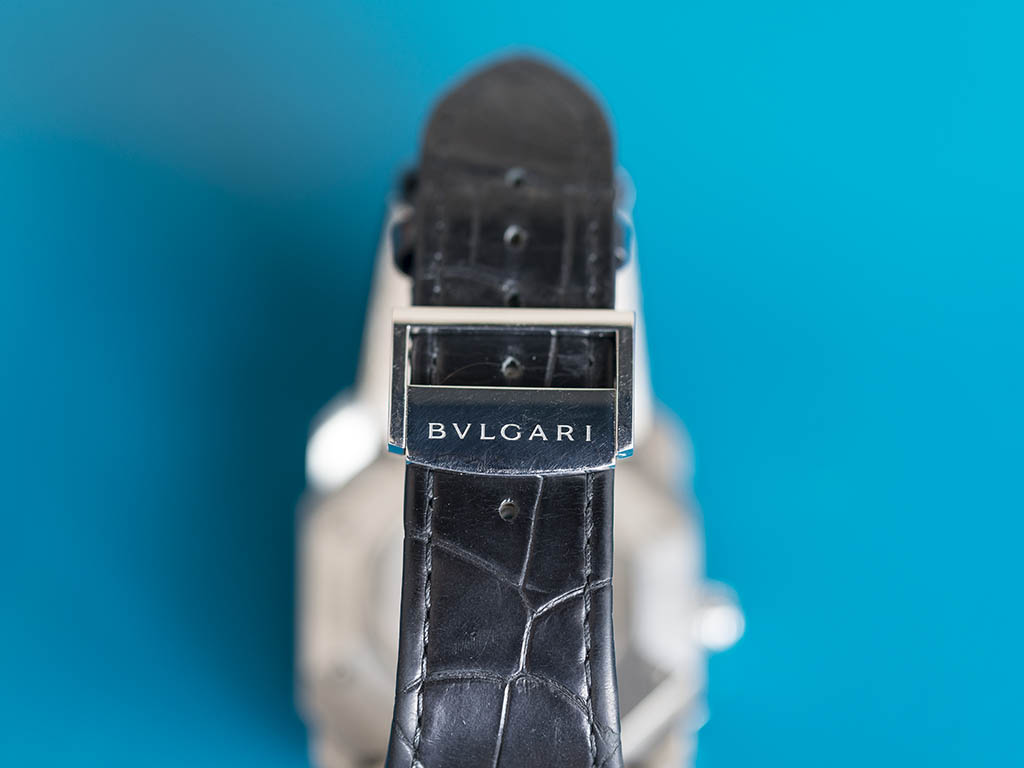 Bvlgari also did well with the design of the lugs, that gives place to some miniature and fine details that increase this piece's visual appeal.
The nicely shaped crocodile leather strap integrates into the case in a rather exotic way, which also serves as an iconic feature of the watch.
The elegant folding clips remind you of Bvlgari's workmanship, and finish the strap in a refined way
The watch's glass has anti-reflective coating on both sides. Under the glass a simple, sharp, and clean design is welcoming you. I personally think that the black dial is even more revealing when it comes to this dial's beauty.
The watch beats to the rhythm of a completely in-house designed Bvlgari Solotempo caliber.
While most watch brands use calibers by ETA/Valjoux/Sellita, by now Bvlgari uses its own in-house designed movements. This alone points out Bvlgari's seriousness about their watches.
The caliber is of course still possible to improve on but with its current state it offers 42 hours of power reserve.
Frankly, I really loved the Octo Solotempo.
As I already stated above I was a fan of the brand, and it made me rather happy to see that they again delivered quality workmanship and a unique design.
When it comes to angular, edgy watches, I can easily mention the Octo Solotempo's name together with JLC' Reverso, and Tag Heuer' Monaco. This watch will most certainly work for those who like edgy, exotic designs, and enjoy unique and bold lines.