Panerai, the famous Italian origin watchmaker, was the guest of our Hands On corner with the Luminor Submersible 1950 3 Days Automatic Acciaio & Oro Rosso 42mm models, which were introduced at the SIHH 2017 exhibition.
When it comes to watch preferences, the diver models always have a special place for me. Beginning with my first luxury watch purchase Omega Seamaster Professional 300 Chronograph, I have had dozens of diver watches like the Rolex Submariner, where I found the opportunity to use many different versions. I wore them all very fondly, and I still continue to wear them with the same pleasure.
Interestingly, I did not have any Submersible model from Officine Panerai. I remember very well that I had to decide between the PAM00005 and PAM00024 models when I was buying my first Panerai and got the PAM00005, which is one of the iconic models of the brand, mostly due to my obsession about the OP logo. After a short while, PAM00024 and its titanium brother PAM00025 once again failed to change my idea about the ​​Panerai Submersible. Over time, I had models like PAM00111, PAM00002 and PAM00104.
I can say that my first serious rapport with the Submersible was to see Serdar OAL's freshly bought PAM00389. I always think that, the design of the Luminor 1950 case is one of the most successful elements that represented the brand's DNA. The PAM00389, which I have described as a "full package" with a titanium case, a matte black bezel insert and a new generation rubber strap, unfortunately failed to find a place in the modest collection of mine due to the size of the case, which was 47mm.
Officine Panerai Luminor 1950 Submersible Pam00389
I was about the give up the hopes about Panerai Submersible; happy news came up from the SIHH 2017 exhibition. Panerai, which aimed to produce a "wearable" watch for the majority, showed up with a pair of new Luminor Submersible 1950 models with 42mm diameters. While I was still dealing with the shock of a 42mm Luminor Submersible 1950, second bomb blasted: the other version is made of 18K pink gold!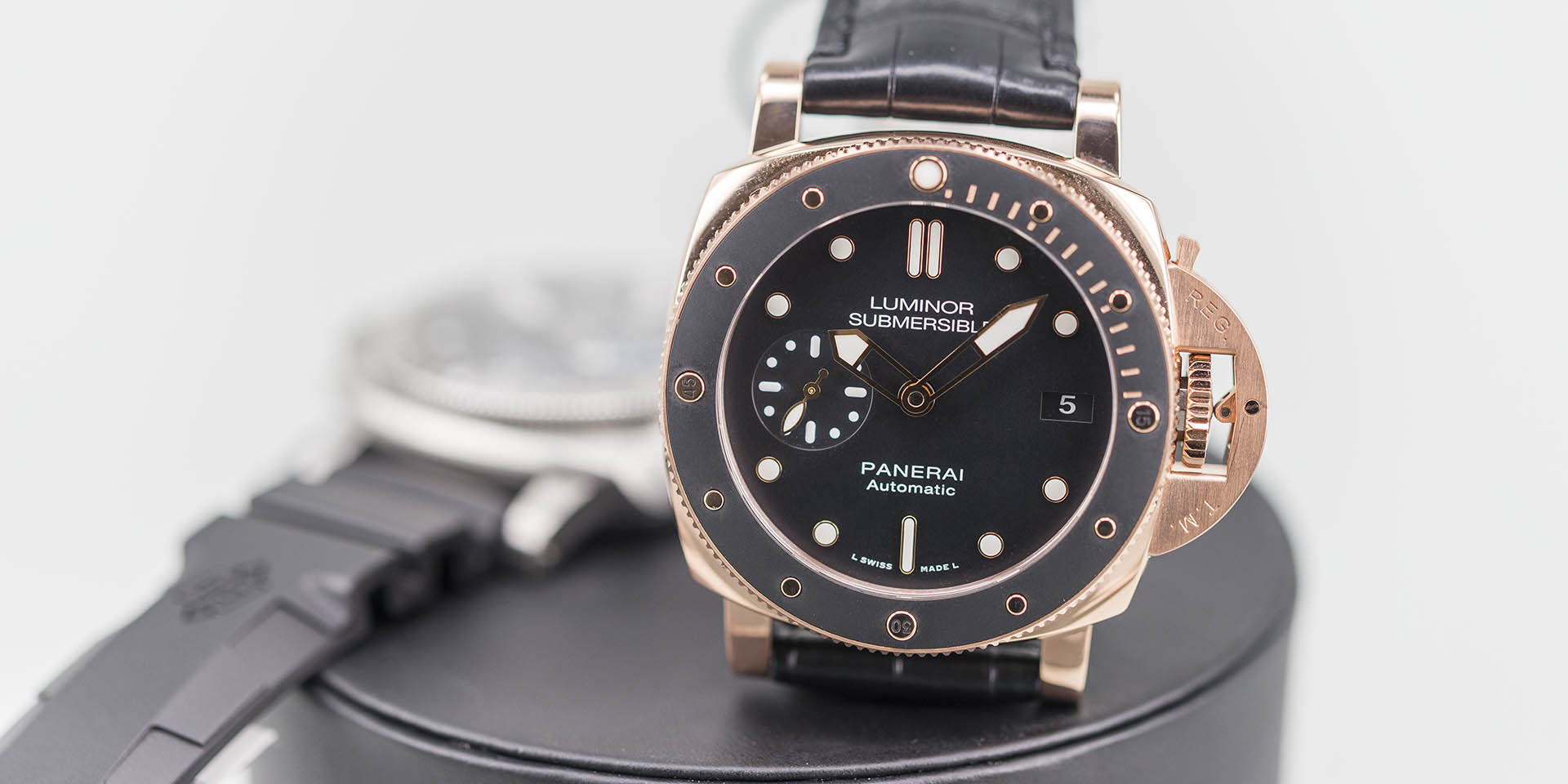 People who know me or our readers who follow my articles, knows very well that I love solid gold watches. I always like those magnificent gold timepieces that were unrighteously ignored by the so called Purists and do my best to wear them at every possible occasion as long as the circumstances allow. Therefore, one of the most interesting novelties of SIHH 2017 was the solid gold 42mm Luminor Submersible 1950 aka PAM00684. As soon as I heard that those new models had arrived to Panerai Istanbul Boutique, I got there in no time flat.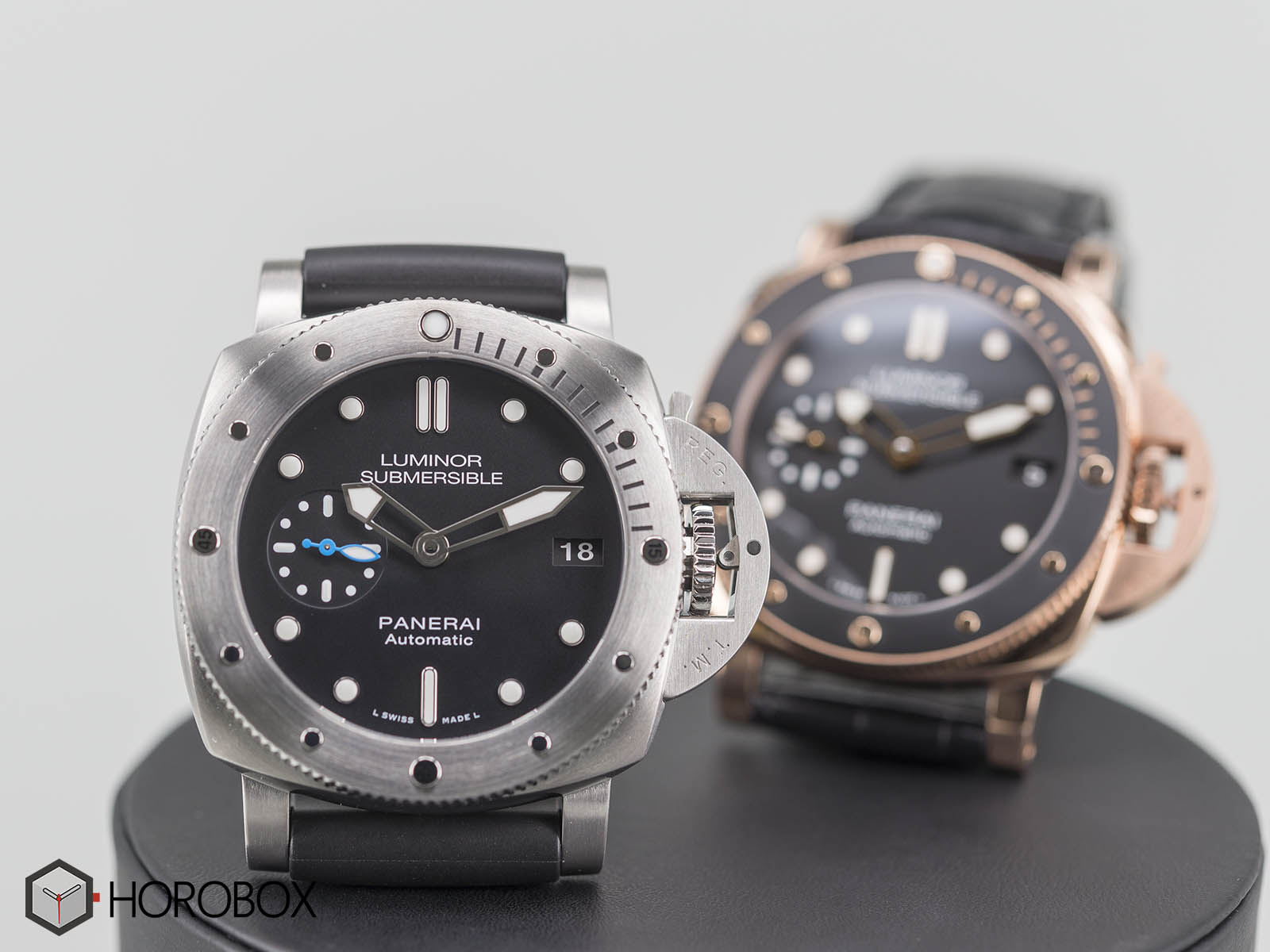 I think both models are the most successful Submersible models ever. But why..? Let me explain...
Panerai Luminor Submersible 1950 3 Days 42mm incorporates all the successful features of the 47mm Luminor Submersible 1950 series from the iconic designs of the brand. The first title I would like to mention about these properties is Proportion. There is a phrase that I like very much: "mess with perfection". Well creating a new product by simply changing its proportions is a process that is likely to end up with a disaster (think about the bezel of the 1st generation Rolex DateJust II and Rolex DayDate II). Panerai did a great job with the PAM00682/4 models in this regard.
Without compromising the DNA of the original design, they created a new product line that could be used by almost everyone. The new case is definitely not as small as the 40mm models which makes you think "that's not a Panerai" and it's not as big as the 47mm models either which often draws more attention than necessary.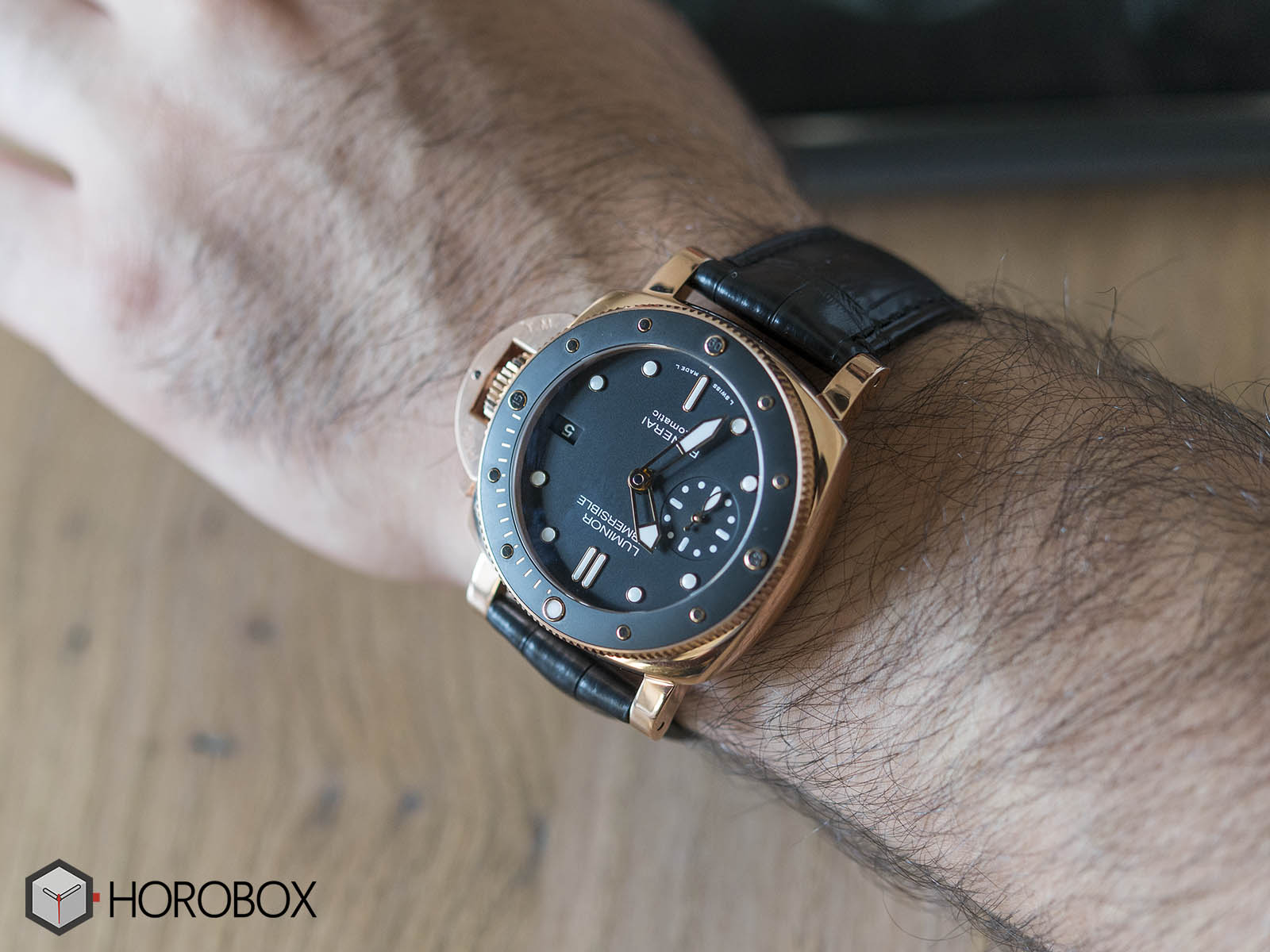 There are two different material options for the new 42mm case. Stainless steel (PAM00682) and 18K pink gold (PAM00684) with a distinctive tone due to the different amount of copper it contains. It is not hard to guess which one is my favorite. If you cannot, let the majority of the pictures be a clue for you.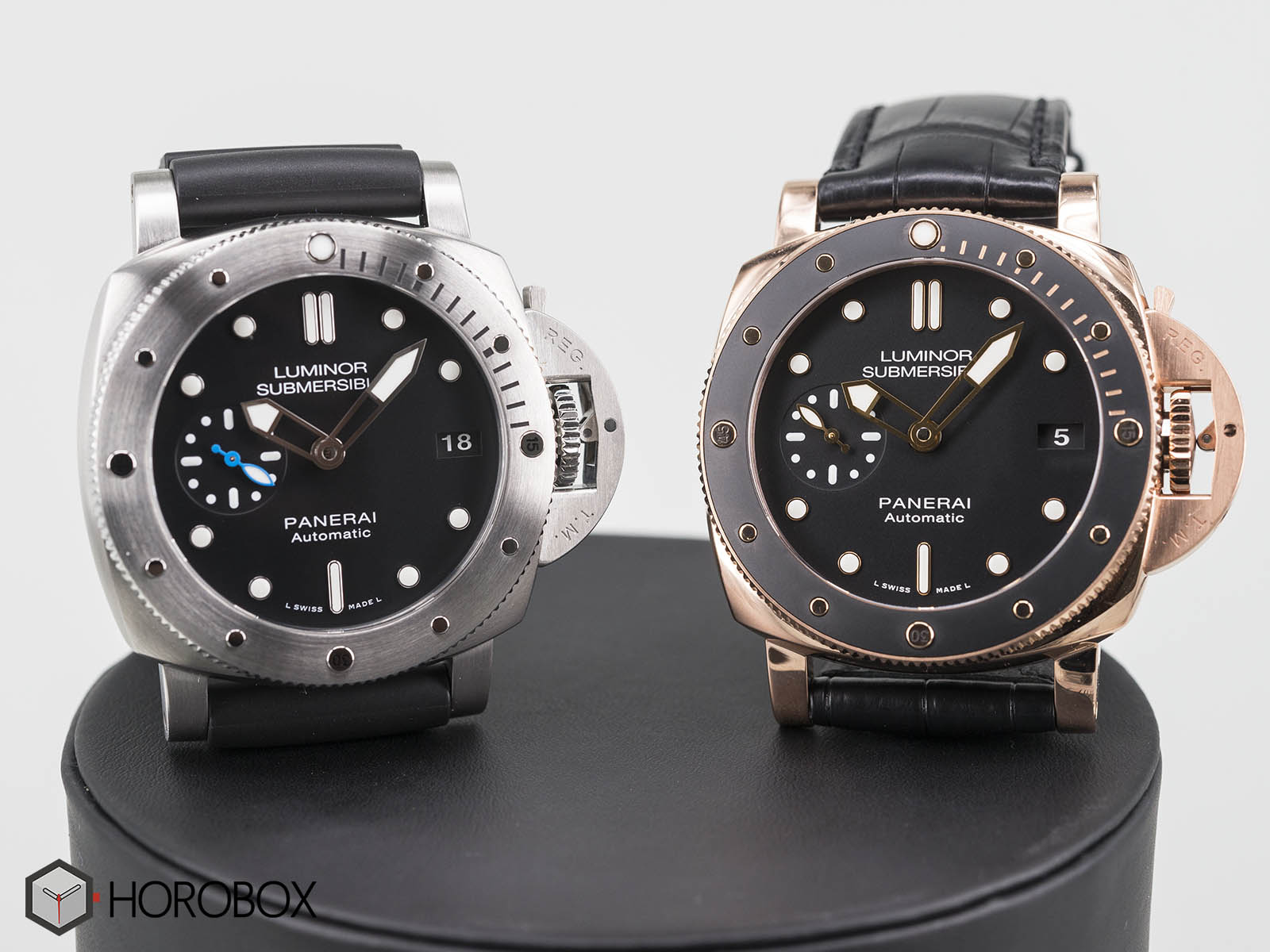 There are scratch-resistant sapphire crystal glasses with antireflection coating on both sides of the casings. I think that, one of the most important points here is that there is no magnifier used for date display on the crystals (thanks Panerai). For the stainless steel version the waterproofing is set at 300M, while the solid pink gold version is water resistant to 100M. I do not know the effect of the structure difference between gold and stainless steel on waterproofing but, I might name many different brands / models giving the same waterproof value for both materials. At the end of the day, 100M is enough for users like me who like their watches to get wet. Another difference is related to bezel. PAM00682 comes with a matte stainless steel bezel while PAM00684 features a black ceramic bezel insert.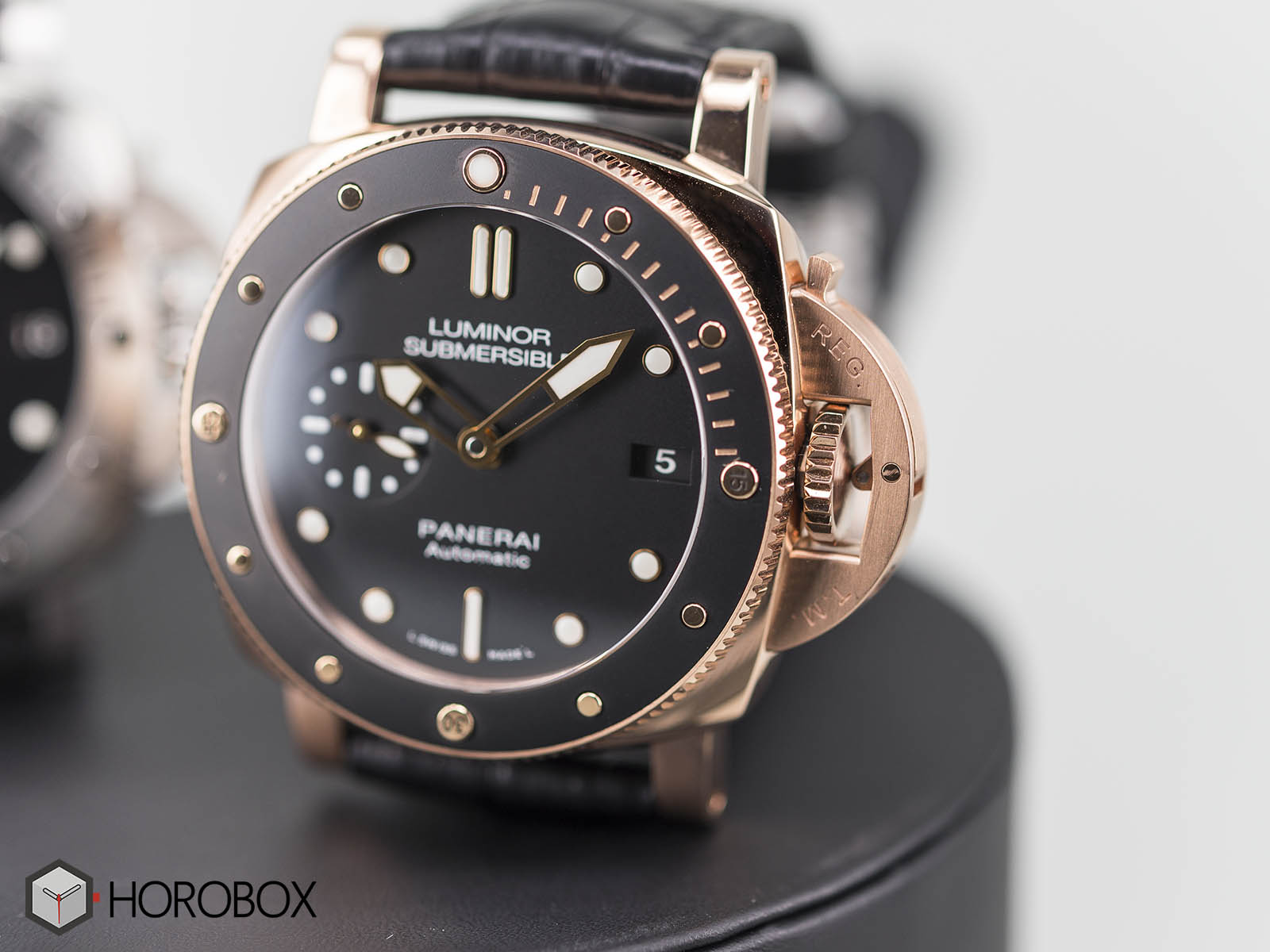 The dial design of both versions reminds me the dial of PAM00389, which had a deal breaker 47mm diameter. The small seconds sub-dial, which is a must for me, is located at 9 o'clock and there is a date display at 3 o'clock. The indices and hands, which are styled in a simple but functional way, are finished in accordance with the case material. Let me add that, the small second hand on the stainless steel version is finished in blue.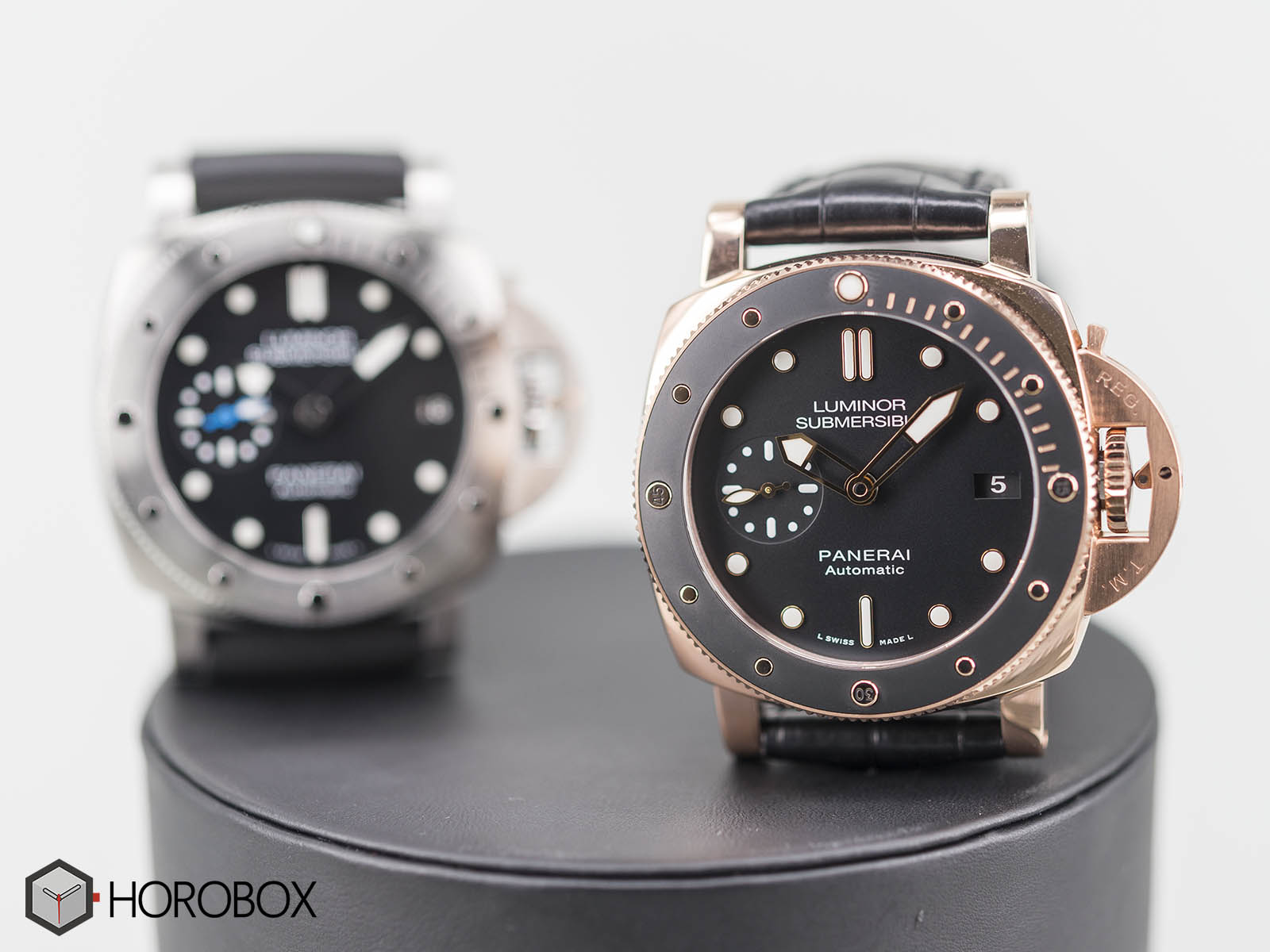 For the new product line, the brand's in-house movement Caliber Ref. P.9010 is preferred. The self-winding movement beats at 4Hz and offers a power reserve of 72 hours thanks to its twin-barrel winding system. The movement, which is adorned with plain and circular patterns, attracts attention with its perforated design rotor. Though I find a little too fancy for a diver's watch, it is pleasant to watch the movement through the sapphire crystal display caseback.
The stainless steel model comes with the new generation black rubber strap. The rubber strap, which is much more successful than the straps on the past models in terms of both material quality and comfort, is accompanied by Panerai-signed standard buckle manufactured in accordance with the case material. The red gold version on the other hand is offered on a black alligator strap that is secured by a matching red gold pin-buckle. I am glad that Panerai preferred a pin-buckle instead of a folding clasp which I find unnecessary for a diver's watch and have problems with in terms of wearing comfort.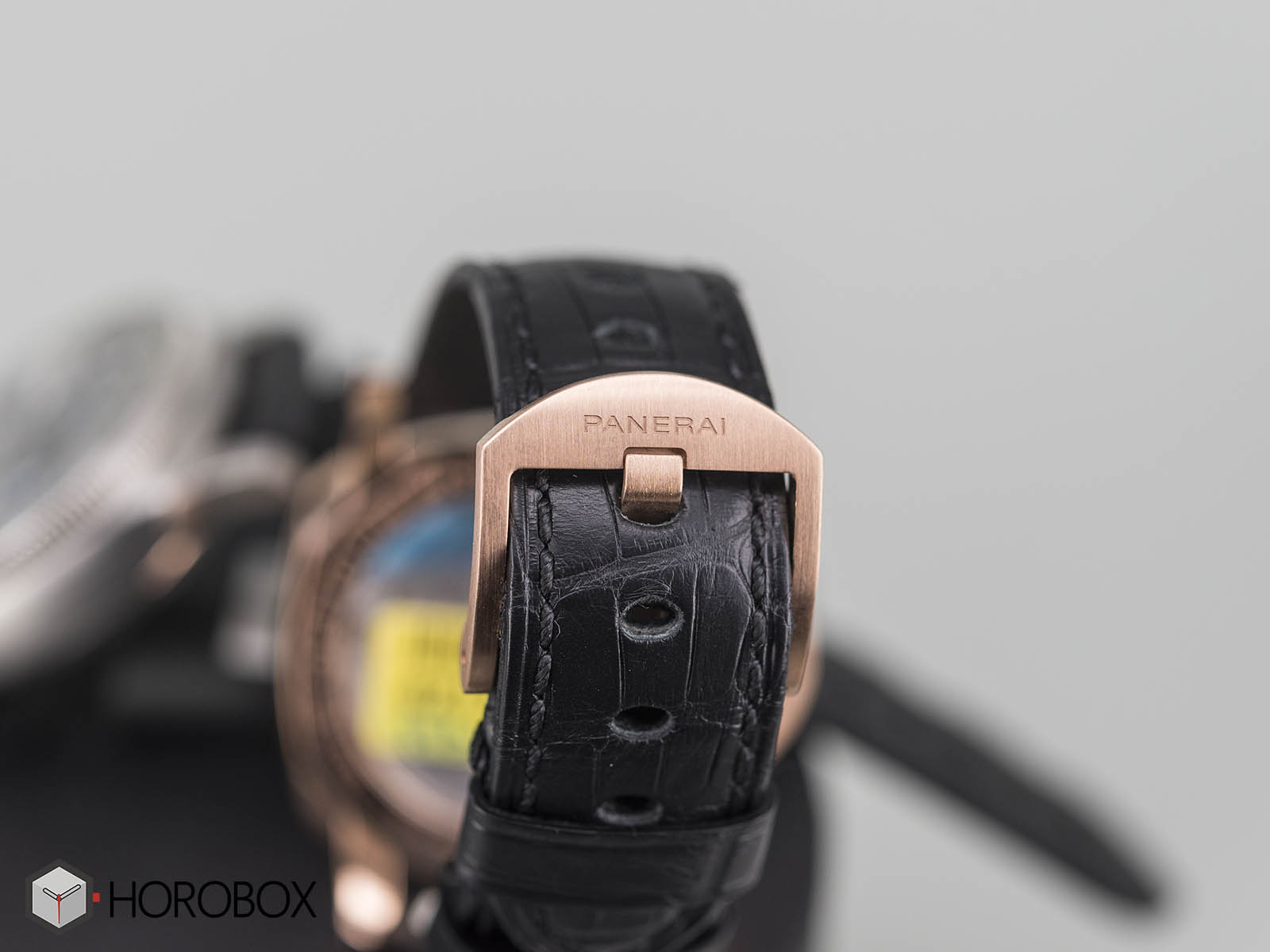 To sum up, I really liked the new generation 42mm Luminor Submersible 1950 models. It was a very good decision to choose the Luminor Submersible 1950 series as the next stop for this new trend that started with the Luminor Due. For the brand's loyal followers, this 5mm reduction is surely a huge difference. I even heard that there are watch aficionados who reduced the number of the Panerai timepieces in their collections due to this compact size matter. For the fellow Paneristi, Panerai is a big watch and it should be accepted as it is. But, I am not a Paneristi. I am not a watch enthusiast that sets his preferences about watches like supporting a football team either. So I think Panerai did a great job.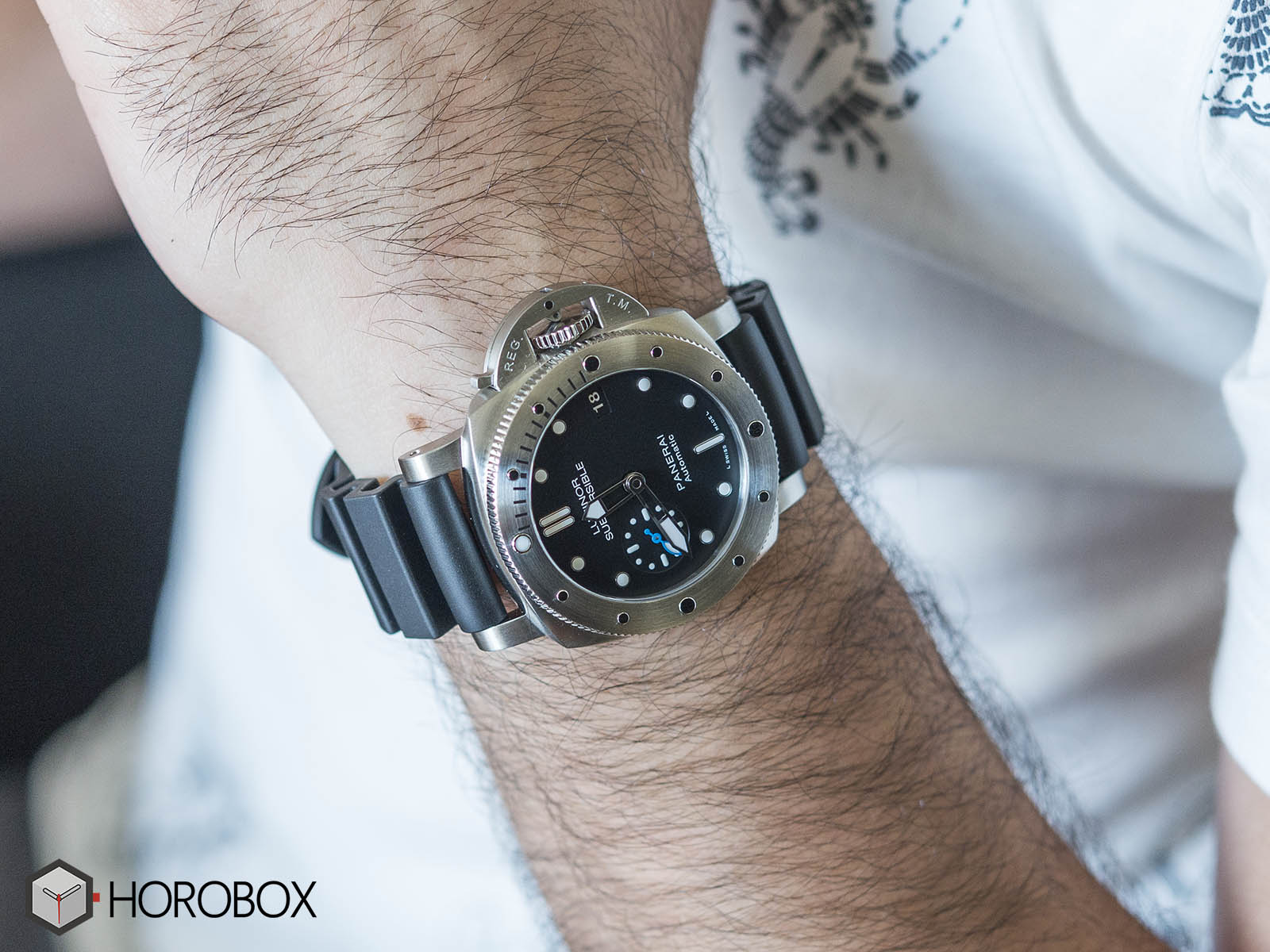 If you have stayed away from the Submersible concept because of the size matter up to this time, the PAM00682 and PAM00684 are definitely two stunning timepiece that you must see in person. Once you put them on, all you need to do is answer the one final question: steel or gold..?