Richard Mille, one of the most important Hi-End watchmakers especially with their keen interest in using alternative materials, was the guest of our Hands On corner with the RM 61-01 Yohan Blake Grey Edition model.
In fact, the model, which was introduced first at the SIHH 2015 exhibition, is not the one and only timepiece dedicated to the world famous Jamaican athlete Yohan Blake. Richard Mille designed two different models at the past for its successful brand ambassador. In 2013, Richard Mille introduced the first Yohan Blake edition which was a super-crazy timepiece featuring a Tourbillon type escapement movement offered in a ultra-light case with translucent green carbon nano tubes soon to be called RM 59-01. The model was limited to a span of 50 pieces only. As a result of its extremely Hi-End nature, the MSRP was 562.000,00 EUR. And the color palette, which is inspired by the national Jamaican flag, was also not an easy one in term of use. A year after, the brand showed up with another timepiece dedicated to Yohan Blake. Nicknamed "Baby Blake" due to its modest features and relatively affordable price, the new model was offered with in a black RM 61-01 case with a green inner bezel, an anodized aluminum top flange finished in yellow and a pair of bridges in yellow and green.
Richard Mille RM059-01 Yohan Blake
In 2015, Richard Mille introduced the third version of the Johan Blake model. A much more standardized version than the previous models, the new timepiece managed to create a model DNA by paying tribute to past versions in terms of design clues. Let's take a closer look at this special model, which recently participated in the collection of Serdar OAL, our executive editor.
The model comes in an asymmetrical designed case, like the like the RM 59-01 Tourbillon, measuring 50.2mm x 42.7mm. With this special case form, Richard Mille engineers aimed to have the most aerodynamic design. Keeping in mind that Yohan Blake would wear this watch in his right wrist the left side of the cage is designed to be lower and thinner than the right side.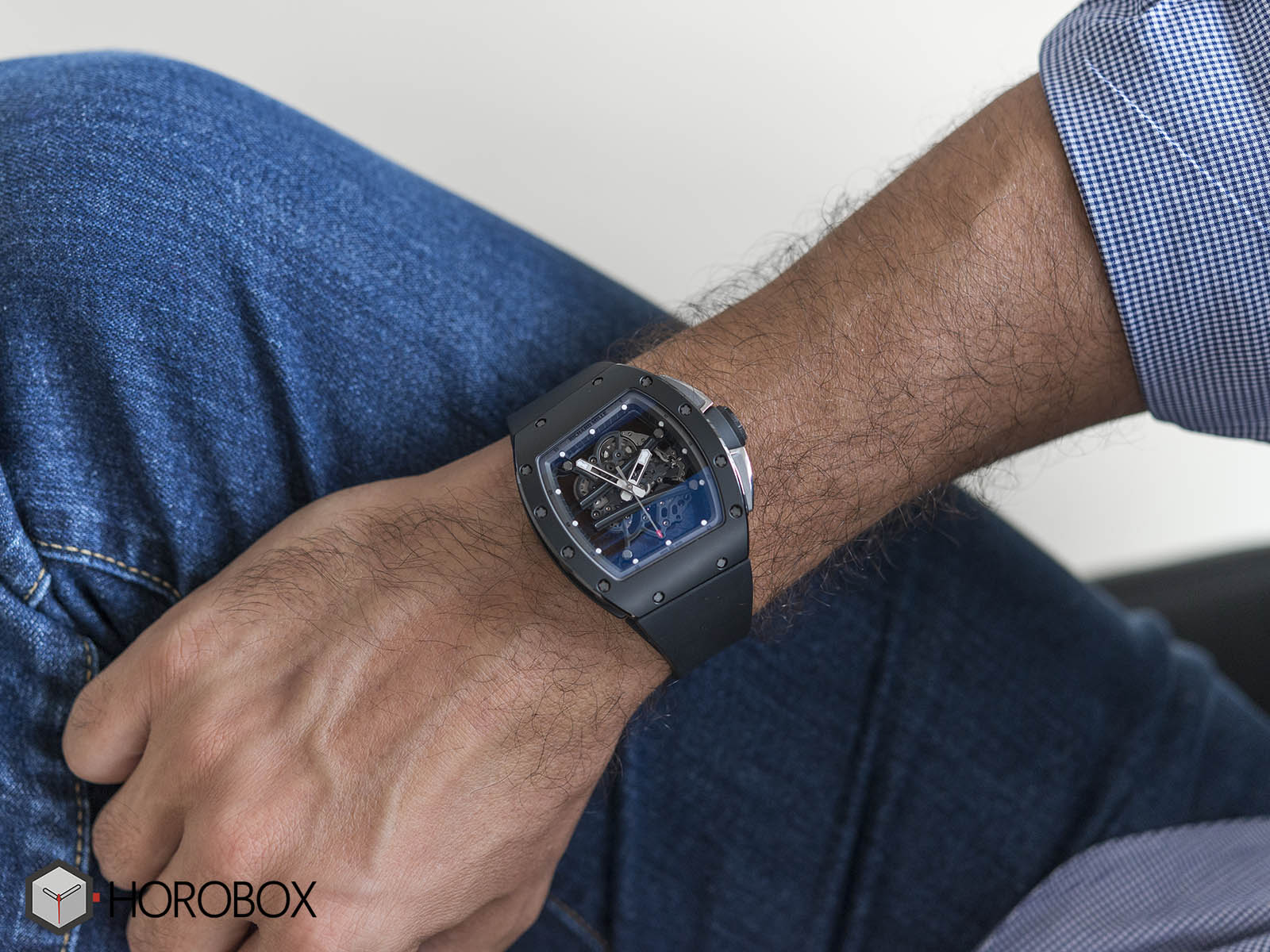 The bezel and the caseback are made of black TPZ ceramic. This new material is known for its low density and durability. The use of glossy and matt surfaces together, a dynamic look is created. The mid-part is made of NTPT carbon which we are familiar with from different Richard Mille models. This material, obtained by processing ultra-fine cut carbon fiber under high pressure, has created a remarkable image with its unique texture. The components of the case are fixed with titanium screws, which is of Richard Mille classics. The winding crown is equipped with a black rubber o-ring for easy grip and it is protected by a pair of triangular shaped large crown guards. The case sports double AR coated sapphire crystals on both sides and it is water resistant to 50 meters.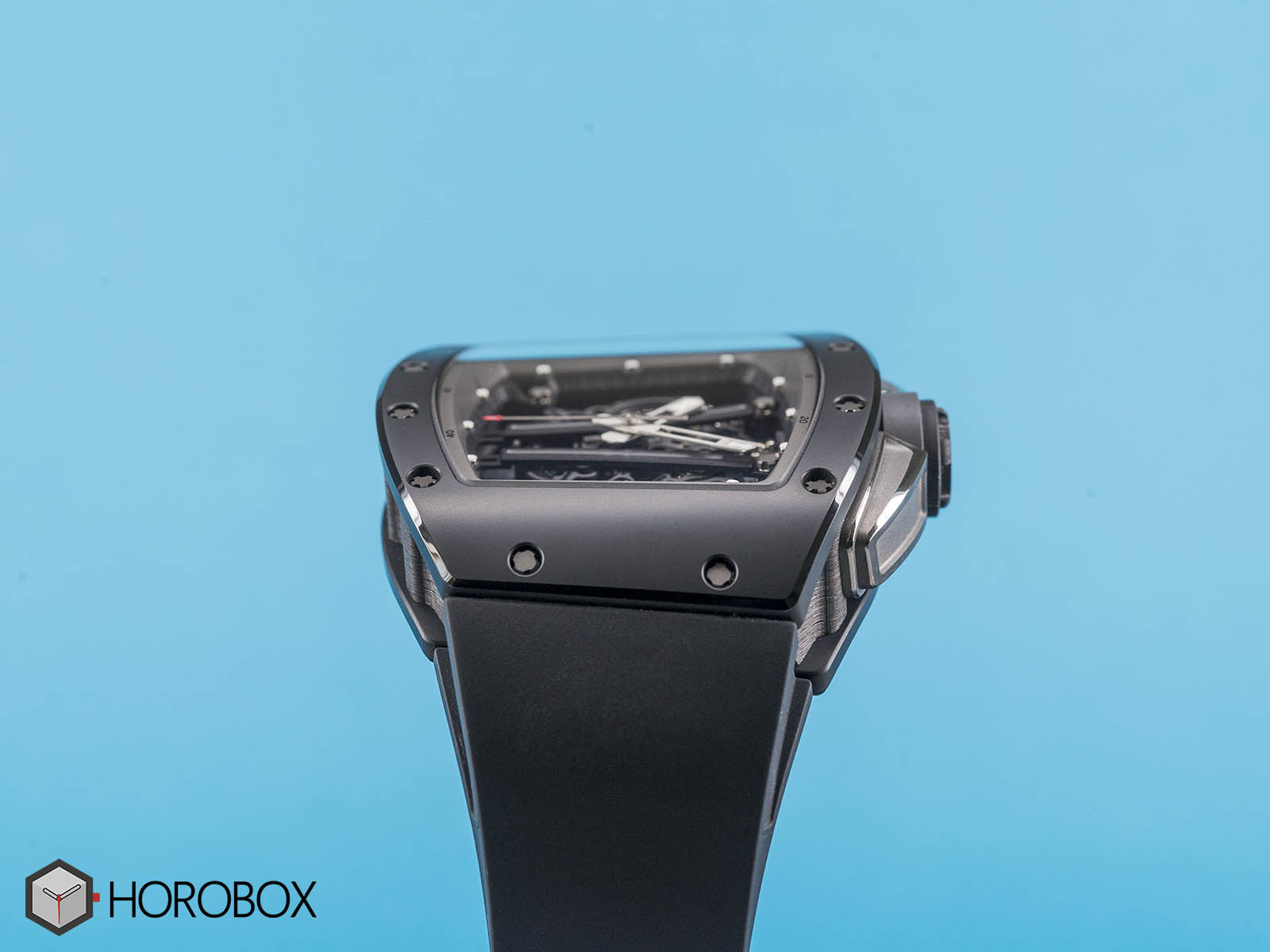 Richard Mille RM 61-01 Yohan Blake Grey Edition is powered by the in-house Caliber Ref. RMUL2. The movement is designed in full skeleton style which can be enjoyed through the double sapphire crystals. Hand-wound movement is capable of offering 55 hours of power reserve when fully wound thanks to its double barrels. Thanks to the shock absorbing parts located at four different points, the movement can stand virtually every impact. Let me add that, the total weight of the movement is a shocking 4.3gr.
The model comes on a black rubber strap that is also used in other models of the brand. The strap is secured by the classic Richard Mille signed folding clasp made of titanium.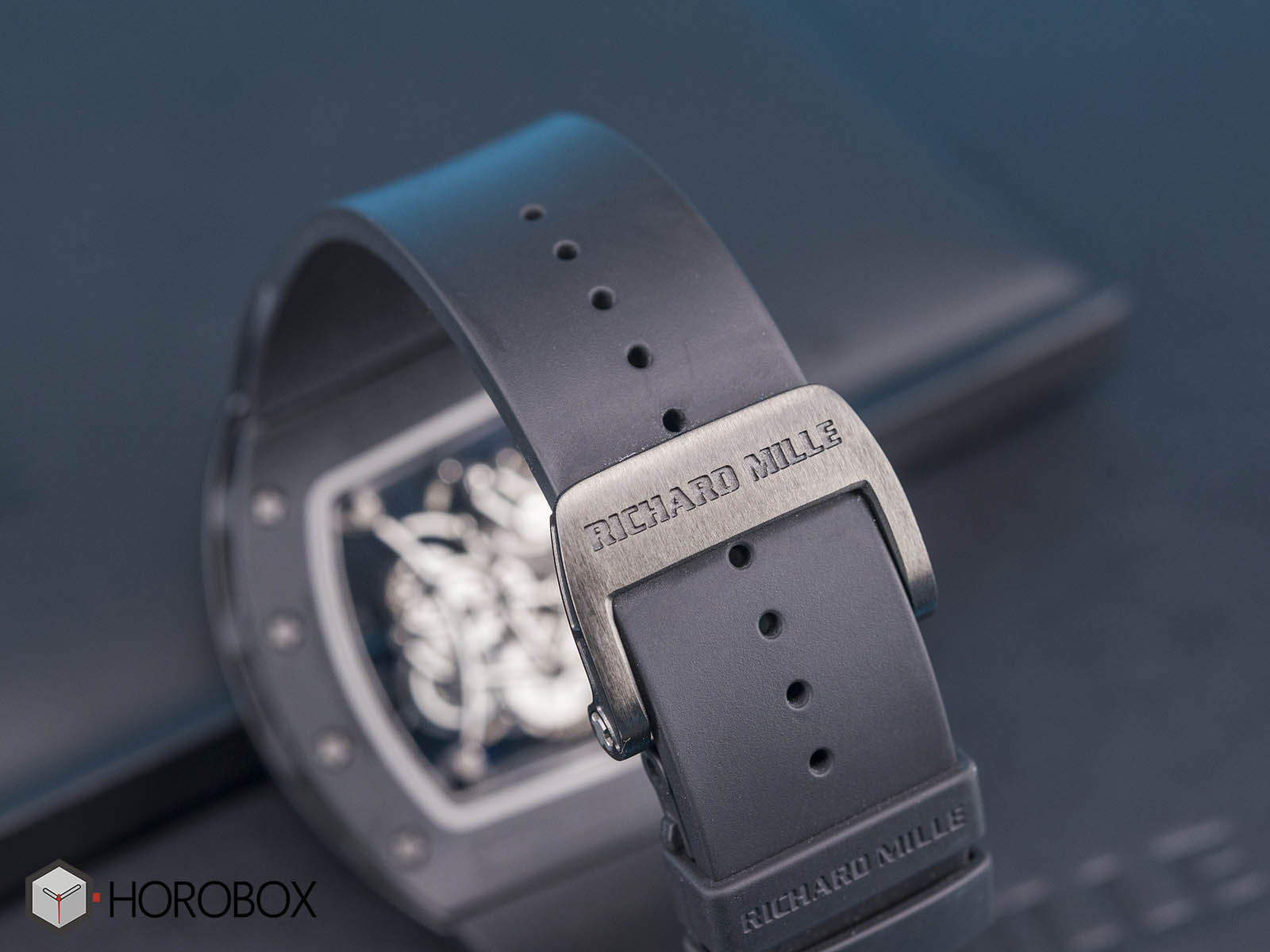 I had a chance to experiment with different Richard Mille models before, but I have not spent much time with them as I did with this RM 61-01 Yohan Blake Grey Edition model. First of all, the timepiece feels extremely comfortable as with many of the other models from the brand. With its concave tonneau style case, soft rubber strap, folding clasp that allows micro adjustments and a total weight below 70gr, I can say that this is the most comfortable watch I have ever strapped on to my wrist. I would also like to add that the asymmetrical case which will possibly be symbol detail for the model family and the black dominated color palette which makes it a lot wearable than its predecessors would be my reasons for preference.
For me, Richard Mille is a very special name among Hi-End or exotic watchmakers because they can bring together uniqueness, modernity and use in a segment that is mostly dominated with traditional models or weird designs.
Richard Mille RM 61-01 Yohan Blake Grey Edition is limited to a span of 150 units only available for EUR 124,500.00.