Rolex is determined to take the legendary Sea-Dweller model out of the ocean and put it into stylish environments. That's what they call the identity crisis, I guess!
Rolex, one of the leading representatives of the Tool Watch concept, is known as one of the most successful brands in the watch industry, especially with its diver watch models. The best living examples are the iconic Submariner and Sea-Dweller series. When we look at the diver watches, we see that functionality is always at the forefront. For this reason, many brands utilize materials that serve relatively low in terms of fanciness but purposeful such as stainless steel, titanium or carbon. So, what did Rolex just do? They added gold to the case and the bracelet of their watch that can withstand a water pressure of 1220 meters!
What could be the aim of decorating a watch with fancy related material like gold, which can go 1220 meters deep, features a helium release valve, having an important part in brand's history with its stainless steel material and just celebrated its 50th anniversary? If we were talking about an ordinary brand, to increase commercial success could be an acceptable answer, but we cannot talk about Rolex for such a reason. I am sure they would put much more in their pockets by simply increasing the production numbers of their extremely demanded models rather than offering a Two-Tone Sea-Dweller. Submariner, on the other hand, is still one of the leading models of the Tool Watch concept, and besides the Two-Tone version, it has all gold and even gem-set iterations. However, since Submariner is categorized as a model that is well matched with the classic style of today's standards, those variations make sense. Following the same path, then yes, why not with the Sea-Dweller? Despite some fans including me who finds this attempt pointless, it is already embraced by others apparently.
Rolex Sea-Dweller 126603 comes in a 43mm diameter 904-grade stainless steel case that is equipped with an 18K gold bezel as well as a winding crown. The metal bracelet is stainless steel and 18K yellow gold combined. The dial under the thick sapphire crystal is equipped with gold hour markers and hands. In addition, the Sea-Dweller text written in yellow tone is a good decision in my opinion. While the figures on the bezel insert of the stainless steel Sea-Dweller is Platinum, 126603 comes with gold-filled figures in the bezel insert. The Rolex classic Chromalight in the hands and indices fulfills its task and succeeds in making its user happy with its blue color in darkness. The Sea-Dweller's thick solid case back is another reason for its high water resistance rating. The watch sits slightly high on the wrist, which may be uncomfortable for some users. There is a helium release valve on the side of the case, which I believe it will not need to operate in many watches. The waterproofness of the model is 1220 meters, i.e. 4000 feet.
Caliber 3235 is the movement that Rolex decides to put in the Sea Dweller in line with the new generation movement replacement process. Self-winding movement features blue Parachrom hairspring, Paraflex shock absorbers, 70 hours power reserve and a hard to believe accuracy standard of ± 2 seconds per day. Instant date change at 12 o'clock and the super silent oscillating rotor are of course standard in 3235.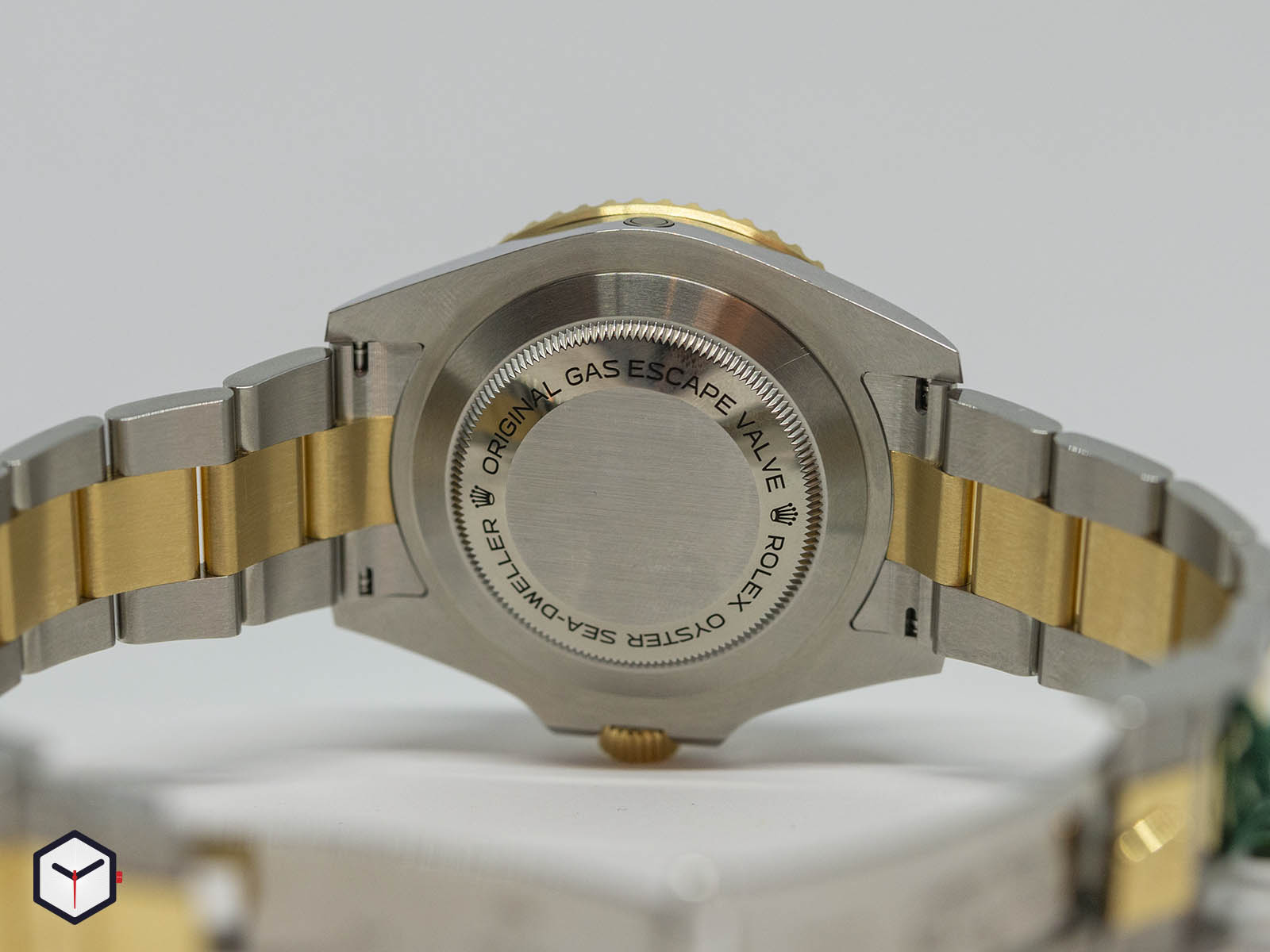 The new Sea-Dweller, like its steel brother, is secured by the micro-adjustment Rolex Glidelock clasp. This feature ensures that the watch can be worn comfortably on diving suits, as well as a full fit on any size wrist.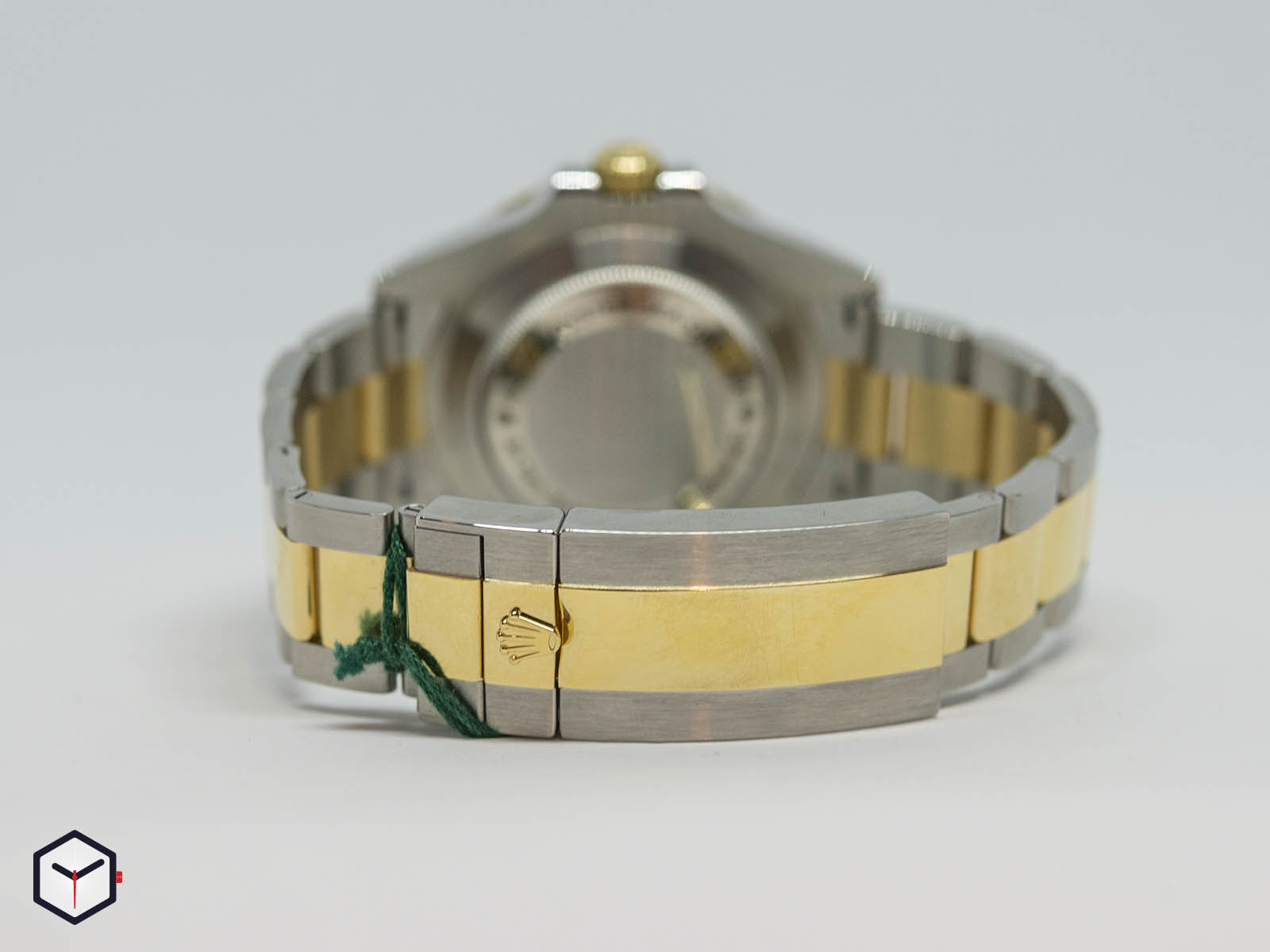 The Rolex Sea-Dweller is a heavy model due to its dimensions. In some parts, this weight is increased by using gold instead of stainless steel. I already mentioned the height. Therefore, it is not right to expect the greatest wrist comfort from the new Sea-Dweller. Showing off? Certainly, it will offer more than Two-Tone Submariner. The Rolex Sea-Dweller Two-Tone 126603 will soon start decorating the boutiques with a price tag of 15,300 CHF.