TAG Heuer, who has never lost its connection with the world of motorsports since the day it has been founded, was the guest of our Hands On corner with the TAG Heuer Carrera Calibre 1 Limited Edition (Ref. WV3010.EB0025) model. Introduced as a member of the brand's Baselworld 2008 novelties, the model attracts attention for being the first hand-wound Carrera timepiece produced since 1996.
As I mentioned at the beginning of my article, the model I have here for the review is not a new one. However, I think it is worth remembering for its details that shed light to the era when the Carrera Collection has been renovated with modern and dynamic lines.
I believe every watch enthusiast knows about TAG Heuer's relation with motor sports. Introducing motor sports inspired models or having brand partnerships with well-known names operating in this sector, may seem like an ordinary marketing tactic today. But this was very different for TAG Heuer. Let alone, I do not know any other watch brand that names its best-selling product lines after famous Formula 1 race tracks. I'm not even talking about the gauges on the instrument panel of Formula 1 race cars or Heuer chronographs that serve as official timekeepers.

"Carrera Collection is undoubtedly the most important one among those product lines. The model family, which brings the brand's glorious past to present day, is home to modern timepieces that reflect the technological and pioneering character of the brand, unlike the other collections."
The brand introduced many successful models during mid 2000s where it was undergoing a renewal process under the roof of LVMH Group. TAG Heuer Carrera Chronograph Tachymeter for instance, is one of the best models introduced at that period. However, it is difficult to say the same for every model produced in the same period. The brand's professional instrument-focused DNA is damaged by the rapidly growing oversized watches trend which caused big models with unnecessarily busy dials (like the Grand Carrera Day Date model). The model I have here, TAG Heuer Carrera Calibre 1 Limited Edition, features details that reminds me that blurry era. And what are those details? I'll tell you…
The model's case is designed in modern Carrera Collection style which is still being used. The fully polished stainless steel case measures 43mm in diameter and 12mm in total height. The case, which offers a comfortable use with its stylish and sporty lines, is equipped with scratch resistant sapphire crystals on both sides. Water resistant to 100 meters / 10 bars as expected from a true sports watch, the case is accompanied by a large and handy TAG Heuer signed winding crown.
The first part that brings my mind the blurriness I mentioned above is the model's dial. The dial is finished in black and designed in sector dial style i.e. the dial offers more than one surface pattern. Everything seems OK thus far. However, the rest is, well, mixed up…
There is a small seconds sub-dial at 6 o'clock which is designed in a semi-circular form. This sub-dial features a pair of telescopic seconds scale. The second hand has two tips that are finished in different colors. Rhodium plated tip reads the 0 to 30 seconds scale while the red tip points the 30 to 60 seconds scale. I am forcing myself to relate this weird design to motor sports as the small seconds counter reminds me the speedometers indicating in both kmh and mph units. But then I am confused with the central part of the dial that is finished with "clous de Paris" pattern. Well, we all love the traditional looking "clous de Paris" pattern but what happened to the motor sports inspiration that I was talking about?
Fortunately, the hour markers and hands accompanying the dial are designed to be simple and functional, in line with the professional instrument character of the Carrera model family.
The blurriness continues with the movement. Can someone please tell me why a hand-wound movement is preferred in a model from a collection that has always aimed innovation? The ETA 6498 hand-wound movement that beats at 21.600vph and offers a power reserve of 46 hours is truly a veteran movement. However, was that necessary to put a movement, which has been designed as a pocket watch caliber first, to a watch that cannot get into a Vintage or Heritage character even with its "clous de Paris" motif sector dial?
Let's leave the un-answered questions aside and move on with the strap. The model is offered with two straps in the presentation box. The model I have here comes on a black alligator strap. There is also a black rubber strap, again with "clous de Paris" motif, in the box. Both straps are secured by TAG Heuer signed stainless steel folding clasps.
Like the case, I do not have anything negative to say about the straps. They are beautiful, comfortable and capable of what they intend to do: changing the model's visual appeal (positively).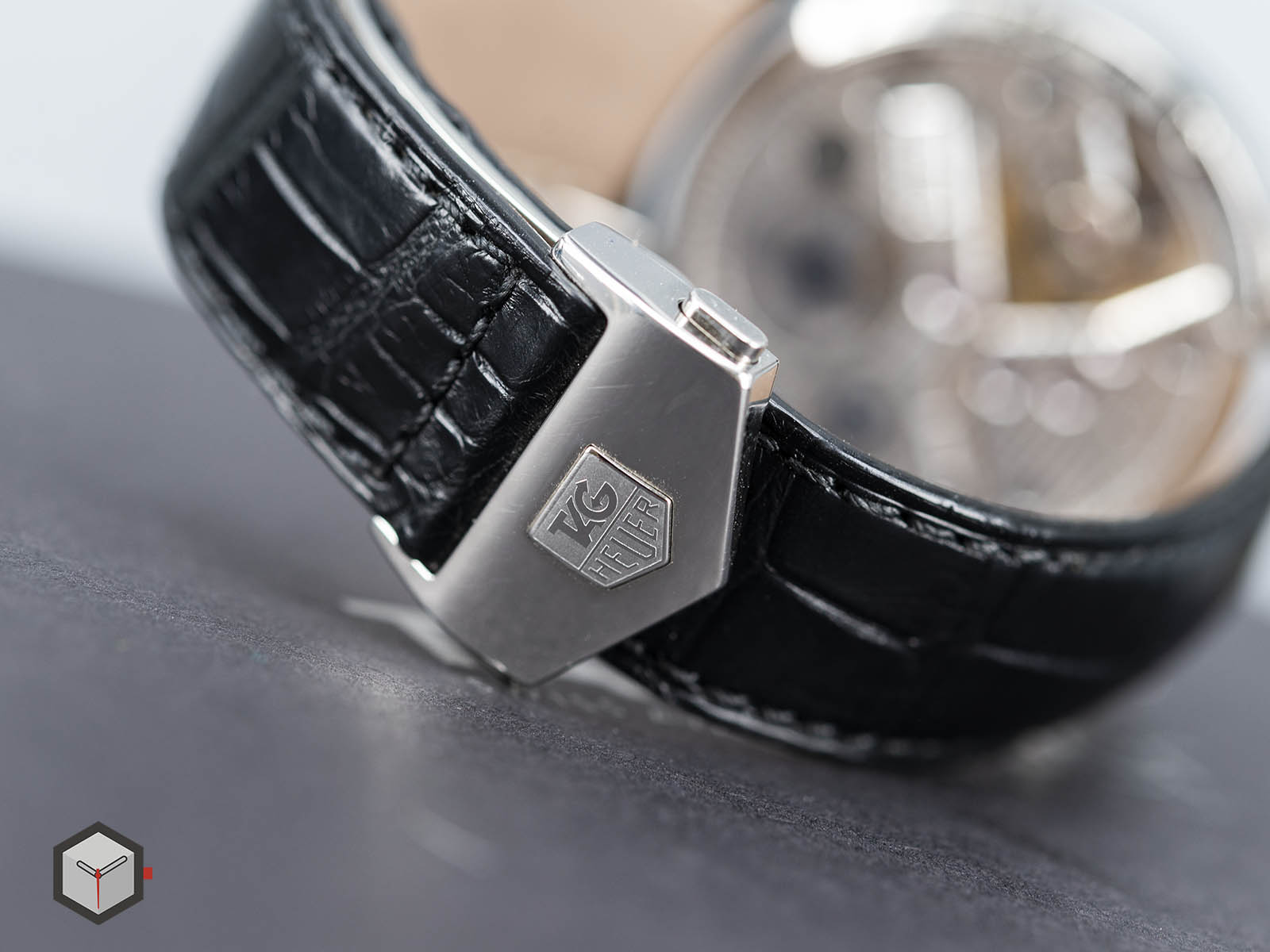 I do not want to end this article by giving this watch a score out of ten. I don't want to classify it with my subjective comments either as being a watch enthusiast is mostly all about personal preferences. However, it is not possible to ignore the identity crisis created by the contrasting features that I have underlined.