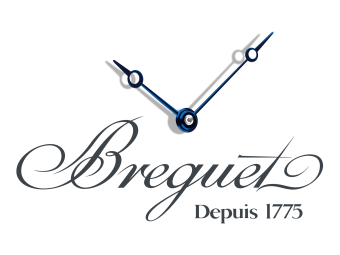 I have to say that my experience with Breguet is limited to a couple of try outs with model Type XXI. However, I have an interesting memory about that particular Type XXI chronograph which I noticed at a second hand shop. The all gold watch has been of the shelf waiting for service pick up. Sadly, the watch was missing it's crown and folding clasp..! Also the watch has very deep scratches all around. I clearly remember how I have been shocked and thought to myself " How could this happen to a such precious time piece..? "
Months after I was lucky enough to see that watch after it has been serviced at Breguet – Switzerland. The watch was in brand new condition again. That Breguet was definitely my best before/after service story ever.
When I have the chance to get a stainless steel version of that watch I decided to wear it for a couple of days.After a short test drive here's what I think about the watch;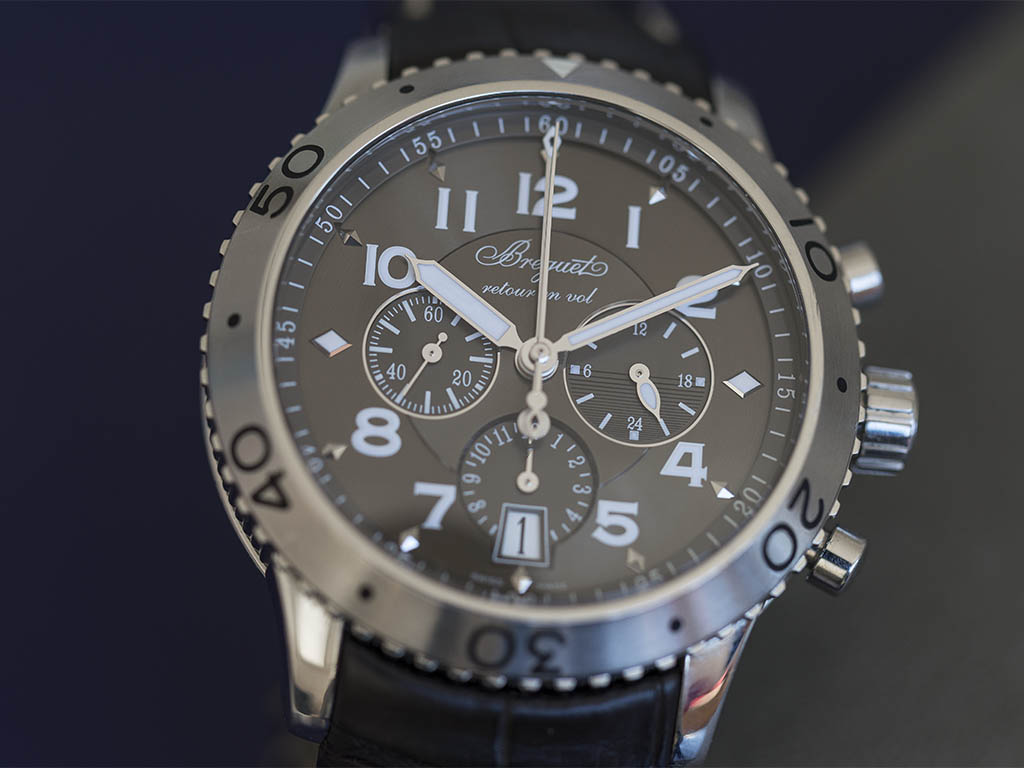 The dial which has a perfect readability is designed in contrast with big Arabic numerals. Being housed in a 42.5mm diameter case which is a nice size for a modern pilot chronograph, Type XXI gets the attention by it's Flyback function caliber as well.
Offering the classical pilot chronograph design with Breguet's own styling, Type XXI fits with a nicely tailored suit as good as it fits with a plane's cockpit.
As I mentioned before, the watch has a Flyback chronograph caliber beating inside it's beautifully finished case. By looking at it's date window in the handsome dial designed in classic Tri-Compax lay out, we understand the model is a " Transatlantique " version.
Though it seems a little complicated at first sight, Breguet's dial is actually not as busy as it looks. Every sub dial has it's own surface form on the dial. The contrast is also more than enough to indicate the different functions of the sub dials. With the addition of the matt surface which succesfully prevents reflections, it is quite easy to get what you need when you look at the dial.
Dial has efficient luminosity for night time visibility. Only the small second hand is lacking the lume treat.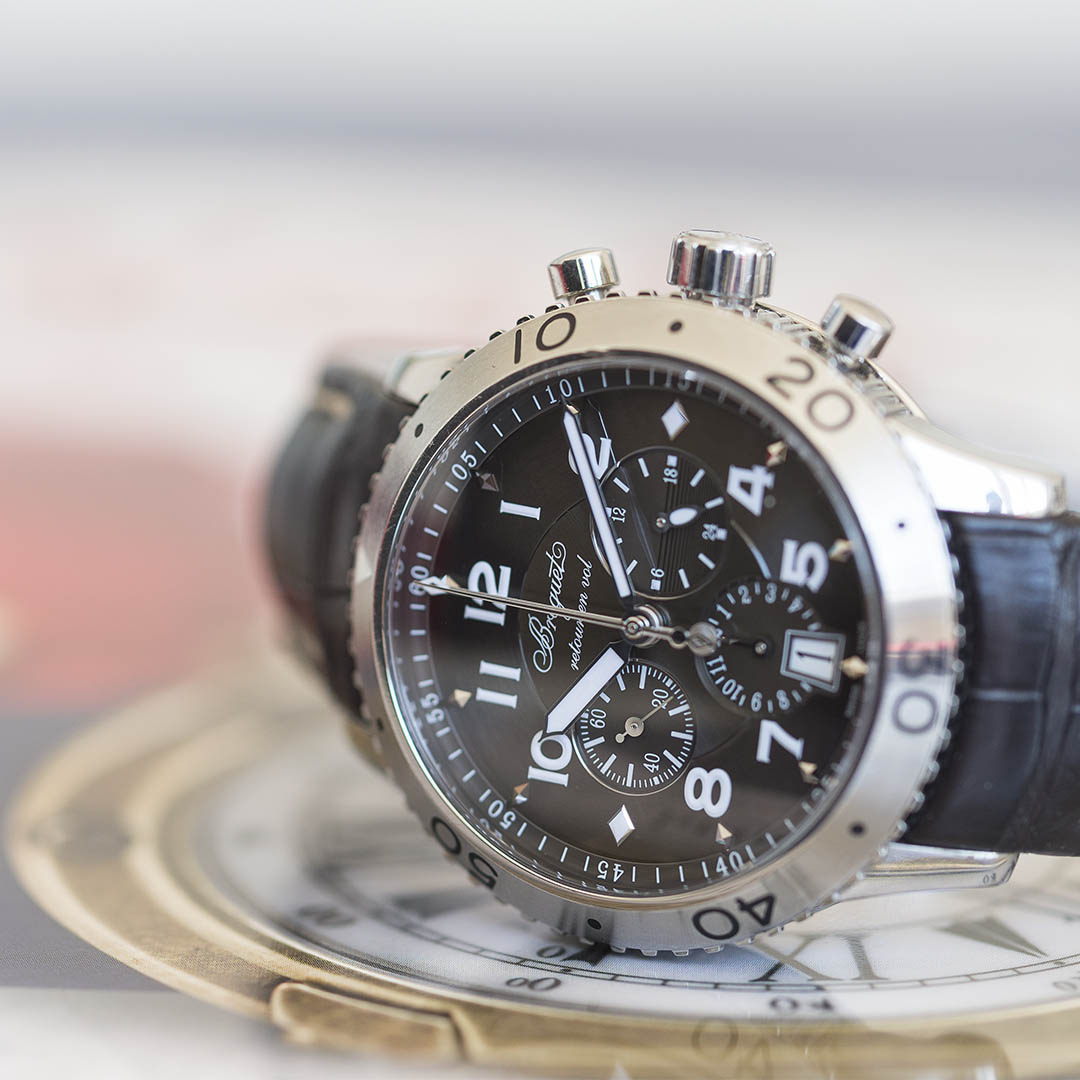 Slightly domed sapphire crystal is also a nice touch.
Having unique details on it's beautifully finished case, Breguet gets the most attention by it's grill type case sides. Actually it's a bit unusual for a tool watch to have such polished and grilled sides but obviously that feature serves as an eye catcher.
Another insteresting feature is Type XXI's bezel. Designed more likely in diver's bezel form, Type XXI's bi-directional bezel is a bit unsual to sit on top of a pilot's chronograph
The crown and pushers have a solid feeling and allows to be operated with thick gloves.
The case back lacks the see thru part. Personally I am not a big fan of see thru case-backs but, I think I'd be happy to see one in this watch as Breguet calibers are always nicely finished in detail.
The watch comes on a leather strap. Due to the watch's retro mood I believe a nice nato strap will look good too.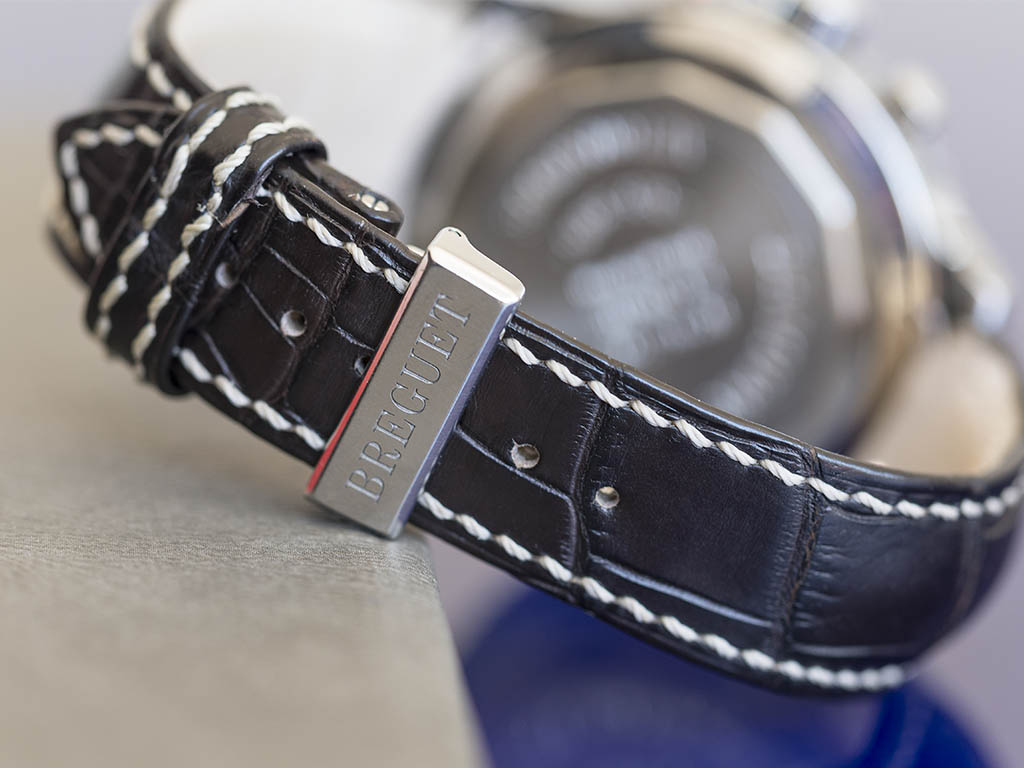 Breguet lists the caliber as Ref. Nr. 582. Actually Caliber 582 is a modified version of Lemania 1350 which is a nice movement as well. 582 is roughly a Flyback module added version of Lemania 1350.
Practically we should not be calling Caliber 582 an in-house one but, since Breguet is a Swatch Group member it's somewhat hard to decide.
Breguet Type XXI Transatlantique is definitely a nice watch. It's a very good choice for the individuals to have a traditional Swiss brand time piece with classic pilot design.
With it's remarkably modern size at 42.5mm Type XXI offers a comfortable and balanced use for small wrist customers together with it's bonus Flyback function.