Rolex, one of the most important brands in the Baselworld fair, presented two new versions of its iconic product group GMT Master II featuring the brand's patented 18K pink gold alloy Everose for the first time. Here we are with the new models, which were called Root Beer as soon as they came out due to their brown tones.
I will not tell you how much I like Rolex, because if you read one or two of my articles about the brand, you immediately notice this. However, I am having hard times "liking" their new models especially the ones that were presented within past two years.
When it comes to Rolex, we barely see a true novelty as the brand is obsessed with being loyal to their DNA. The technological innovations are always welcomed. But the results that emerge while the brand is pushing the limits in their R&D process and eventually end up changing the product's visual appeal -which I believe is the most important part-, causes polarized comments and different opinions among watch enthusiasts.
Frankly speaking, I did not like the 50th Year SeaDweller model a lot with the magnifying cyclops on the date display. I did not like the idea of putting a magnifier on the crystal that has been designed without one to withstand the water pressure at 4000ft which also gave the SeaDweller 4000 name to the model, just because being able to do it. I never liked the fact that the new generation Jubilee bracelet is upgraded with an Oysterlock clasp instead of the old hidden-type clasp, which I think is a piece of art and engineering, for safety reasons.
Perhaps one of the first things you notice when you consider innovation in Rolex, is how narrow the playing field is. In terms of technical improvements, everything is all right. I do not think anybody will say anything negative about updating the accuracy standard from -4 / + 6sn to -2 / + 2s or increasing the power reserve time to 70 hours. However, the same does not go for the lack of hidden folding clasp on the Jubilee bracelet in favor of having more safety with the Oysterlock. I believe a large number of Rolex enthusiasts will agree with me on this.
After this long introduction, you may have thought that I would not be very positive while talking about the new ROLEX GMT-Master II Ref. 126711CHNR and Ref. 126715CHNR models that were introduced as a part of the brand's Baselworld 2018 novelties. Well, you were not wrong.
Newly introduced models offer the same specs with the modern GMT-Master II model family in terms of components such as cases, bracelets, clasps and so on. But let's not forget to add that the new models, which are mostly differentiated with their color palette, are also powered with the brand's new movement Caliber 3285 as well.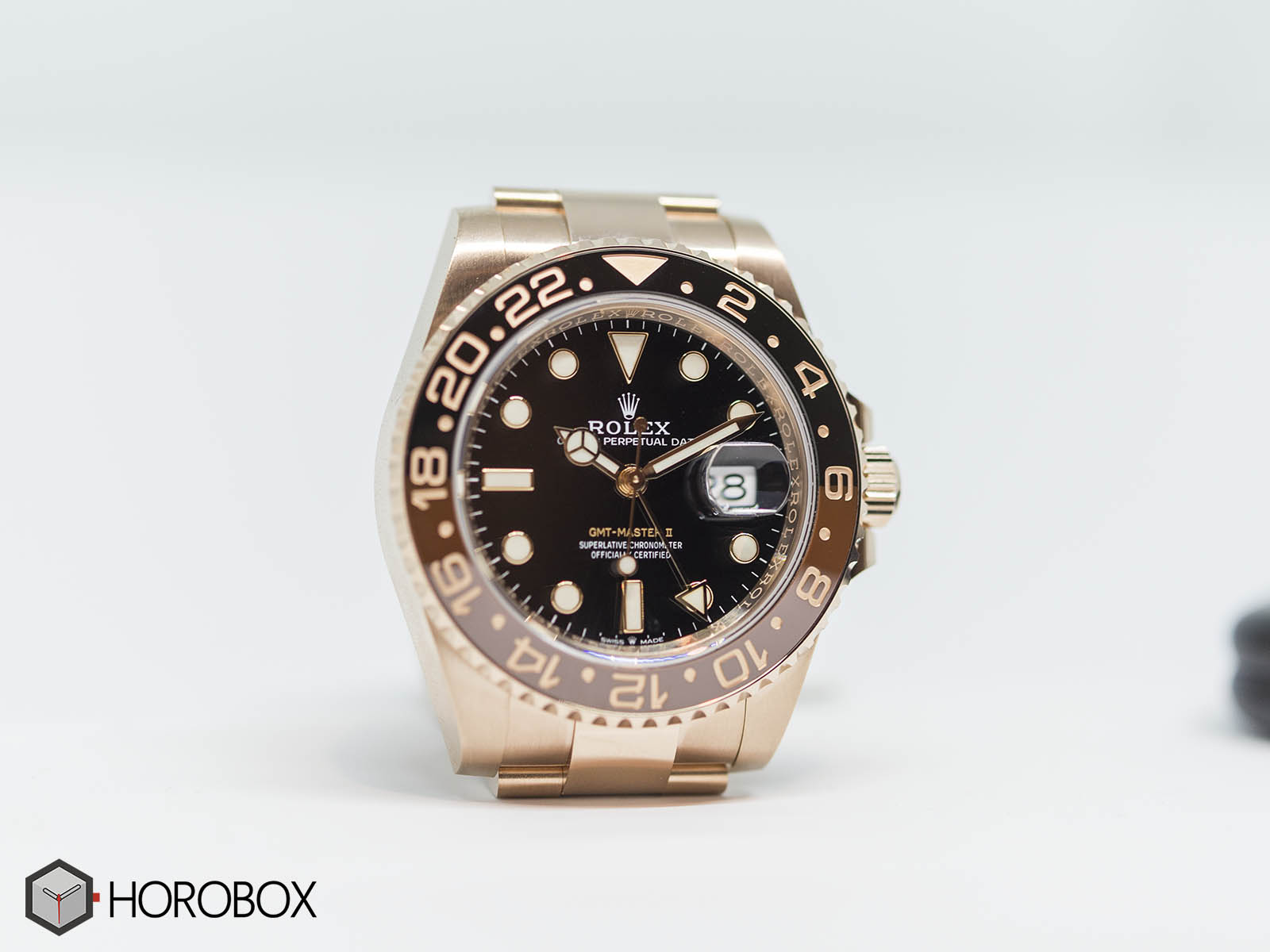 The new models have already begun to be called "Root Beer" due to the brown tones used. I am totally OK with the brown part. However, the GMT-Master models that are called Root Beer GMTs employed 18K yellow gold, not pink (Everose in today's Rolex terminology) gold. Also, a partially black bezel or a black dial were not an option either. Therefore, I do not see these new models as a part of Root Beer family.

We have already seen the successful results of using brown, black and Everose gold in the same color palette. Particularly in the ladies DateJust group, there are some models that I think are very stylish. But I cannot say the same thing for these new GMT-Master II models because I think that Everose gold is too feminine for a model family like GMT-Master II. Women users may be pleased with this but I would like to say that, I do not think this color combination is the best one for the GMT-Master II as the model family is still listed in the "men's watches" range.
Besides this, it is also strange that the Jubilee bracelet, which is offered as an option in early (or real) Root Beer models, is not included with these two newly introduced models. Though it will most probably be offered within near future.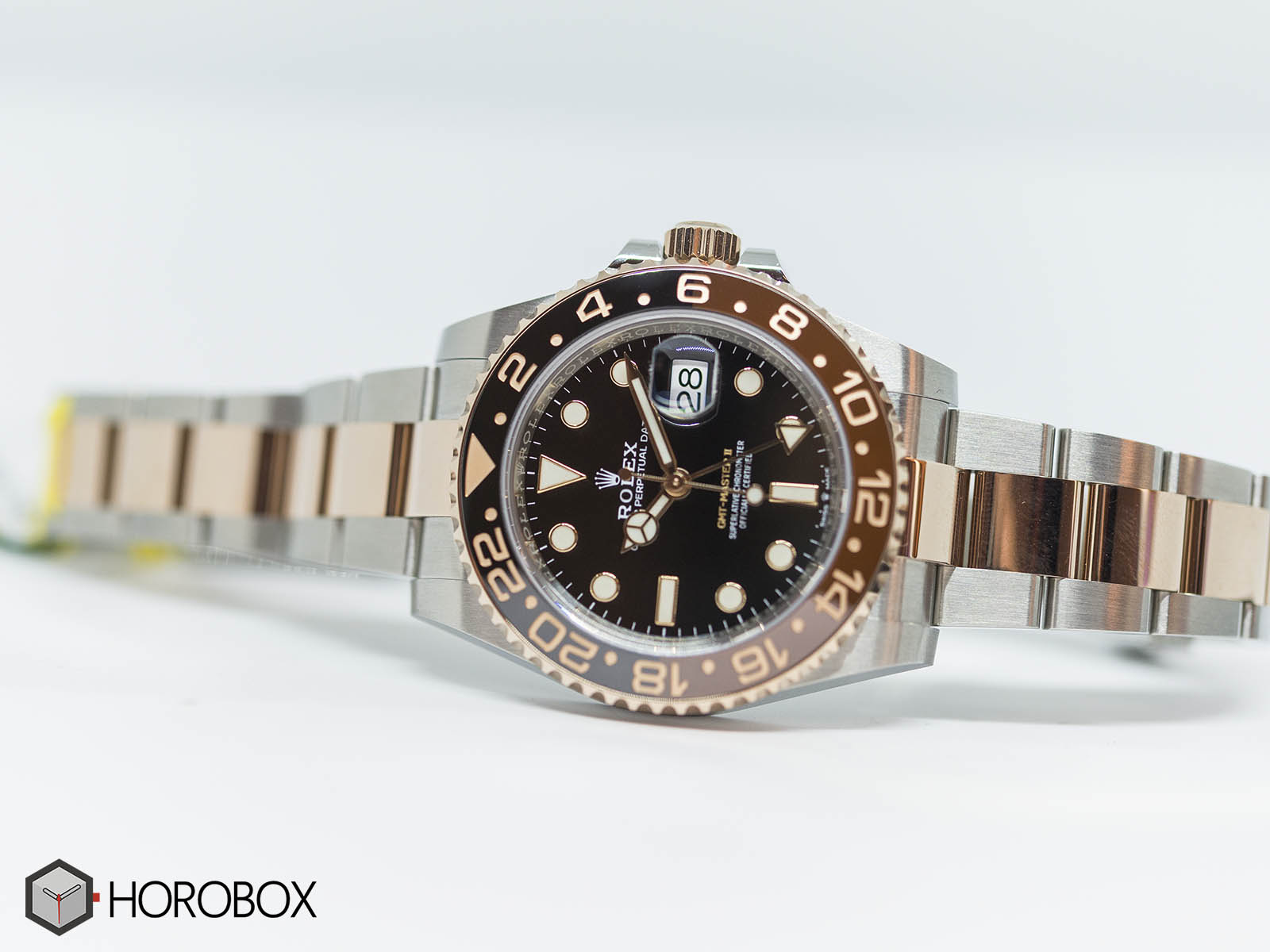 To summarize, I have not found the new Everose and Everose Rolesor GMT Master II models to be that successful. I will not say anything against the innovations in the technical sense (or wait till the Jubilee bracelet option is added as I'm sure it will come with the Oysterlock clasp). The cosmetic part is totally related to my personal taste. When I first saw the Rolex Daytona Ref. 116515LN aka "Chocolate", I loved it. However, I did not see it as a new variant of the Daytona Collection but more like a unique model family of its own. When I look at the new ROLEX GMT-Master II Ref. 126711CHNR and Ref. 126715CHNR models, I think they are not beautiful enough to like at first sight and not quite different either.
The MSRPs for the new models are 13,400 CHF for Ref. 126711CHNR (Rolesor) and 35,000 CHF for Ref. 126715CHNR (all Everose gold). I am not sure the exact time frame for the new models to hit the boutiques but I am sure that it'll be earlier than the so called real star of the show Rolex GMT Master II Pepsi Ref. 126710 BLRO.