This time, we are in beautiful Florence. We are sure, moments full of joy are waiting for us at the home town of Panerai which we have witnessed it's glorious history in Montecatini Terme.
We are moving full throttle with our trip full of Panerai. We are now heading to Florence after the pleasant time we had at Mr.Ferretti's store. Our excitement is so obvious that we all share the same passion and we are truly thankful to our friend Giammaria.
Giammaria Varriale is one of the young and successful directors of Panerai. He attracted attention by the first day he started in the company with his hard work and innovative ideas. Our friend Giammaria, which remains as a perfect sample with his sense of professionalism, also does not hesitate to show his sincerity.
He worked very close to Bonati for a long time. His achievements on sales and marketing increases regularly.
While we arrive to Florence with a slight tiredness, a meaningful present welcomes us at our hotel. Again we thank our dear friend Giammaria for this gesture.
Our first stop is the Panerai Boutique in Florence which has a very important place at the brand's history. Opened at 2001 through a long time work, the boutique locates at one of the well known places of Florence Piazza San Giovanni. Beautifully renovated last year, the boutique serves the Panerai enthusiasts in an area which is four times bigger than before.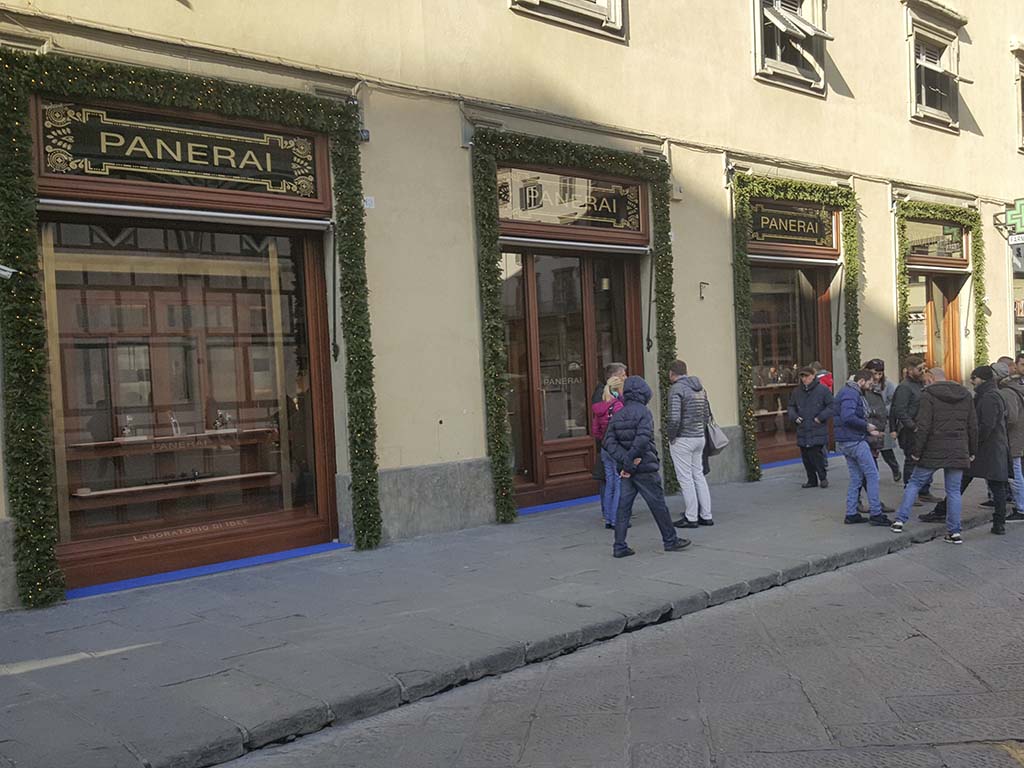 We are welcomed by the boutique's director Patrizia in the VIP section. Our determined bargain for the rare models came back with empty hands and we ended up being promised for later dates.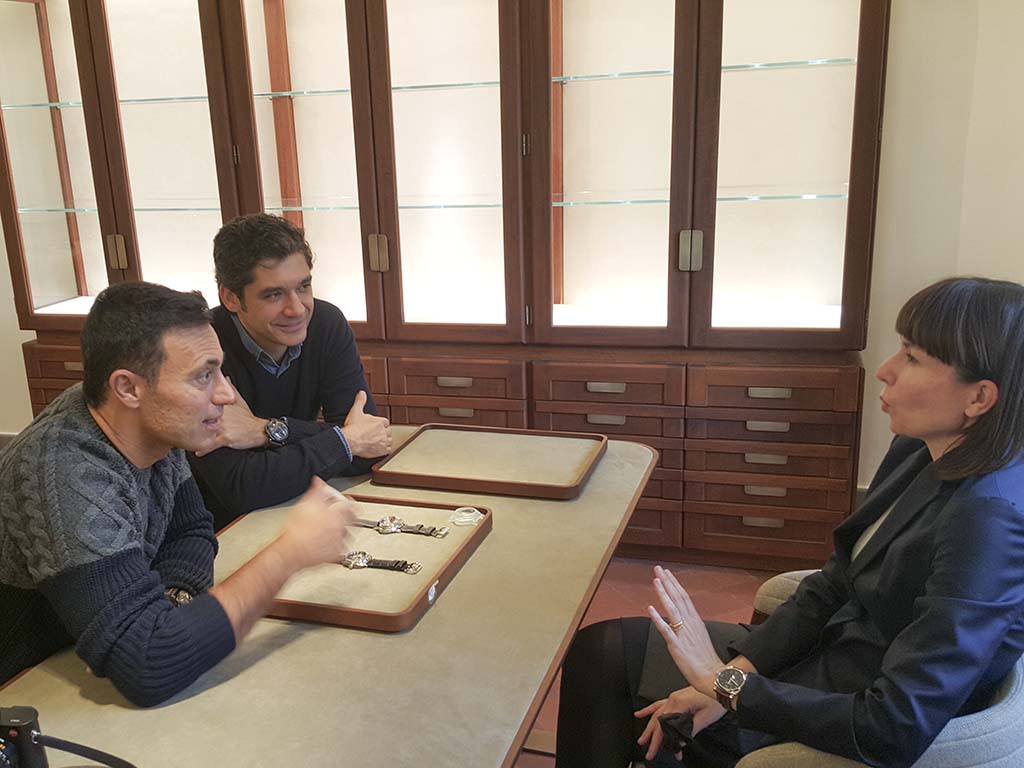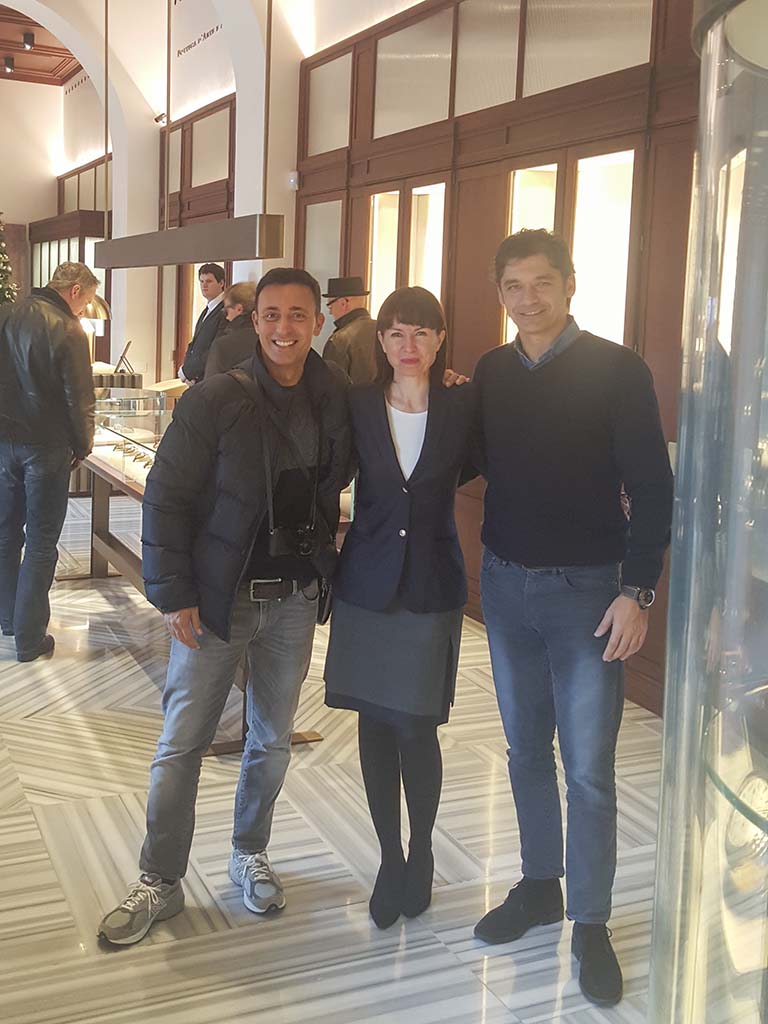 Became totally a different place after the renovation, the boutique houses almost the entire Panerai collection. This boutique, which had it's brand new appearance via Patricia Urquilo's designs, became a must to visit location in Florence.
We are informed that our trip will continue with a tour to Cathedral of Florence exclusively arranged for us. After a pleasant lunch, we start walking to Duomo. When we arrive, we enter the exit only door as VIP guests and wait for our guide: Leonardo.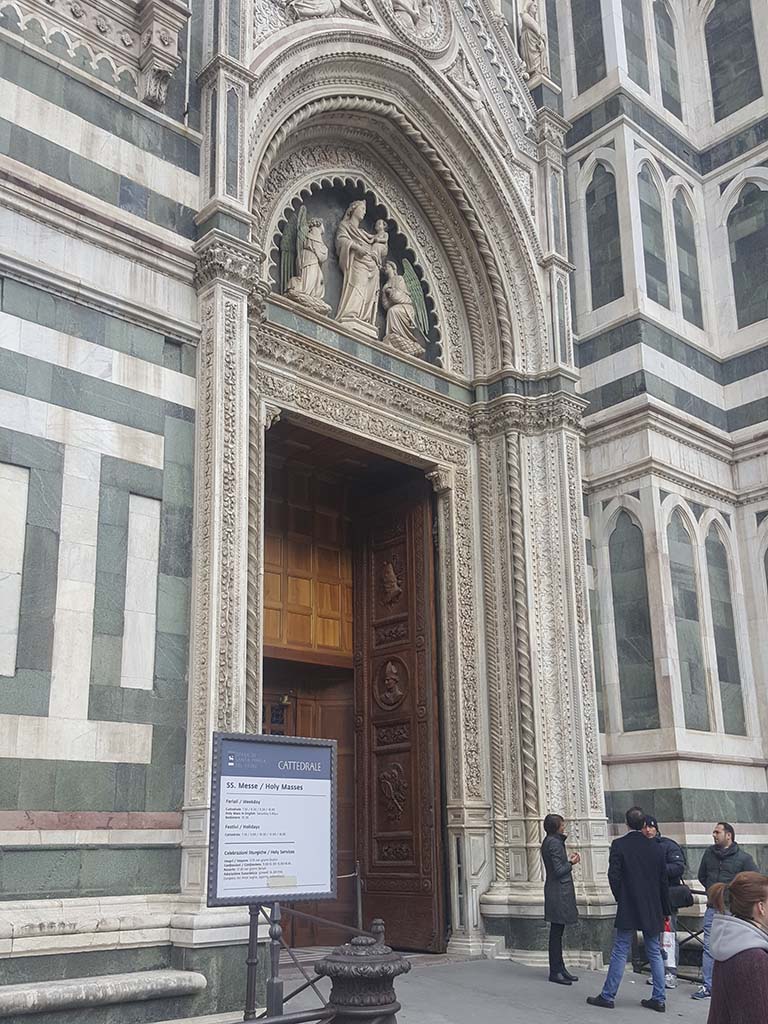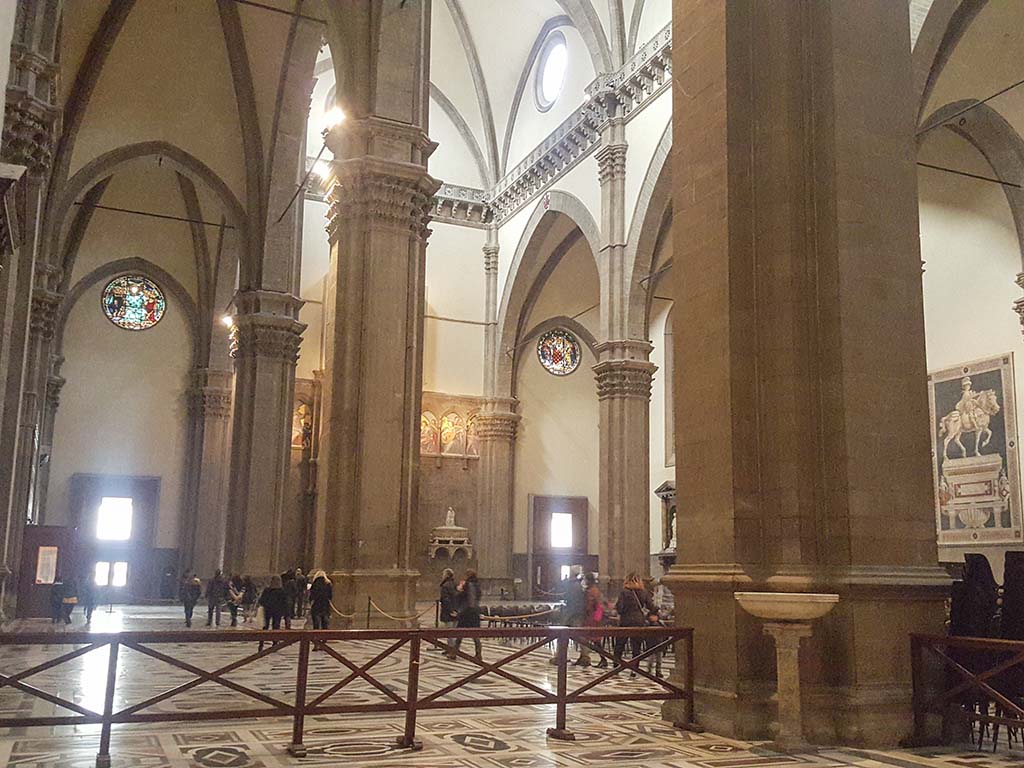 We learn that Leonardo is one of the most experienced guides around. Though he claims that he is the Leonardo "Da Vinci" at his 500s, we feel a little unconvinced. We start with some information about the cathedral. Afterwards, we stand before the main object of our tour: The Clock and start listening to Leonardo informing us in his very own way.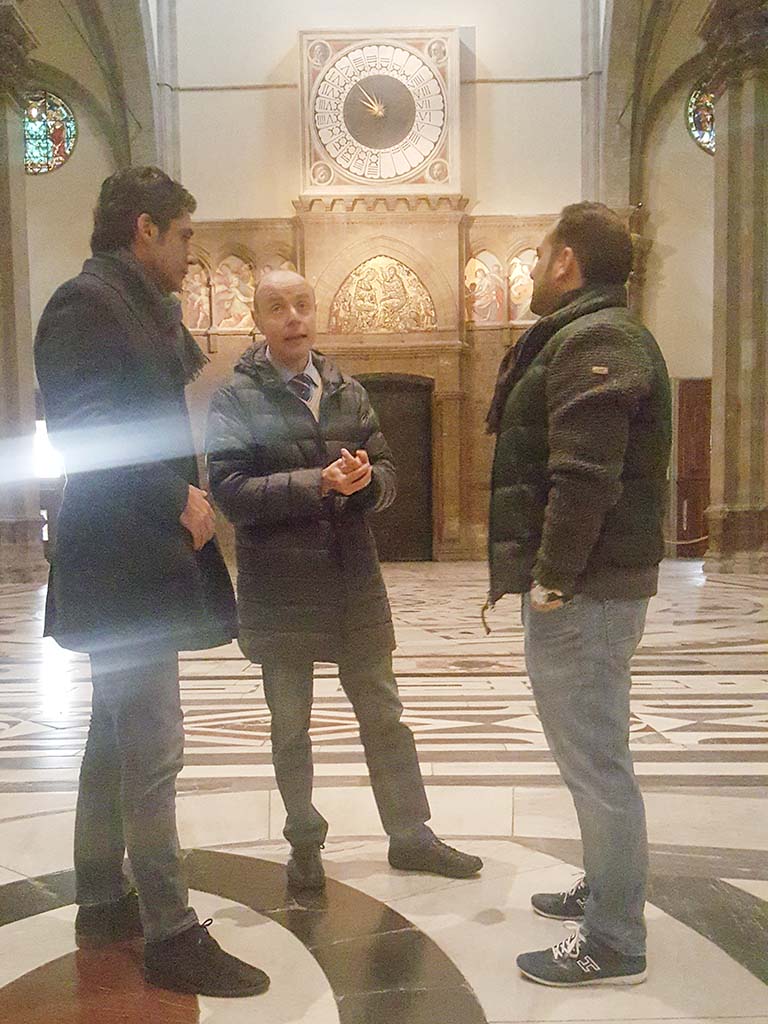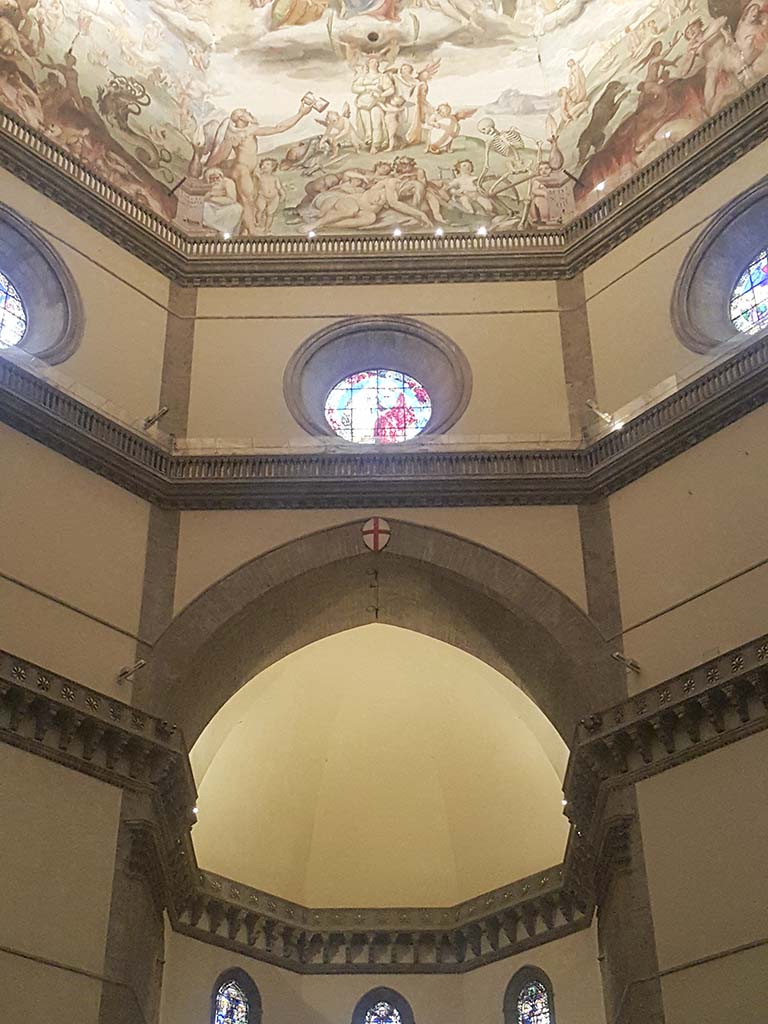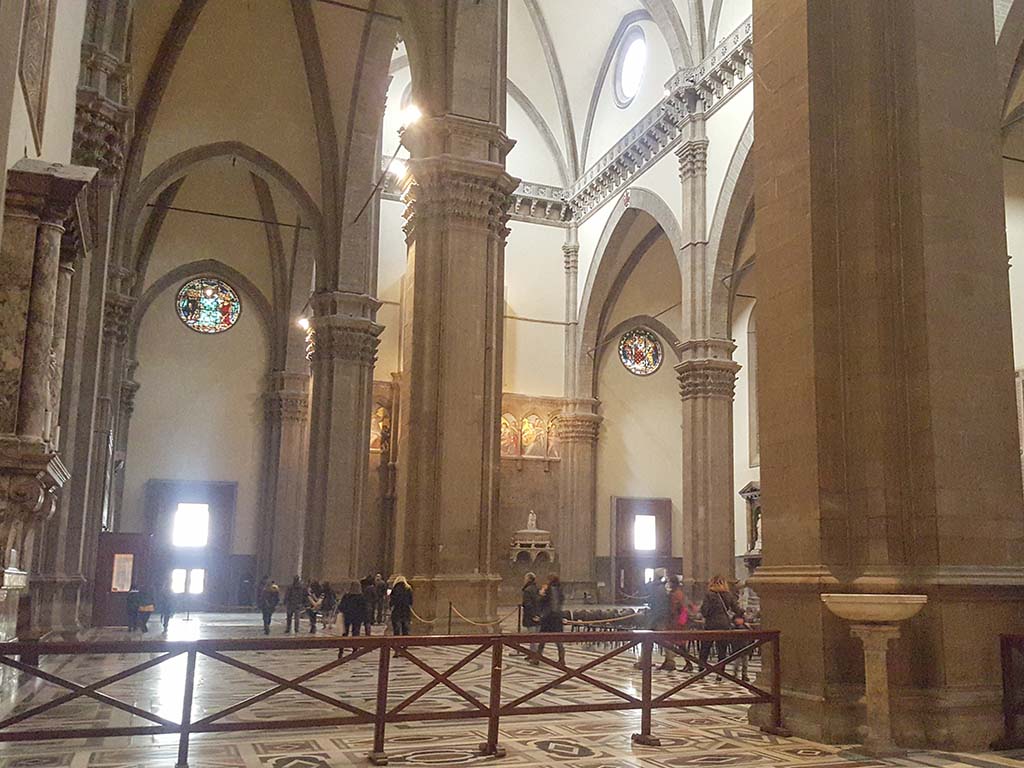 The clock, which it's dial has been designed by the famous Renaissance artist: Paolo Ucello, is definitely a piece of art beside it's time keeping feature. But, how do you read the time..?
While being known pretty rarely, we may name the time system that we use as " The French Time". The clock that we stand before shows the " Italic Time ". Italic Time system has 12h on the dial instead of 24h.There is barely a sample or two exist for this design which keeps the time from 0 to 24 starting by the sun set. The time is read by a single hand which moves basically reverse when compared to the modern system. Leonardo says, sunset is the time for pray. Therefore the clock has been designed that way. Also the sunset symbolizes the day off time for the farmers and other workers which should be pretty handy back then. Paulo Ucello has done wonders with the dial of the clock which is considered to be one of the oldest mechanical watches. The roman numeral indexed dial's diameter exceeds 2 meters. The human heads on the four corners design is still a mystery.
The movement of the clock has been built by the famous watch maker of Florence: Angelo Di Niccolo. While Leonardo keeps moving with the story we notice that we are in a section which is sealed for regular visitors. Our guide starts walking to a small door located at lower left side of the clock. He opens the door with his key and tells us to climb the stairs.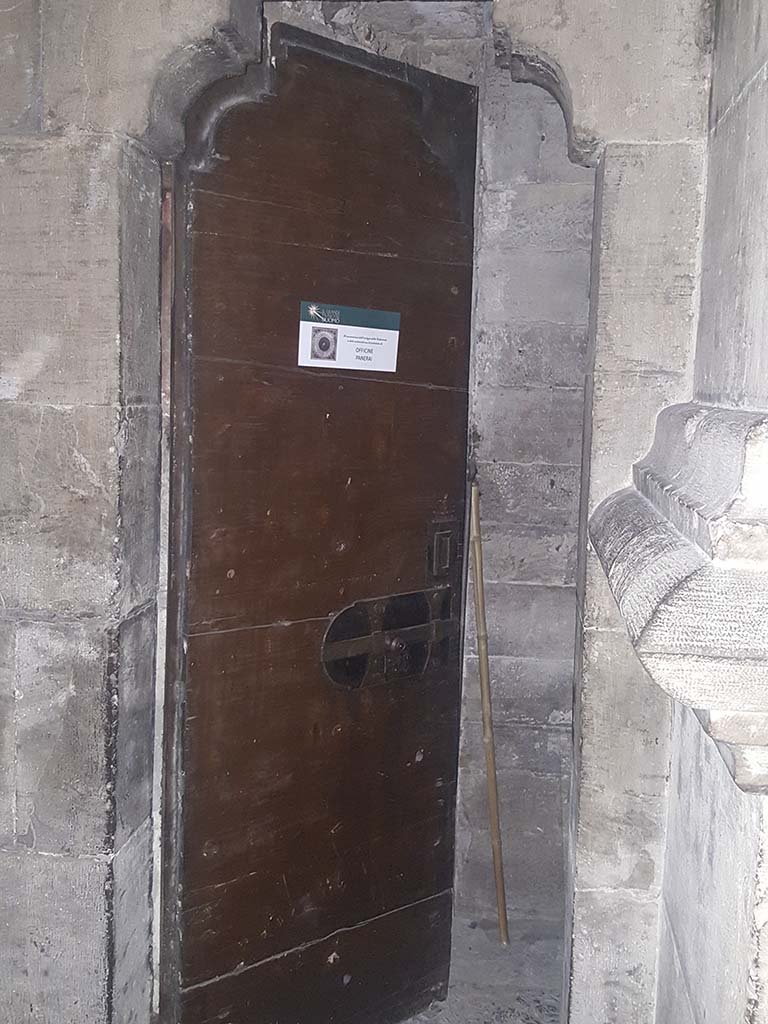 As the clock has required some maintenance after a few centuries, one of the famous families of the time " Della Volpaia " has been volunteered for this very exclusive mission and renovated the clock successfully. In the meantime, we learn that the narrow corridor will take us to the small compartment where the movement of the clock is located.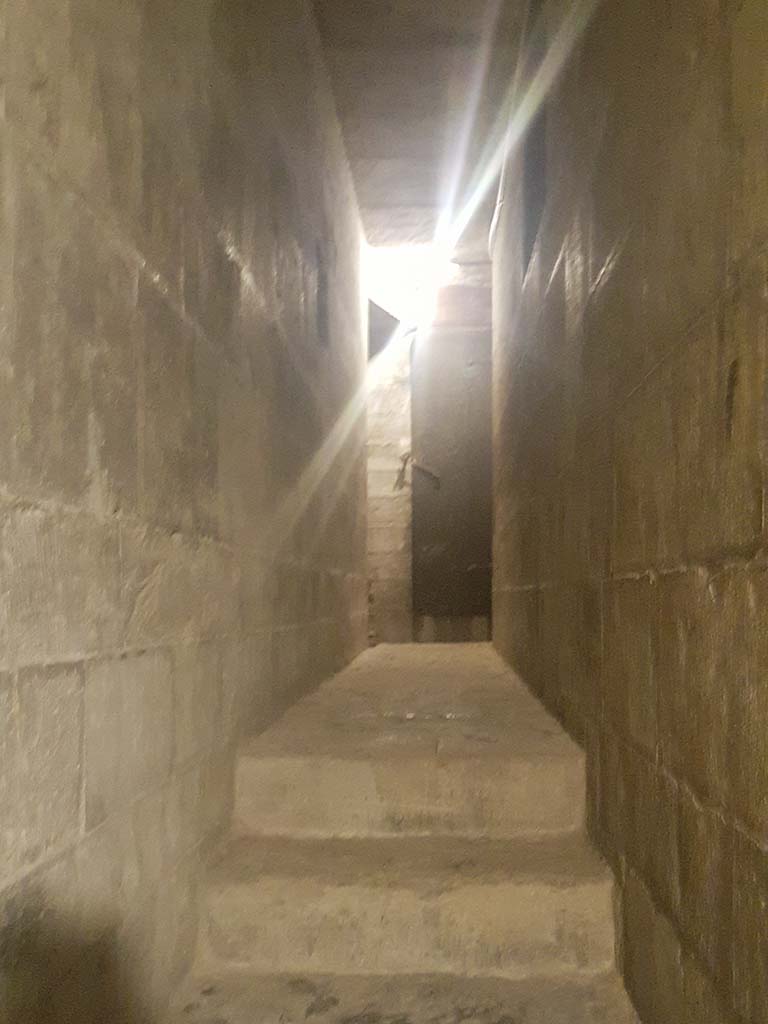 We are surely not surprised to learn the very recent renovation of the clock has been done by Panerai.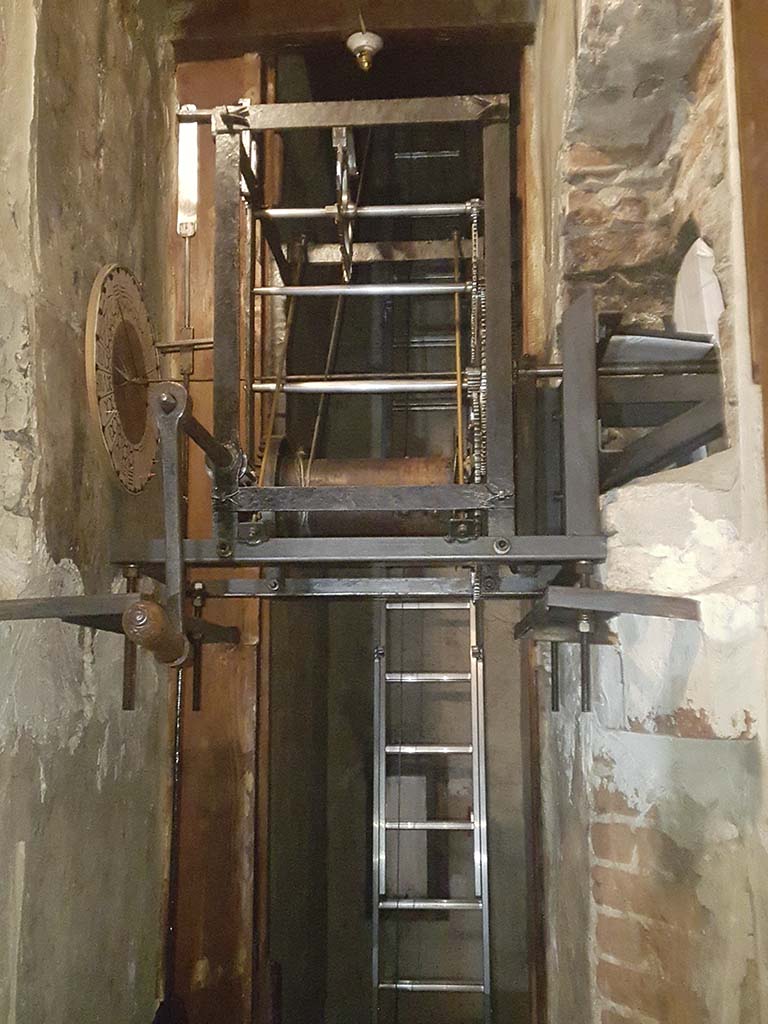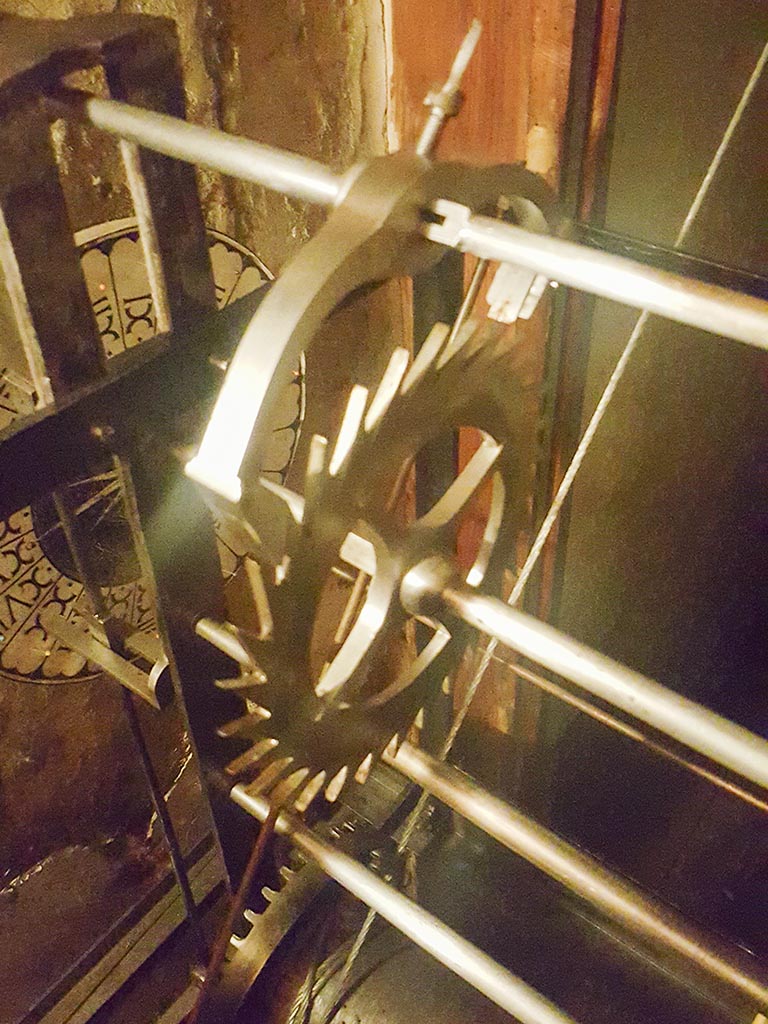 It's never enough to stare at the movement to understand how it works. We enjoy this very special occasion and take pictures though the environment does not very helpful.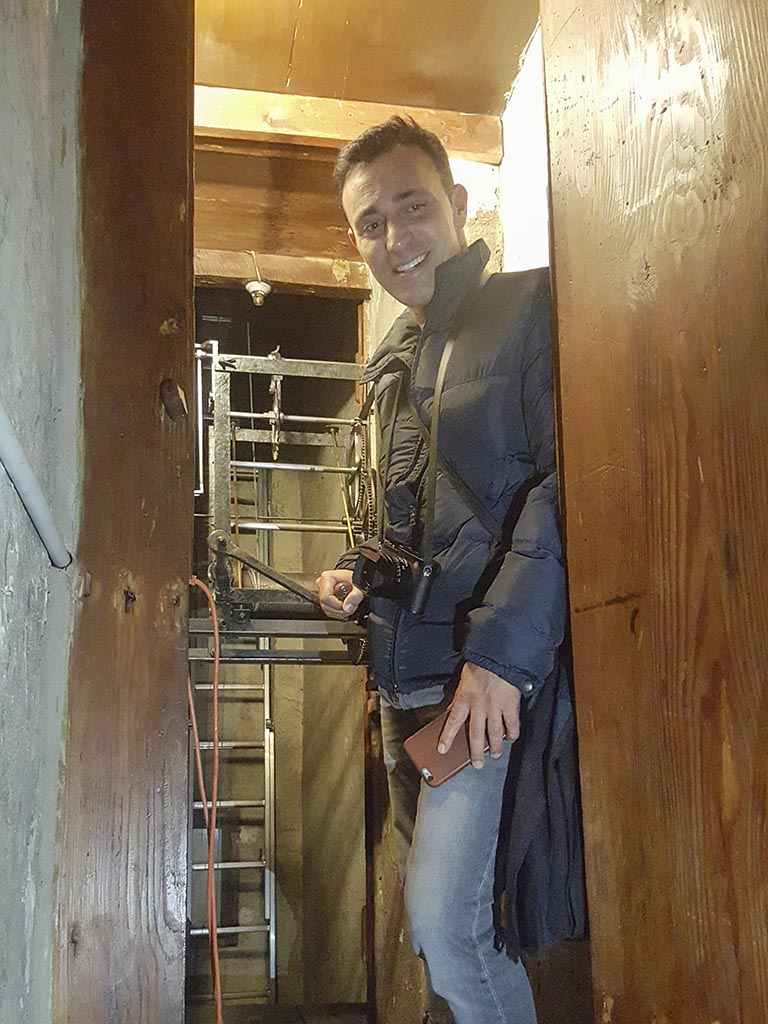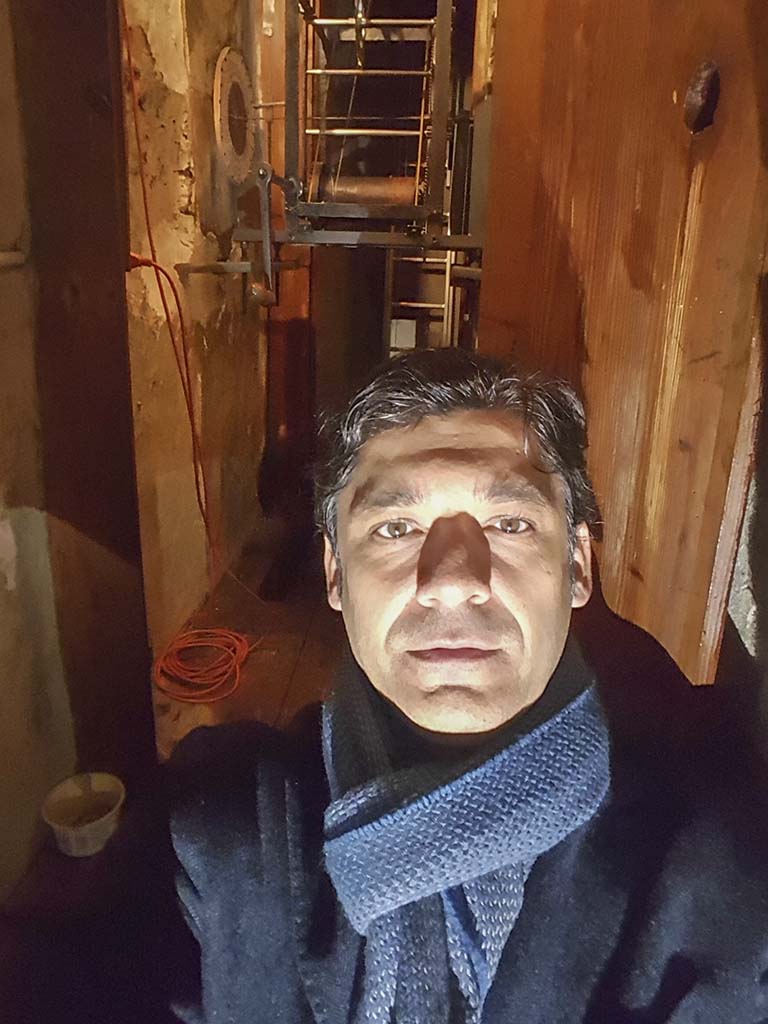 We keep moving in the narrow tunnels. We climb more after we leave the movement section.
After we pass through a small door at the end of the tunnel, we find ourselves in a open air corridor which lays above the clock .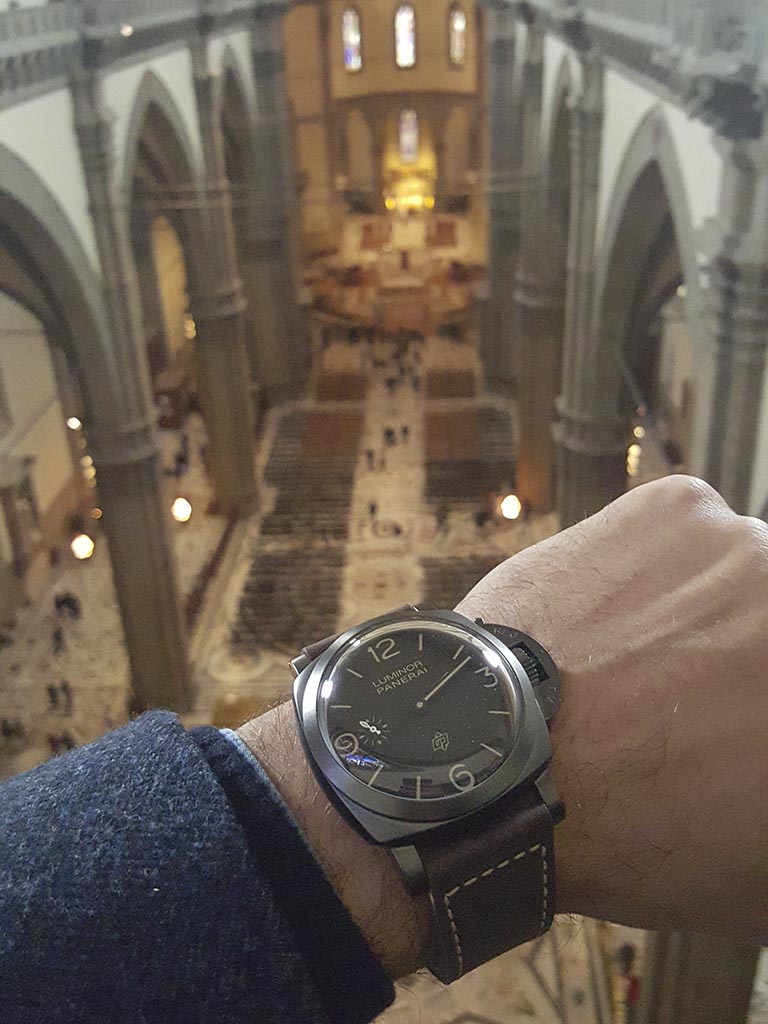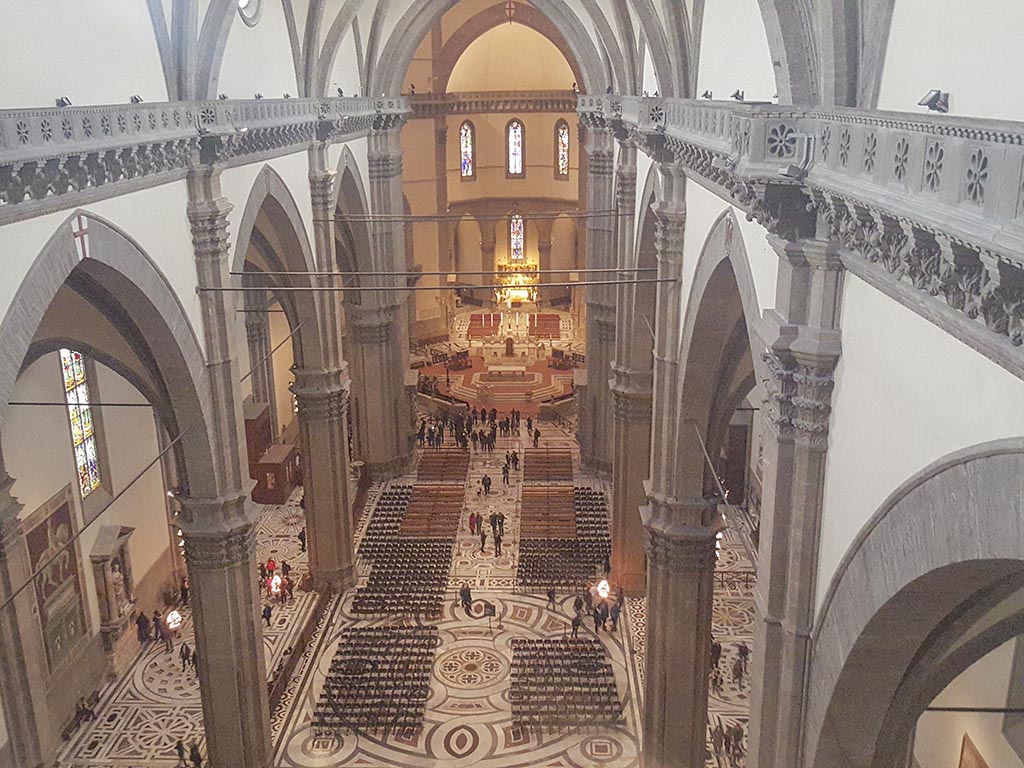 Duomo stands before us with all it's beauty. Beside the ceiling's, the floor's decoration is amazing as well.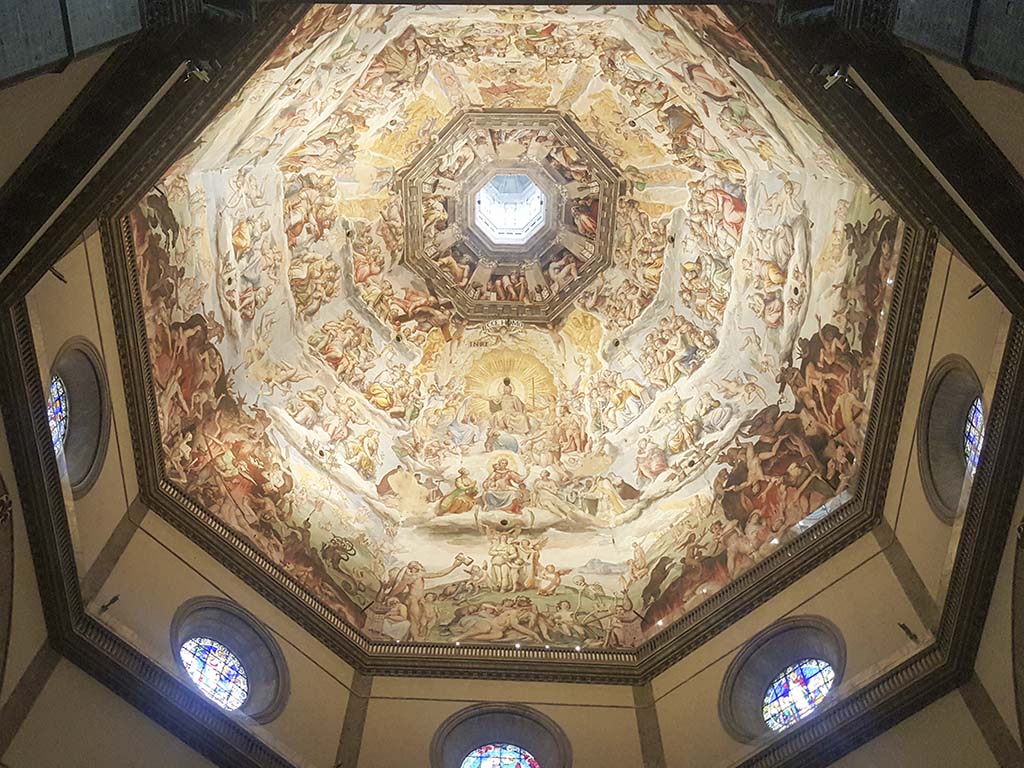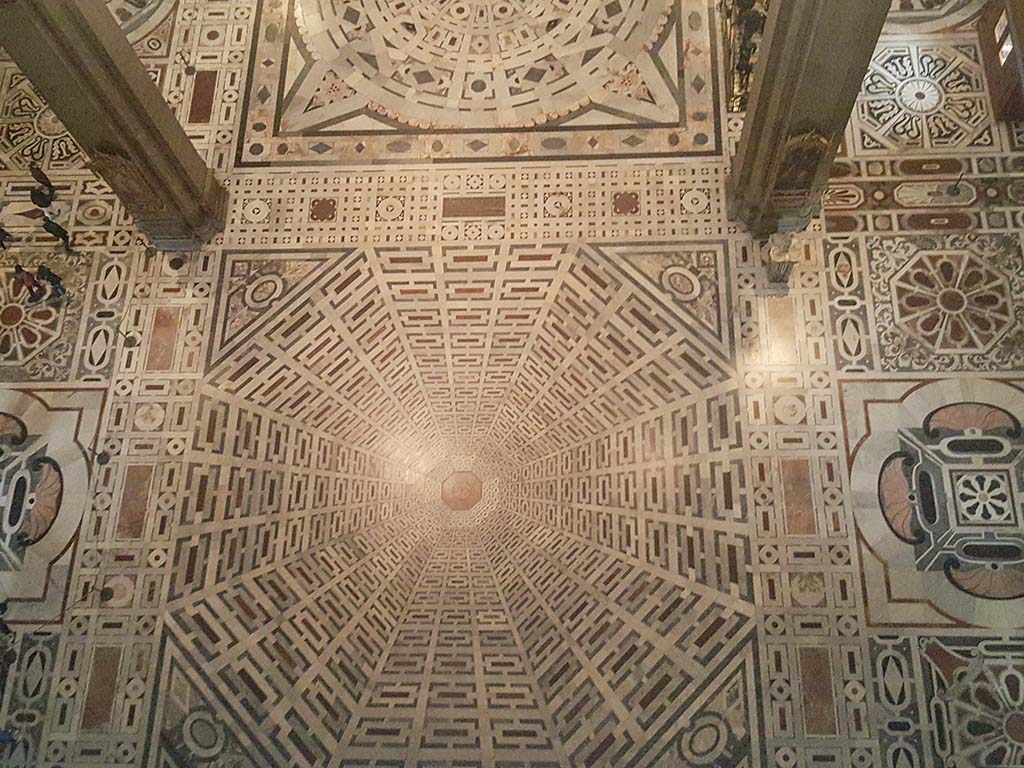 After we enjoyed this section as well, we go through another small door. What we see is truly unbelievable.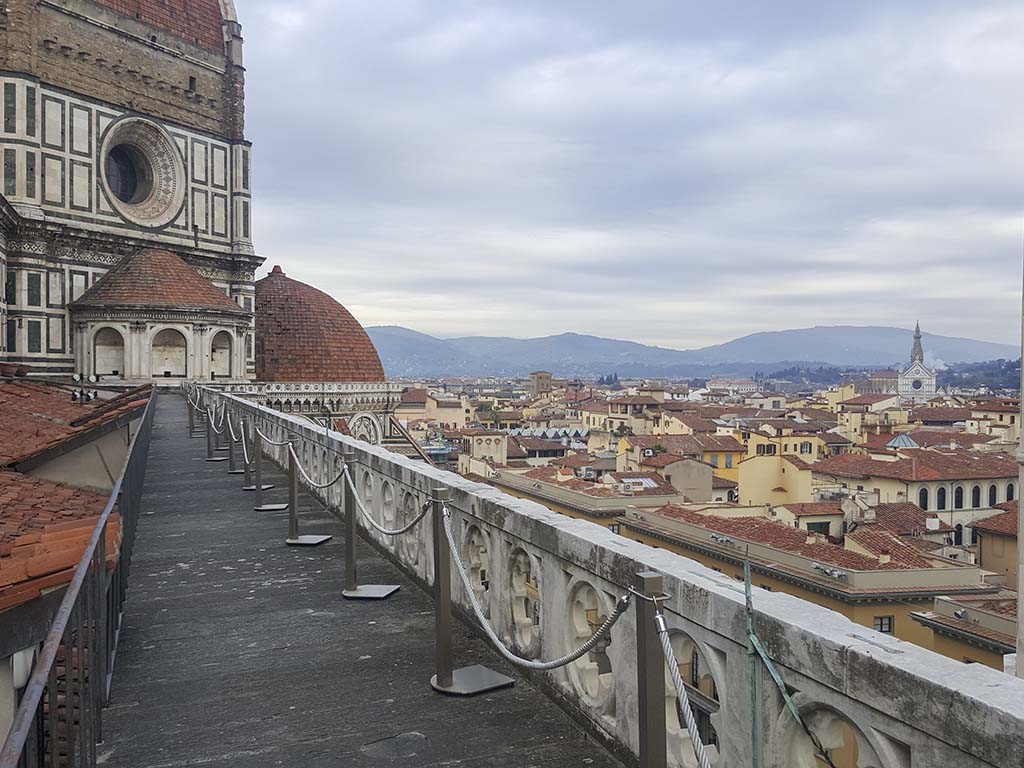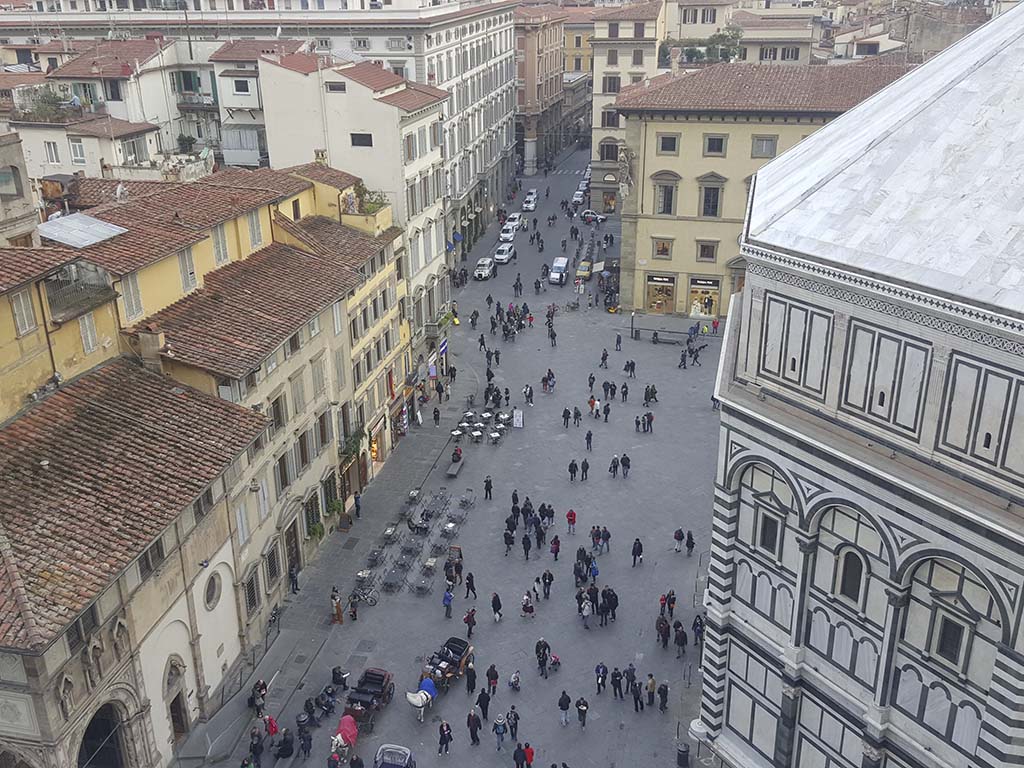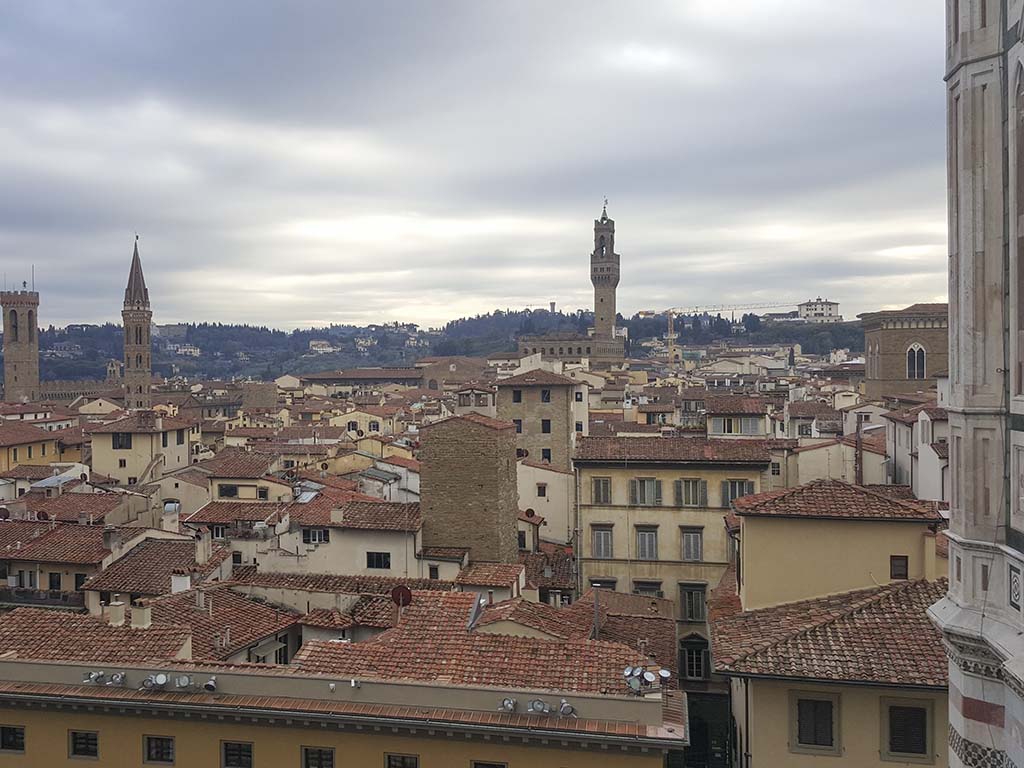 We start walking at the special terrace of the cathedral. Postcard looking scenery amazes us.
I recall " Assassin's Creed " which I used to be an addicted fan of the game. We take countless photos with our watches in the frame and move on to the last part of our trip.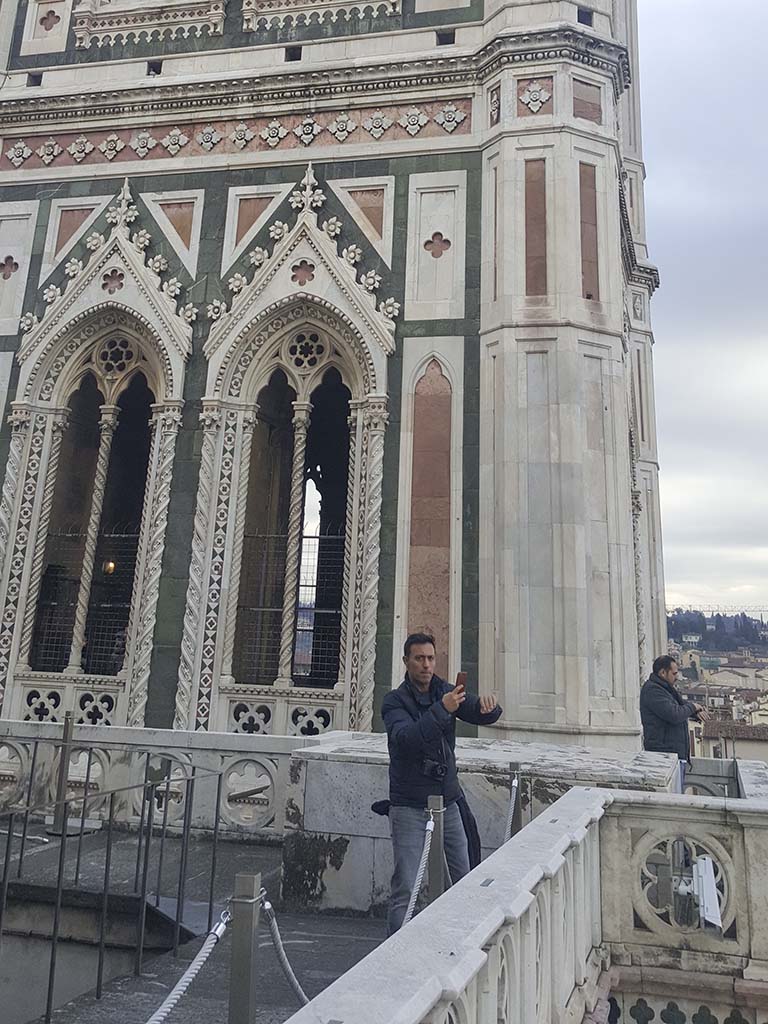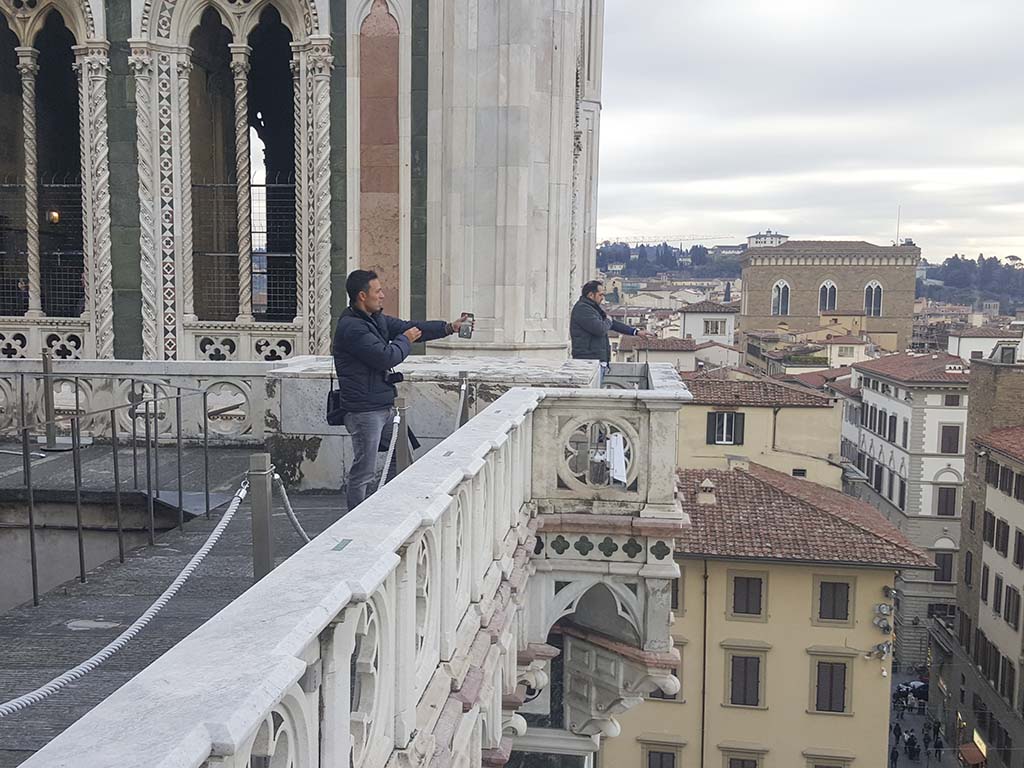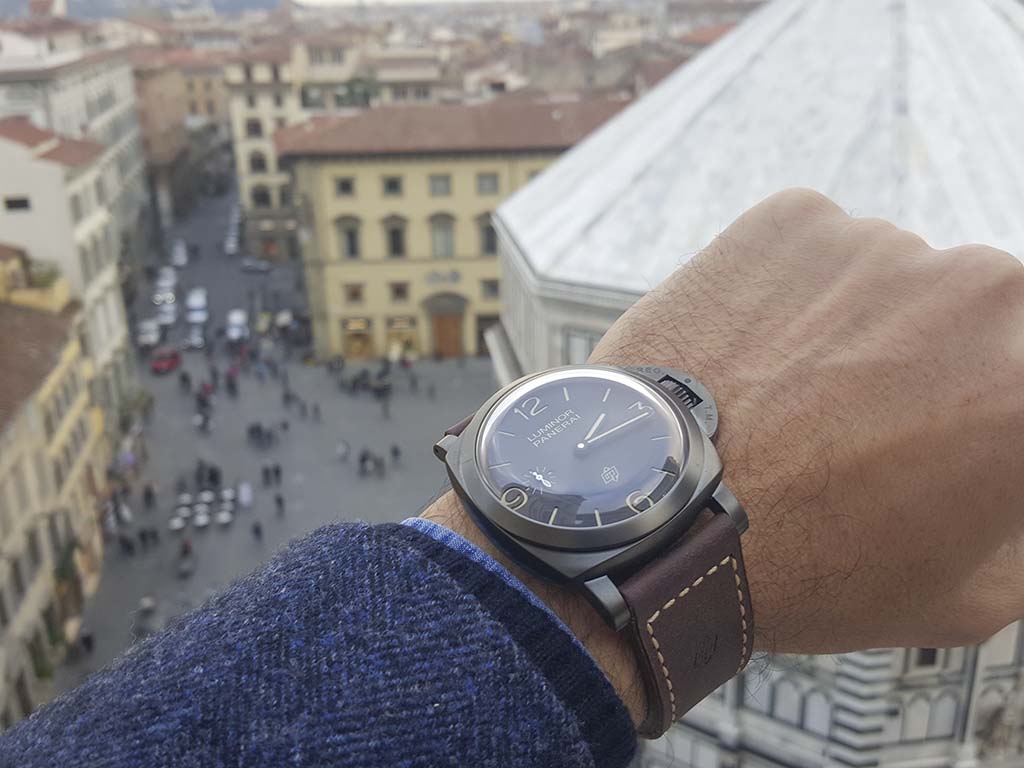 After a walk at the terrace Leonardo takes another key and unlocks another small door.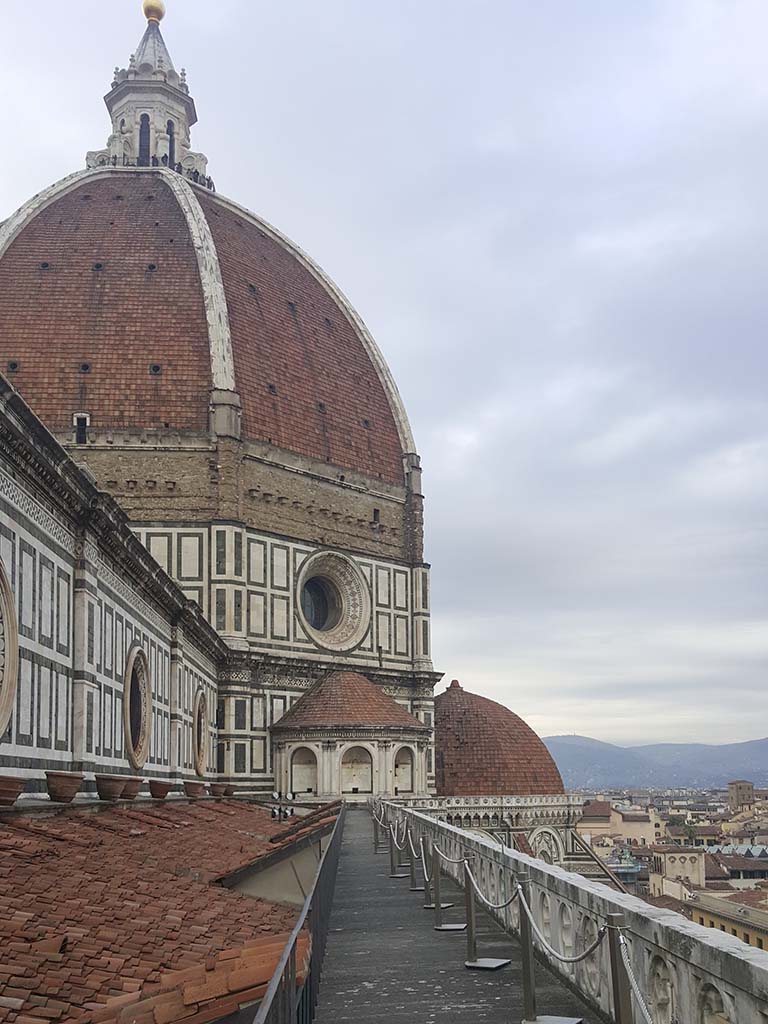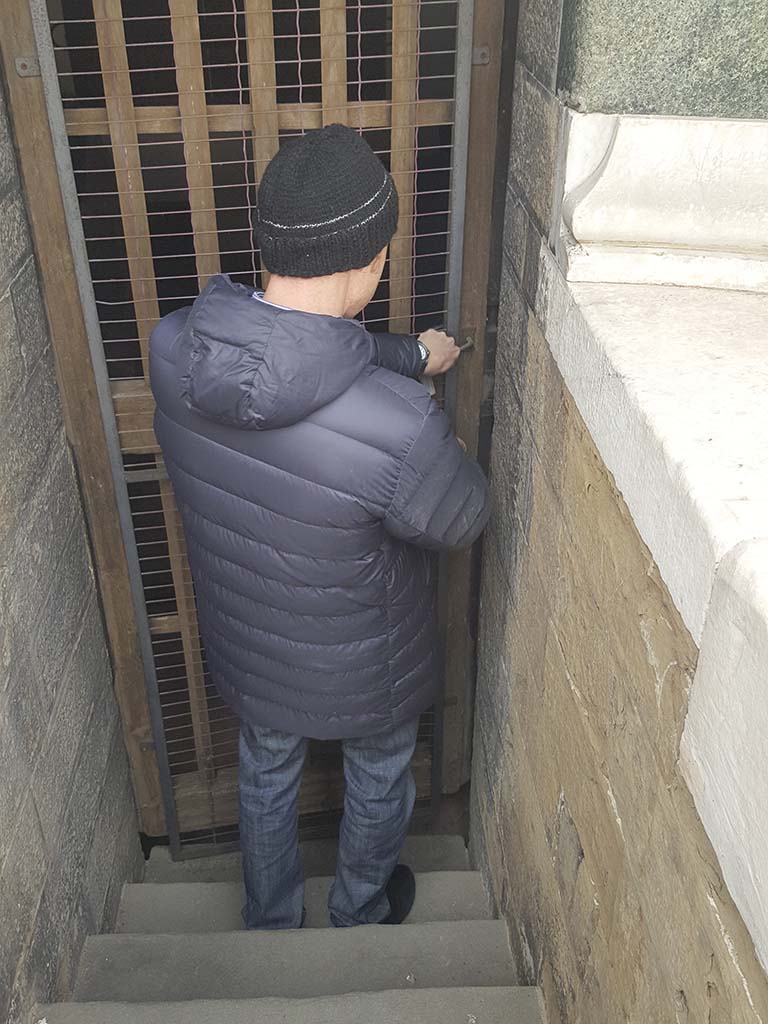 This time we find ourselves in the room which keeps the special tools and other inventories used while building this cathedral at 1300s. Though we do not know how to use them we can't stop feeling thrilled for witnessing history. Since the environment is very dark and we haven't got our dear Emre Şişman, the photo quality stays a slightly below our standards.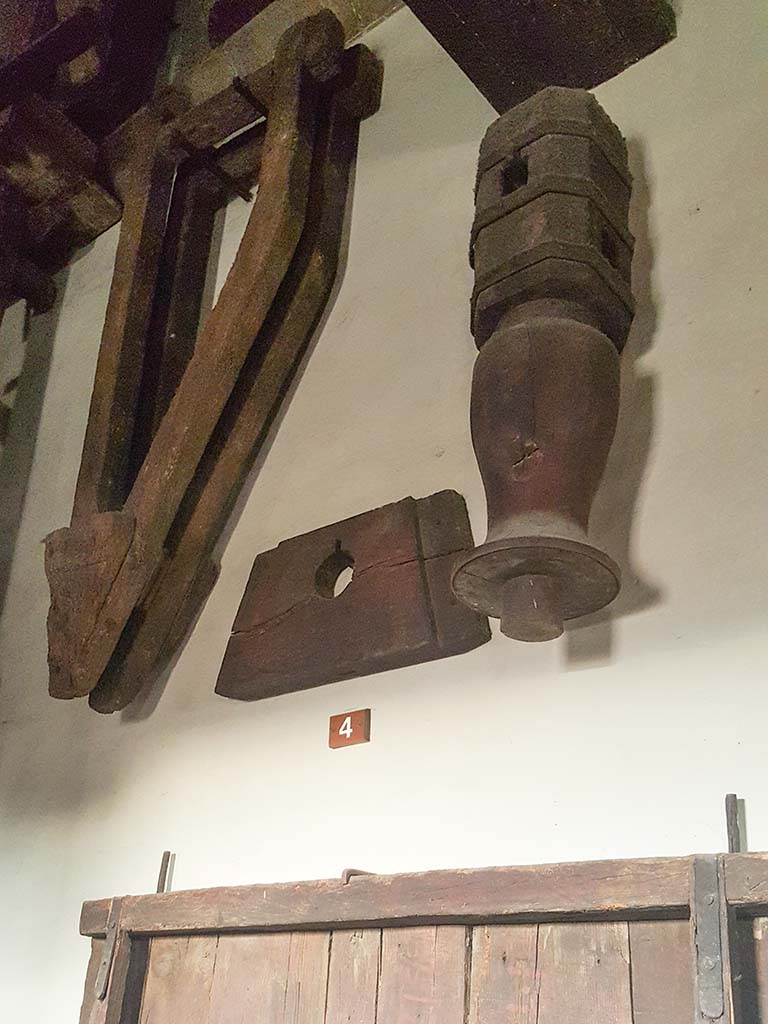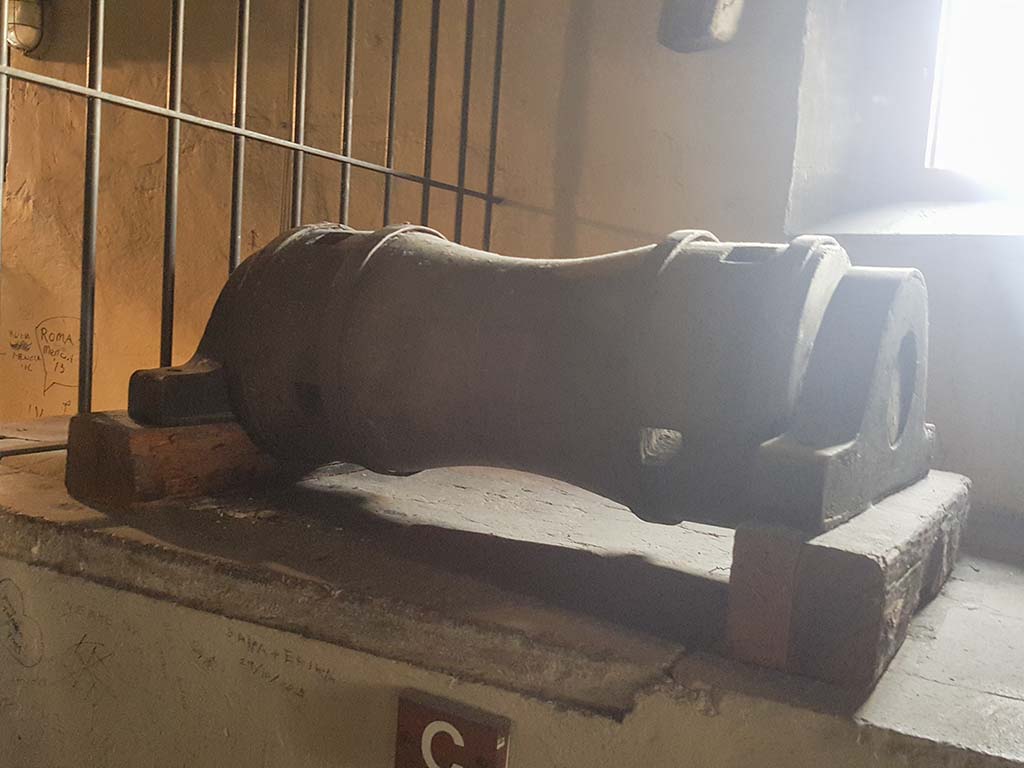 We thank Leonardo and had him promise to explore the other parts of the cathedral in our next visit.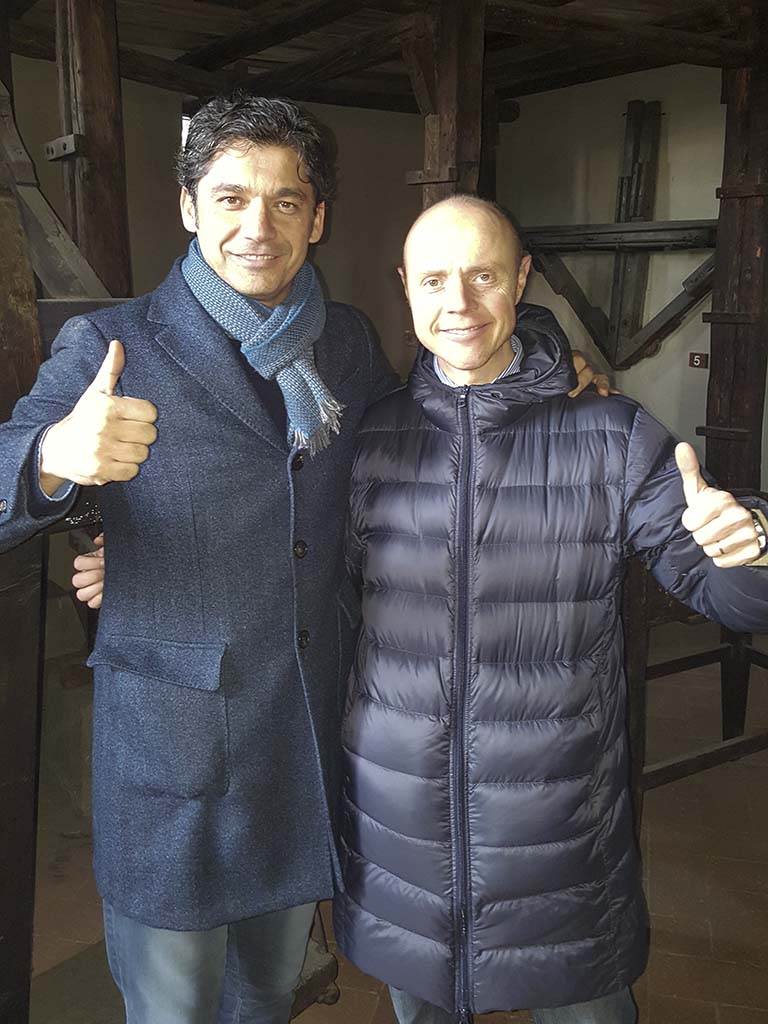 We gladly understand why Florence became an inspiration for many artists while we are smoking cigars at Piazza Republica after a nice dinner accompanied with a pleasant talk about our stunning trip that we managed to fit unforgettable memories in such a short time frame like two days.
I sincerely thank Giammaria Varriale and Özgür Bayoğlu for their kind invitation. I am so glad for having this priceless trip with Mustafa Sandal who put energy to every moment we have shared with his sincere and down to earth manners. I send all my best wishes to him through these pages.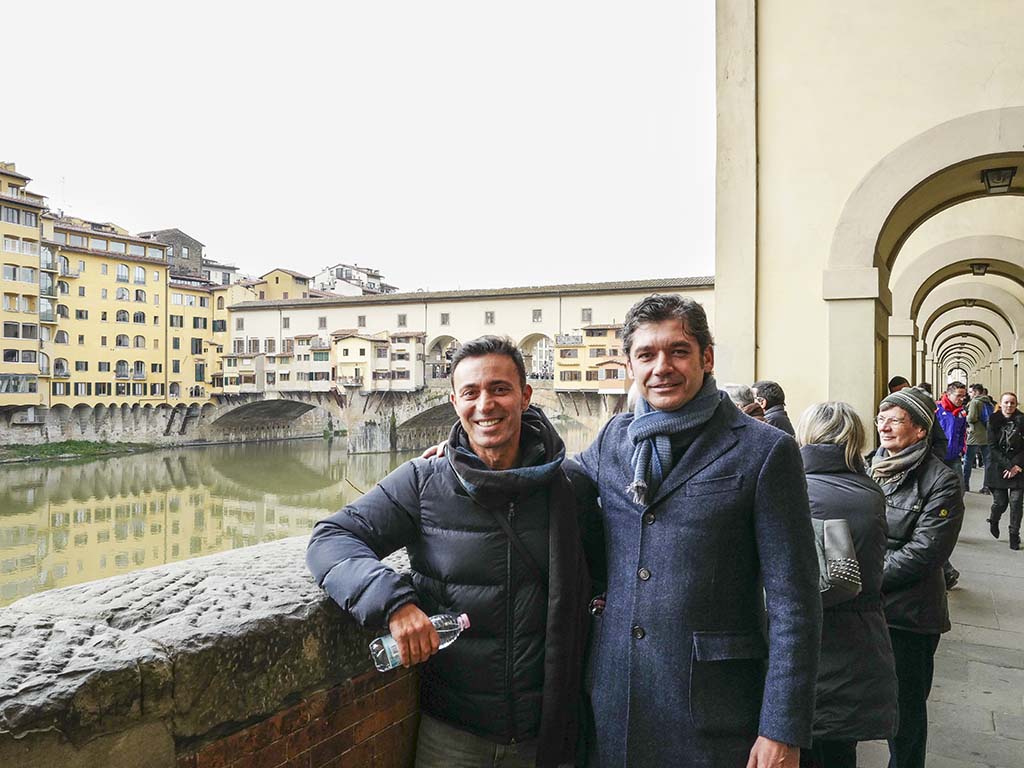 Hope you have enjoyed as much as I did. My trips will continue. Stay tune for my notes about my visit to IWC Factory at Schaffhausen.