Watches, the only accessories for some of us, are now able to do much more than telling the time. Those models, working their magic not only with their designs but also functional features, are at the service of adventurers. Here you go with five different watches that you want to have if you become stranded on a deserted island.
I'm sure you've all seen the Richard Mille RM25-01 Tourbillon Adventure Sylvester Stallone, which was recently introduced. Even if you are interested pretty little in watches, you still can't ignore such a watch. Richard Mille is one of the few brands that push the boundaries of both design and technology in its every single model. The same goes for the RM25-01 as well. In case you are in trouble with mother nature, it is likely for you to be the subject of one of the coolest and richest survival stories ever with that 50,85mm x 23,65mm size TPT carbon case monster. As a starter, you can always find your way with the integrated compass and produce your own, clean water by the capsules placed on the side of the case. While you are doing these, you can also measure your personal best time of stacking the brushwood. In case you are captured with the natives, buying their country in return for your watch may help you to get out. Well, the absurdly functional nature of Richard Mille RM25-01 takes itself to the top of our list. The model is limited to 20 units only with a MSRP of, hold on to your hats, $ 983,000.
I find it appropriate to give the second place in our list to a model which breaks a new ground in functionality. Who can say No to a watch, which will notify people who would rescue himself? With Breitling Emergecy, it is possible to reach teams that will help you wherever you are in the world. Breitling Emergency, which is as sweet as the RM25-01 with its 51mm x 21.6mm case, offers a true rescue plan with its S.O.S signal transmitting feature. The model helps determining your location by sending emergency signals at 121.5 MHz and 406 MHz through the antenna on the side of the case. By sending analog and digital signals at the same time, the model reaches both local search and rescue teams and stations that communicate via satellites. While purchasing your Breitling Emergency, you accept using this feature for true emergency situations and otherwise paying all the costs occurred due to your misuse by signing an agreement at the dealer. Let's leave the $ 16.500 price tag aside, it doesn't seem possible to say No to this life-saving timepiece.
At the third place of our list, we have a timeless Japanese legend. The Casio G-Shock Professional Rangeman GPR-B1000-1 represents the peak point in the G-Shock Collection, renowned for its robustness and functionality. We have one big watch here with a 60.3mm x 57.7mm x 20.2mm case made of silicon and stainless steel. The model is equipped with a AR coated scratch resistant sapphire crystal and is water proof up to 200 meters. Offered on a carbon fiber reinforced strap, the model features LED display light, solar powered movement, positioning with GPS and time adjustment, smart phone integration with Bluetooth, digital compass, altimeter, barometer, thermometer, flight-mode, world timer, sunrise and sunset display, chronograph, countdown timer, alarm, fully automatic calendar, power-saving mode and in addition to all this bomb proof G-Shock robustness. Let's be honest, you won't find a more functional adventure watch than this one. Moreover, it has almost all the features to make your life easier. As for the negative aspects, I would expect an integrated pocket knife and a lighter . The MSRP for the model is about $ 800, which is more than a fraction of cost when compared to above mentioned timepieces.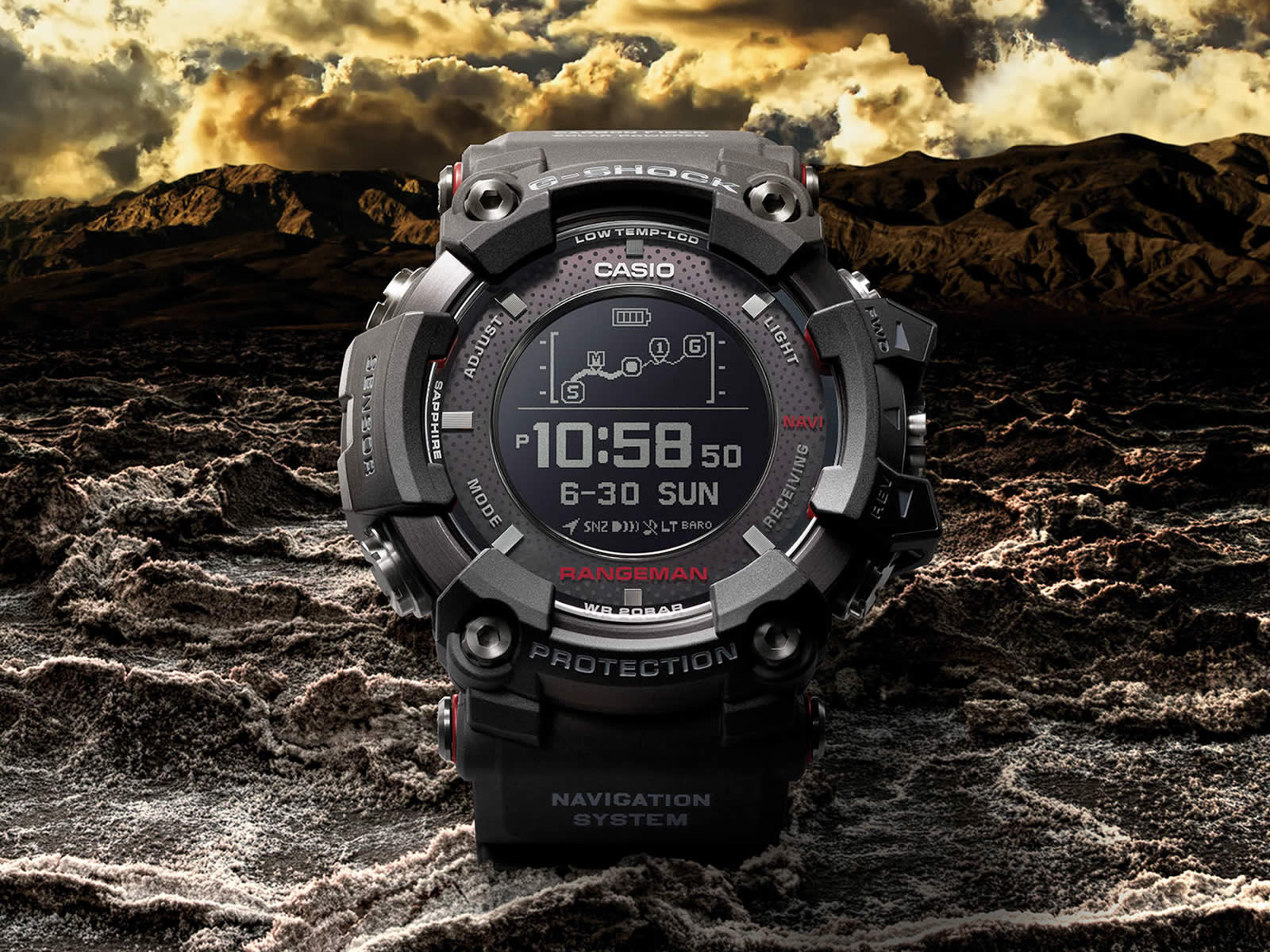 As we approach the end in the list, the watches are moving towards more gentle designs and comfortable dimensions. While the number of features are decreasing, the prices are falling as well. The Finn watchmaker Suunto's Traverse Alpha is a watch that you want to have on your wrist if you get into trouble in nature. Without compromising on elegance. We should only consider the elegance part in its category because we are talking about 50mm x 50mm x 15mm case size. With a composite case and sapphire crystal , the Traverse Alpha weighs 75 grams in total and offers a very comfortable feel on the wrist with its Zulu textile strap. When you get in trouble, fishing and hunting modes that will help you are two of Traverse Alpha's biggest differences. In addition to the location determination with GPS, speed, height and distance can also be measured by the model which is water resistant to 100 meters. Suunto Traverse Alpha, which is equipped with compass, alarm, chronograph, calendar, synchronization with smartphone, red light display and many more functional features, manages to stand out from its competitors with its $ 500 list price.
When we reach the end of the list, features are greatly reduced, but at least we can still read the time and direction. The Luminox Recon Nav Spc 883X series reinforces its assertive appearance with its 46mm x 13,5mm Carbonox case, sapphire crystal and a waterproof value of 200 meters. Equipped with a Quartz GMT movement, the model does not compromise functionality with its compass and ruler integrated to its strap. Besides the uni-directional tachymeter/GMT bezel, the model offers utmost legibility under any condition thanks to its phosphorous dial and hands that glow for 25 years without needing an external light source. Better than those, it is possible to reach all these features under $ 500.