At the SIHH 2018 fair that we left behind, we had the opportunity to see many special models closely. Some of these models have influenced us with what they have achieved mechanically, while others impressed us with their design details. Cartier Revelation D'une Panthere, which we regard as the undisputed leader of the second group, offered us an experience that we have never seen before.
I first saw the watch in a photo which was shared by our Burak Bayram when he was at the SIHH 2018. The first word that came out of my mouth was "Wow!" as the panther figure that appears like magic was simply amazing.
I sent the videos of the timepiece to a couple of my female friends because I wanted to see if my admiration was about me being a watch enthusiast only or a universal effect. Well, I had no other comments than deep admiration. I simply cannot think of a woman who would not want to have this watch after seeing it in person. Of course, excluding the MSRP which is slightly above 100000, 00 USD.
It was not easy for such a model to become a finished product, even if there is a giant like Cartier behind it. Le Maison, who started the R&D process in 2013, was able to make the model ready for sale after five years. And many innovations in that long R&D process have already been patented to the brand. Cartier, who performed many experiments to make the model resistant to environmental changes like heat, pressure etc. and wear, seems to have succeeded.
The new model is offered in an 18K pink gold case measuring 37mm in diameter. There are 45 diamonds set in the bezel of the model. The folding clasp and the winding crown are also adorned with diamonds as well.
The glitter of the Cartier style case makes a great match with the breathtaking dial. The panther figure that appears on the dial is composed of more than 900 pieces of micro-sized gold balls. After you collect the balls at 12 o'clock all you need to do is turn your wrist and Hocus Pocus! There you have the panther.

Cartier Revelation D'une Panthere is offered in three different dial alternatives as black, green and red. The model is powered by the La Maison's in-house movement Caliber 430. In today's design-oriented women's models, Quartz movements are often used. Cartier's choice of a mechanical (hand wound) caliber in such a special model further increases our admiration for the brand.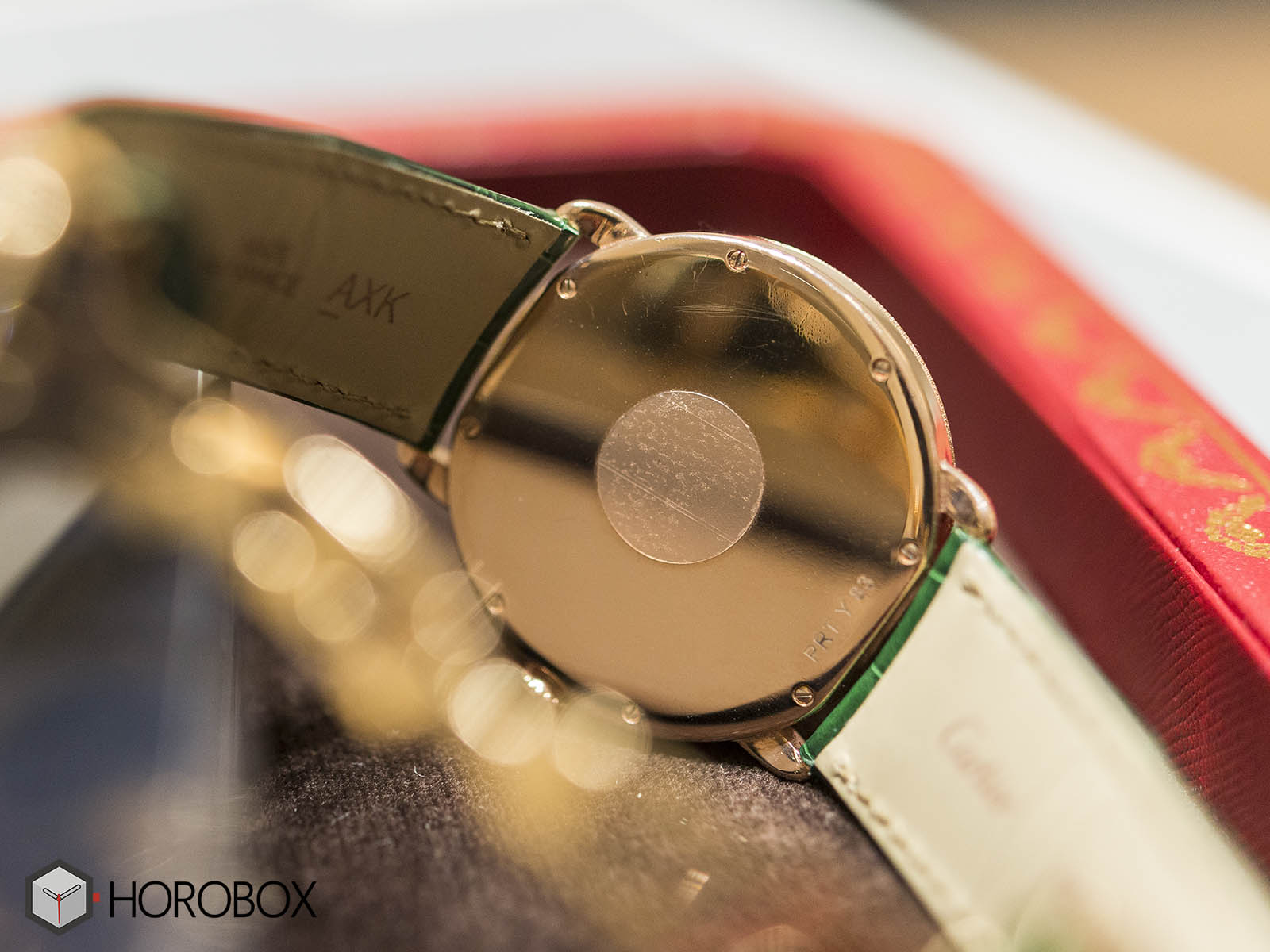 The new models come with dial color compatible alligator straps secured by 18K pink gold folding clasps adorned with 43 diamonds at the tip.
If I have been asked to list my top 5 novelties from the SIHH 2018, Cartier Revelation D'une Panthere would certainly be in that list. I think all watch enthusiasts should see this model in person. However, we have to wait for the models to arrive Cartier boutiques as the delivery for the models is stated as second half 2018. The MSRP is 106.000,00 USD (US list).