When I make a review about a watch it brings me great joy; but of course like every other hobby and business there are some negative sides to it.
One of them is definitely writing a review about a watch that you do not like.
There are two scenarios:
1 - I do not like the watch but I should be objective
2 - I do not like the watch, but I also do not possess enough knowledge about it, therefor I should make research
Franck Muller gives reason for this introduction. I personally have never bought and used this watch. I have tried it a couple of times here and there but as it does not fit my personal style I never actually went into buying one. But on the other side I felt the need to learn my lesson, do my research and put the Casablanca on my wrist for a while.
Results? Go ahead!
Franck Muller is not among the oldest brands in the market, but it appears that because of Mr. Muller's (the founder) overwhelming knowledge about complicated watches, design, and service, it is not easy to notice that the brand was founded in 1991.
Mr. Muller lived his childhood years in the beautiful La Chaux De Fonds (Switzerland), where he was introduced to watchmaking at the age of 15. Later he successfully finished the Geneva Watch School during the early 80's and got into professional watchmaking by repairing precious and complicated watches.
His talents could not be ignored and in short notice he started repairing watches on the side of Svend Anderson at Patek Philippe. Most of the clientele were private individuals and museums. Thanks to this portfolio he got a chance to work with a lot of different watches and mechanisms. While he was working with these complicated timepieces, he became very passionate about them and began to think about building his own workshop.
In 1984, Franck Muller designed his own tourbillon wristwatch. During the 1980's, very few watchmakers were able to make such complications; Patek Philippe and Vacheron Constantin were among them. Frank Muller was able to design and execute such a timepiece and he got a lot of recognition form all around the world.
The house of Franck Muller opened in 1991 and his ultra complicated timepieces instantly became famous in Europe and the United States.
The timepiece we got our hands on today is the Casablanca 8800.
Despite its concave case, which differs from other Franck Muller models, the watch is one of the most iconic pieces of the brand.
The Casablanca comes with a stainless steel case coated in black PVD. Because of its dark color, the watch seems a little bit smaller than its actual size.
Especially because of its concave case and short lugs the Casablanca feels very comfortable on the wrist. The watch is certainly on the heavier side but I would not say that it bothered me.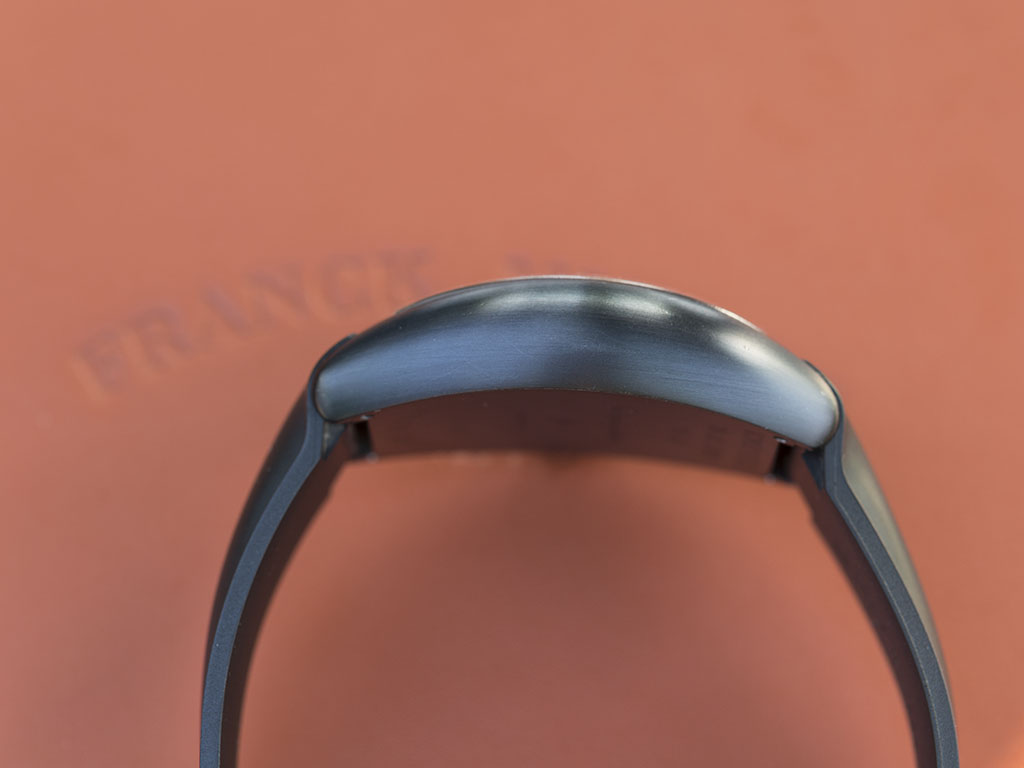 The case's surface is completely matte with smooth finishing even around the lugs.
The watch instantly makes you think that its comfort was certainly one of the most important considerations while designing it. Even smaller wrists can sport this watch without any discomfort.
On the back cover you will find markings and information about the piece.
The workmanship on the Franck Muller marked crown is quite nice but it is not locked, this might be an offset for users who mingle with water.
At this point I have to mention that its 30m water resistance is a little inadequate.
Dial designs are undeniably one of the most characteristic features of Franck Muller's timepieces.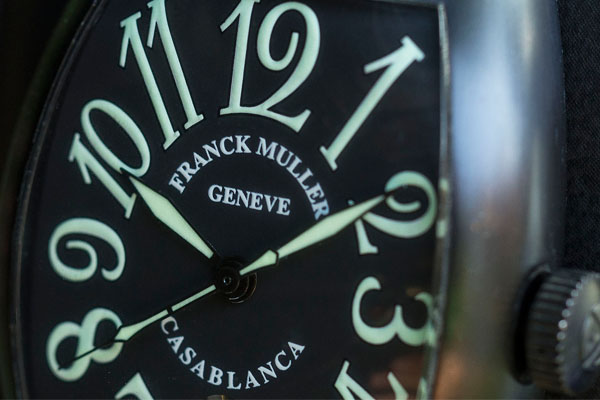 With their big, deformed roman numerals or Arabic indexes, Franck Muller watches look familiar even to the incurious eyes.
Readability-wise the watch is a little confusing, but the visual pleasure is successfully making up for it.
Although they used bright colors on this black surface and managed to get a good contrast, readability is still not one of the strongest features of the watch.
A date indicator is positioned at 6 o'clock.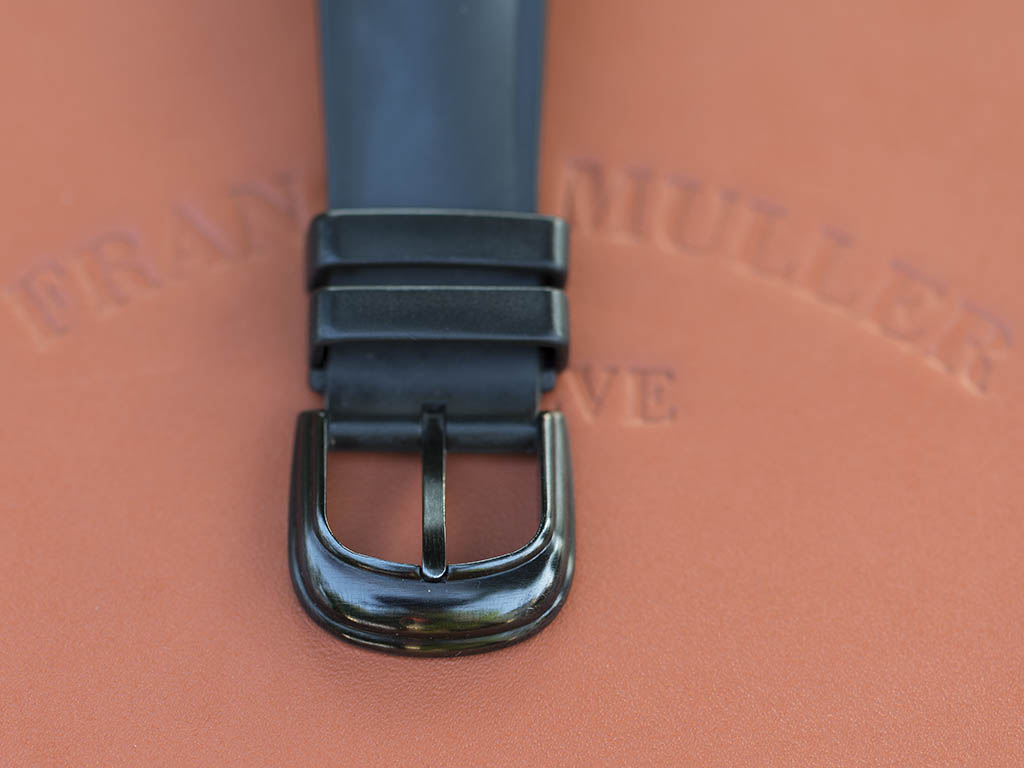 The watch comes on a black rubber strap. Thanks to its thickened design there is no space between the lugs and the strap. This gives the watch a solid feel and adds to its visual integrity.
Franck Muller's other classic feature is the horseshoe buckle that is in perfect harmony with the strap and the case.
The only strange thing about it is that there are no markings on it at all.
The Casablanca comes with a sapphire crystal that's shape follows the case's design beautifully.
ETA's 2824 based Franck Muller 2800 caliber breathes life to the timepiece. When it is fully wound it offers 42 hours of power reserve.
To be honest I found the watch very impressing. I will definitely have a look at their stainless steel version.
This model convinced me especially with its comfort. Design? Tastes will certainly vary from one to another. It is certainly a hit or miss watch for most people, but its funky and interesting design are strong features.
I would like to express my gratitude to watchwithlove for their great support as always.