Due to the elliptical shape of the earth's path around the sun, the true solar time does not exactly correspond to the 24 hours, also known as mean solar time that our regular timepieces measure.
As we do not use sundials anymore to determine the time, there is need for a uniform rate, in order to time a day; therefor the solar mean time was determined.
The difference, caused by the elliptical orbit of our planet around the sun, is called the equation of time.
These two types of "times" are synchronized only four times a year, as the rest of the time the difference between them varies from approximately -15 to +16 minutes.
To be able to measure these discrepancies, the PAM00516 is equipped with an equation of time complication, featuring an iconic horizontal indicator right above 6 o'clock.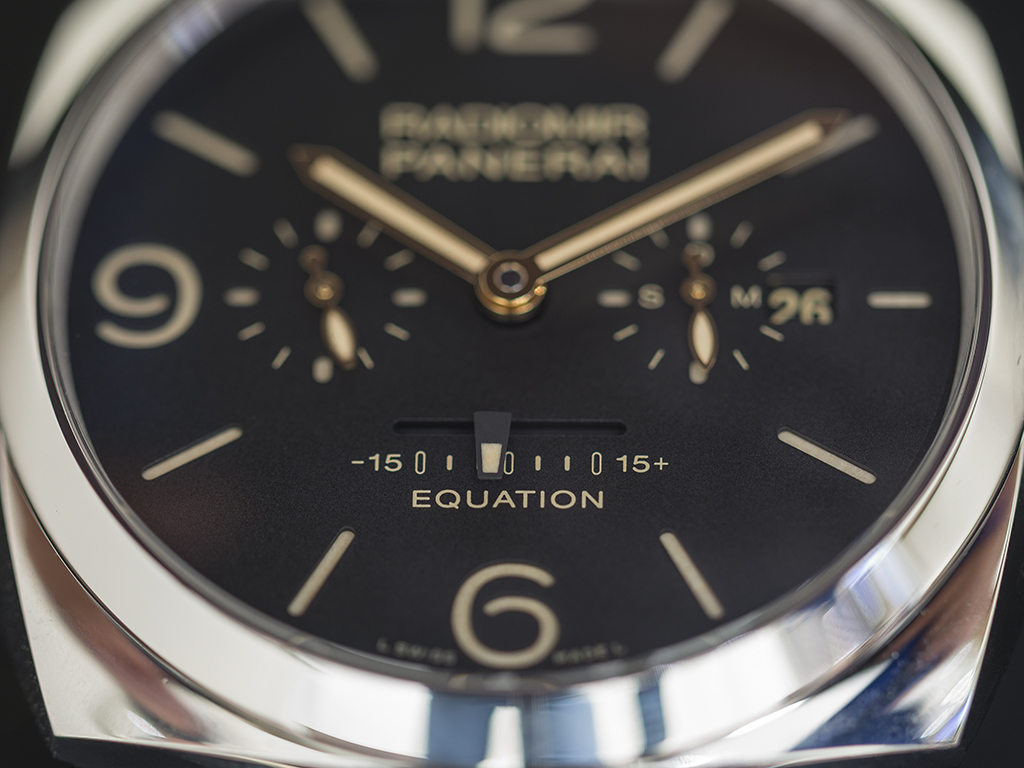 You can find these complications from a number of prestigious manufacturers, among their higher end models.
Panerai's PAM36500X series does not only offer the already very exotic equation of time complication, but a tourbillion and a sky map on back of the watch. These topped with a dawn and sunset indicator allow the watch's price to go off the charts.
However Panerai has decided to take this unique complication and offer it to 200 lucky watch connoisseurs in a somewhat more thoughtful way.
The PAM000516 features a little less complicated, yet just as on point approach as the PAM36500X series.
You will find golden hands over the eye-catching sandwich dial, in a polished steel Radiomir 1940 case, that measures at 48 mm.
At 9 o'clock you can see the small seconds indicator, which is equipped with a reset function, that activates when you set the time. This is a very thoughtful feature, that lets you forget about the misery, which occurs, when small second and minute hands are not perfectly corresponding.
On the other side at 3 o'clock, the dial features a month indicator and date window. These complications all-together already make the watch a heavy hitter.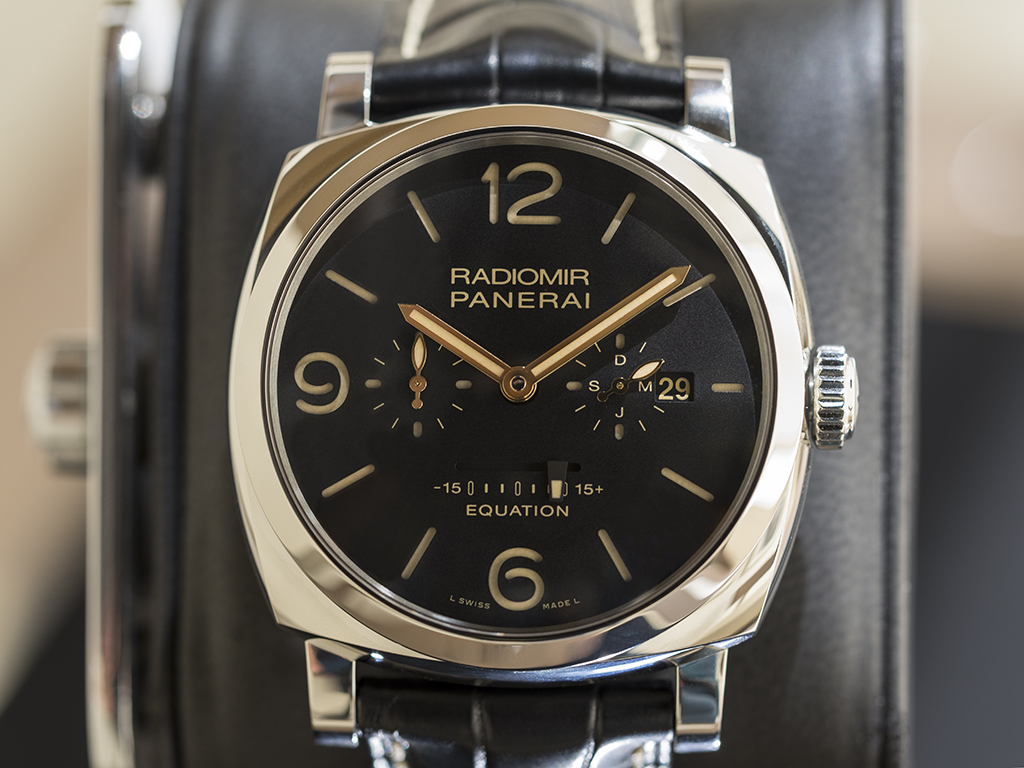 But it does not end here. Panerai's hand wound P.2002/E in house calibre, a successor of the brands first completely own in house movement features a remarkable 8 days of power reserve.
The power reserve indicator and beautiful finishing touches and unique Panerai aesthetics can be found on the back of he watch.
PAM000516 comes with a crocodile leather strap, using the classic Panerai clips, which are foldable from both sides.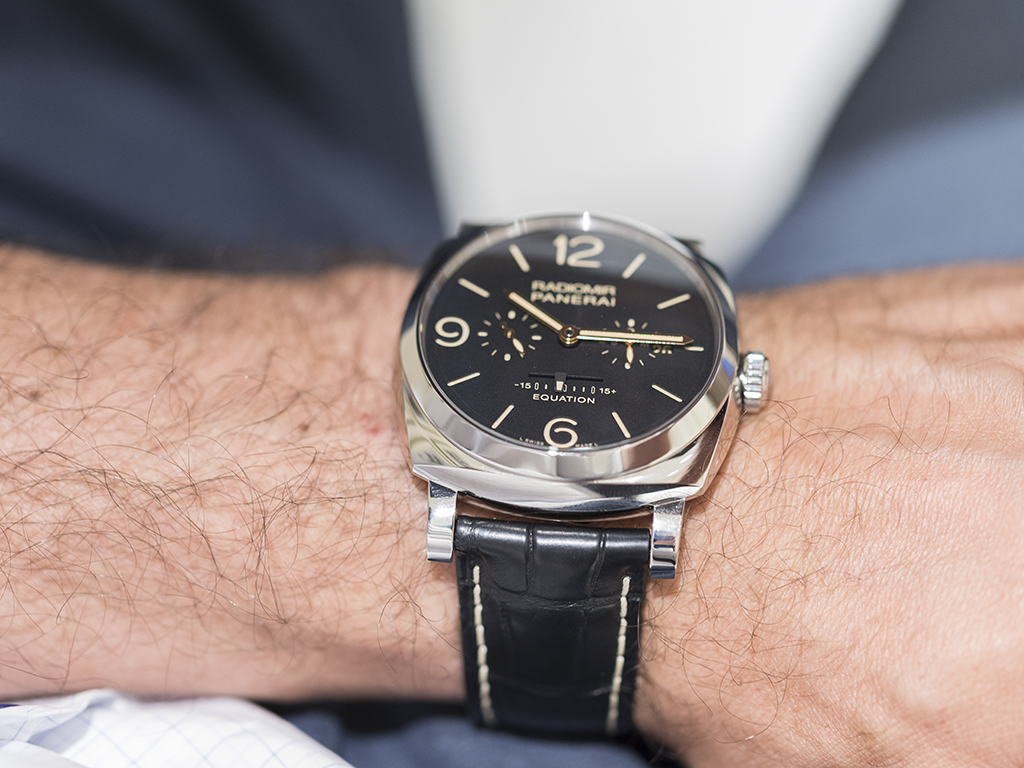 The equation of time models will be offered among 2015's special models and will be limited to only 200 Radiomir and 100 Luminor pieces.
Even though we could only spend little time testing the Radiomir 1940 model, we were nothing but amazed by it.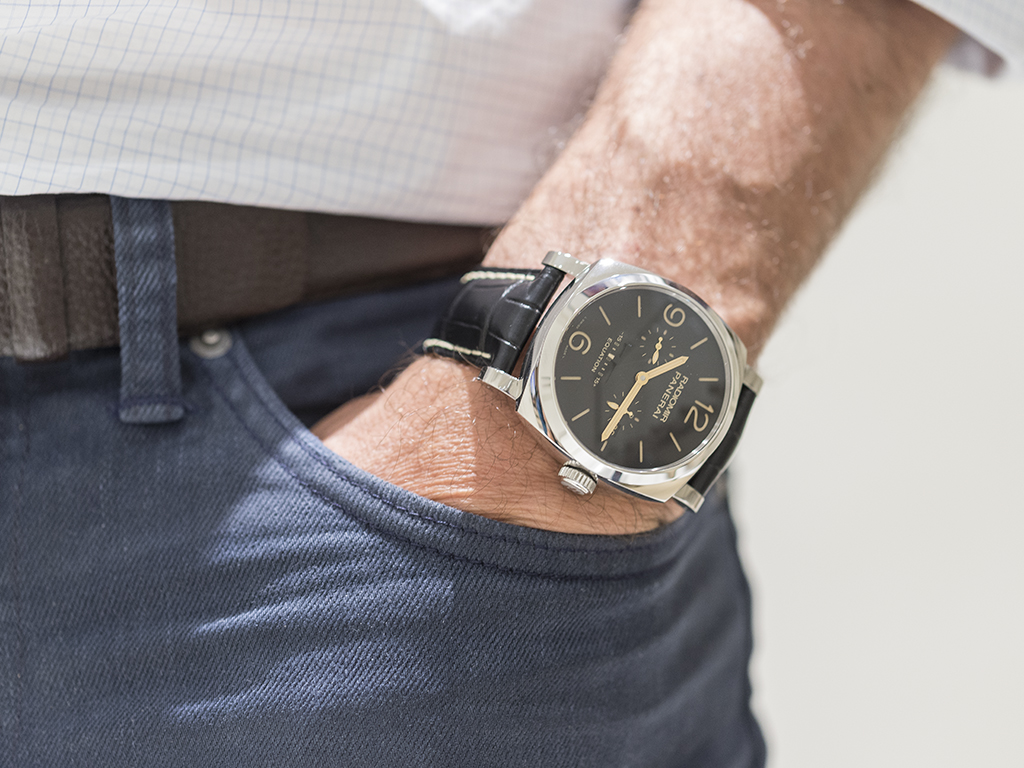 All in all we conclude that this piece has a lot to offer. The limited production, equation of time, month and date indicator and 8 days of power reserve, all housed in a stainless steel case make the PAM000516 a rare happening.
Priced very reasonably compared to all its features, you will be able to acquire this timepiece for around 20.000 euros. We highly recommend everyone looking for something exotic yet highly serious to pay great attention to this piece.