Ulysse Nardin introduced a new model to the Freak Collection, the flagship product line that represents the brand's vision in both technological and visual sense. There are two different versions in the new series that is inspired by Coral Bay, one of Western Australia's favorite snorkeling locations.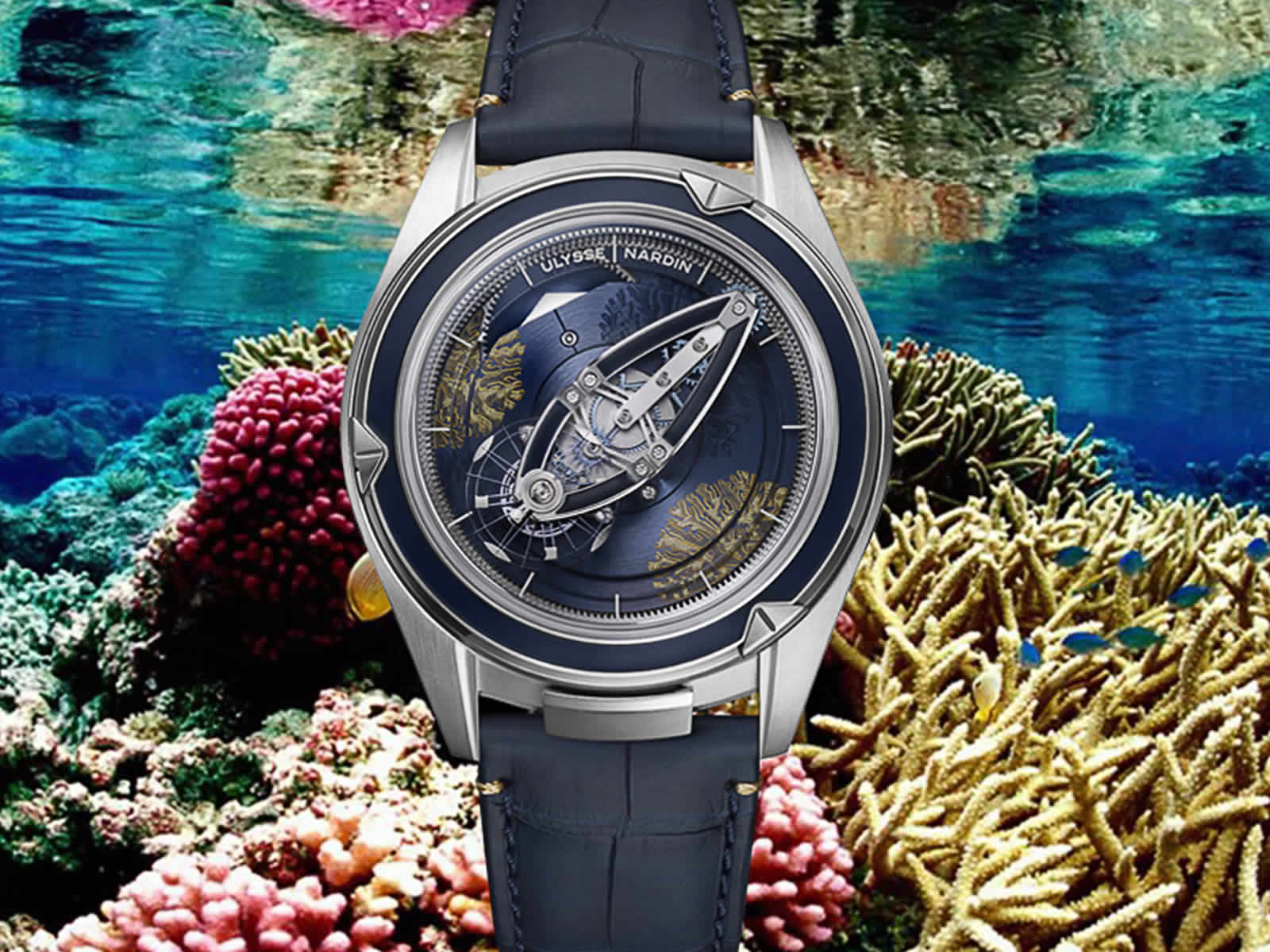 Ulysse Nardin is one of the well-known names of the Swiss watch industry that created a unique fan base especially with the models designed through the Marine Chronometer concept. The brand that introduced silicium, an alloy that has been used for many years in the electronics sector, to the watchmaking industry, benefits from a technology that is used in electronics again in its new Freak Vision Coral Bay series.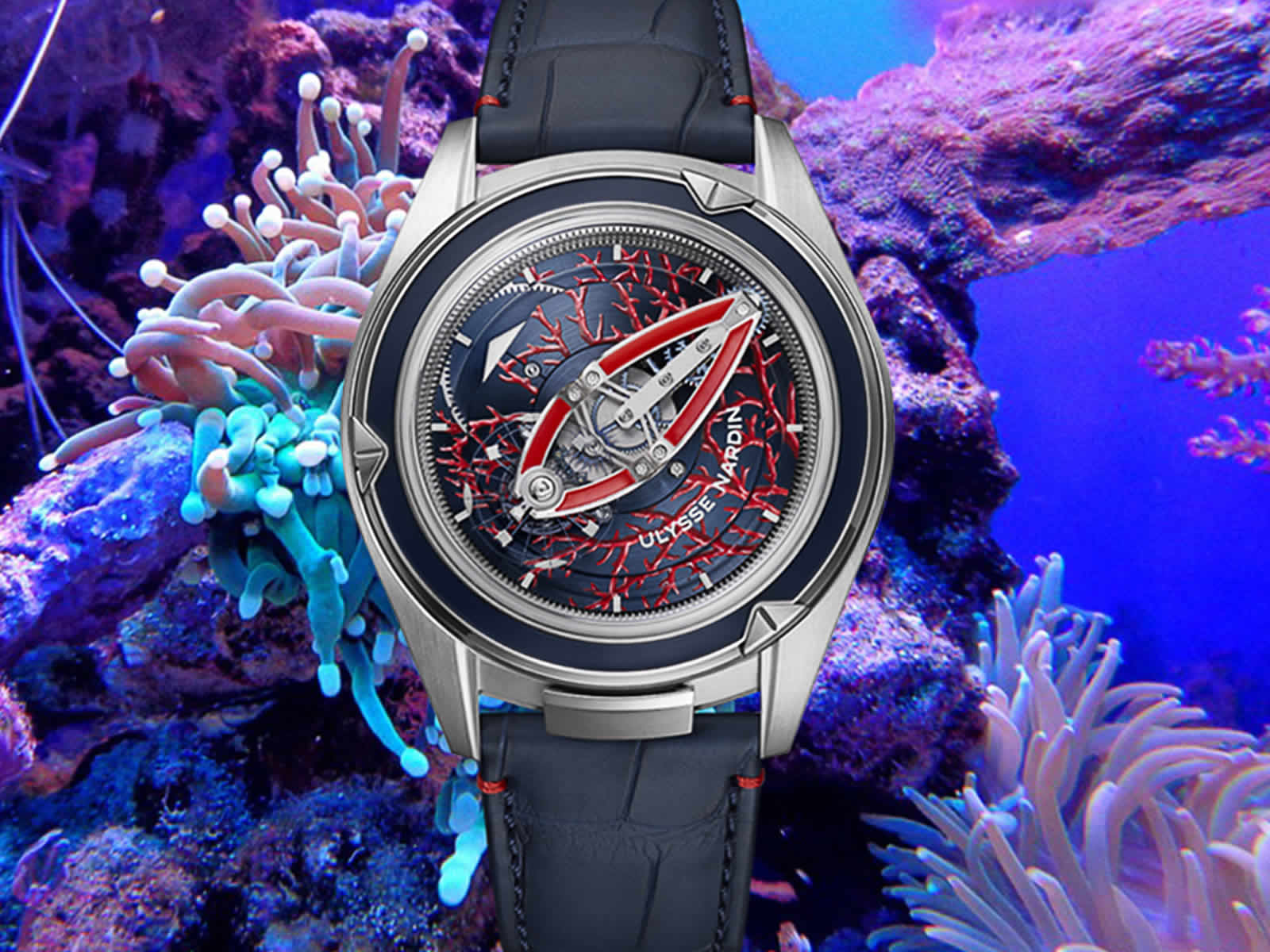 Ulysse Nardin Freak Vision was introduced at the SIHH 2018 exhibition and it was highly claimed with its game-changing features like a super-light silicium balance wheel with nickel mass elements and stabilizing micro-blades and a super-thin new case design. In the Coral Bay series, we are witnessing the meeting of these high-tech features with a visual feast that brings the highest level of craftsmanship.
The delicate patterns that are inspired by the coral reefs are applied by another electronics technique called bonding which uses thousands of 24 carat gold threads to form the desired patterns. Computer chip manufacturers use this method in order to convey electricity; now Ulysse Nardin uses it to create delicate designs.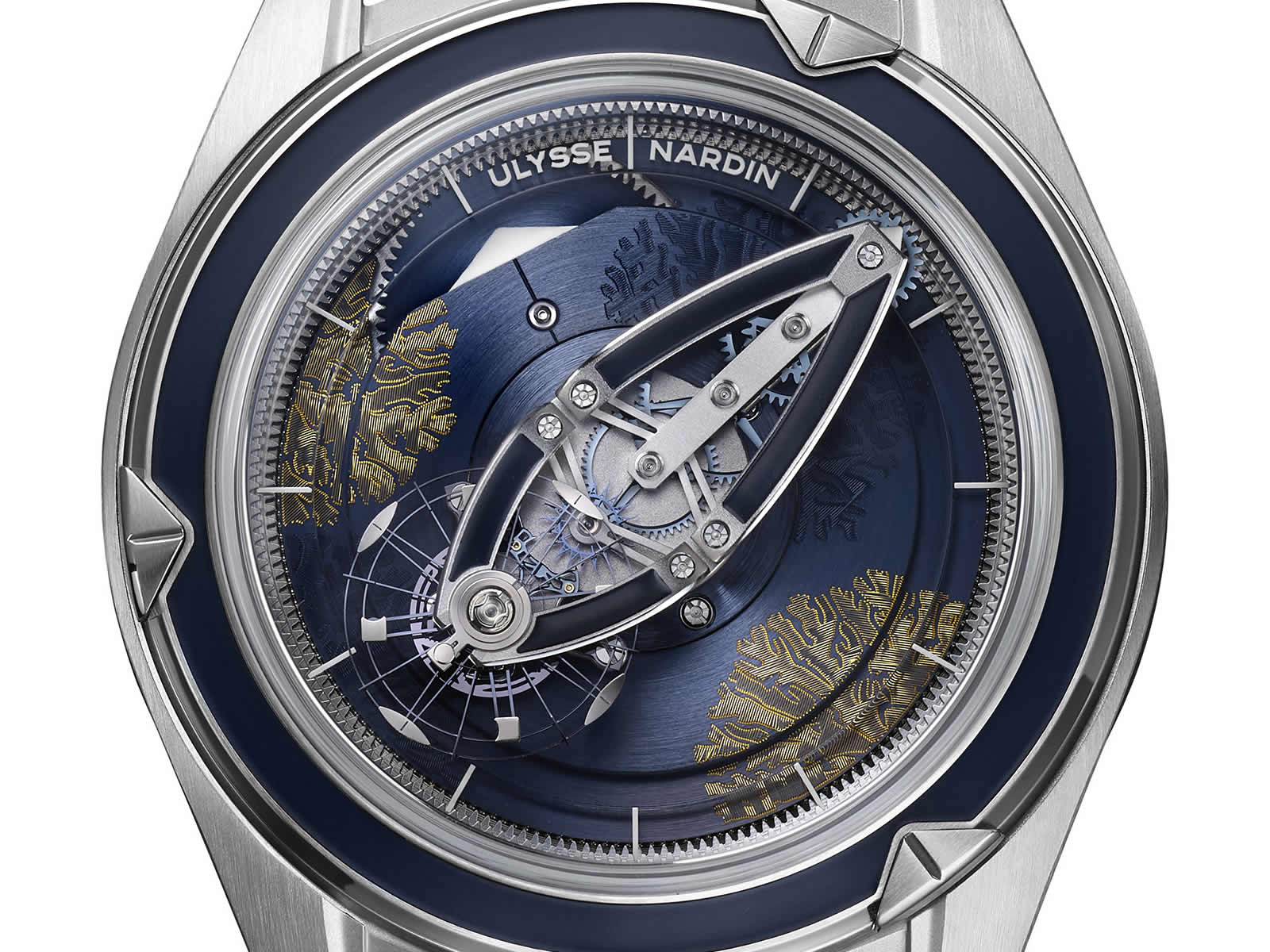 A bonding machine squeezes gold thread on each side, in order to form a coral reef motif on the watch movement's barrel spring bridge. Each thread is of different size, and all are tied only at the top and bottom of the thread, but not in its center.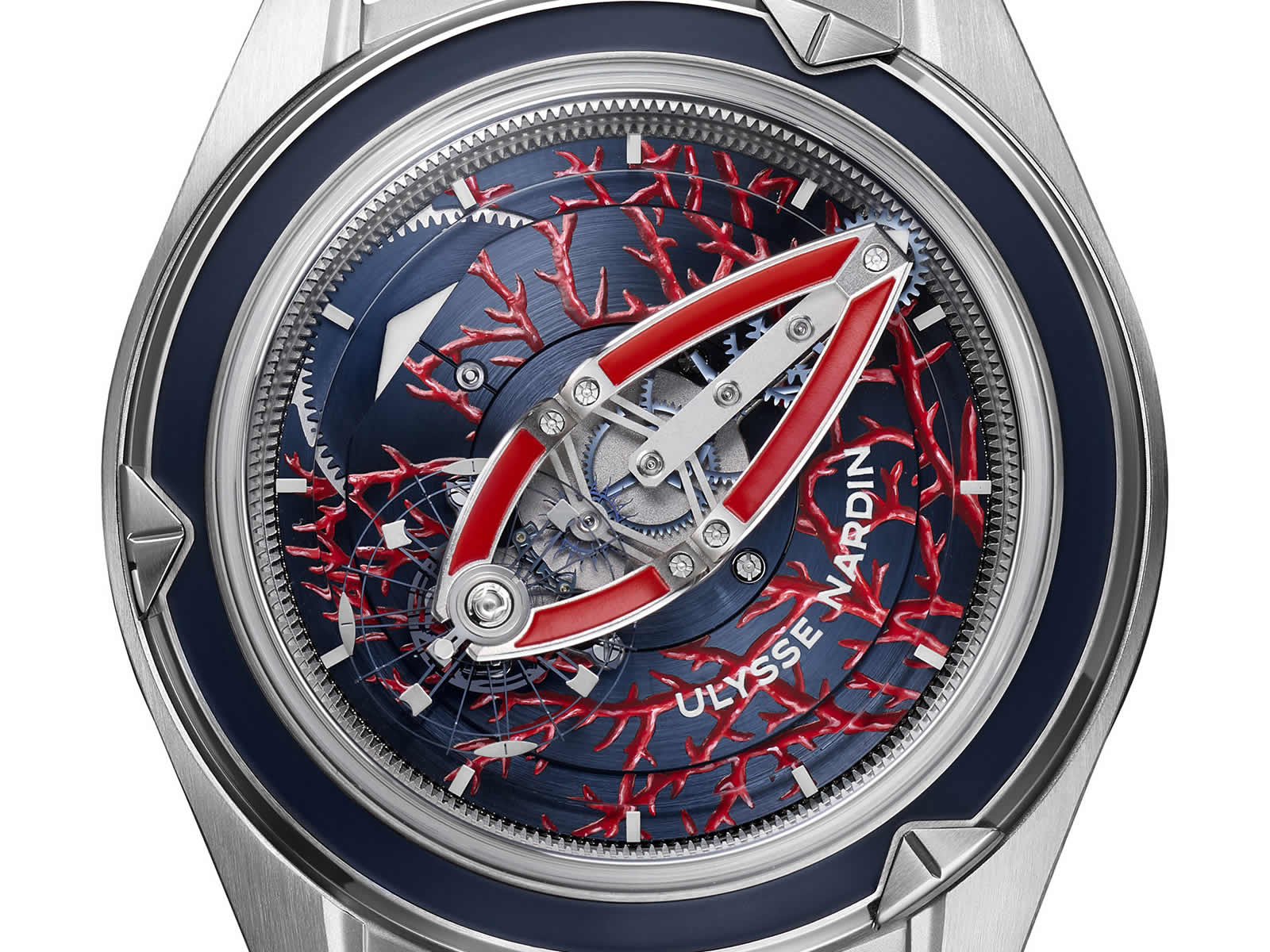 In order to have blue and yellow gold colored patterns, the watchmaker colors the component and the coral reefs with CVD (chemical vapor disposition process) in blue finish. The whole surface is colored excluding the in and out points of the yellow gold threads. After the coloring and laser cleaning processes, those yellow gold threads are bonded to the component.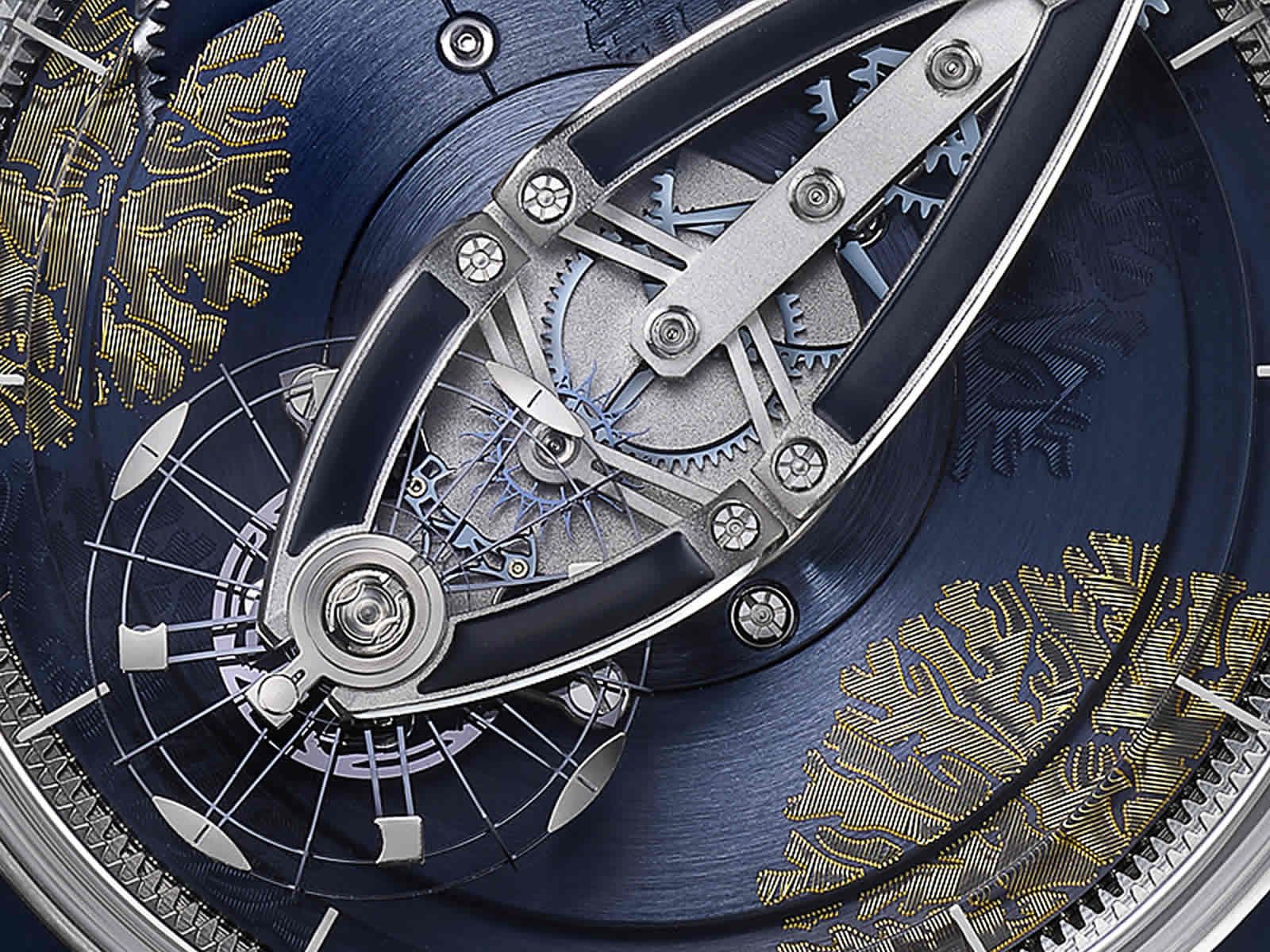 The new models also attract attention for their miniature painting technique; red and white acrylic painting on the spring barrel bridge that is placed on a CVD blue surface treatment. The master artisan uses lacquer colors that are applied and mixed directly on the dial: the dial is heated in an oven at 90 degrees between each color application in order to get the colors dry and intact. Even the tiniest details are hand-colored under a magnifying glass by using extremely fine tip brushes. The motif requires approximately 20 hours of painting time to be completed.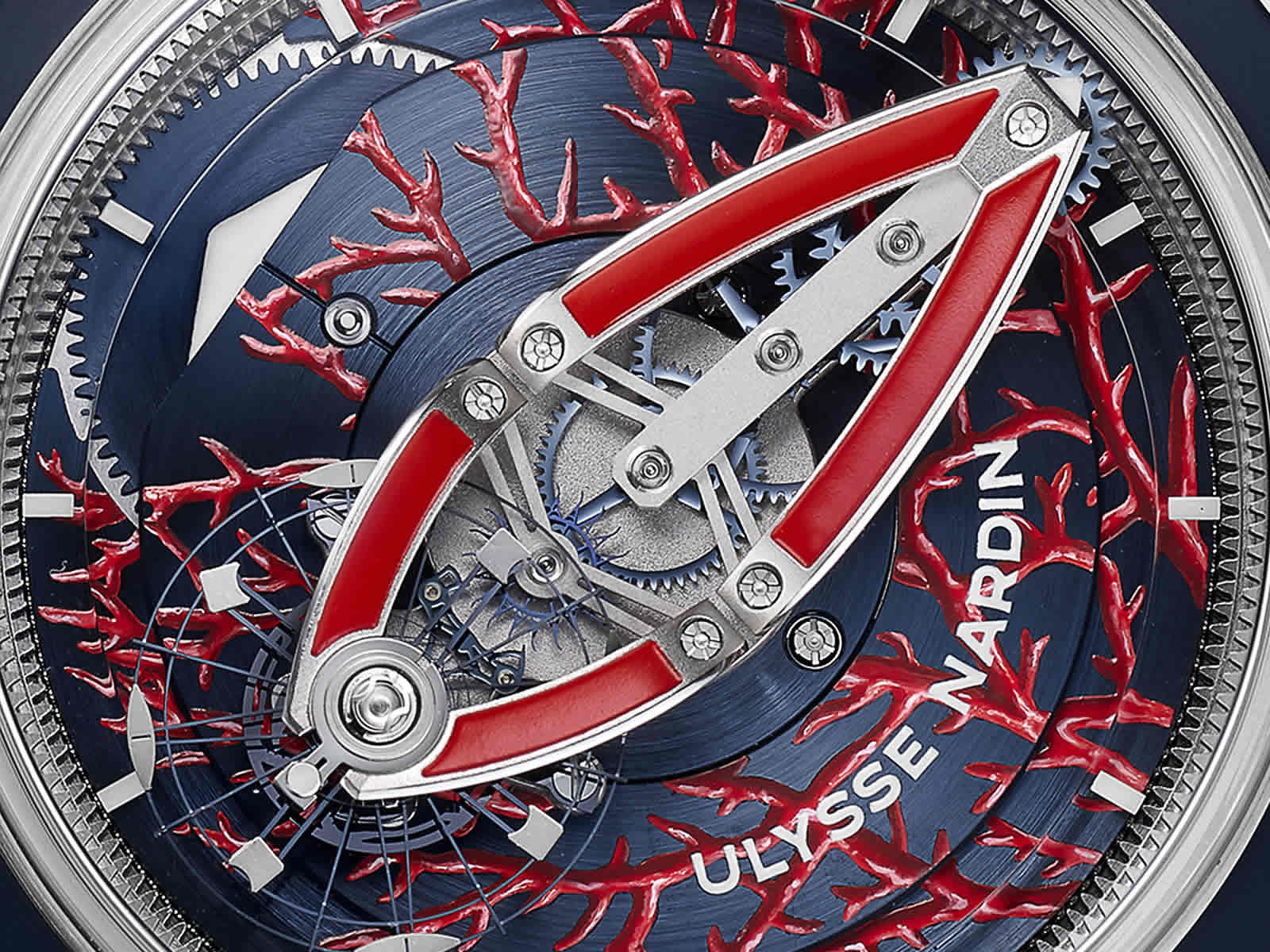 The models, which will be manufactured on-demand, come on two bar tack loop stitched straps in matching yellow gold or coral red. Other color possibilities can be applied depending on the demand.