I could say that I had many pleasant moments and occasions since I had started my watch hobby. I had the chance to meet precious personalities and start new friendships. So thanks to this hobby, I've had the most wonderful experience that can be had.
Last weekend, we had another of those experiences with my dear friend Mustafa SANDAL. We knew it was going to be a pleasant trip, but even we weren't able to predict we would have so special and memorable time.
We obviously had no chance to say No to Officine Panerai's director Mr.Giammaria VARRIALE's invitation received during the brand's Watches & Wonders European Premiere took place in İstanbul.
Accompanied with our dear friend Mr.Özgür BAYOĞLU who is the director of Officine Panerai's İstanbul Boutique which is the fastest developing boutique of the brand, our trip started from Atatürk Airport with our flight to Bologna.
After our safe and smooth flight we were welcomed by Giammaria VARRIALE and we passed to our trip's first stop Montecatini Terme.
Thanks to it's health spa centers, this little town, with 25.000 population in Toscana region, used to be a highly praised location for tourists. While being a little far away from it's glorious days in the past, this little town is interesting for us surely for to a different reason.
Francesco FERRETTİ; besides his many different specialties, he is known to be one of the most important Panerai collectors. This town Montecatini Terme, which you may probably never heard of before, is the place where Mr.FERRETTI lives.
After a short tour around the town, we had the most delicious lunch in one of the town's best restaurants and smoked our cigars while we had discussed about our project limited to "2 pieces " only. " Distressed " was the perfect word for describing our dear friend Giammaria's mood as we all had the most fun beyond words.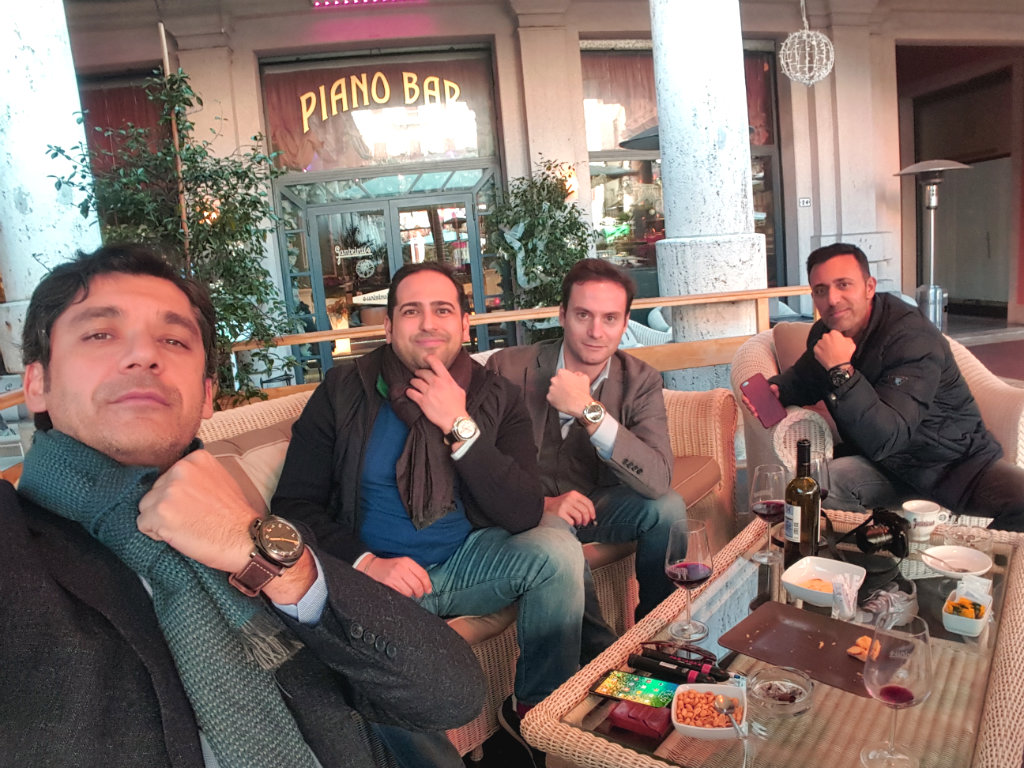 After those joyful moments, we had a walk to Mr.FERRETTI's boutique which he turned in to a kind of museum.
Francesco Ferretti, known for many years in the world of mechanical watches is an important name. Especially when it comes to Panerai, İt's totally a different story. Over the years, Officine Panerai produced watches to the Italian Navy together with different tools and devices until 1996 when the brand has been sold to Vendome Group. While the brand has been handled to it's new owner, the inventory which has not been taken by Vendome was left in the brand's storage. Mr.FERRETTI, who we had the chance to finally meet with, bought all the remaining inventory at that time.
When we ask Mr.FERRETTI about the reason for that call he answers quite clearly;
" I obviously could not let the brand's heritage and history got lost or separated. I thought, this heritage should be kept together.. "
Francesco FERRETTI is also an authorized dealer of Officine Panerai. The store, which we were going to have a thrilling experience in, looks quite simple and sincere from outside.
I could say that, we noticed one more time that we were about to meet a very important personality, when we saw the car park attendant's reaction upon knowing we were there for Mr.FERRETI.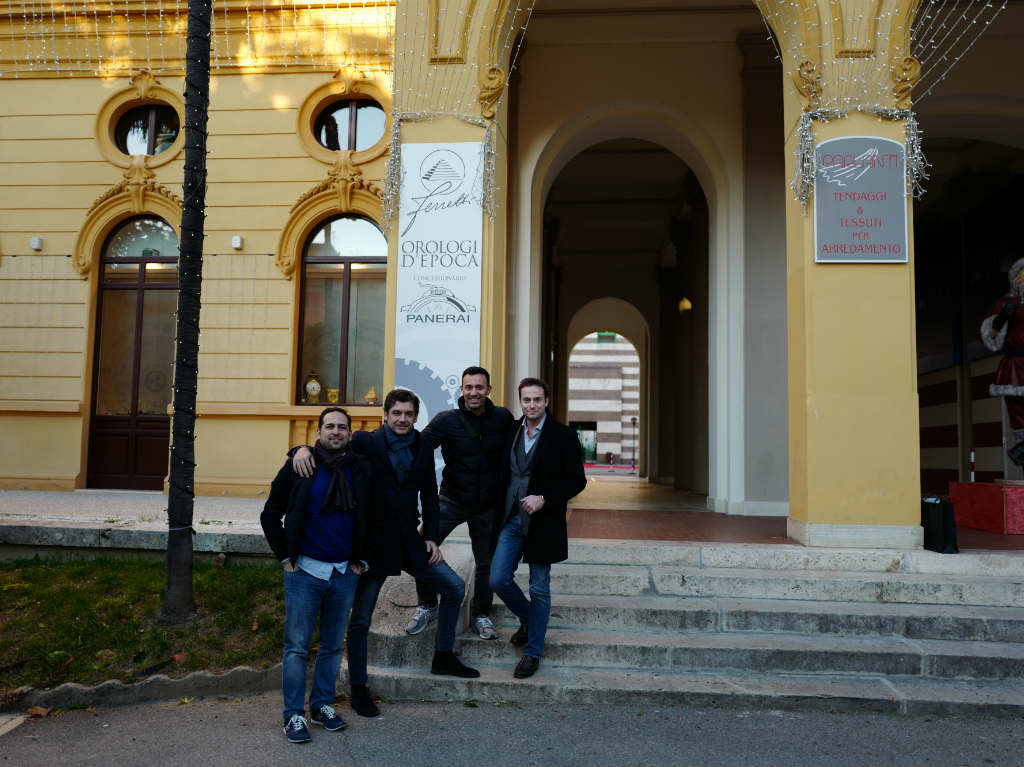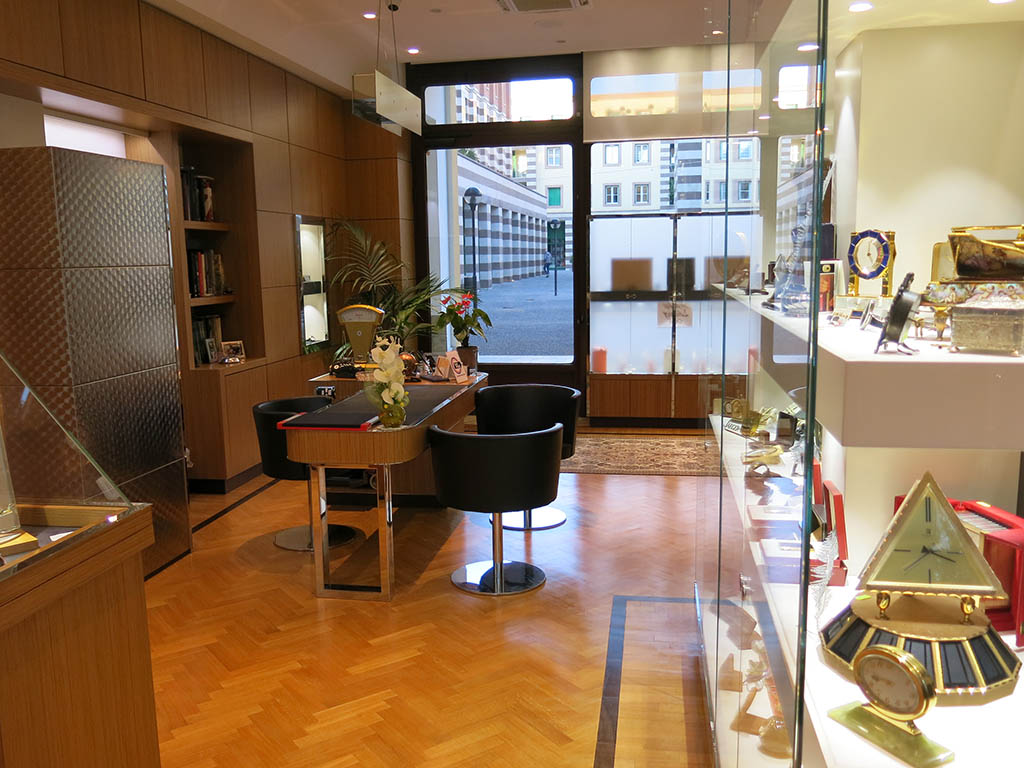 Once we're inside, Mr. Ferretti's calm and quiet personality caused a slight loss on my excited mood. Mr.Ferretti, who works at the store with his son and a represent, practically boosted up my mood by taking out a box from his safe. It was not only me but my dear friends Mustafa and Özgür were also pretty excited.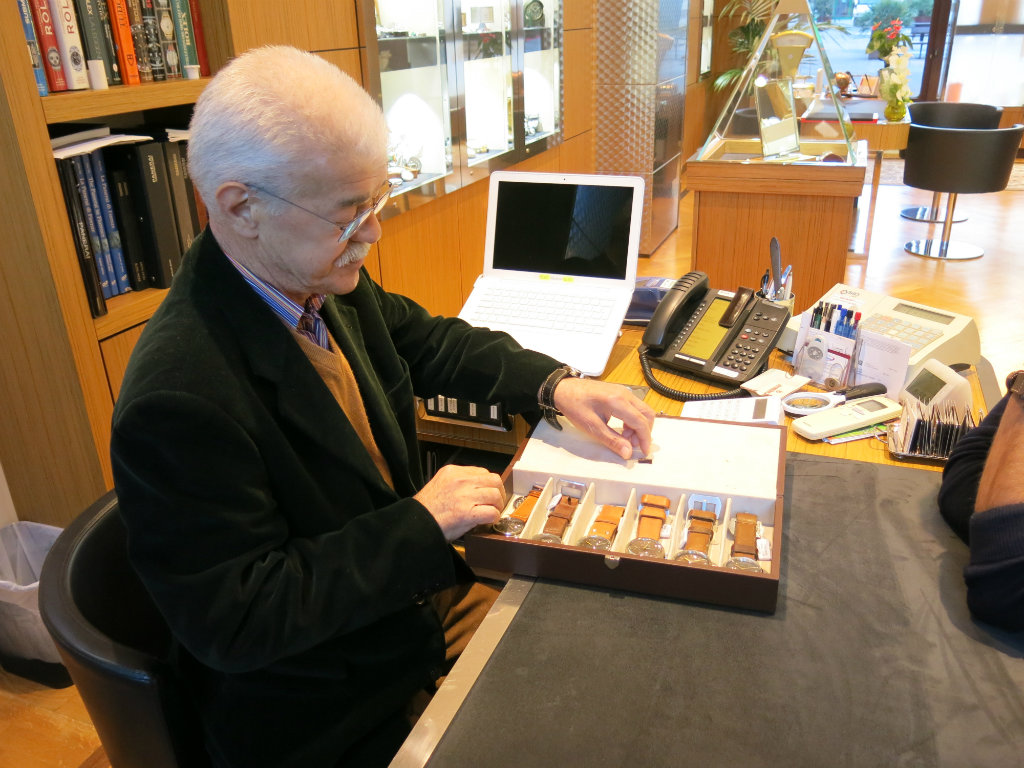 Frankly speaking, I just didn't know where to look at when the box was first opened but then, I noticed a watch which I know from the books that belonged to Mr.FERRETI. One of it's kind, the Ref. 2533 of 1936 was considered to be the first Panerai produced by Rolex.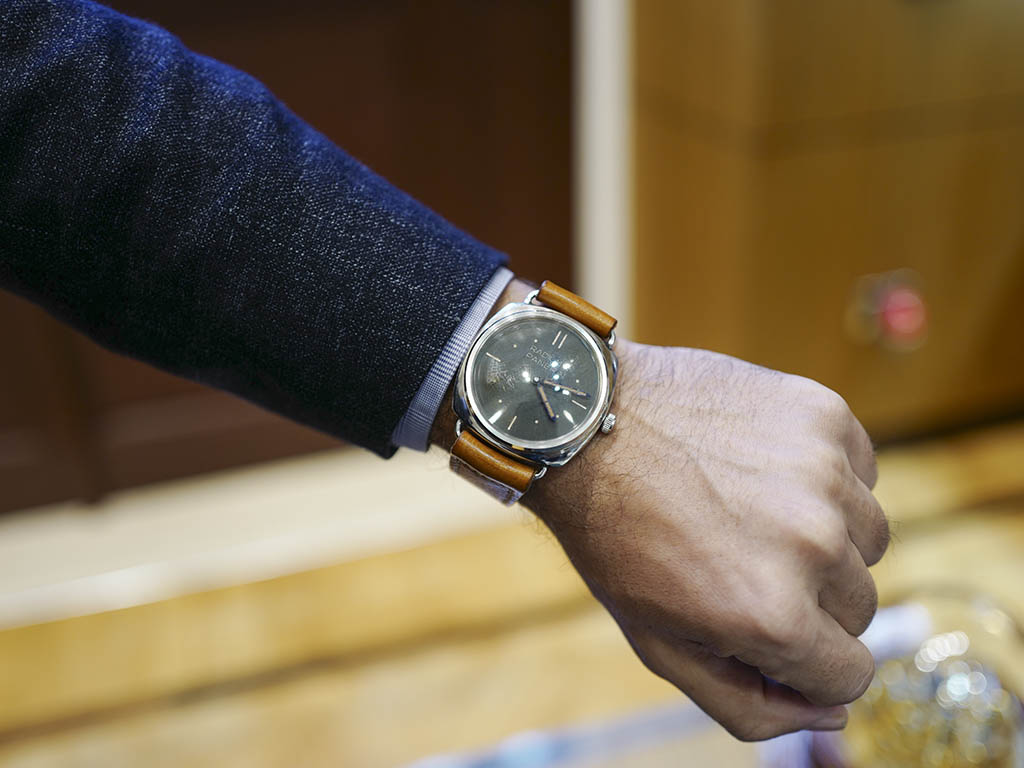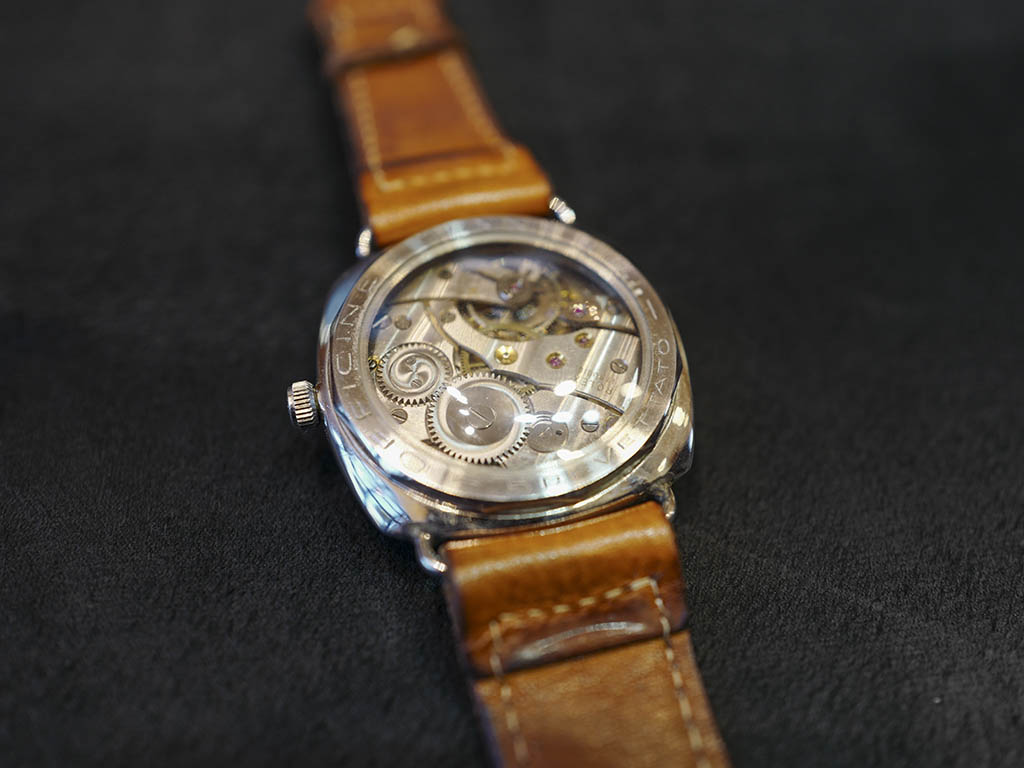 While I was trying the enjoy this stunning time piece I was also watching Mustafa and Özgür who practically jumped over the watch box.
The box was more like a treasure chest. There was another Ref. 2533 from 1939 which belonged to one of the Italian Army commanders Mario Giorgini. A truly rare piece with the " Extra Prima " Rolex caliber.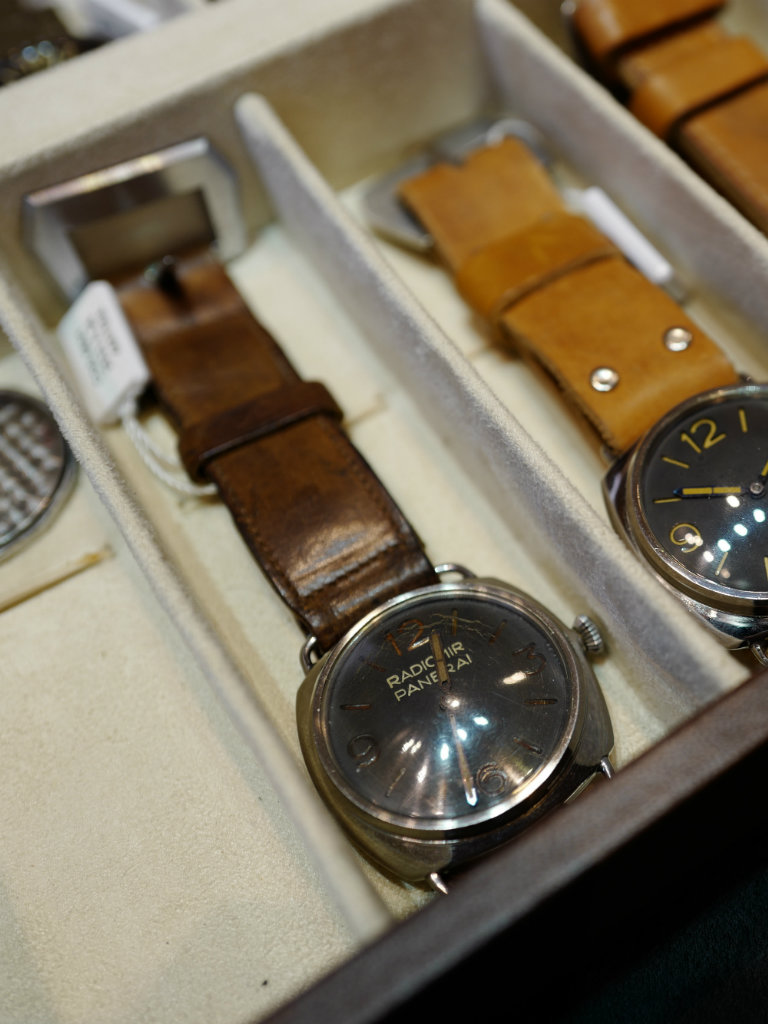 There were so many of rare Pre-V ( Vendome ) models in the box, which includes the time pieces between the brand's first public sale with the model Ref.5218 at 1993 and 1997, that we needed some time to focus on.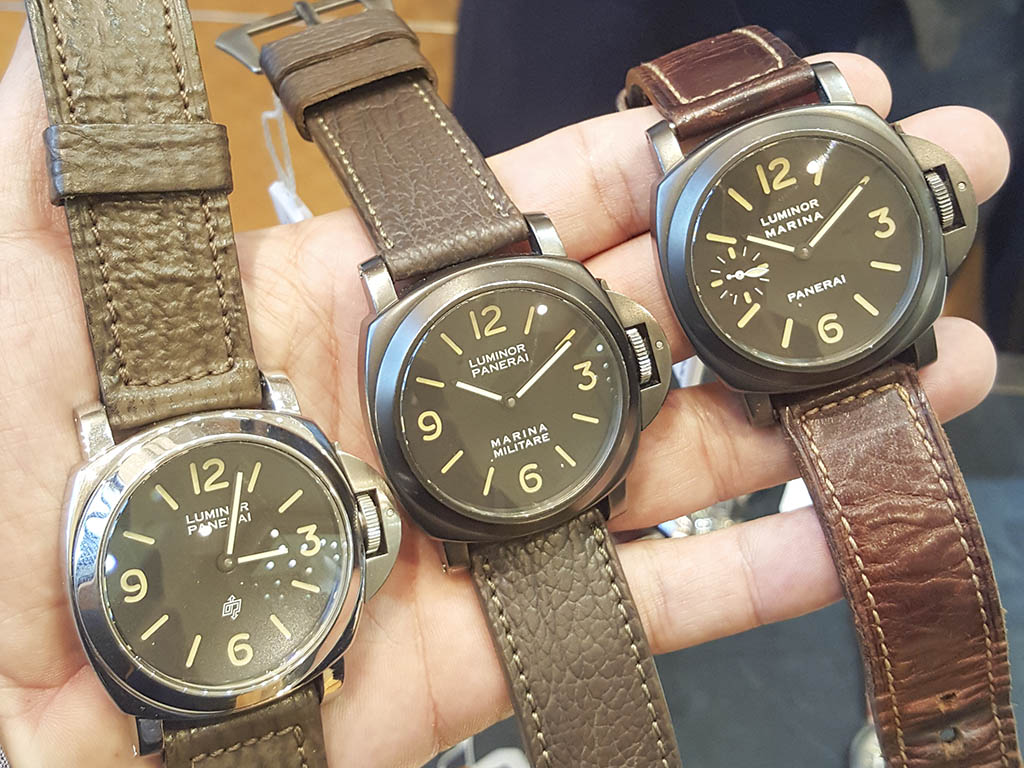 I start to observe another special piece which I could say it was one of the two models I liked most on my wrist. The Ref. 6152-1 was known to be the first Panerai with Radiomir writing in the dial and the first patented use of the classic half moon shaped crown guard in 1955.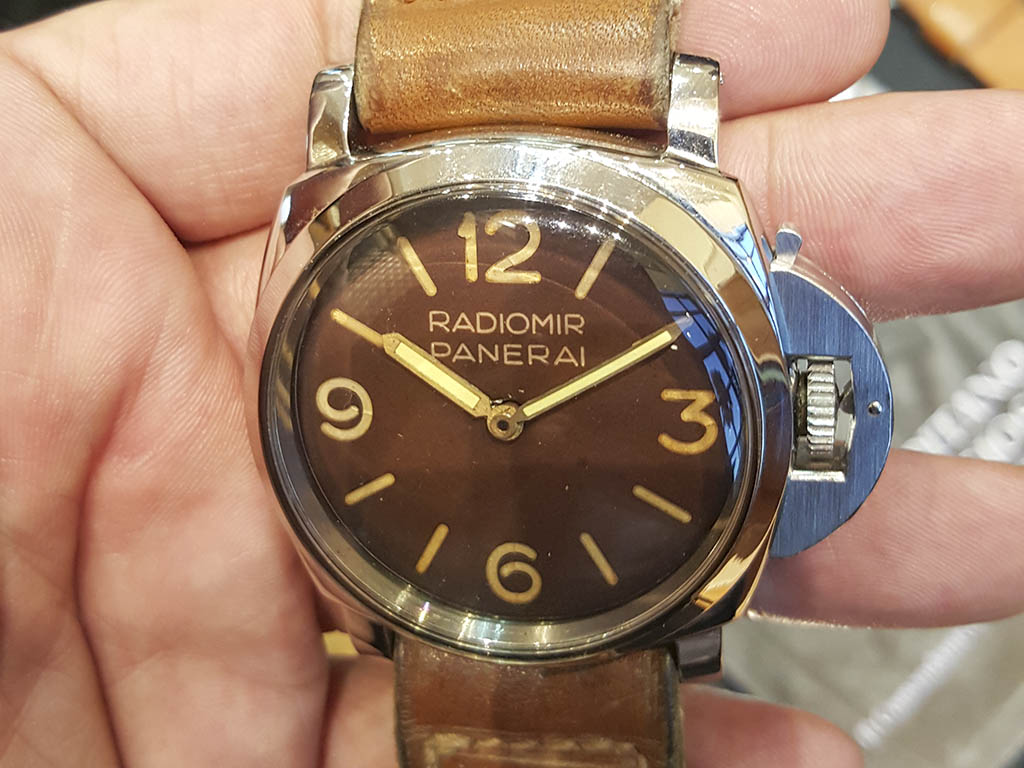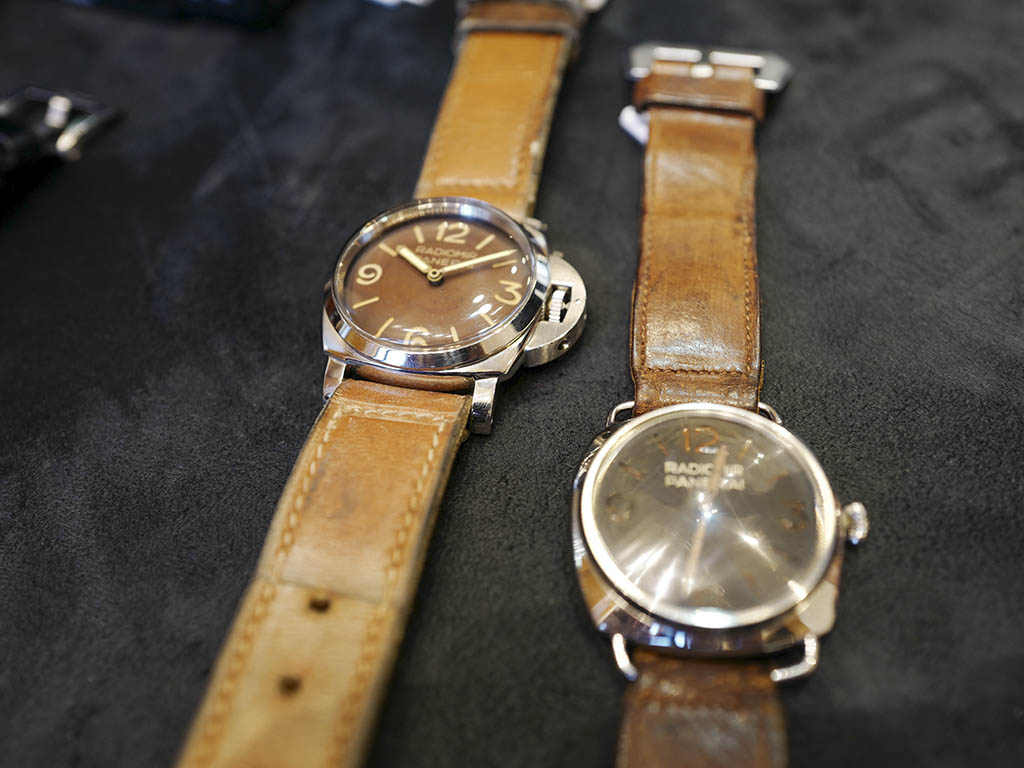 I simply travel in time with the no crown guard and Angelus caliber Ref.6152. It was surely a piece of art with it's absolute wearing comfort, sword hands and " four liner " dial with the Marina Militare ( Italian Navy ) writing. See thru case back allows us to see the famous Angelus caliber.
I noticed an interesting model on Mustafa Sandal's wrist while Özgür kept taking 2 to 3 photos per second with a couple of cameras.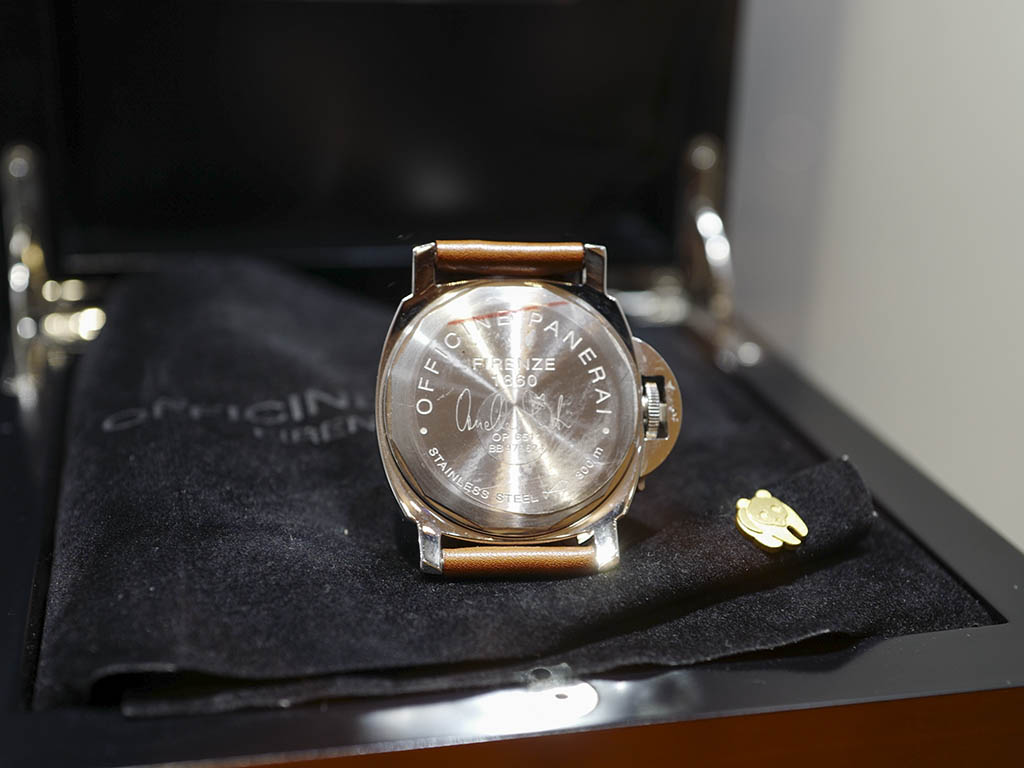 Since I have no idea about the model which had the " Rolex Oyster " writing on the dial, I decided to ask Mr.Ferreti about it. He says this sample was also one of the first prototypes of Ref. 6152 models.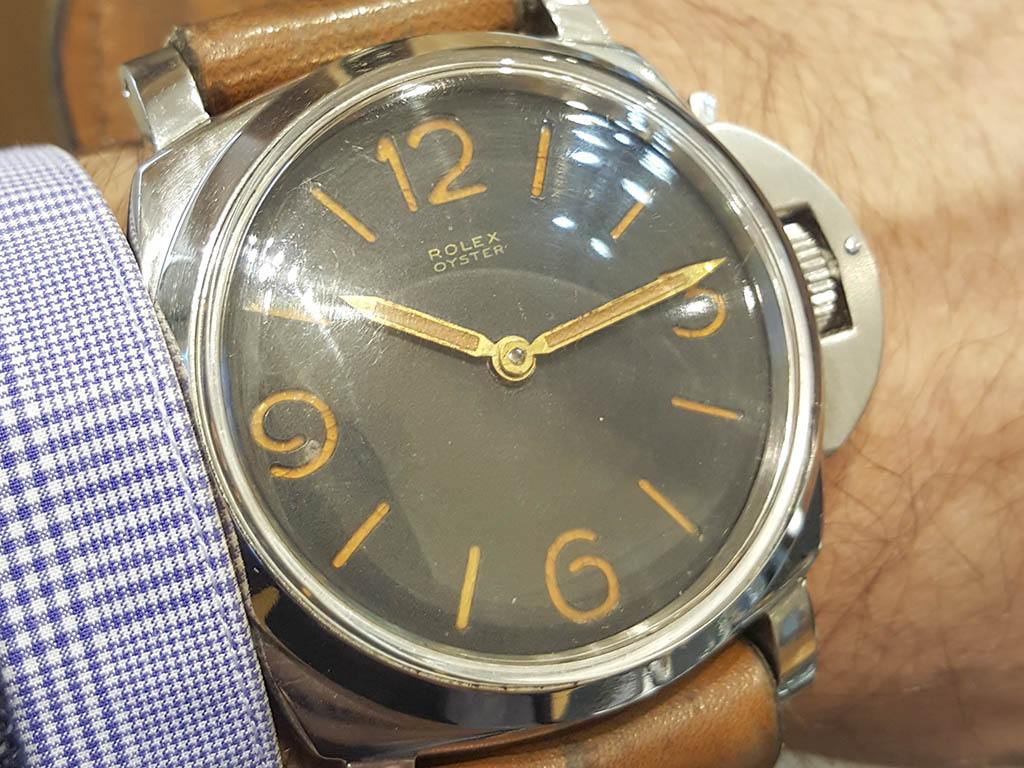 I would be quite surprised if that box lacked the legendary " Egiziano " nick named model Ref. GPF 2/56 which has been exclusively produced for Egyptian Navy with a massive case diameter of 60mm. Mr.Ferretti manged to get one for his collection.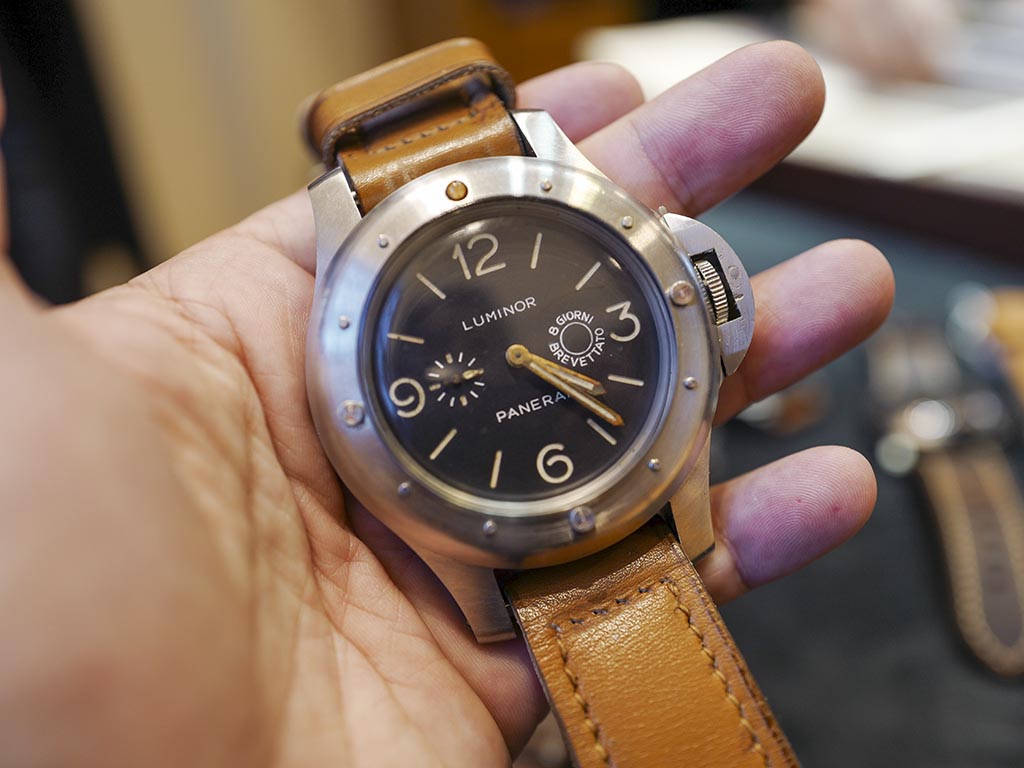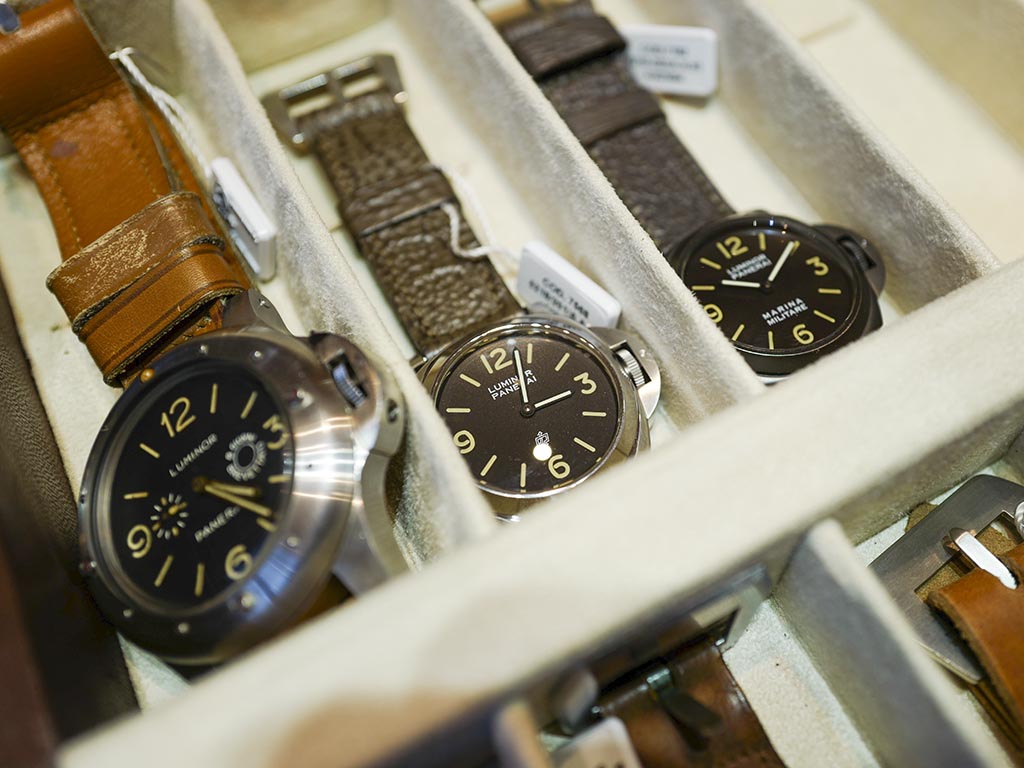 I don't think I would be overstating, when I say it looked more glorious than one of my personal favorites " Mare Nostrum ".
While I feel a little calmed down, I happen to notice the stand that shows the not for sale items of Mr.Ferretti's collection which was a fine selection of special editions from Panerai's current catalog.
The legendary Angelus caliber PAM00203, the up to date Egiziano PAM00341, 52mm diameter Mare Nostrum PAM00300 and " Marina Militare " PAM00587 which was launched last year with a limited production of 1000 pieces.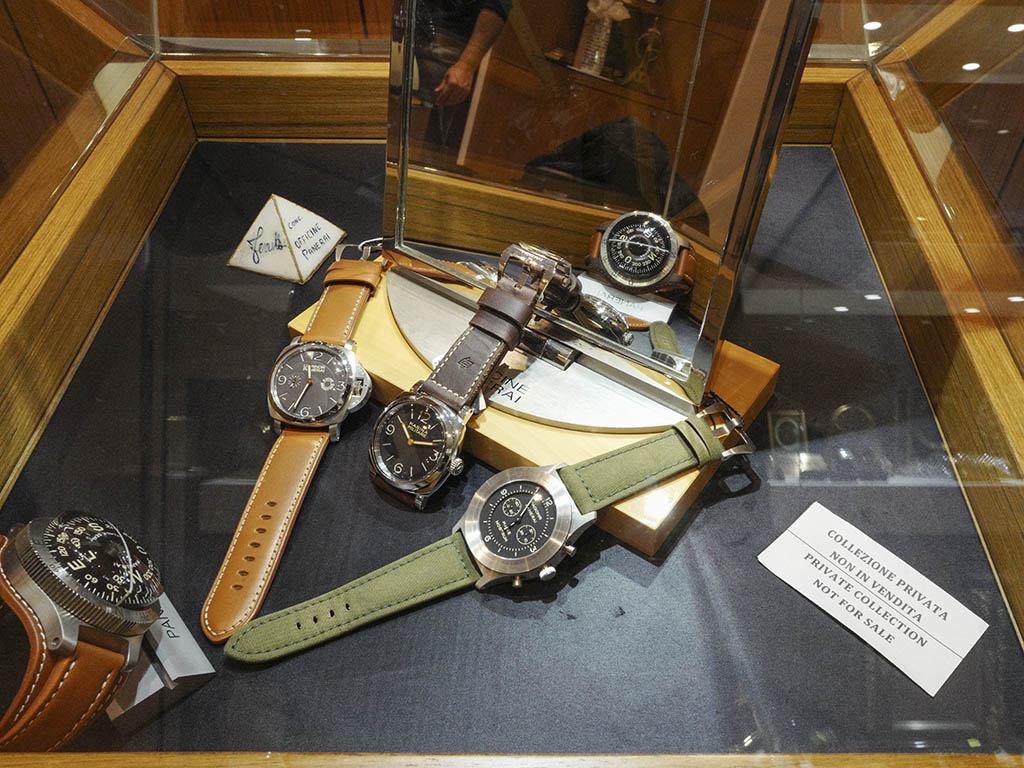 While we were talking with Mustafa Sandal about the value and beauty of those three models, we saw our friend Özgür coming down from the upstairs saying " don't you ever go up..! " which made us far more curious for the upper floor of the store.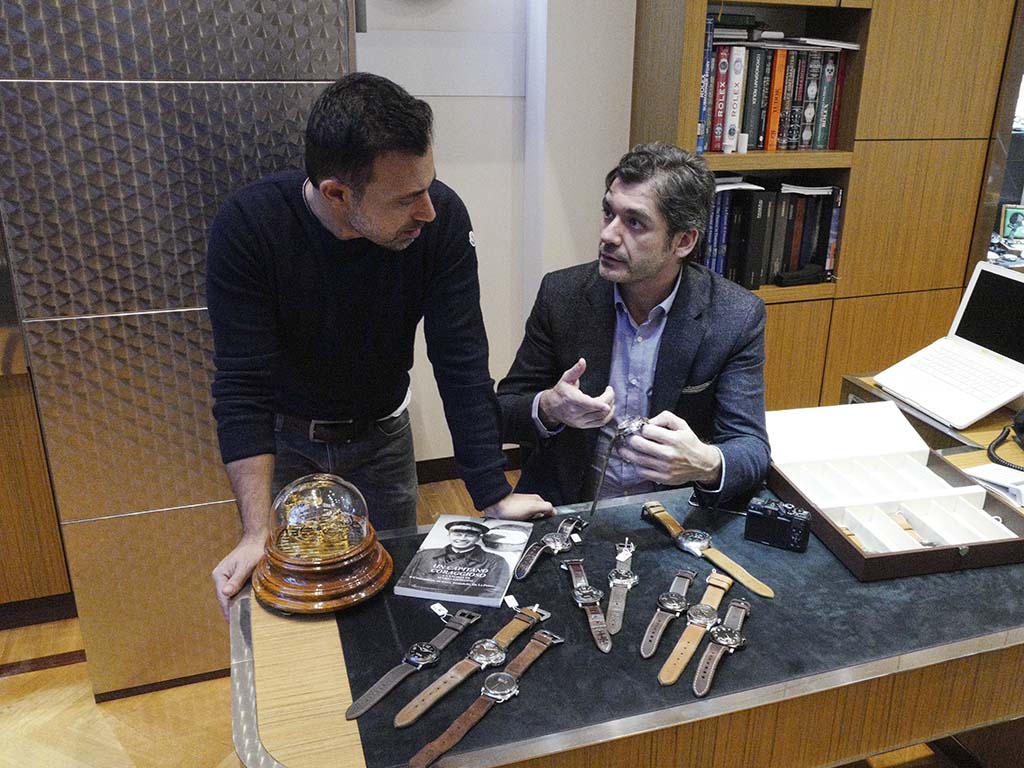 We climbed upstairs fast and totally feel speechless upon what we saw. What we saw there took us back to Panerai's history and it's past achievements.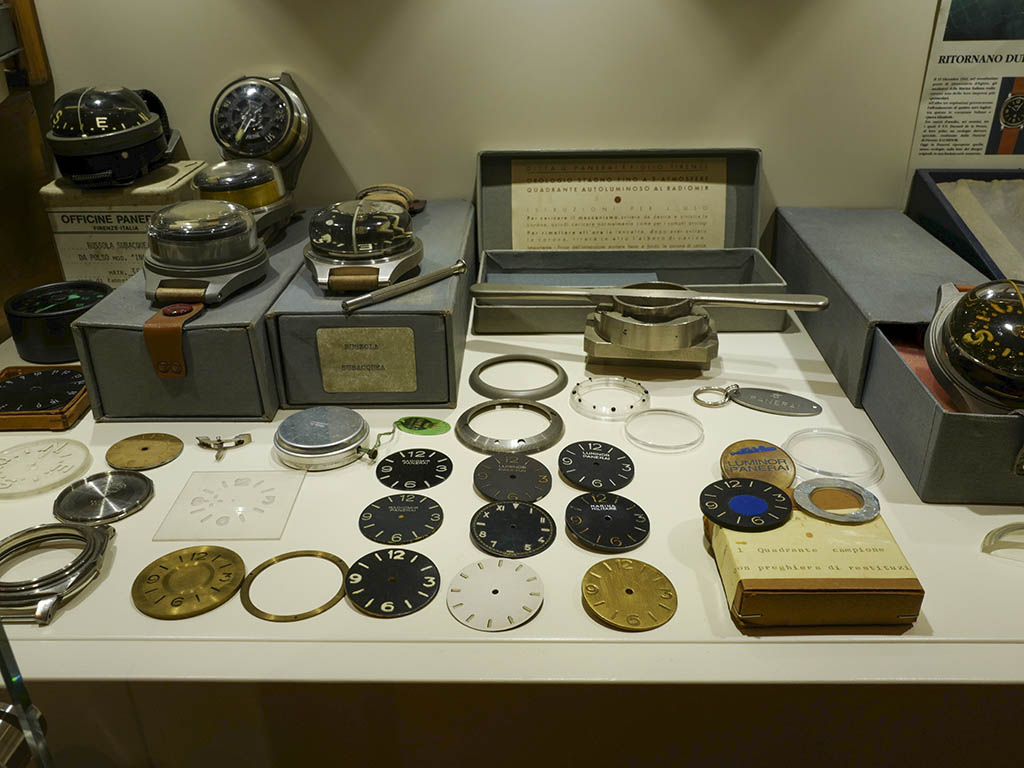 We first took a look at the old dials, service boxes for the calibers bought from Rolex and bezels/crown guards for different models. We had the privilege to see many interesting devices like depth gauges, compasses, under water flashlights and bomb timers produced by Panerai. Even the Morse Code device which was strapped to the neck of divers' were in the collection. Many accessories like wines produced exclusively for Panerai, invoices by Rolex, wall clocks, calendars and desk top items were being showed in the store.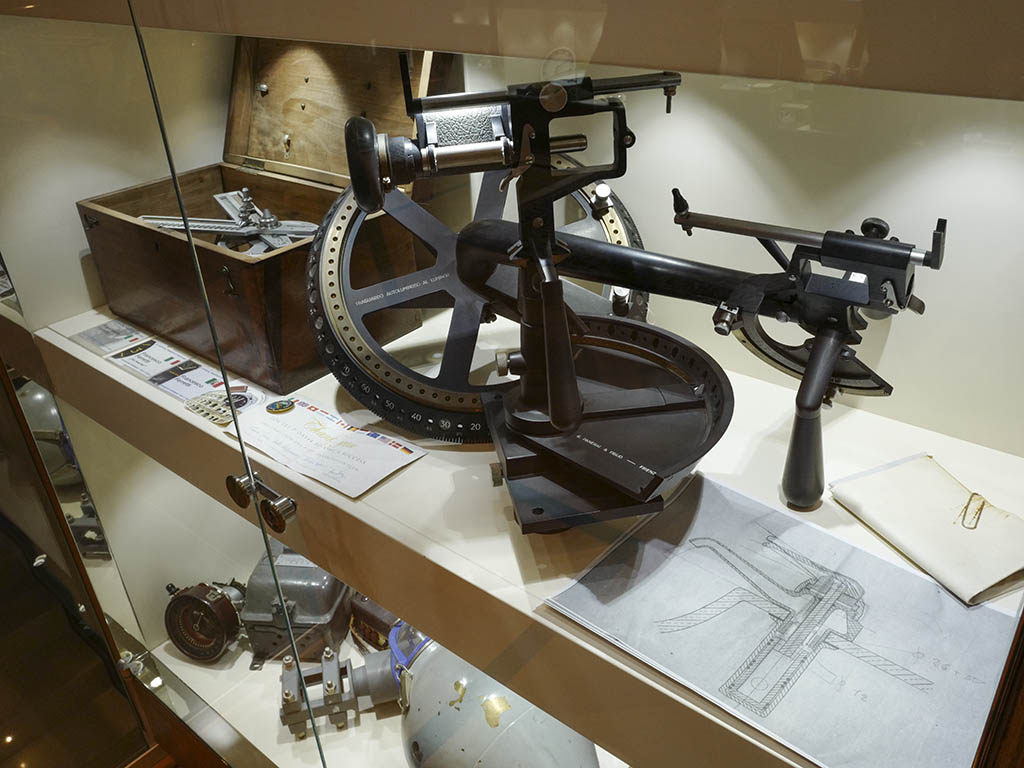 The time we had at the upper floor was totally a visual feast for us. After looking at the devices that we did not know what they were, we got back to the lower floor.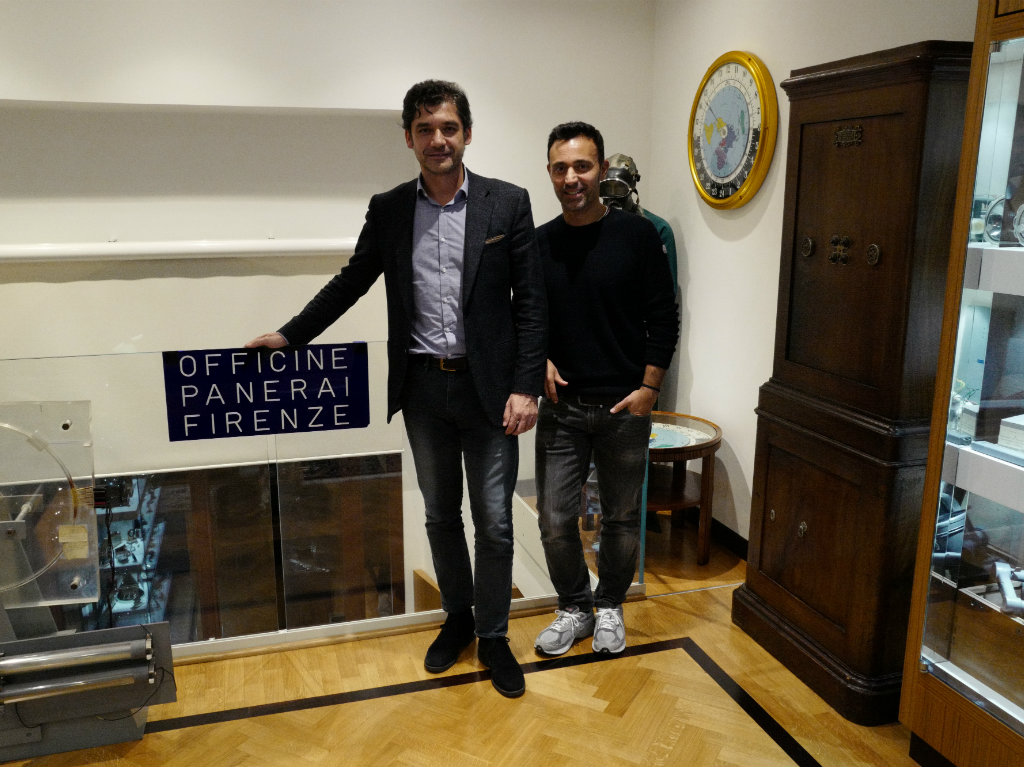 It was time to say goodbye for us after a pleasant chat with Mr.Ferretti and his team.
We are truly grateful for the time we had in his store and thankful for his utmost hospitality. When I said that we are planning a trip back with a group of Panerai fans, he got very happy and excited and said he'd be glad to have us back here.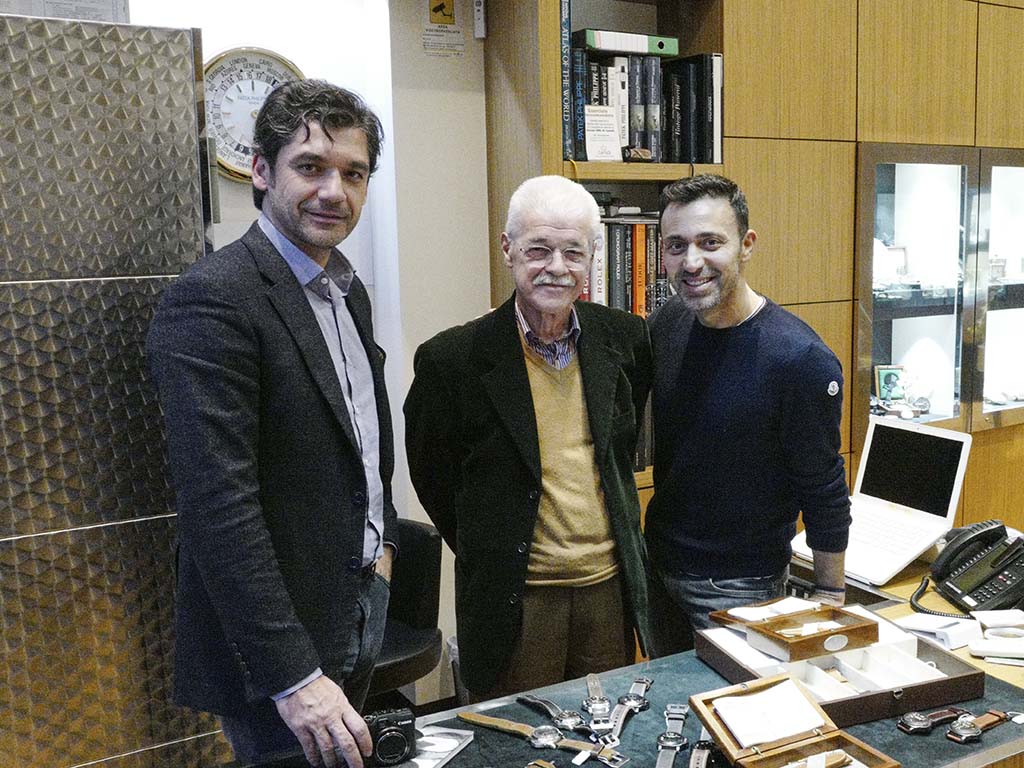 We had a short coffee break to after we leave the store and got back on the way to Florence.
Our trip was surely did not finish there. I will share our experience while exploring the hidden sections of the historical Duomo Cathedral among our pleasant time we had in the Panerai Boutique in Florence soon at Horobox..